Sometimes the choice to homeschool is directly connected to not working outside of the home. This can seem fine but it can become financially stressful pretty quickly. Whether you are trying to make bills or trying to get extra money to cover curriculum, being on one income can be difficult. Today I am going to share some work from home job ideas that could really work well. Not all of these will fit your situation but if there is one that will help that might be worth the time invested.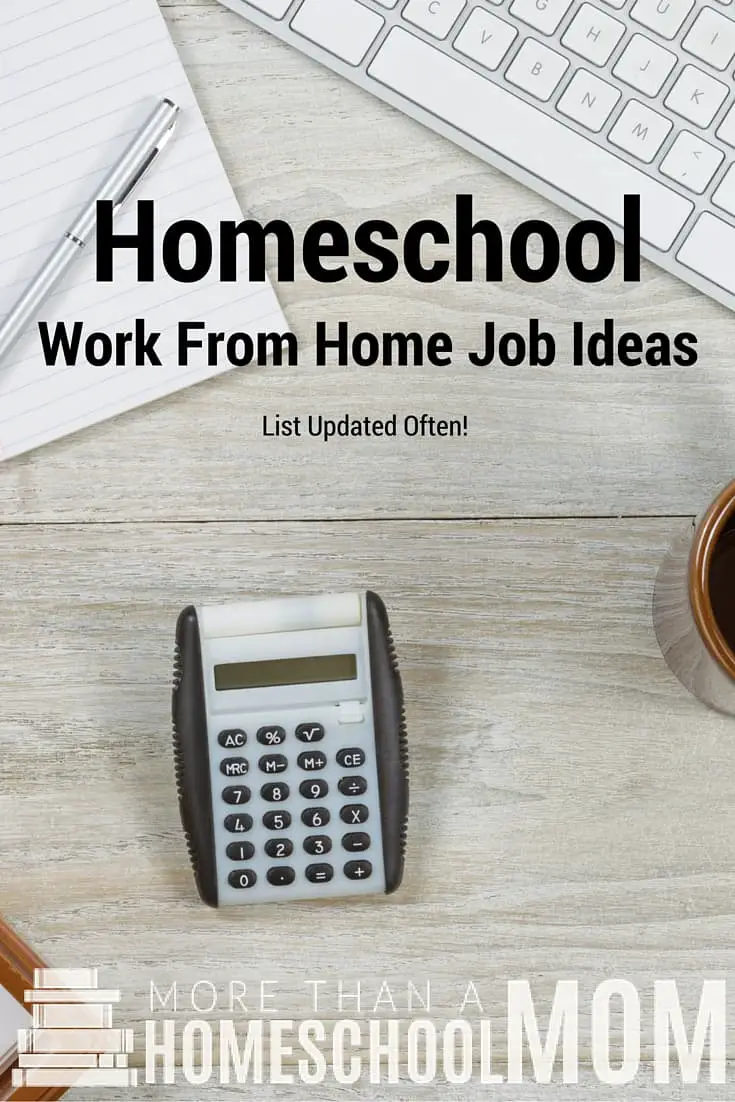 Work From Home Job Ideas
Amazon –  Amazon hires in a work from home capacity for customer service. This could be a great way to make  $10 an hour (rate as of this post going live) from home. You can work with them to set your hours and work when your children are sleeping.
Virtual Assistant – I am a virtual assistant and it is a great way to help pay some of the bills. This can be many different things. I work for other bloggers handling social media for them. For you this could mean handling e-mail, social media, or writing blog posts to sell to bloggers looking for content. The book Bootstrap VA is a great book to start learning about being a VA. The only disclaimer I will give is that this money is not consistent. You may work for someone who is consistent with you or you may work for someone who only needs things occasionally.
Fiverr – Do you have a skill that would benefit someone else? Maybe you know how to create a graphic. It could be that you know how to write extremely well. Maybe you know how to edit a piece of writing effectively. Using Fiverr you can sell this service for $5 per action. This could potentially bring in good money for you depending on the time it takes for you to fulfill your offer and the amount of people interested in what you offer.
Ebay – Do you have an overabundance of stuff in your home? Do you hit yard sales often? Are you a thrift store shopper? Ebay can be a great place for you to flip items you purchase for next to nothing into profit. I have a few friends who will buy bulk amounts of different items at yard sales and thrift stores and then resell them on Ebay for a better price.
Alorica – I have not worked with this company. However, it looks as though they hire out many of the call center people for different companies. You will need a quiet work environment and a dedicated internet and phone line. Read more on their website.
Data Entry – There are sites that will pay you to enter information into spreadsheets and documents for them. These positions and their pay vary based on your skill set and what they are asking you to achieve.
Etsy – Are you a creator? This could mean digital products, crafts, or artisan soaps. If there is something you create that is beautiful and of high quality you might consider Etsy as a way to make some extra money. They do charge a selling fee so make sure to account for it when pricing your items.
Online Teaching – Do you have a teaching degree? Many of the online school programs are looking for teachers. Look into these as an option to use that teaching degree without leaving home. You may also be able to make money off of tutoring or doing end of year evaluations.
UserTesting – UserTesting is a site that will pay you $10 for each site test that you complete. Your goal is to evaluate the site with whatever metrics they give you before beginning. The website claims a test should take about 20 minutes. This could be a great way to make extra money during naps or while children are content playing independently.
Home Childcare – This one is not an option for me because I get overwhelmed with too many extra kids on my homeschool day. That being said, if you are gifted with children it may benefit you to watch a child for a friend to bring in some extra money while staying home with your children.
Home Based Businesses – There are more of these than there are fish in the sea. If you have the personality to make one work for you this could be a great way to bring in extra income. I would encourage you to be very careful what you sign on with and make sure that it is a product you can back 100%.
Blogging – Blogging can eventually bring in an income for your family. However, it takes a lot of time and hard work. This will not be an overnight income and will take you a considerable amount of work before turning a profit. There are bloggers who make a decent income but it will involve a lot from you.
Do you work from home?
Leave me a comment and let me know what legitimate work from home job you do and whether you like it. I am going to be adding to this list often.
Looking for more?