Wild Florida Tips and Tricks
We were provided with a 1-hour airboat tour for four and a sloth encounter for four to facilitate this post. All opinions in this post are 100% our own and were not influenced by the items provided. 
Our family has been in the Central Florida area for a long time. However, we've done a lot of the traditional attractions everyone discussed. When a friend told us about Wild Florida I knew it was a must visit for our family. This hidden gem is a fantastic way for families to spend some time together while enjoying another amazing side of Florida. Let me share some Wild Florida tips and tricks with you to help you enjoy your visit the next time you are in Orlando.
Wild Florida Tips and Tricks
Wild Florida is located about 36 miles from Disney World or Universal Studios.
Wild Florida Airboat Rides
The Wild Florida airboat ride was one of the highlights of our trip. I won't lie. The kids were a little apprehensive at first. As you can tell from the picture above, that went away quickly when we got out on the water. So let's talk about some tips and tricks for making the most of your airboat ride.
– Book it in advance
Airboat rides can sell out so you will want to book your time in advance in order to make sure you get the timeslot you want.
– Book the first ride of the day
It can be tempting to opp for a later time of day for your airboat tour. I strongly advise getting the first tour of the day. Now that we are in the summer months, the alligators will spend later portions of the day on the bottom of the lake and you won't see as many. By going on the first tour of the day you are giving yourself a better chance of seeing more alligators.
– Book the 1-hour airboat ride
There is a price differential of about $2o to do the hour-long tour but I believe the price difference is definitely worth investing in. Our tour went so fast that I remember wondering if it really was an hour. It was. It just felt like no time.
– Pull your hair back
It's very windy and you want to keep your hair out of your face while on the airboat. Either bring a ponytail holder or pull your hair back.
– Get there early
Don't show up right at ride time. Instead, show up a bit early to check in, fill out forms, and get where you need to go for the ride. A bathroom break beforehand isn't a bad idea either.
– Apply sunscreen before riding
You will be out on the lake in the sunlight. Apply sunscreen so that your skin is not bothered by the Florida heat.
– Bring a camera/cell phone
As part of your tour you are going to see some amazing things including gators and eagles. Make sure to bring your camera along for the ride. The tour guide will stop and let you get up to take pictures from inside of the boat if they see something they think you will find interesting.
– Prepare children beforehand
While on the airboat children will be asked to sit for certain portions without getting up and will see large gators. It will also be very loud and they will need to wear noise-canceling headphones to help with the sound. These are provided but you will want to prepare your children for both of these things.
– Bring Water
This really applies to your entire day at Wild Florida. It is very hot so make sure to have water with you to stay hydrated.
– Listen to your guide and ask questions
Your guide and airboat driver will have some incredible facts to share with you. Make sure to listen to what he/she has to say. Don't be afraid to ask questions either. I know that I learned a great deal about alligators and Florida in general on this airboat ride.
– When the ride is over…
You will be given the chance to buy a group photo from your airboat ride on your way out. This is optional but can be a fun memento of your airboat ride. Once you finish the airboat ride, it's time for some great fun to be had in the gator park. Don't worry. It has more than gators for you to see!
See our airboat tour experience: 

Wild Florida Animal Encounters
We were given the opportunity to take advantage of a sloth encounter while we were there. Here are a few of the other encounters they offer: Gator, Porcupine, Ring-Tailed Lemur, Albino Gator
Each of these encounters will come at an additional rate. For the encounters, I recommend booking the first encounter of the day. This will give you the opportunity to interact with animals before they have a day of encounters behind them. Food is a great motivator for the animals in these encounters and you want them in the morning for the first feeding instead of in the afternoon when they've been snacking all day and may not be as interested.
Let's talk more about the sloth encounter.
Because we had the sloth encounter, that is the one I am going to give you more information about.

With the sloth encounter, you can expect to interact with one of two sloths. The sloths will have the opportunity to snack on foods the facility approves in order to keep their hands and teeth happy so that you can have this experience.
When you enter the enclosure you will sit down for a short conversation about the sloth and watch as a staff member brings them out of their enclosures to the area where you will be interacting with them.
When it is time for you to interact with the sloth, you will be allowed to go up in groups of two. This is your time to take a slothie, pet the sloth, or see the sloth up close. I was most amazed by the fact that the sloth was so soft. For some reason, I always assumed their fur would be rough to the touch.
Once everyone has taken a few pics, the staff member will take a family picture for you. This will give all of you a chance to get a group photo with the sloth.
After all pictures are finished you get to sit on the bench and spend a few minutes asking all of your sloth questions and watching as the sloths eat and relax.
Wild Florida Gator Park
Contrary to its name, the Wild Florida gator park is not only alligators. In fact, you can see some incredible animals in this area.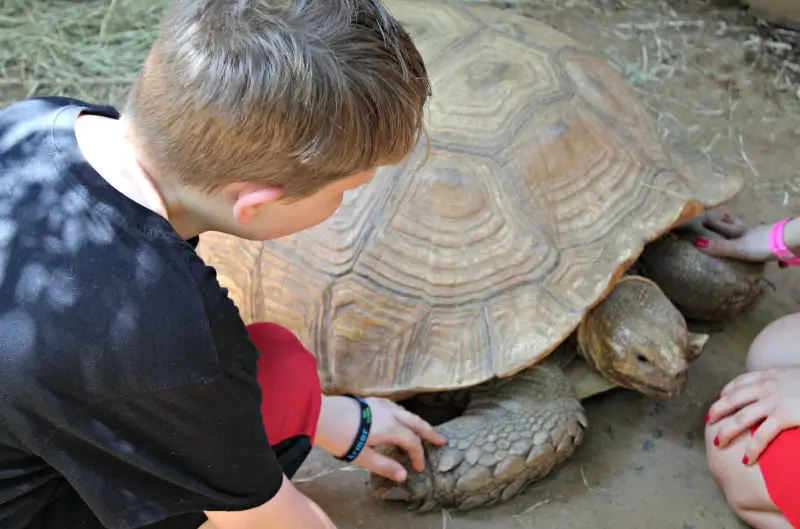 In this area you will be able to see a variety of animals but my son would have been quite happy to stay in the petting zoo for hours with the turtle pictured above and the baby goats. He seriously loved the ability to spend time loving on the animals.
In the Wild Florida aviary you can see some of the most gorgeous birds. Even better, if you buy a feed stick from outside of the aviary, you will have the chance to feed them. This is a great place to enjoy some shade while visiting with beautiful birds.
While in the gator park you can see animals such as Foxes, Racoons, Zebra, Ring-tailed Lemur, Prehensile Tail Porcupine, Red Ruffed Lemur Exhibit, Australian Wallaby Exhibit, and so much more!
This park is included with an airboat tour or you can pay as little as $10 for an adult to get in.
Wild Florida Exotic Animal Show
Make sure to make time for the Wild Florida Exotic animal show as you will get a great chance to learn more about the animals in the show as well as get a chance to pet some of them.
Bring quarters along
You will have the opportunity to feed a few of the animals in the gator park. Make sure to bring quarters with you. I wish I would have brought a whole bag of quarters for everything my son wanted to feed.
Are you interested in visiting Wild Florida?
You can find all information about tickets and animal encounters here: https://wildfloridairboats.com/
Looking for more?