Central Florida has a drive-thru safari park where you can see a variety of animals. Not only can you get up close and personal by feeding a giraffe, but you can also see animals like zebras, ostriches, and many more! Even better, this is a safe option in light of the current world as you don't leave your car for the experience. Let me share some additional information with you about Wild Florida Drive-Thru Safari Park! (Make sure to read to the bottom for free printables!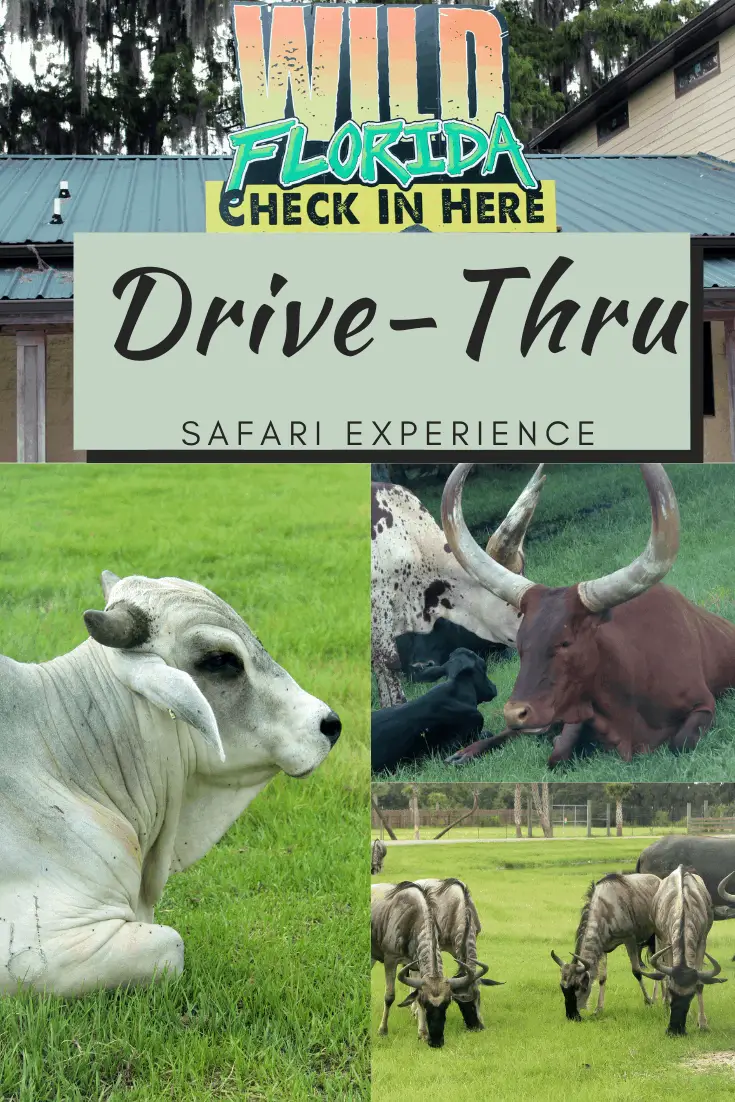 Wild Florida Drive-Thru Safari Park
*We received access to the drive-thru for our family of four in exchange for this post. However, all opinions shared here are our own. 
Where is Wild Florida Drive-Thru Safari Park? 
You can find the drive-thru safari park at
3301 Lake Cypress Rd
Kenansville, FL 34739
The park is about forty miles from Disney World. Driving time will depend greatly on traffic 
The park is also about 67 miles from Legoland. 
When planning to visit make sure to leave extra driving time for traffic. This is not in the downtown area. You will have to either rent a car or drive your own vehicle to visit this attraction. 
How much is the Wild Florida Drive-Thru Safari Park experience? 
Non-Florida Residents will pay $29 for an adult ticket and $20 for a child's ticket. 
Florida Residents will pay $20 for an adult ticket and $15 for a child's ticket. 
Admission to the drive-thru experience will also grant you entry into the walk-thru gator park. You can read more about that park on my Wild Florida Review. 
How do I get tickets? 
You can visit the Wild Florida Website to book your tickets. You will want to schedule your visit in advance. If you are planning to visit over the weekend, make sure to schedule in advance as weekends tend to sell out more quickly for the drive-thru experience. 
The park is open Monday through Saturday, 9 a.m. to 6 p.m. Reservations can be made Monday through Saturday, 8 a.m. to 5 p.m. and there is no fee for parking.
How is Wild Florida handling safety? 
One of the biggest questions being asked right now is whether a place is safe or not. The beautiful thing about Wild Florida's drive-thru experience is that there is an experience for every comfort level. 
When visiting the drive-thru experience, your only interaction with another person will be when you check-in. Staff are wearing masks and will quickly get your tickets and get you on the road to a fantastic experience. They will also hand you a scavenger hunt paper with information about some of the animals you will see while on your drive. 
When visiting the gator park, everyone is wearing masks and social distancing reminders are being shared. We saw many hand sanitizer stations for hand washing as well. We were there on a weekday so I can't speak to what crowds will look like on the weekend.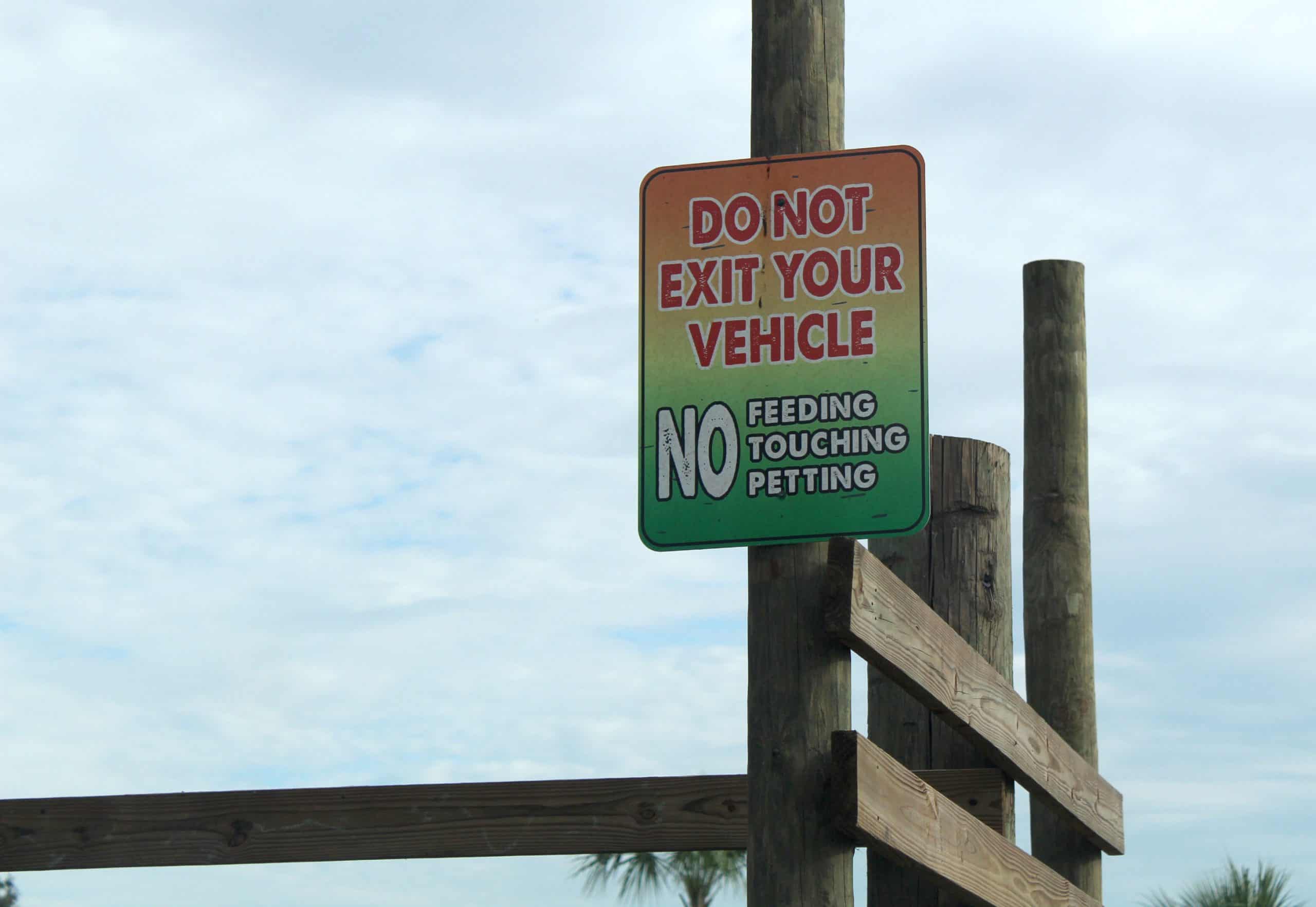 What are the safari rules? 
Do not open your windows. – Animals are meant to be seen but not touched. During the drive thru safari keep you windows closed the entire time. 
Do not feed the animals. – This kind of goes with the point above. However, it is important that you are not feeding any of the animals. 
Do not pet or touch the animals. – This also goes with keeping the windows closed. These animals are not meant to be touched. Keep your windows closed and enjoy the view. 
Go 5 miles per hour. – The animals have free roam of the safari park. This means that you need to take the drive slowly. You will also want to always keep your eyes on the road when driving as animals will walk in front of you without a second thought. 
How close do the animals get? 
The animals will walk right up to your vehicle or walk around your vehicle. They get extremely close and you will be able to see a large variety of animals. Some animals will be hiding among the trees. Make sure to keep an eye on the tree line for animals that are hiding. 
3 Tips for Enjoying Your Wild Florida Safari
Clean your windows before you go! – If you plan to take pictures or video, you will want to clean all windows before going. Streaks and smudges on your windows will show up in your pictures. 
Use the bathroom before starting the safari. – You can go a bit past the safari to the main park to use the restroom before the safari. I highly recommend this so that you don't have to rush the experience. 
Bring snacks for younger kids. – If you are bringing younger children on a safari, it can help to bring car safe snacks along for them to enjoy as you drive thru the safari. 
Looking for an educational add-on? 
I have put together a small set of printables you can enjoy after you visit the adventure park. You will need the printable safari guide from Wild Florida to answer some of the questions in the printable pack below. This safari scavenger hunt provided by Wild Florida can also be a fun way to connect kids to the experience. 
All answers to the questions on sheet two of the printable can be found on the printable from Wild Florida.