Volcano Project for preschoolers!
This volcano project for preschoolers is an easy volcano project the youngest learners can enjoy. Even better, it's a quick clean-up and involves minimal supplies. It's also not incredibly time-consuming. You can find additional volcano resources on the blog. Try this simple volcano project today. You can also buy a volcano project if you prefer.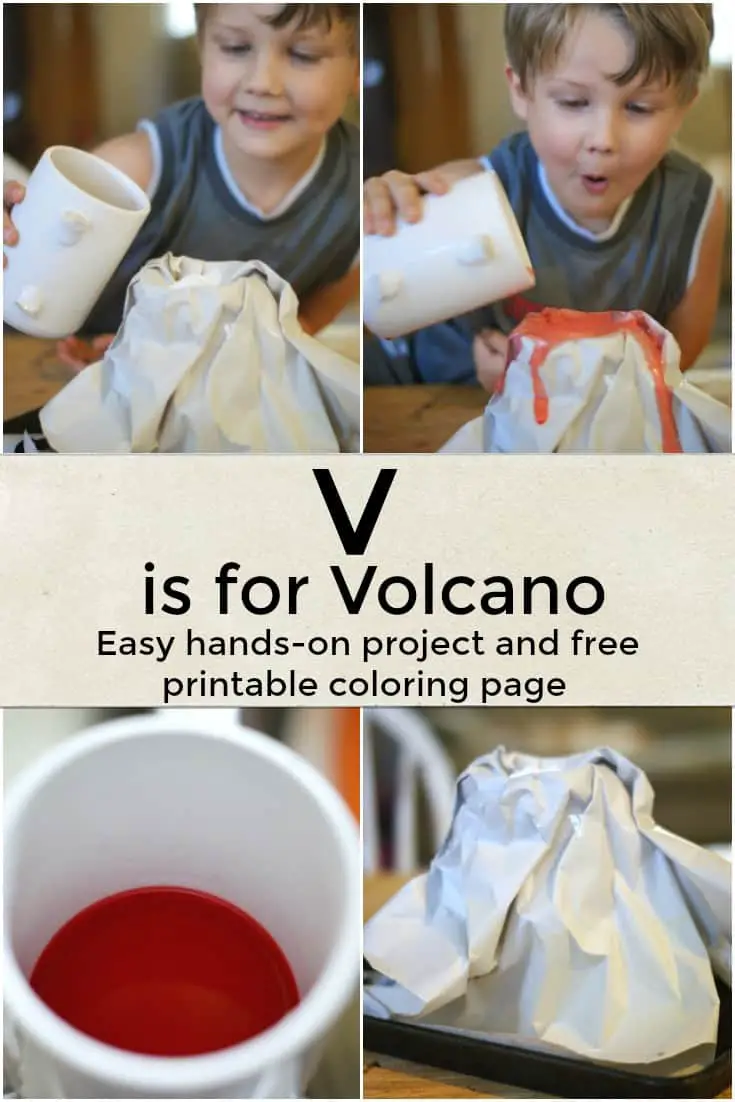 No Mess Preschool Volcano Project
This is a really fun project to let your little one enjoy without going in-depth. It is also quick and easy to clean up.
What you will need:
Cup 
Paper – I used a 2 foot piece of end roll but you can use what you want. (You can buy end rolls at your newspaper for around $5.)
1/4 cup Baking Soda 
1/4 cup Vinegar 
Red Food Dye – 8 drops
A cookie sheet – Not necessary but makes clean up easier.
Making your Volcano
You will start by placing a cup or water bottle on a cookie sheet.
Use paper to make the general form of a volcano. You don't need to get extremely detailed as preschoolers will usually be more impressed with the chemical reaction than the appearance of the volcano. If you want to have some fun, show a picture of a volcano to your preschooler and let them add the paper in the way they want it to look.
Make sure to leave a cavern at the top of your volcano. It doesn't have to be deep. It just needs enough room for the baking soda.
Add baking soda.
In a separate cup mix together vinegar and red food coloring. – This will cause a chemical reaction when adding to the baking soda. Adding in the red food coloring will give it the look of magma.
Pour the vinegar solution over the baking soda. This will cause the red lava to flow out of the volcano and down the sides. Use the cookie sheet under it to keep from having messes to clean up.