Universal Studios for Families
Last month our family had the opportunity to visit Universal Studios in Orlando. It has been a dream for both of my children for years. However, I didn't think they were old enough to fully enjoy the park. I have a separate post for Harry Potter related tips so you won't find those in this post. That said, I have some tips for Universal Studios for families in case you plan to bring your family to Universal on vacation.
Universal Studios for Families
We were given 4 tickets and Express passes to facilitate this post. All opinions are 100% our own and were not influenced by these tickets.
Our kids are 9 and 12 as of the writing of this post. We waited for this age as they weren't big coaster fans and I have one who didn't like 3D on rides until last year. With many of the ride concepts at Universal and Islands of Adventure operating as either coasters or 3D rides, I knew they wouldn't enjoy it. Your kids may have a different experience depending on their fears. I also knew that our big goal was to visit the Harry Potter areas but we wanted to wait for my daughter to be comfortable riding the ride.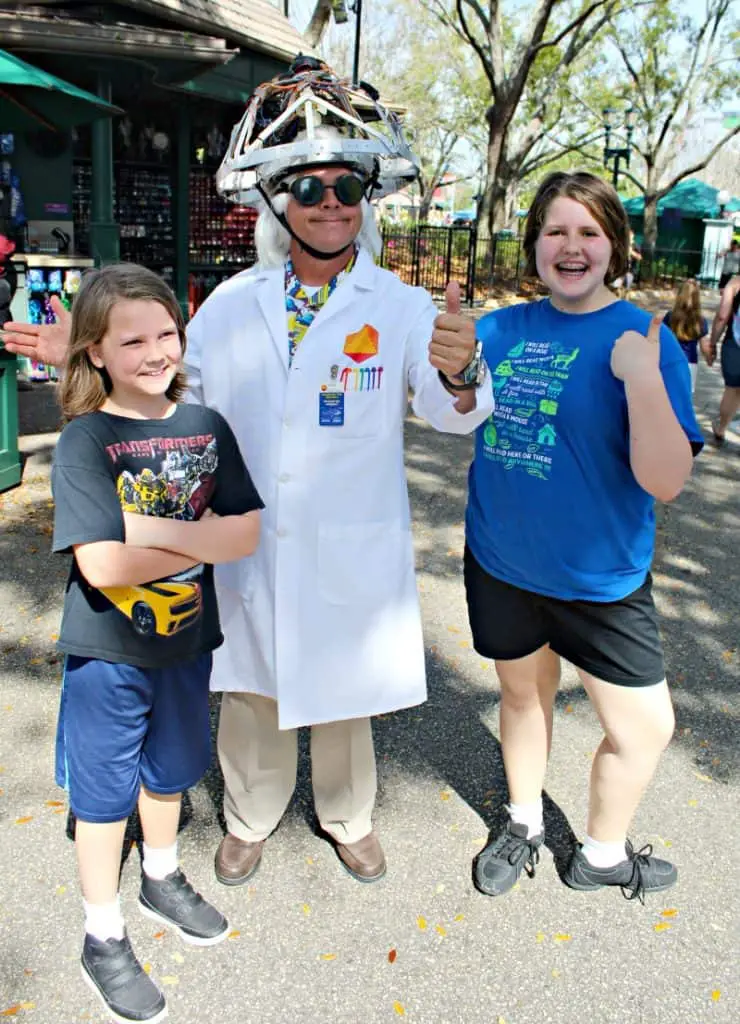 Have a pre-visit movie party.
There are some movies that will be identified immediately. However, there are some characters that not all kids will recognize. If you want to get a great shot with Doc for instance, having them watch the movie beforehand can give them the awareness to make that meet and greet so much better.
Movies to watch before visiting: (You know your kids best as to what they can watch)
Harry Potter
Back to the Future
Men In Black
Fast and the Furious
XMen
E.T.
Despicable Me
King Kong
Jurassic Park
Be ready to laugh together.
Many of the areas of the park have really fun photo ops like the one pictured above. Don't be afraid to laugh together and shoot some hilarious pictures that are sure to be fun memories. We found some of our favorite photo ops in Islands near the comic area as well as in Diagon Alley. However, there are so many photo spots that you could spend hours on photos on your trip.
Pay attention to ride disclaimers.
There are some rides such as Fast and the Furious that have strong language or scenes in them. These will have signs posted. If you are concerned about your children hearing strong language pay attention to these disclaimers. It will help you to make an educated decision. These are also great signs to watch for sensory warnings and health warnings.
Characters will stay true to their role.
Some of the characters will stay true to the character they are made to play. I know that Goblin scared my daughter. It made for a fun interaction as my son laughed too hard at picking on his sister with Goblin. That said, if you have a sensitive child, avoid meet and greets like this or watch them from the line to see if your child will be able to handle it. It's really fun to stay in character with your favorite characters and acting like you are part of their world.
Dress for and plan for the heat.
Florida can get very hot and while dressing in Harry Potter robes or warmer outfits can be tempting, it is not practical for the heat. Make sure to dress for the weather so that you can best enjoy your experience in the parks. If you are hoping to get a robe picture, it may help to pack a backpack with a change of clothing so you don't spend the day hot. If you are going to ride Popeye, bring a change of clothes or you will get drenched.
Check the thrill level on rides.
Not all rides are created equal when it comes to the thrill level involved in them. Coasters like The Hulk pictured above might feature a favorite character but they could also be too intense for certain children. Make sure to watch the ride run or talk to a staff member before riding to make sure it will work for your children. I know that more than one staff member has been kind enough to tell us if a certain ride would be difficult for my kids.
Find kid-friendly run around areas.
For smaller children, it can be easy to run from ride to ride and have a grumpy child. Instead, find areas like Seuss Landing where kids can run around a bit on the play areas and ride things targeted to them. Seuss Landing definitely has the best option for younger children as it has some areas where they can run off some energy. There are some really sweet playgrounds in that area that let them enjoy playing with less worry of getting in someone's way.
Take advantage of child swap.
Child swap is a great option if you have a child who can't handle certain rides. One person in your party can wait with the child in child swap while the other person rides. Then you can swap and let the other person have a chance to ride. This is also a great way to have one smaller child nap while the other goes on an adventure with the other parent.
Buy the reusable cup!
The reusable cup starts around $15 and the price will decrease the more you buy. This cup is refillable for the entire day. The only limit you will see is a 10 minute way between refills. Other than that, you can fill it up all day at Coca Cola Freestyle machines. Need to use it on day two? You can pay $8 to have it refillable for the day.
Take advantage of the provided lockers.
The lockers pictured above are free to use for rides you can't bring your belongings on. There are larger lockers you can rent for $2. I was able to fit a backpack in one of these but had to remove a couple of things so that it would flatten to fit. Your mileage may vary depending on what you have to pack. Keep this in mind as you are paying bags for the park.
Check out some impromptu shows and meet and greets.
On the corner near the Horror Movie Show building you will see floats like the one pictured above that come out, perform a small show, and then have some fun meet and greet opportunities for you. This Secret Life of Pets one was so much fun for my son. These will run throughout the day depending on the different ones they roll out.
Make time for the raptor meet and greet.
This meet and greet is one of my favorites in both parks! Not only will you have some good fun, but your kids might also jump 15 feet in the air when the raptor lets you know how real it is. Make sure to ask about wait times before getting in line. Keep in mind that Blue does have to go back to her paddock to eat so the line may move longer if she is stopping to eat shortly.
Ask a staff member about the meet and greets.
Not all meet and greets have a set schedule. Make sure to ask the staff members about meet and greets that might not have a time listed. Also, make sure to ask about the wait times. Newer meet and greets might have long lines that fill up fast.
Bring extra clothes for water rides.
Rides like Popeye will drench you completely. Unless you want to walk around wet or use the people dryers you probably want to pack extra clothes so that you can enjoy the ride and then change into more comfortable clothes. You can walk out of Popeye feeling like you just jumped in the pool.
 Want to read more about Universal Studios Orlando?
Taking a Harry Potter fan to Universal Studios <— Find out how to do it right!
Mardi Gras at Universal Studios Orlando for Families <—- Should you take your family? I think so!
10 Things I didn't know about Universal Studios <—- See more!
10 MORE Things I didn't know about Universal Studios <— What did I add?
Cabana Bay Beach Resort in Orlando <—- Check out a room tour and a review!
Caribbean Carnival at Loews Sapphire Hotel <— Should you see the show?