Typesy Homeschool Typing Program Review
Typing programs such as Typesy become more important for parents everywhere! As my children get older I am starting to see just how much of the world is moving towards online commerce and activities. My son wants to be a ride engineer when he grows up. I wanted to find a program that would teach touch typing to prepare him for his future. Let me share this Typesy homeschool typing program review with you. I believe this is the typing solution homeschool families need.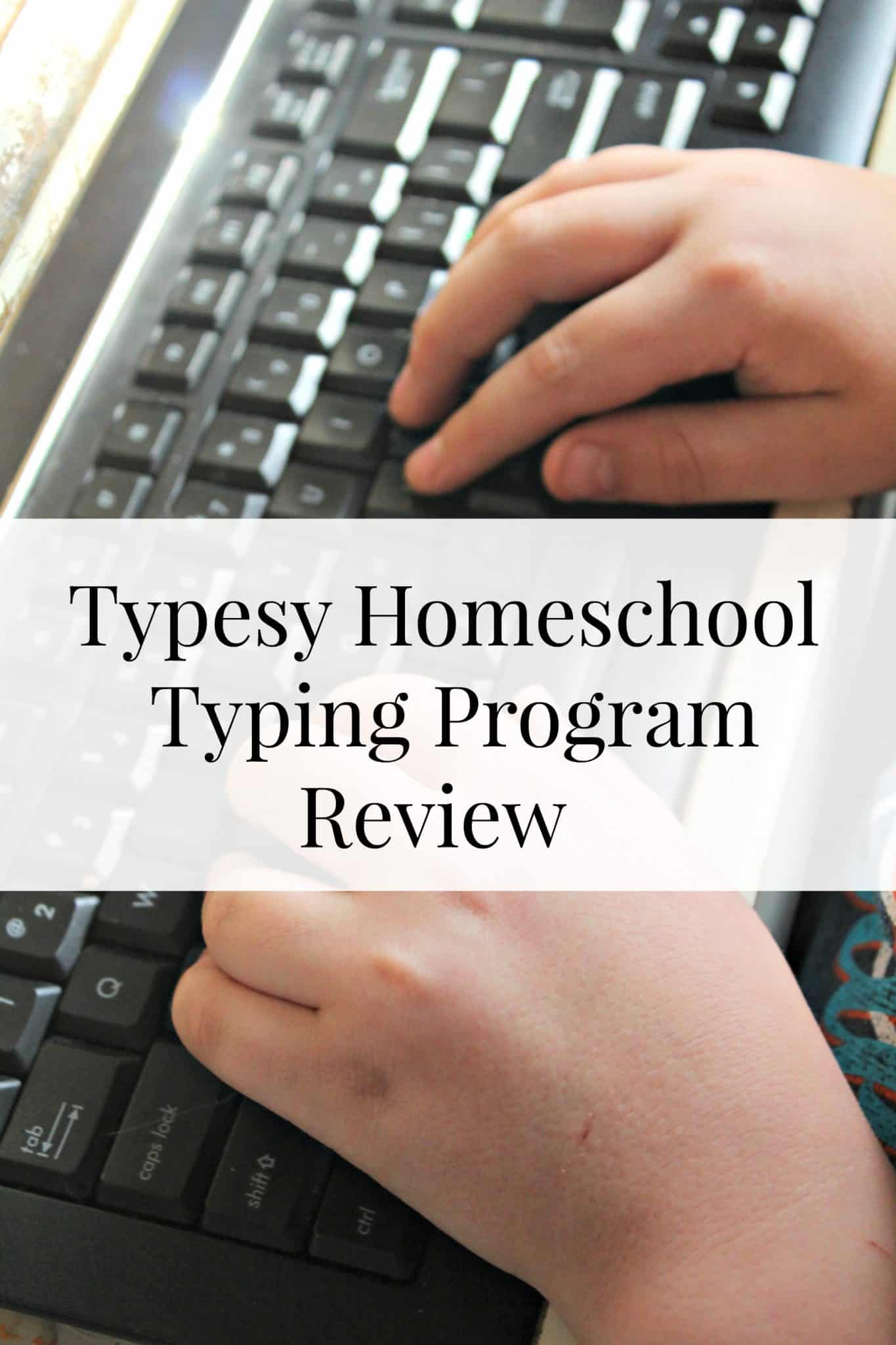 Typesy Online Typing Class Review
This is a sponsored post working with Typesy. I was compensated for my time and received a review product. However, all opinions are 100% my own within this post. 
I'm going to give you some honest looks at the program, how it works, and what we think of it. I need to know if this is still a good homeschool typing tool for us. I will also update this post at the end of the school year and let you know if it is still a fit for our family.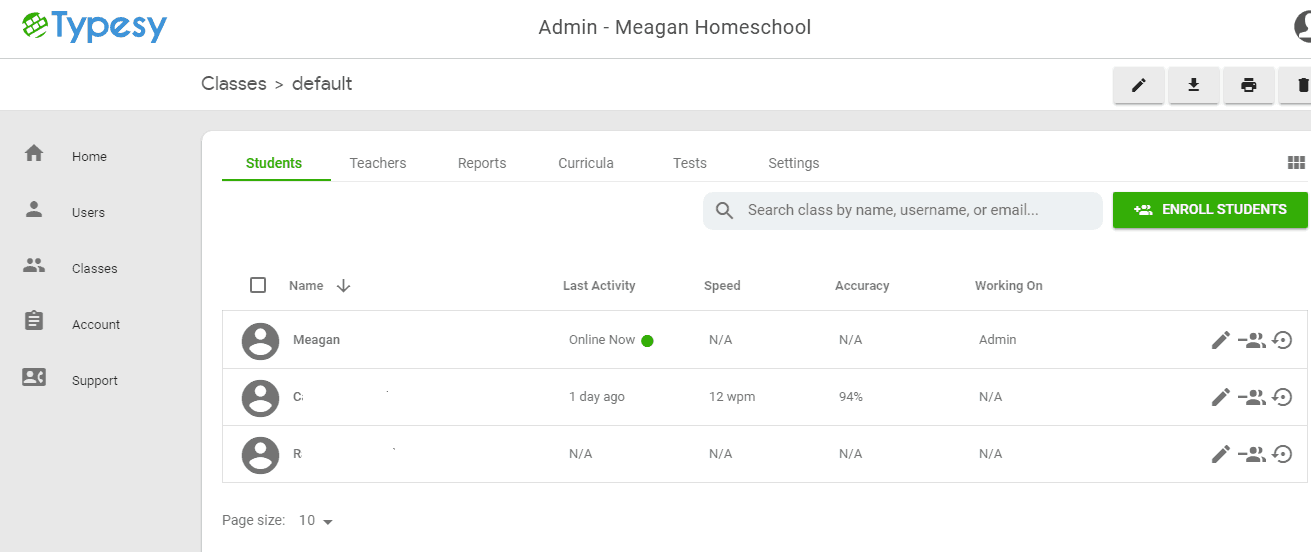 Easy to manage multiple children
If you have more than one child, you know what it takes to keep things simple and streamlined. With the Typesy homeschool program you have the ability to set up a classroom and moderate each of your children from one simple dashboard. I really enjoyed the simple customization options I had from this screen.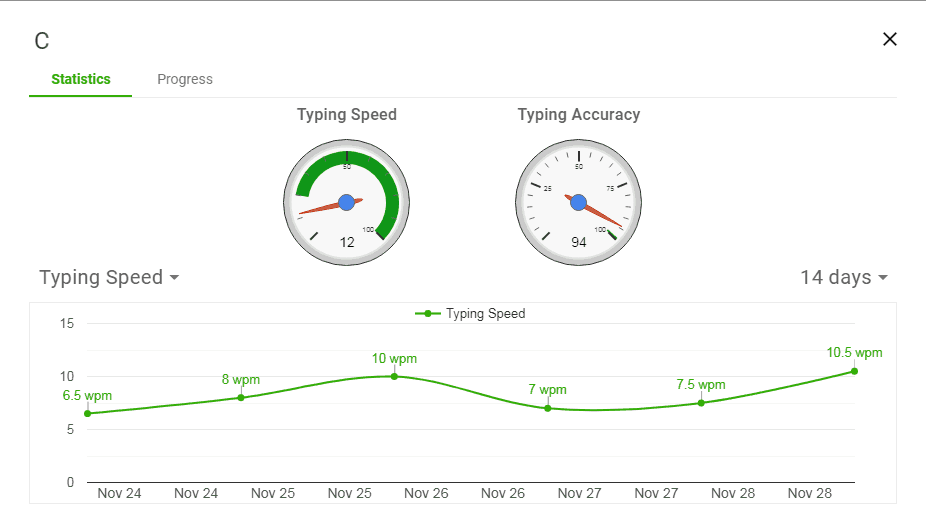 Easy to understand statistics
Another benefit of the Typesy typing program is the ability to see quick at a glance metrics of how your child is growing as they work within the program. This is also a helpful encouragement for a child who isn't sure if they are really making progress. This simple graph will help them to see where they have improved. 
More detailed reports
Are you looking for a more detailed look at what your children are learning and how they are developing. This program will let you dig deeper in the reports. You can see how their accuracy and speed work together in the homeschool keyboarding program reports. You can even look at which hand they are stronger with to see if there is an area where they need to do more practicing.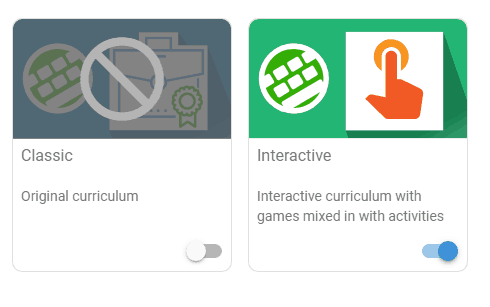 Choose your learning experience
This program includes multiple games to help children learn to type. The nice thing about the way it is structured is that you have control. If you have a child who learns best with added games to encourage them, they can move to the interactive form. If you have a child who is easily distracted and you would prefer they spend more time focused on lessons, you can turn off the interactive version and switch to the classic.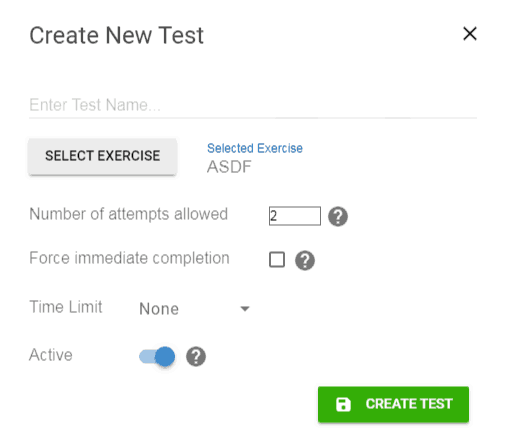 Custom Testing
Do you want to measure your child's abilities in a certain area? With Typesy you can customize their tests to their needs. Tests are not a mandatory part of the experience but it does help if you want a good read on how certain letter portions of the keyboard are working for your child. This is a great tool to see where you child may want to invest some extra practice time.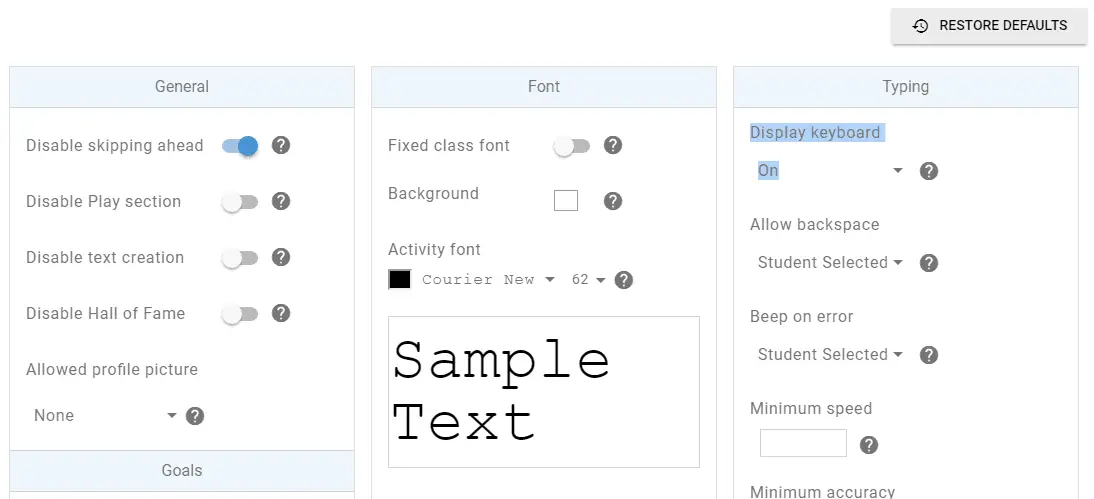 Typesy Parental controls
As a parent, you have control over a lot of different things within the program. You can choose the font, decide if they can skip ahead or work in sequential order, have the ability to see the keyboard on the screen as they work, and so much more. I love that you have the freedom as a homeschool mom to customize the learning experience.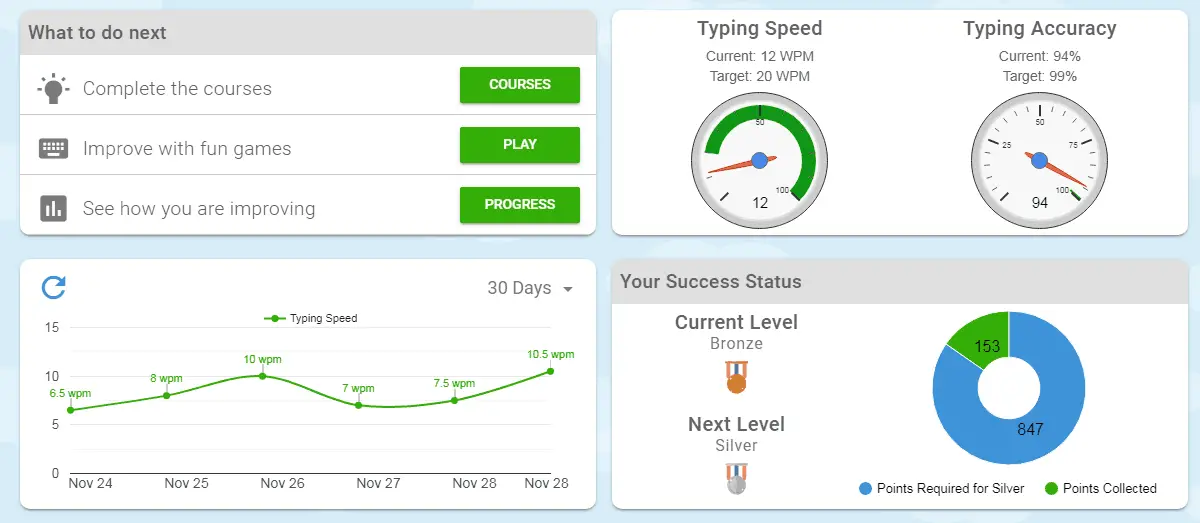 Student dashboard with incentives
Do you have a child who enjoys a fun incentive? In the Typesy typing program you can earn points toward metals as you learn. This can be a fun incentive for kids to keep typing and learn to get their speed and accuracy up. 
Enjoy ad-free typing games
Many of the typing practice games I see online include ads as part of the program. This program gives you a large selection of games that kids can play to practice typing. Even better, there are no ads whatsoever. This means your kids can have fun playing on the games without worrying about ads that might not be appropriate or that might distract from learning.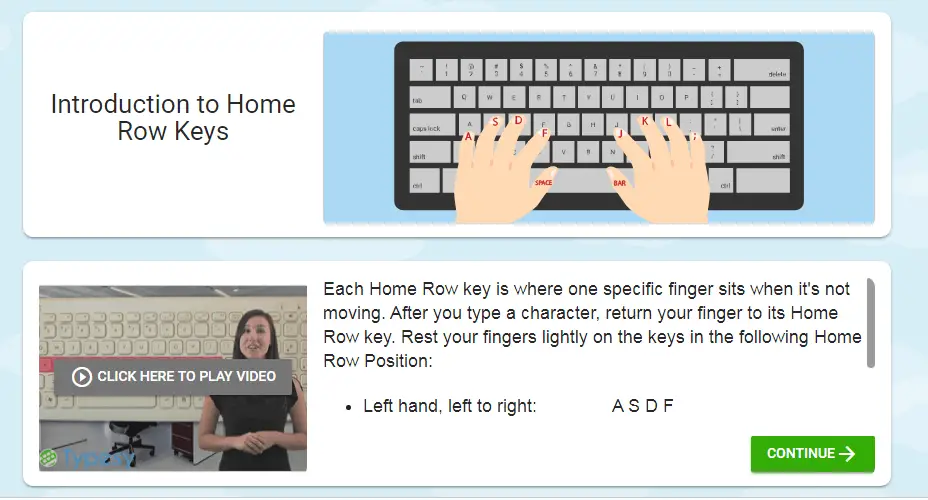 Multiple learning styles represented 
One of the great things about this program is that it doesn't work with just one learning style. Your children can look at a video or read the lesson on their own if they don't want the videos. The best thing about it is the fact that it teaches touch typing using the home row and teaching them to type without looking down at the keyboard.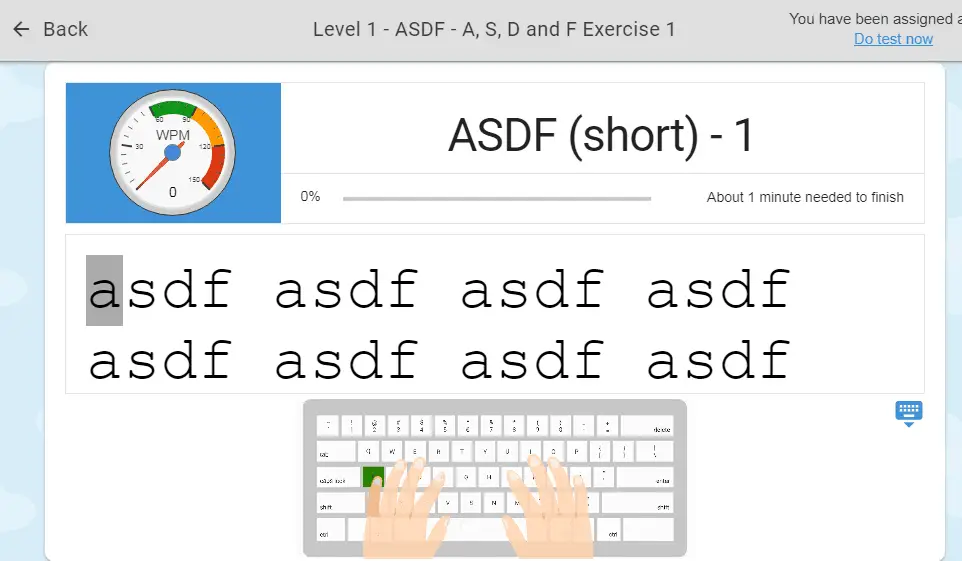 Visual cues help with learning typing skills
The visual cues on the screen are a great help. My son loves the added visual cue of the hands on the keyboard on the screen. As a parent, I love that I can eventually turn this off to make sure that he is learning the skills he needs to succeed with typing. 
Fun typing games
We love the high color games that are available to kids in the Typesy homeschool typing program. It gives the kids the ability to have some fun with a game while I know they are working on skills that are so important to me.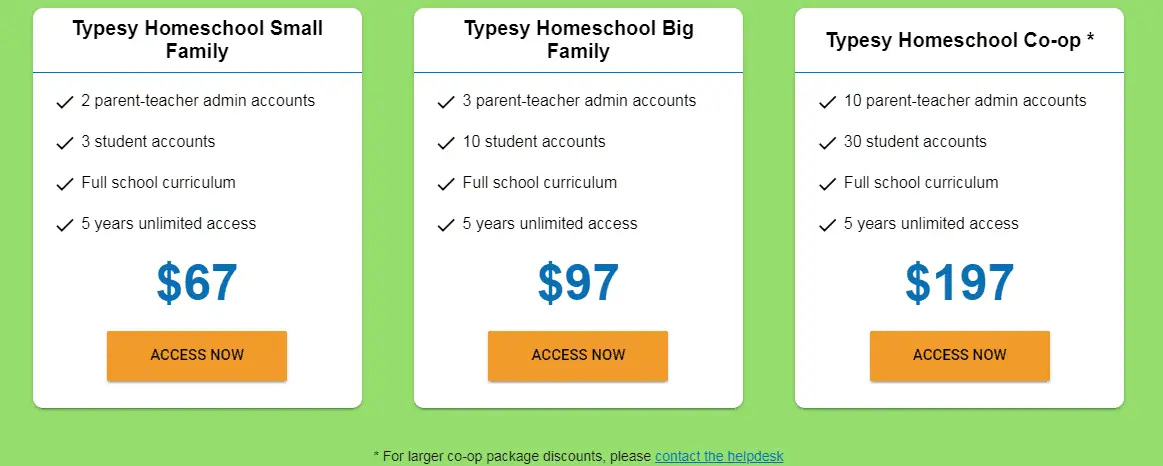 Reasonable pricing
With pricing starting at $67 for a 5 year contract on the program, you seriously can't beat it! Even better, there is a 1 year warranty. You can also work with a co-op to make sure you are getting the best possible deal on the program for all kids involved. 
Get Yours Here!