This week my husband and I had the opportunity to sneak out without the kids. We wanted to go out for dessert but we still wanted a special experience. We decided to head over to Universal's City Walk and check out the Toothsome Chocolate Emporium. This place absolutely took my breath away. I would love to share some of it with you in this Toothsome Chocolate Emporium dessert review.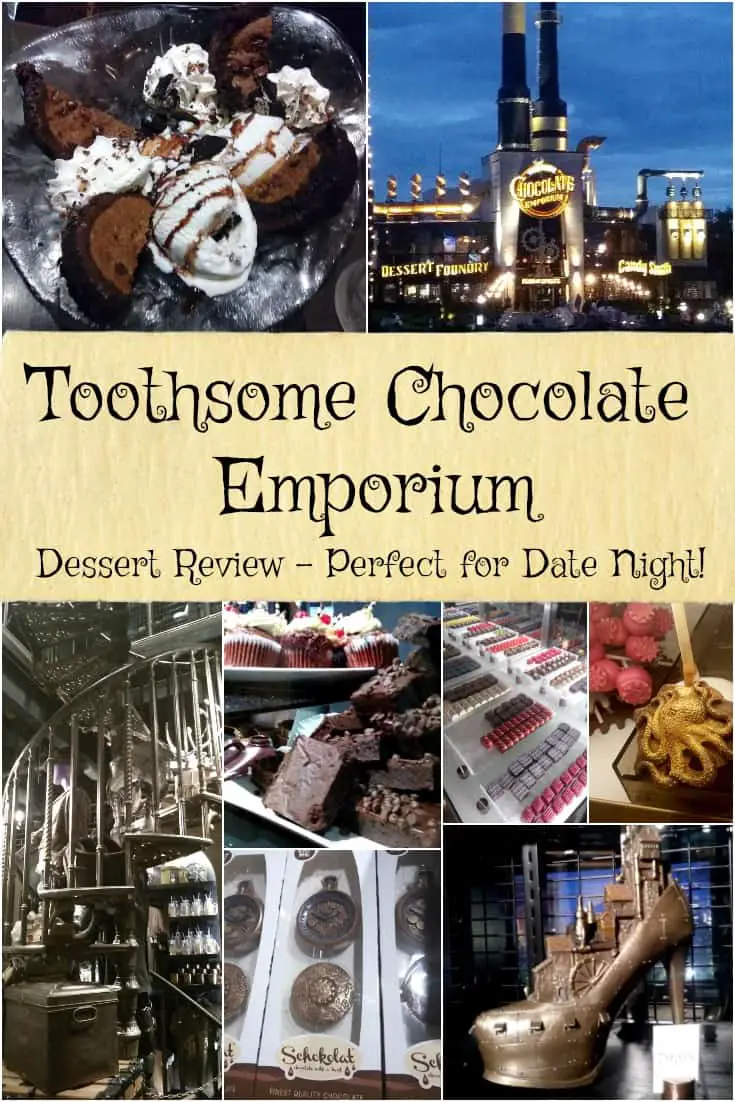 Toothsome Chocolate Emporium Dessert Review
We did not do a full meal here. I think that is important to note.
We arrived at about 8:40 and walked up to the desk to set up a return time. She asked if we were there for dessert or dining in. If you want the ambiance of the restaurant then make sure to tell them that you want dine in. There is a quick service window option where you can get the desserts but I will always pick the inside because it is breath taking.
She took our phone number and we received the above text to let us know what our wait was. In less time than promised we were able to get another text to come back and enjoy our dessert.
What is there to do while you wait?
If you are planning to dine in you will probably have a wait. Don't let it discourage you. There are some fabulous things to do right there at Toothsome. I HIGHLY recommend spending some time in the gift shop.
The gift shop is filled with beauties like the shoe above. These gorgeous items are available for purchase at different prices.
Not only can you bring your sweet tooth to Toothsome for dessert, you can find some amazing sweets in the gift shop to enjoy. The picture on the left above has some of the prepacked treats in beautiful bottles and containers. The picture on the right above has the shoots filled with different candies. You will buy the jar and then pay per pound for the candy you choose to fill it with.
You won't want to miss some of the amazing theming you can find. Everything feels like a steampunked Willy Wonka in there. One great example is the amazing fluff dispensers above. You can't actually get the fluff out of it but you can buy it in the jars below.
Speaking of theming, the above image shows some of the amazing theming in this shop. With examples of different steampunk outfits, elements, and ideas, you won't be disappointed by walking around at Toothsome's gift shop. Make sure to look up as there are some hidden gems.
Toothsome's is a chocolate emporium so you will find a huge selection of jaw dropping chocolates to purchase before you even make it to the restaurant. The prices vary depending on what you purchase. The small ones in the display case pictured above are just under $3 each and prices go up from there.
What happens when they text you to come back?
There are benches outside if you need a few minutes to relax while waiting your turn. I know that we enjoyed the view of City Walk while laughing at some of the funny conversations we heard as people walked by.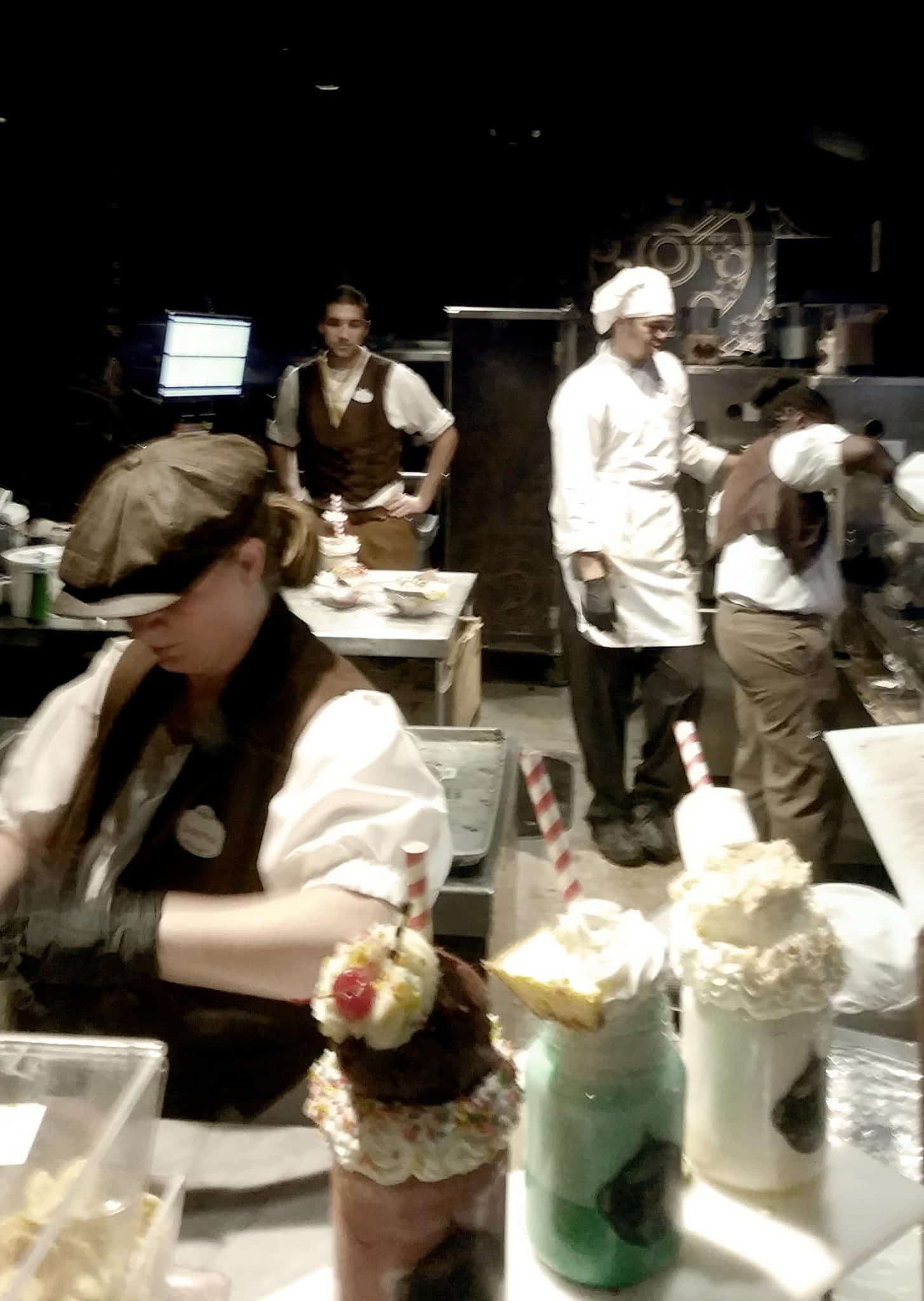 Once you get your return text you will have a chance to wait a minute or two more. Don't waste that time. Turn and watch the artists at work as they put together delicious treats for the restaurant. Some of these desserts are simply stunning.
Once you get your seat take the time to really take it in. I didn't get amazing pictures inside because my phone decided to be glitchy. (I guess that means we need to go back again.) The inside of Toothsome Chocolate emporium takes theming to a whole different level. Make sure to look in every direction as you are sure to find many different elements you won't want to miss out on.
How is the service?
If you follow me on Twitter (@mthomeschoolmom) you have probably seen me brag about the service at Toothsome. Their servers not only maintain the theming they make you feel like you are genuinely welcomed. Our server was Mindy. She was training someone and still took the time to make us feel completely welcomed. She shared tips about the theming and helped me to see things I would have missed.
Ask your server about the restaurant. You will see things and learn things you never knew. Make sure to take a few minutes and read your menu. You will not want to miss the story about how Toothsome Chocolate Emporium came about.
So, what did we order?
Toothsome Chocolate Emporium is famous for their milkshakes but we decided we wanted a Sundae. The picture above is the Brookie Sundae! That's a brownie cookie hybrid in case you wondered. It was so good my husband and I joked about who would finish the last bite. I will say that some have told me they wouldn't pay $9.99 for a dessert. I would pay it every single time! This is a little touch of Heaven. Make sure to taste test the whipped cream. There is just something so amazing about the flavor of that whipped cream.
I have had the espresso milkshake in the past with a friend and I will say that it is so good that I had to close my eyes and ignore my friend for a minute to enjoy the experience.
A little courtesy tip
If you choose dine-in to enjoy your dessert, make sure to tip well. Your server is going to make their money in their tips. Don't shortchange their night because you only wanted dessert. Make sure that your server is still taken care of. Think about the tip they would have received if they had a full dine in guest. I am not saying you need to tip that high but it may not hurt to tip a bit more than the 20% as you are paying for the experience/ambiance.
Let's talk about Penelope
Based on the theming Penelope is the creator of Toothsome Chocolate Emporium. If you see her, make time to interact with her. She may come to your table to say hello. I am generally not one to play into the character and theme type situation but she captures me 100%. I simply adore talking chocolate and business with her. She's so fabulous. We played a fun game of which Toothsome dessert would your spouse be and laughed about the many hats we wear as women.
Ask her any question at all about chocolate and she will do her best to answer it. You can also ask about any part of her outfit and she can tell you why it helps her cook. If you can't think of a question, ask her about the vials on her arm. There's a really fun story with those that I won't ruin for you.
What else should I know?
Make sure to walk around a bit before leaving the restaurant. There are the most breath taking maps in some of the rooms. Take a minute and look at these. You won't be disappointed. Even the bathrooms are themed beautifully!
Toothsome Chocolate Emporium is the perfect date night and I am sure we will be going back again. If you go, I would love to hear about your experience. Which dessert did you pick? What did you talk about with the wonderful Penelope?
Looking for more?