Parenting is one of the most amazing adventures ever. However, it's also one of the most taxing adventures ever. The best intentions are never enough and you can leave everything on the table and still have to keep moving. It can leave you feeling like a complete mom failure. Today I was a bad mom and that is ok. Let me share some of what I learned from my mom fail day.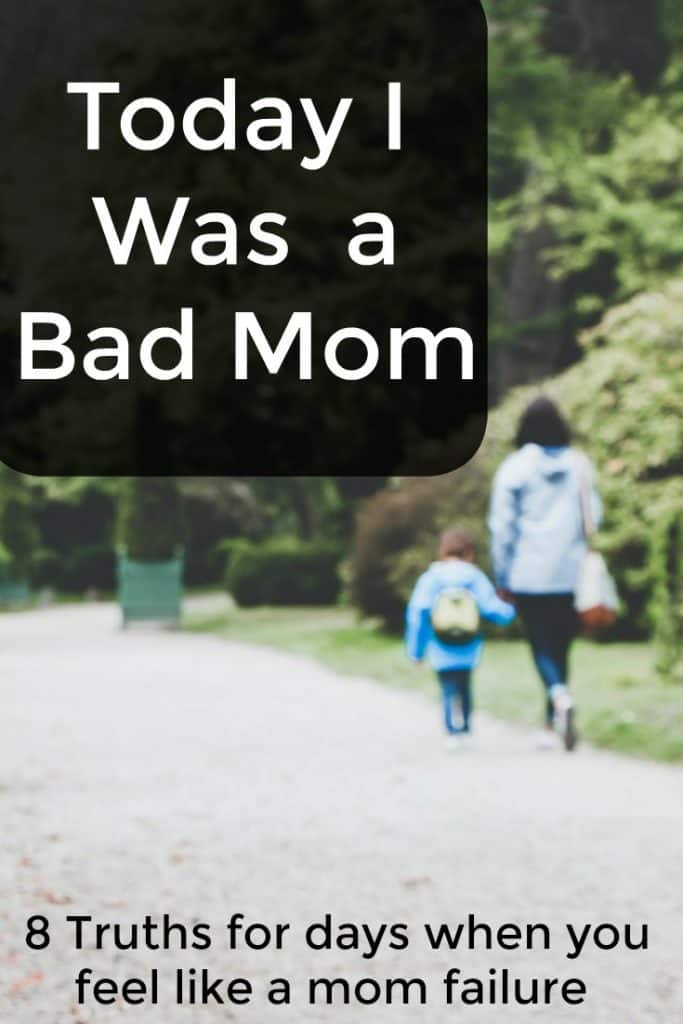 Today I Was a Bad Mom
If there is something that is unsafe for you or your children please seek help. There is a difference between a mom fail and a mom weakness. If you have an area where you need help as a mom, don't feel like you have to soldier on. Seek the help you need. You owe it to yourself and your children.
Let's talk about my mom fail day
My day started as most mom days do, with a plateful of good intentions. I was excited to start working on dream boards with the kids as I've been working on teaching them to dream big. I pulled out piles of supplies and sat down on the floor with the kids ready for an exciting time together.
My daughter didn't get the memo. In all of her 12-year-old independence, she started to tell me how stupid my idea was. She was cross and she was in a super crabby mood and wanted me sure I knew it. She didn't want to do my project and she didn't want to be present.
I warned her that if she kept up the negativity she would lose her phone. She threw a couple stickers on her board, told me I was stupid for dreaming, and earned a week without her phone. She stormed down the hall making snarky remarks and proceeded to bang around her room.
That's when things escalated. I wanted her out of her room. I wanted her in the common room with the rest of us while I made dinner. She wasn't having it. I yelled. She yelled. Tempers were lost. The situation just kept getting worst. I actually went in my room, closed the door, and cried. I was convinced that I was a failure and there was no redeeming this situation.
I dusted myself off, got busy with dinner, and went on while giving her her alone time. She refused to eat dinner and the night seemed to never be redeemable. In fact, I posted this on Facebook in regards to the night.
She chose to go to bed still angry.
Then I heard the sound that changed it all. My daughter was crying. I don't mean small tears. I mean giant crocodile tears. I went to speak with her and we were able to find peace.
Here's the thing, it didn't have to escalate that far. That was a mom fail in a big way.
What I learned from being a bad mom
Now, I have been a bad mom more than once. I don't want you to think I have it all together. Seriously, this girl is not perfect. However, there are some things I learned from that specific experience.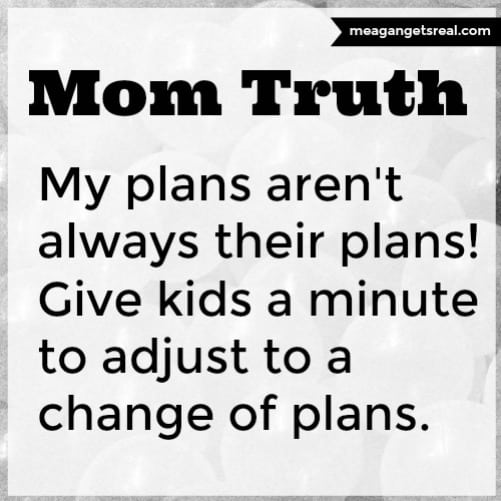 My plans don't have to be theirs
When my kids were small I had a lot more of a say in what we would do. If I decided we were crafting, they generally went with it and we had a blast. As they get older they start to have more opinions about things. For this situation, I should have shared what I hoped to do with them and let them have a voice as to when we did them.
This doesn't mean that they run the house but sometimes it helps to give them a say in the when. My daughter was not in a good mood to start with and my timing was awful for this project. If I would have held a conversation with her, we probably would have had a better outcome.
Control is overrated
I was so focused on pushing my will upon my daughter I didn't listen to what she was asking for. She wanted time to calm down and deal with her feelings. She wanted some alone time. By pushing for control and forcing her into the living room, I wasn't helping the situation. I was trying to show her I was the boss. I should have given her time to work through some of the big feelings she was dealing with and then address her.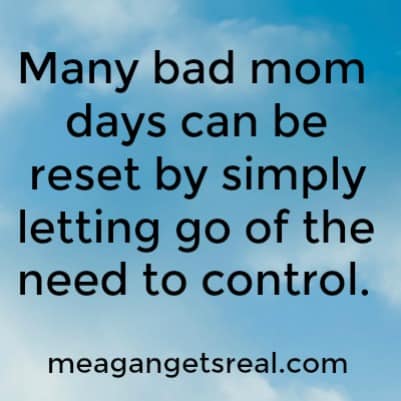 If you are parenting on a bad day, step back. Look at areas where you might be demanding control when you may need to flex grace instead. Many bad mom days can be reset by simply letting go of the need to control.
Choose your battles
Not every fight is worth fighting. As a mom, it can be so tempting to try and fine tune every missed note out of our children. Guess what, they are not meant to be perfect any more than we are. Instead, choose your battles. Decide which issues deal with the core character of your child and which issues are frustrating to you.
Don't pick your battles at the moment. It can help to make a list of the core issues that you will want to deal with. Things like backtalking, yelling, door slamming or other issues can be good ones to add to your list.
Check your attitude
Sometimes the worst days with our kids come from our own attitude issues. In the situation, with my daughter, I was both hurt that she didn't like my project and angry that she handled her response the way she did. I didn't handle the situation well because I was reacting based on my feelings. Feelings are great indicators at times but other times they are the mother's kryptonite.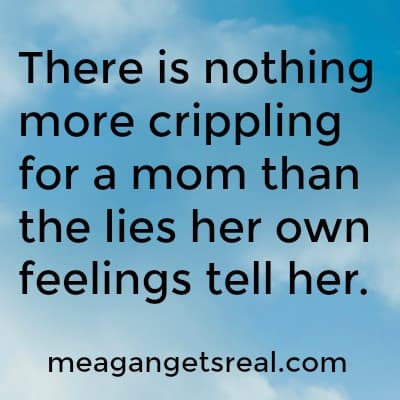 There is nothing more crippling for a mom than the lies her own feelings tell her. Fear, Sadness, Anger, Insecurity, and many other strong emotions have robbed moms of their ability to be the mom they could be.
Address your attitude and find your chill before addressing theirs. It will save you a lot of heartache in the grand scheme of things.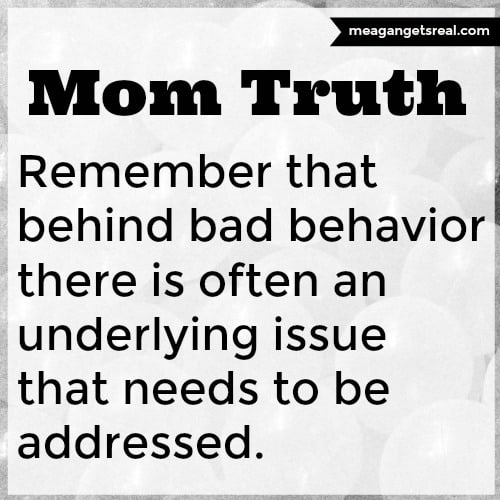 Don't drown them in consequences
When you are in the middle of a cruddy situation it can be easy to throw consequences at your children each time you are upset. For some children, the first consequence will handle it. For others, that's fuel for a fire. Have a set consequence in place before the conflict ever begins. It will help you to give a consequence even to the situation without using consequences like weapons in a battle with your kids.
Remember that behind bad behavior there is often an underlying issue that needs to be addressed.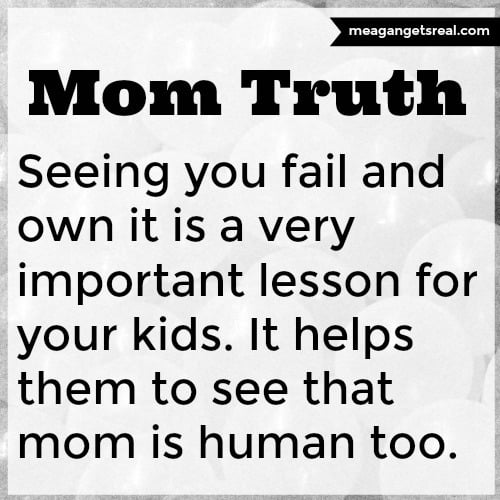 Own your bad choices
A bad mom day will happen. It's part of the process. However, we can't hide behind that excuse and refuse to own our choices. When the situation calms down, apologize for the things you did that didn't help the situation. Seeing you fail and own it is a very important lesson for your kids. It helps them to see that mom is human too. Mom makes mistakes but the right way to handle that is by owning those mistakes.
Sometimes kids are just jerks
Ok. So let's be real for a minute here. Sometimes kids do things because they are going through something and need to vent those feelings. There can be underlying issues.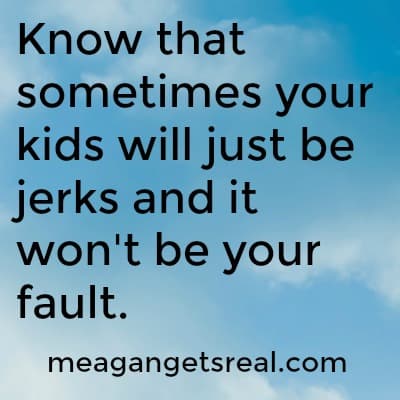 However, sometimes kids are just jerks. They can be selfish and annoying and petty. Let's not even lie about that. So yes, do the things I mentioned above. BUT, know that sometimes your kids will just be jerks and it won't be your fault. It's just the same as the fact that sometimes adults just have bad days and decide to be jerks. Forgive them and move forward. Tomorrow can be a better day.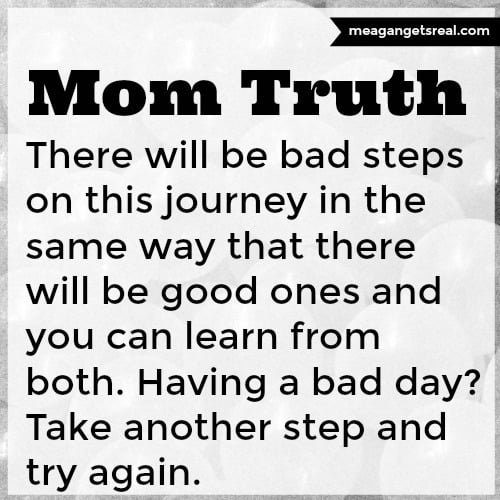 You aren't a bad mom or a good mom
You are an imperfect person who has been handed a larger than life task. Instead of looking at each day as a whole where you were either good or bad at being a mom, look at it as a journey. Was the step you just took a bad one? Make the next step a good one. Focusing on one bad step will ensure that all the future steps are miserable. Instead, acknowledge the fact that there will be bad steps on this journey in the same way that there will be good ones and you can learn from both. Then take another step and try again.