There are days… Hard, exhausting, soul-crushing days, where I look at the same beautiful child I brought into this world and wonder where I can hide from her to make it to her 18th birthday. Don't get me wrong. I love my daughter more than all the money in the world. She is sweet, compassionate, gentle, kind, and so loving. However, there is another side to her. It's the side that pushes me to my limit.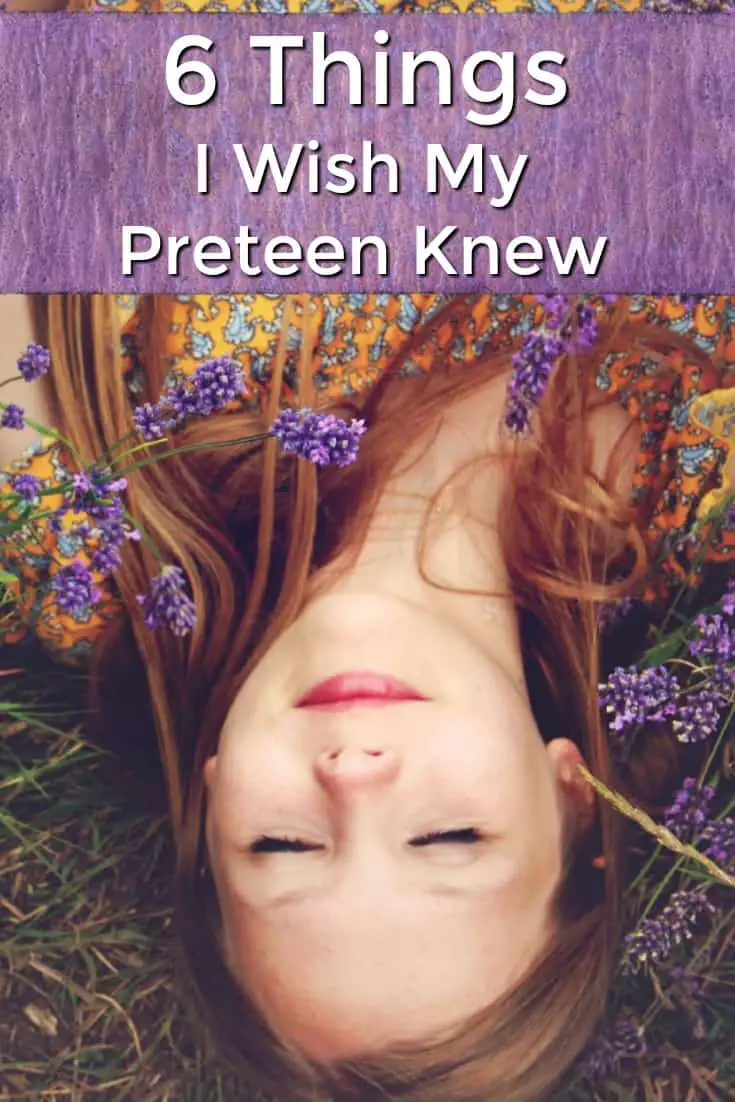 6 Things I wish My Preteen Knew
You see, she isn't just amazing. She is exhausting. With hormones that hop all over the place and the realization that I am no longer bigger than her, life has become interesting. She wants to be all grown up but she wants to be my little girl. She wants snuggles and she wants me to go away. She wants quality time and get out of my face. It's all so confusing.
The smallest things trigger the biggest emotions. We can be sitting together talking about commonplace things and suddenly she can be mad at me. I don't know what I said and I don't know how to fix it but she shifts into mad like it's the easiest thing ever.
Other days it's the waterworks. Crocodile tears flow for the most menial thing. Her brother drank her water. She forgot to lay out her favorite shirt. She has to wait 10 minutes instead of five. The cat didn't start purring right when she started to pet him. Every little thing is a big thing in her world.
Let me tell you a secret, it drives me nuts!
I am not the world's most patient person. Every eye roll, back talk, and snide remark drive me insane. I go from Mary Poppins to The Master(Doctor Who reference if that one confused you) in two seconds flat. I'd like to tell you that I have adapted seamlessly to this new hyper-emotional way of life. I wish that I could promise you all the tricks to fix it even. I can't…
In fact, this week I lost my temper. Not once or twice. Multiple times I forgot that this person shouting and crying at me was not, in fact, a peer but my child. For split seconds I handled her like an adult and forgot that she is a child. At the end of it all, she is. She is both. She is a child and is growing up all in one.
There are however a few things I wish I could tell her. Let me clarify that, there are a few things I wish she would listen to me tell her.
6 Things I wish my preteen knew
You are amazing!
There is a little voice inside of you telling you that you aren't enough. I remember that little voice because it's the same one that tells me I am not enough when it comes to parenting you. Know this, you are amazing. You have the potential to do incredible things that will take the world by storm.
Some of these days are going to feel impossible. People will say things to you that leave you questioning who you are and why you matter. You matter not because of anything they do to bring you worth. You matter because you are a person deserving of love and you are amazing!
Tell me what you feel.
I don't care if it's one emotion or twenty-seven emotions. I want to know how you feel. I want to know what's going on in your head. All I see is anger and eye rolls but I know underneath it there are very real feelings. I want to teach you how to handle them but I need to know which ones are at the party first.
As you grow older your every temptation will be to separate from me. I understand that. It's part of growing up. I only hope you know that I am a safe place you can go if it gets to be too much.
You don't have to be everything to everyone.
When I was your age I thought I had to be everything to everyone. I lived overwhelmed because I constantly tried to be what everyone around me needed me to be. Relax. Be you. You already have everything you need to be. If it doesn't fit someone else's needs, that is their problem, not yours. Focus on building strong areas in yourself and overcoming some of the weaknesses. The rest will be what it is.
People will try to put their expectations of you onto you. They will try to tell you who you are. Stop them. Tell and show them who you are. You don't have to be defined by someone else's standards or opinions of you.
It's ok if you don't know who you are yet.
You don't have to know everything about yourself at such a young age. It's ok to learn what you like and what you don't as you grow. At 31 years old, I still find myself redefining who I am. In fact, I didn't embrace the fact that I am an introvert until two years ago.  I am ok with you trying things out to figure out who you are. My only request is that you maintain your integrity and don't lose the beautiful things about you in the midst of figuring this out.
I love you NO MATTER WHAT
I am not going to stop loving you because of what you choose to become or because of your weaknesses. I may not always respond the best way initially but I love you more than words will ever say and that won't change no matter what you do.
You will survive
Right now everything seems like the end of the world. While it seems like this, I can promise there is life on the other end of adolescence. Life will be hard. I won't lie to you about that. However, you will survive and even thrive. Don't let the frustration of now discount you from some amazing things that are just around the corner.
What would you say?
If you could take a minute to tell your preteen something on your heart what would it be? Do you think I left something off the list?
Looking for more?