The truth about suicide isn't always easy to talk about. I have debated writing this post. I have gone back and forth over it but I think it is needed. I think it is very important. If you are here for homeschool encouragement, great printables, or ideas for homeschooling a child with dyslexia, please stick around. I will go back to all of that soon. However, I think it is important to discuss this topic. Today I want to talk about the truth about suicide. As a suicide survivor, I think I can share some valuable tips to help you or someone you know.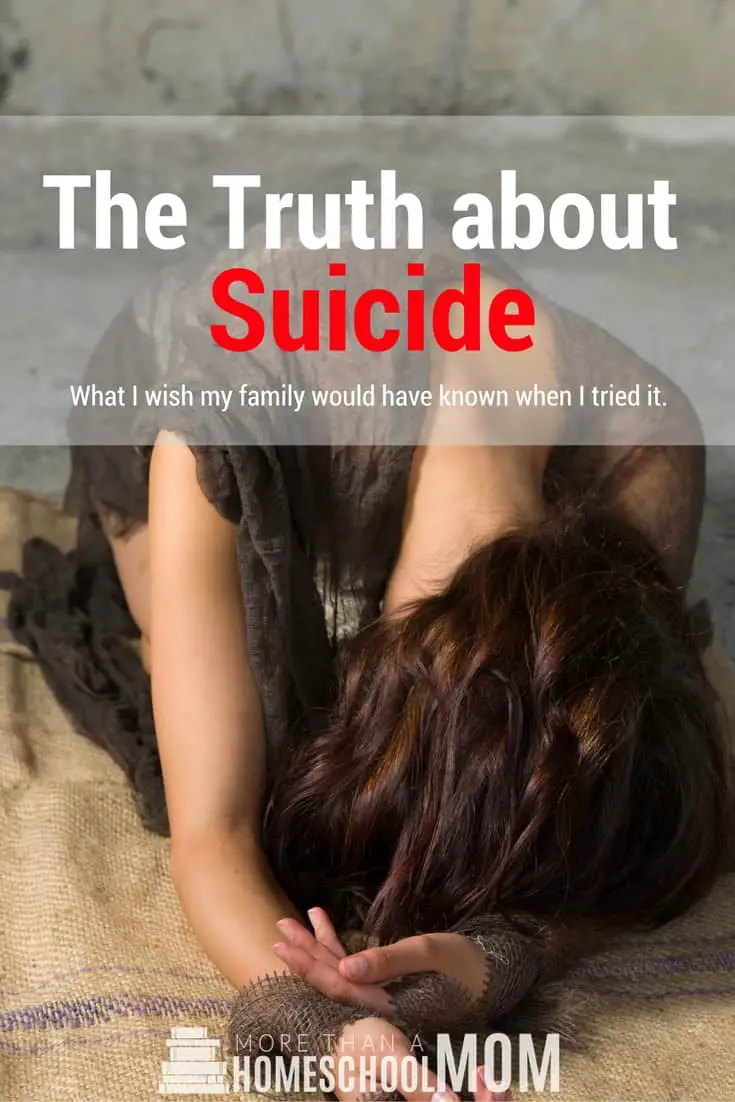 Truths and Myths About Suicide
Before I continue, if you or someone you know is considering suicide please call the suicide helpline. In the U.S. the number is 1-800-273-TALK. Suicide.org has a list of lines for other areas in the world. You can also text the crisis text line. Text HELLO to 741741 to speak with someone. Right now, this post is not the answer you need if you are in the middle of a crisis. Reach out to someone who can help you. You are not alone.
I am a Suicide Survivor
Looking at my life now, those words are so bizarre to me. I can't imagine missing all the things that are in my life now. However, when I was 15 that wasn't my story. I was a very lonely and hurt girl who had been through way too much life for my short 15 years.
When I was 15 my mom decided we were going to move across the country from Maryland to Alaska! It meant leaving behind everything I knew and the only person I thought had ever loved me. (My boyfriend at the time.) She sent me to stay with my grandma while she drove across the country. While I was there, things seemed fine. I smiled and I played nice. I pretended that everything was fine for me. From the outside, it looked like I was all better and nothing was ever wrong with me. Inside, I was falling apart.
One evening everything fell apart. It wasn't that something horrible happened. I just realized in that moment that I had no hope. I lost everything I thought mattered and in my head, nothing was ever going to get better. I won't discuss my method of attempting suicide. I don't think it is relevant. I will say that I locked myself away. I didn't leave a note or give any inclination that things were about to get serious. I simply went to a place where I could be alone.
As I lay there, fear started to take me over. I was sure that I would just fall asleep and never wake up. It didn't work that way. There was immense pain and extreme fear. I started to second guess my decision and decided I would change my mind.. I barely made it up the stairs to my grandma because I was weak and dizzy. When I got up there, I told her what I did and then became sick all over her counter. She looked at me, cursed, then called my dad. She said, "Your daughter has done something stupid. Get over here and deal with it because I'm not."
Over the next 20 minutes I faded in and out of consciousness while my dad and grandmother debated whether I needed a trip to the hospital.
At one point they even sent me downstairs to sleep it off. I don't know how long I was down there before they decided to put me in the car and drive me to the hospital. I don't even remember much of the hospital. What I do remember was very traumatic. I remember getting my stomach pumped. I remember getting sick. I remember a nurse saying, "Maybe next time you won't do something so stupid." Then I passed out.
I woke up the next day with my grandma by my bed. My mom picked me up and within the month I placed myself in a psychiatric facility which was followed by a year in a residential treatment program.
That was one of the worst days of my life but I have some things to teach you about suicide from the experience.
Things you should know about Suicide
A Person Who Attempts/Completes Suicide is not weak!

This statement always blows me away! People will say that you are weak if you attempt suicide and people will say you are weak if you don't succeed. A suicidal person is not weak. They have lost hope. They see a world where things will never get better and there is only despair ahead of them. Losing your hope doesn't make you weak. It makes you human. It is not giving up because they just don't want to try. For some, it takes all the courage they have left to make this attempt.
The Person is not crazy!
I have heard it said many times that a person who attempts suicide, considers it, or completes suicide is crazy. This is not true. There are chemical imbalances, medication side effects, and extreme situations that can prompt a person to consider suicide. This does not make them crazy. It means that they need help. Mental health resources are not accessible equally for everyone. Without the proper help, it can be easy to leave mental health issues unchecked or leave someone feeling they have no hope whatsoever.
The Person is not attention seeking!
Not every suicide attempt is attention-seeking. If someone is genuinely hopeless they may not see another way out. That being said, if a person is doing smaller attempts that make you think they are attention-seeking, they may be crying out for help they don't know how to get. Reach out to a suicide helpline or help this person find counseling services. It may seem small to you but these things escalate quickly if left alone. If you think they're attention-seeking, get them the mental health attention that will help them work through what they're going through.
Don't dismiss it suicide attempts.
When we left the hospital after I attempted suicide my mom tried to act like things were fine. She registered me for school and planned to just get me into counseling when we settled in. There was something very broken in me and I just couldn't pretend it was all ok. I ran away and checked myself into a psychiatric hospital where I lived for three months. After that, I spent another year in a residential treatment center. That is where I celebrated my 16th birthday…
It can be hard to admit that your family member is in a bad enough place to end their life but it is so important to them that you do. Don't dismiss it, make excuses for it, or pretend it wasn't real. Your family member needs you to love them enough to get them help.
They aren't going to Hell.
I will include one point about my faith and I will leave it here. I will not fill the entire post with it but I think that this is a very very important point to make.
One of the first things people do when they hear of suicide is to say the person was going to hell or thank goodness they won't go to hell now.
I believe that there is only one thing that sends you to hell. That is rejecting the gift of salvation Jesus gave by dying on the cross. That is the only thing that sends you to hell.
The bible says in John 10:28
"28 I give them eternal life, and they shall never perish; no one will snatch them out of my hand."
It doesn't say I give them eternal life unless they attempt suicide. It says I give them eternal life. If the person attempting suicide has genuinely accepted Christ and his gift of salvation then there is nothing that can take that away. No one can snatch them from the hand of God. No one.
If you know someone who has committed suicide or attempted it, don't assume they are in Hell. You can not judge their heart. Only God can do that. Instead, remind them of the Hope they can have in Christ and show them love as God would.
They need you!
I don't mean this person needs you to enable them. They do need you to stand by them. They need to hear that things can get better. They need to hear they are worth it. They need to know that you will do whatever it takes to help them regain their hope and be healthy again. They need to know that you will fight for them. They need someone to help them find the mental health resources they need most.
They don't need to be trash talked!
When I walked up to my grandma I became a problem to be solved instead of a person. It was the same with my dad. I wasn't his little girl anymore. I was a problem he was trying to solve. Even the nurses tore me down while I was going through the process. How much more hope and lasting impact would she have made if she would have said, "You will get through this!" "You will overcome this!" Instead, I will never forget laying there dying and hearing about how stupid I was. After my suicide attempt, I heard some of the most disrespectful and disparaging remarks from friends, family, and complete strangers. This didn't help me heal. This didn't motivate me to keep going. This broke me and tore me down even lower.

Do yourself a favor, if you can't be kind, shut up. I know that's blunt but someone's life could literally depend on you shutting your mouth. 
Are you considering suicide?

Get help, please! Call the Suicide Helpline. (1-800-273-TALK)
Your situation right now may seem beyond hopeless. You are walking through a really dark season and you aren't sure it will get better. I have been there. I was so broken and shattered. I was sure there would never be happiness or love in my life. I was sure I couldn't move past it.
I would have missed so much. I would have missed my husband, my kids, my friends, and so much more. You will miss out on the best things if you choose to make a permanent decision right now. It can seem so hard to fight another day but I promise you things will get better. Don't be afraid to get help. You can overcome this and one day you will write me to tell me about all the amazing things that have happened that you could have missed. You will tell me stories of beautiful moments filled with so much joy they snuff out any of the darkness you feel now. Hold on, the best is yet to come!