The First 48 Hours After a Fire
At 8:00 in the morning on October 6th my dryer caught fire in my home. Thankfully, we were home and were able to see the fire pretty quickly. However, we still ended up bringing in the fire department and having them put out the fire. It was a very difficult day and was more than a little overwhelming. I wanted to share with you the things you need to know the first 48 hours after a fire in case you ever find yourself the victim of a house fire.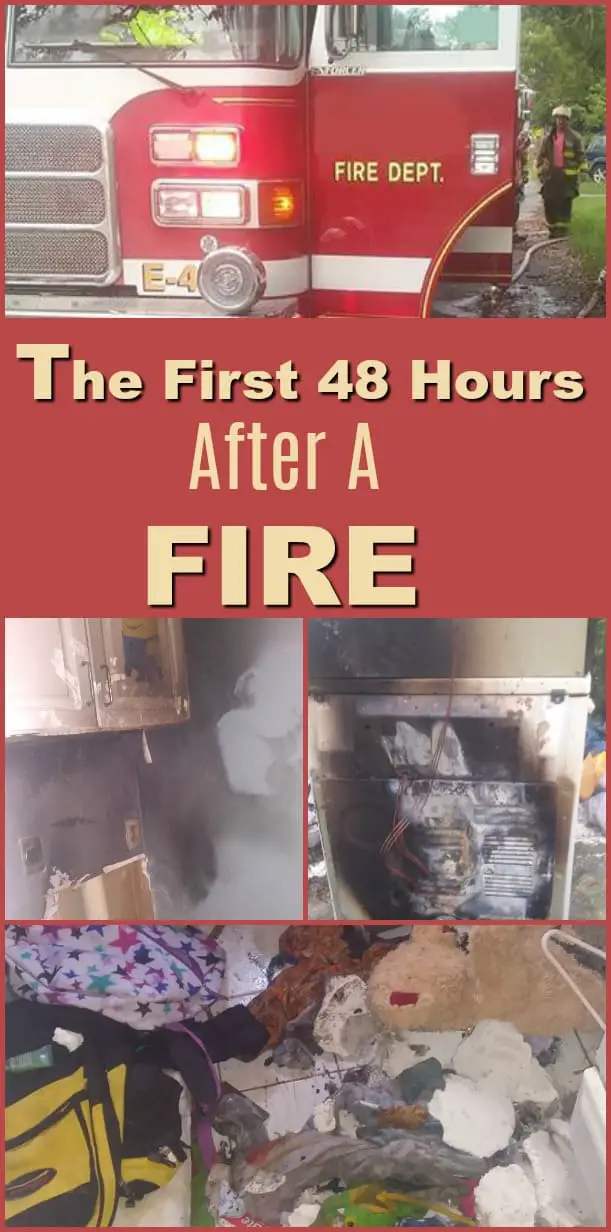 So you just had a house fire… Now what?
I am not a fire professional by any means. I don't want this post to be considered the law on the fact. Instead, I want to offer help where I can so you don't find yourself overwhelmed and over-stressed in the beginning. It's a lot to walk thru.
During the house fire
Cut the power – If you suspect your fire might be an electrical fire, please cut the power to the house. It will help speed things along.
Don't pour water on an electrical fire or grease fire. – You can read more about extinguishing different fires from eImagine.
Get your family and pets out of the home. – Smoke is just as dangerous as fire is to people. Get them out of the home. Don't forget your pets. It can be overwhelming but they need to be out of the home as well.
Get your family far from the home. – If you have to bring out the fire department. They are not going to want you near the home. Move your family out to the end of the driveway or somewhere they won't be near the driveway.
Don't go back into the home. – You will probably be curious what your fire is doing or think of an item you can't bear to lose. The most valuable things in your life are standing next to you on that driveway. Everything else is replaceable. Don't go back in because it can be very dangerous.
Call 9-1-1. – They are there to help you. It will feel overwhelming. Call anyway. Don't be surprised if it takes 10 minutes or more for them to get there. They are mobilizing a huge team. I remember standing there watching the smoke billow from my home and feeling completely helpless. Know that you can do nothing more at that point and trust the firefighters are coming.
Communicate with the fire team. – Generally you will explain your fire to a fire marshal before the truck gets there. This helps the fire marshal to mobilize the team. You will be asked a lot of questions. Answer them the best way you can.
Directly after the fire
Find out if the house is livable. – Not only is a fire a problem, the smoke damage is a bigger problem. With all the water sprayed into your home and the smoke damage your home may not be livable after a fire. The fire department and your own opinion will help you determine if you can stay in your home.
Take tons of pictures. – You will want these later to refer to for contents you throw away and to show the amount of water and damage as the process continues. I know that I used the pictures of our bathroom to get an idea of which items needs to go on our loss form for the insurance.
Throw things away. – A lot of what you own will be soaking wet or fire damaged. Don't be afraid to throw things away. You can keep a list of items you throw away if you don't have a picture.
Don't throw away the suspected cause of the fire. – For us, this was the dryer. We still have the dryer sitting outside until the insurance clears it to go away. The insurance, fire inspector, and others will want to look at the source of your fire.
Dry what you can. – If the firefighters use a fire hose to extinguish your a lot of water will be pumped into your home. Dry what you can but know that there will probably be a drying company coming in.

Same day as the fire
Contact your insurance. – If you have home owner's insurance you will need to reach out and get the claims process started. They will take the initial claim and get the process started.
Setup housing. – If your home is not livable it is time to setup your housing. There are a few options available for you. If you have home owner's insurance they would be able to set your housing up for you. If you don't have insurance, I recommend reaching out to the Red Cross. Your fire fighters should have this number for you.
Pack what you will need. – Everything you own will smell of smoke. It's a really overpowering smell. Grab what you need for housing and close up the house.
Find a place to relax and process the day. – The fire will be an overwhelming. Find a place where you can sit down and relax. We visited a pool and I enjoyed a book while the kids went swimming. You will need that decompression time after the adrenaline wears off.
Day after the fire
Wash the laundry you will use. – Your laundry could smell of smoke. I recommend visiting a laundromat and getting a load done so that you can have fresh clothes. You will want to be somewhere that doesn't smell like smoke.
Start sorting. – This will be a process for you. Decide what you will want to keep and what can be thrown away. You don't have to do it all today but you can definitely start some work. Make sure to open all the windows while you work there as the smoke can be difficult.
Ask for help. – Don't be afraid to ask your friends for help. If you have lost a lot of clothes or other important items your insurance will take a while to get your money to you. Don't be afraid to ask if friends are getting rid of clothes you may need. It could help lessen the difficult parts of the fire.