I have been waiting to write this review for a while. I wanted to finish an entire school year using a new Math curriculum before I typed up my Teaching Textbooks review. With a child with dyslexia, Math is a very frustrating subject and we have been through a lot of stress trying to find something that would teach her Math. I won't lie, Math became our nemesis for a long time! However, I want to tell you about Teaching Textbooks and why I think it could be a great fit for you. I was not paid for this review. I just thought this information could help someone out.
Teaching Textbooks Review
When I first started homeschooling R, we started with math workbooks I picked up at Sam's Club. They seemed to be good for starting her out with basic concepts. She was able to learn to identify her numbers and count in preschool. In Kindergarten we introduced Saxon Math and she loved it. There were lots of hands-on manipulatives and she was really doing well with it. Fast forward to third grade and Math became the devil in our house. There were days when Math would take three hours or more because R protested.
I was overwhelmed!

I found myself desperate to put her in school. I didn't care what school. I just couldn't do it anymore. Teaching Math to R made me angry with her and completely insecure about my own abilities. She wasn't grasping things and I was sure that it was either my fault or she was lazy. At this point, we found out she had dyslexia. She fought to memorize all the material and keep up with the pace Saxon moved at. By the end of her 3rd-grade year, the agreement was that either we found a new Math or I put her in school.
And then… Convention.

I went to a convention in May at the end of her 3rd-grade year. I was desperate to find something that would engage her and help her to learn. I walked aisle after aisle of different Math curriculum options ready to just give up. When I came to the Teaching Textbooks booth I spent a long time there. I am pretty sure I looked like a curriculum stalker. I would walk up, play with the curriculum, pace to a few other booths, and then walk back over. I asked 20 million questions and walked away with the decision that I would buy it if I could find it at an affordable price.
So I went to a used curriculum sale.

I was amazed to find her third-grade teaching textbooks for only $25. I felt like I was stealing by buying it for that price but it was what I could afford in that season so we tried it. Here are a few things that Teaching Textbooks did for us.
It took the pressure off of me.

Suddenly I wasn't the one telling R she was wrong. The computer was. I wasn't the teacher making her do things that stretched her. The computer was. I know it sounds silly but that little change did so much for us. She blamed the computer when she struggled but she couldn't fight with the fact that she made a mistake and she had to fix it.
It moves slower.

Teaching Textbooks spends longer on each concept. For R, this was exactly what she needed! She needed things to move slow. She needed to work on a concept for more than a day.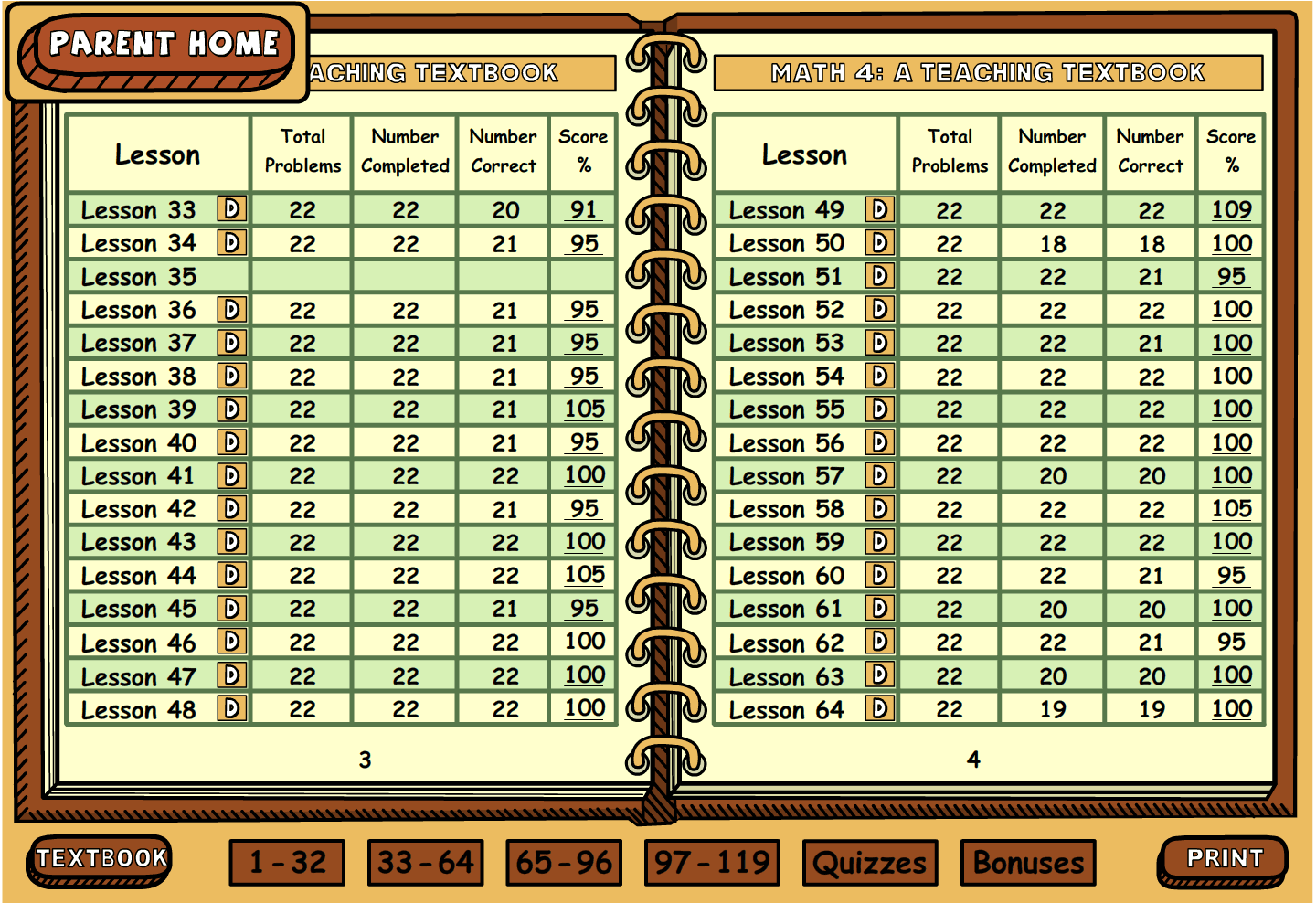 Great Parent Grade book

This program also has an amazing parent grade book. I love that I don't have to keep up with a grade book!  I loved seeing grades like this coming from my struggling Mathematician. You can go in and look at the lesson, see what the child graded, how many were attempted, and delete a lesson if the child needs to work on a concept more. For R, this was so liberating. She loved knowing that if she struggled with a concept I could delete it and let her go through the lecture again. I also loved that I had a complete grade book that I didn't have to manage.
The lectures are interactive.

I loved that the lectures are interactive. This means that R can't just tune out and then go right to the lesson. She had to actually interact with the information she was being taught. She had to answer questions as the lesson progressed.
There aren't a lot of problems.

Most lessons have 5 practice problems and around 20 problems. For a child that gets easily overwhelmed this is a huge help. This also gives your child the opportunity to work on the skills without feeling overloaded.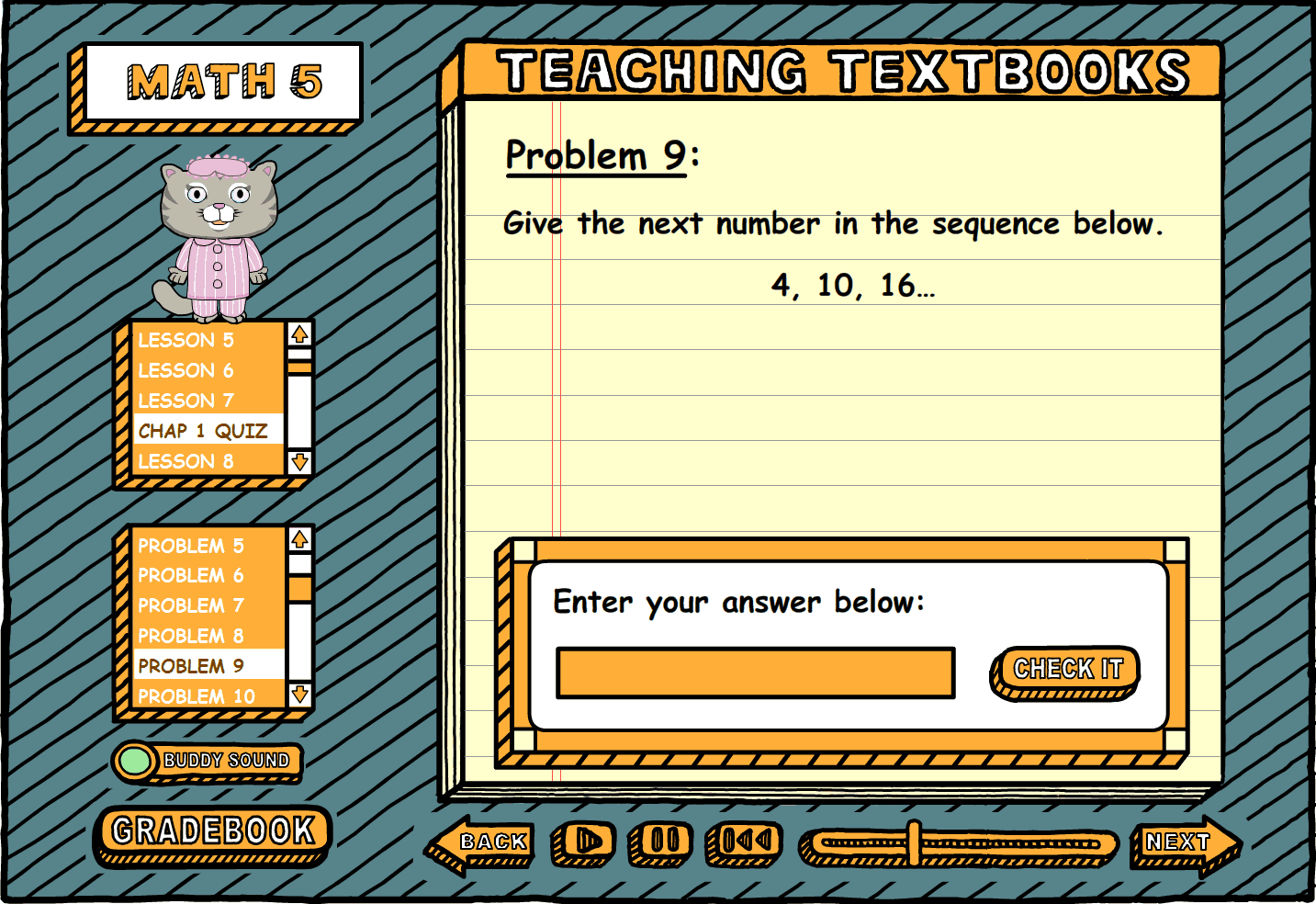 There are quizzes

These quizzes are low pressure but they are a good read as to whether your child should move forward. They generally don't have more than 25 problems though that may be different in upper grades.
The program will read the question to your child.

When R was struggling with reading more, this was a help for her. She was able to hear the word problem or number the correct way. This helped her to focus on the Math instead of on reading. If you have a struggling reader, don't be scared of this curriculum. It will read the information to your child.
Want to see it in action?
I spent some time on a Facebook Live letting some of my followers check out the curriculum with me. Feel free to check out this video and see if it would be a fit for you.

We love it!

The core of it is, we love it! We love Teaching Textbooks! Teaching Textbooks has taken away the stress of Math in our house. I budgeted specifically for it and didn't care if I had to pay full price this year! If you are looking for a great Math curriculum, I HIGHLY recommend giving Teaching Textbooks a chance. It has changed Math for us for the better!
Looking for more?