Taking a Harry Potter Fan to Universal Studios
Last month our family went to Universal Studios Orlando. Here's the thing. This was the first time I have ever taken my daughter to Universal Studios Orlando. She grew up reading Harry Potter with me and watching all of the movies. In fact, I read the first 3 to her before she took over and had to finish the series faster than I could read. We had an amazing experience and I want to share some tips for you for taking a Harry Potter fan to Universal Studios for the first time.
Taking a Harry Potter Fan to Universal Studios
We were given 4 tickets and Express passes to facilitate this post. All opinions are 100% our own and were not influenced by these tickets.
When I say my daughter loves Harry Potter, I am not exaggerating even a little bit. Her entire room is Harry Potter themed and she has over 10 wands at this point. Because of her I learned to make butterbeer and bought her a platform 9 3/4 door! She was so excited to visit Universal for the first time and I wanted to make sure every bit of it was magical for her.
12 Grimmauld Place
Before you walk into Diagon Alley, take some time to stop at 12 Grimmauld Place. Not only will Harry Potter fans know exactly where they are, but they will also notice small details others might not see. It's also a great place to grab a few photos you won't want to miss!
Turn around and look up!
While you are visiting Grimmauld Place make sure to look up at the window. Kreecher still doesn't appreciate the company and peeks out sometimes to see why you are still there. If you are taking a Harry Potter fan to Universal, they are sure to love this small nod to a well-known character.
The Knight Bus
Before you venture into Diagon Alley, make sure to stop in and say hello to the driver of the Knight Bus. You will have the ability to introduce your Harry Potter fan to the Knight Bus driver and the talking shrunken head. This meet and greet is a fun laugh they are sure to enjoy.
How to get the first reaction shot like the one above.
Blindfold your friend or have them close their eyes as they go thru the walkway to Diagon Alley. Have them stop and keep their eyes shut until you get in position. Be ready for the sheer joy and potentially even tears. I know my daughter cried the first time she saw Diagon Alley. Her words, "I didn't know it could feel so real!"
Seeing the Dragon Breathe Fire
If you want to set your Harry Potter fan up to see the dragon breathe fire, find a good spot on Diagon Alley and pause. You will know when the dragon is about to breathe fire when you start to hear a growl. The growl will become more frequent before the dragon breathes fire. Be aware that the fire goes quickly so you will want your phones or video cameras out if you hope to capture it.
You can find a goblin somewhere other than Gringotts.
Are you wanting to see a goblin up close? Take your friend to the currency exchange. While phones are not allowed on Gringotts, you can take your phone into the currency exchange and see a goblin that will talk and move like those in the Gringotts ride.
Pay attention to small details.
When you are walking thru Diagon Alley it can be tempting to hurry from thing to thing. Don't. Instead, slow down and spend some time checking out some of the nods to the books and the movies. Make sure to look in windows and pay attention to doors. There are some incredible details that are easy to overlook.
Look up in shops.
While you may see some incredible things at eye level, make sure to take a minute and look up. There are some really incredible details you can find. If you are taking a friend who loves Harry Potter getting them to look up can make you the hero of their trip.
Watch Tales of Beedle the Bard
One of my favorite parts of Diagon Alley is the show Tales of Beedle the Bard. The show rotates thru a few different stories so you may need to sit down and watch a few of them to experience all they have to offer. There will be shows running on this stage every half hour. They won't always be Beedle the Bard though. You may also get the musical act that performs here.
Buy the Express Pass
If you plan to enjoy the rides such as Escape from Gringotts an express pass can really help you get the most out of your vacation. Lines were anywhere from 45 to 90 minutes on the day we went. My daughter rode this ride twice in a row with a 5-minute wait because of her express pass. It really is a great way to enjoy the rides without the wait.
Have something butterbeer.
Many will say butterbeer comes in three varieties but it actually will come in four. You can get it hot, cold, frozen, or as icecream. The first three will be found in the Leaky Cauldron while the fourth will be found in Florean Fortescue's Ice-Cream Parlour. If you go the ice cream route, you can get the ice cream pictured above in the souvenir cup for $7.49.
Get a park to park ticket.
If you are taking a Harry Potter fan to the theme parks you will want to get a park to park ticket so they can ride the Hogwarts Express both ways. (The ride is different each way.)
Fun Photo Locations for Harry Potter Fans
There are some really fun photo locations for Harry Potter fans in both parks. Here are a few of our favorites from our trip to the parks.
The picture above is under Gringott's bank to the left and would be a fun photo opp for one person or for a couple of friends.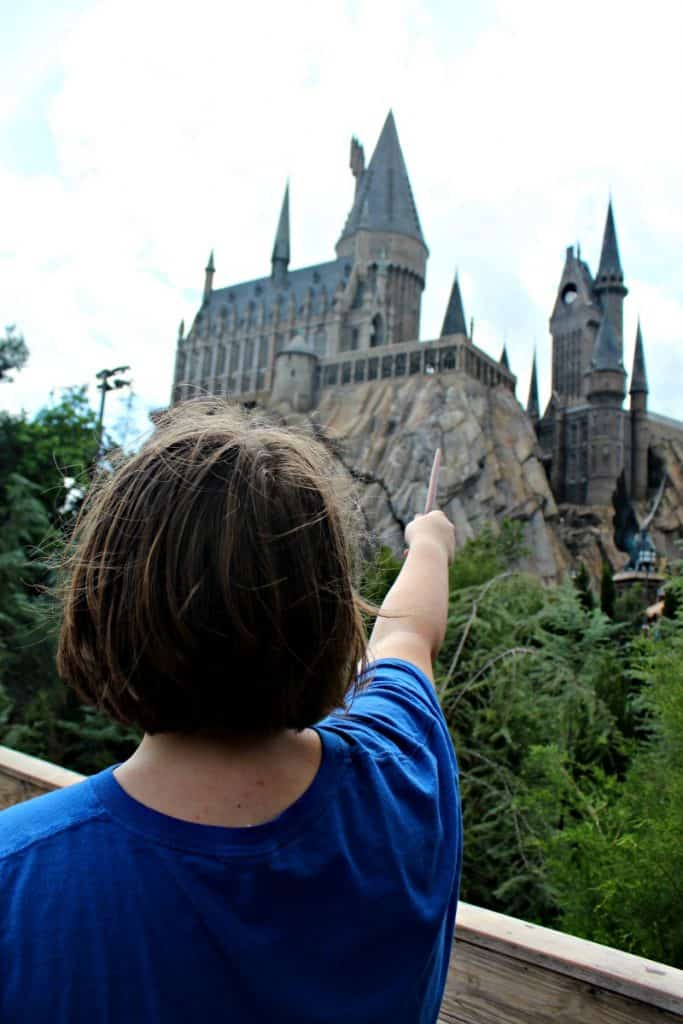 When you head to Hogsmeade, go to the bridge heading out of Hogsmeade and you are sure to find a great place to get pictures with the castle.
Make sure to look at the different walls as you walk around. Items like the phoenix above, make a great place for photos.
Don't miss out on the windows either. Globus Mundi has a pretty awesome window that makes for a perfect photo stop.
Don't miss out on some of the more fun photo spots. I know my son loved this dung bomb photo spot just outside of Weasley's Wizard Wheezes on the back end.
This photo spot is adorable and would be so sweet for a couples pic. You can find this one behind Weasley's Wizard Wheezes.
Are you more of a dark magic fan? A spot like this one might be just what you need. It's also on the side of Weasley's Wizard Wheezes.
You can find this fun wall directly across from Weasley's Wizard Wheezes and it is fantastic!
 Want to read more about Universal Studios Orlando?
Mardi Gras at Universal Studios Orlando for Families <—- Should you take your family? I think so!
10 Things I didn't know about Universal Studios <—- See more!
10 MORE Things I didn't know about Universal Studios <— What did I add?
Cabana Bay Beach Resort in Orlando <—- Check out a room tour and a review!
Caribbean Carnival at Loews Sapphire Hotel <— Should you see the show?
Want more Harry Potter?
Harry Potter Gift Ideas <— Set 10 categories with 30 gift ideas!
Healthy Harry Potter Snack Ideas <— Throw an allergy-friendly watch party!
DIY Harry Potter Book Tote <— Hit the library in style!
DIY Harry Potter Ornaments <— These are crazy easy to make!
DIY Harry Potter Griffindor Mickey Ears <— Take your love of Harry Potter with you to Disney!
Butterbeer Fudge Recipe <— Make this delicious fudge for your next watch party!
Butterbeer Slime Recipe <— Bring some Harry Potter to your sensory play!
Looking for more?