Looking for summer reading help? Summer reading can be a challenge for some children. With so much going on it's easy to skip picking up a book for the entire summer. It can also be hard to keep a child engaged in reading when they want to be outside playing. Last year I shared 6 tips for getting your kids to read during the summer. Now I am going to share a few more tips I have found to make summer reading fun.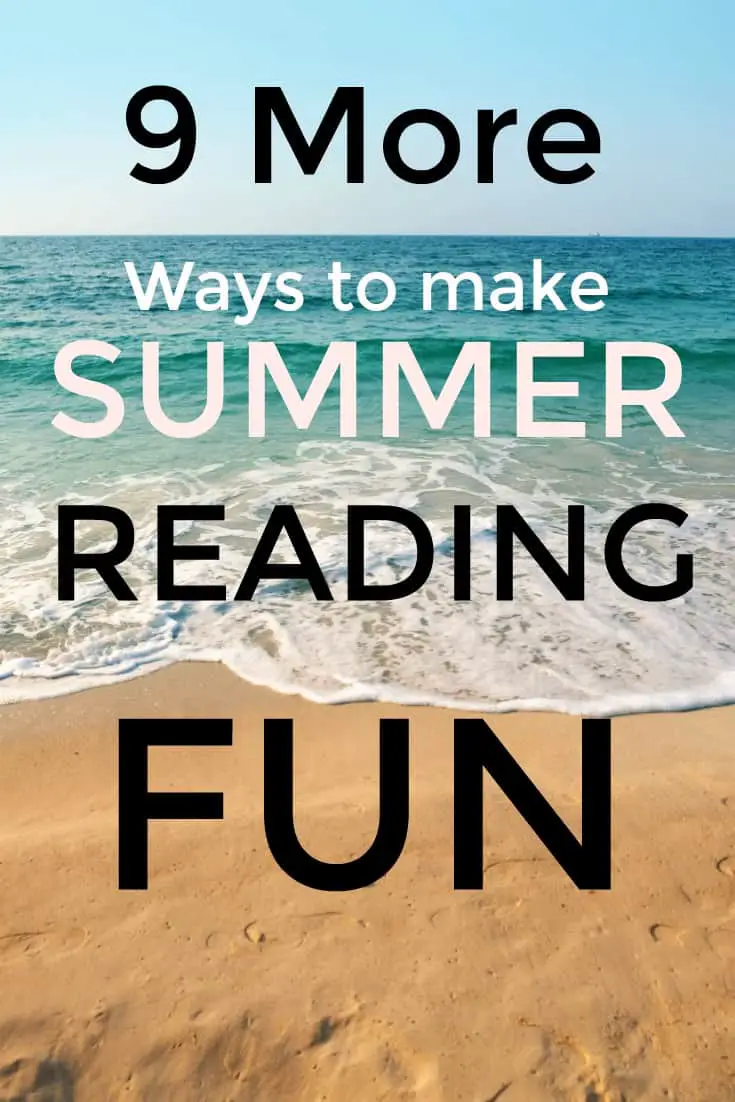 Summer Reading Help
9 More Ways to Make Summer Reading Fun
Make it a Competition
Children love to compete with other children or against their past best. Instead of challenging a child to read because the log says so, challenge a kid to make reading a competition. Whether that means reading a whole chapter book in a certain amount of time, seeing how many pages they can read in a certain amount of time, or seeing which child can finish their book first, a competition may be a great motivator. If you do this make sure to check for comprehension. Some children will "read" fast to win.
Challenge them to beat their best AR score. 
Challenge them to read more than they have in the past. 
Challenge them to a certain number of books over the summer. 
Challenge them to finish a few book series. 
Start them on a Series
I have found that R is more engaged with what she is reading if it builds on itself. If I can find a book series she likes I am much more likely to get her to read subsequent books to stay with the characters. Instead of picking out a solitary book, find a series to let them immerse themselves in. Right now R is in love with the Spiderwick Chronicles but there are many options if you ask your local librarian.
Start with something on their reading level to keep them engaged. 
Read through a book series together so that you can discuss it. 
Find a series that lines up with what they are most interested in. 
Have them read through a book series with friends. 
Offer an Incentive
I don't mean bribe your child to read. I don't want you giving them candy bars every time they finish a book. However, offering your child the opportunity to read a comic book or something fun in exchange for a certain amount of time spent on required reading is a great idea. You know your child's best incentive. If that is extra time at the playground or a pool day with friends that can work to.  The idea is to give them a goal. There are many reading logs that can be used for this purpose.
Reading time could earn game time if you have a child who loves video games. 
Keep a reading log to earn a family favorite activity or outing. 
Use reading time as a way to earn time for other activities children enjoy. 
Check out Audio Books
Some books need to be read. Sometimes listening to an audio book will give your child the story without sitting down. This is a great option if you will be going on vacation. Pick a great book and listen to it on the road. If you want, you can have your child follow along with the physical book while the audio reads it. I know that listening to the first audio book in a series inspired R to pick up the rest of the series and keep reading. Even better, most libraries have audio books so you won't have to buy them.
Take advantage of Audible or other audio book subscription services. 
Find audio books on Spotify. 
Buy audio books on Amazon. 
Check out audio books through your local library. 
Read to Siblings
My daughter loves to read aloud to her brother. I love this because she is still doing her reading time while enjoying time with her brother. It may be a great idea to challenge kids to read to each other. Some of my favorite moments with my kids are watching them curl up together with a great book.
Create a family reading time where everyone rotates reading duty. 
Challenge older kids to share a favorite book with younger siblings by reading it to them. 
Create a special reading time for siblings. 
Make their Own Audio Book
Give your child a tape recorder and let them record their own audio book. This is a fun way to get them reading aloud while having fun. You can either save each tape for the future or record over it with the next book. How much fun would it be to listen to books read by your children from different ages when they are older?
Let them record themselves on a tape recorder. 
Challenge them to create videos of them reading a story aloud. 
Download an app for recording speakers and let them record their reading time that way. 
Make a Comic to Retell the Story
If you are worried about comprehension let your child create a comic of the story using these
comic templates
. Not only will you see what they understand it will give the hands-on child a more fun way to explore the book. Some children will want to wait until the end of the book while others will want to work on parts of the comic book with each chapter. Find what works with your child and have fun with it.
Use a comic template to let them draw as they read the story. 
Let them build their own comic book as they read. 
Play to their Interests
I know I said this before but I can't say it enough. Children are more likely to read if they are reading something they love. If they are only meant to log time reading and not a specific list, spend some time figuring out what they really enjoy. You might find that your child picks up a whole pile of non-fiction books on a subject they really enjoy and ends up learning more.
Let your child pick books based on what they are interested in. 
Pick books inspired by a favorite sport, topic, or style. 
Avoid Punishments
Reading will not be fun if it is tied to punishment. Try some of the above tips instead of turning to discipline to get your child reading. A child will read a lot more when there isn't a fear of consequences. I know too many kids who won't read at all because it is viewed as a chore instead of as a fun activity.
What do you do to get your kids reading during the summer?