Summer Activities for Teens
Summer activities for teens won't look the same as the activities you might choose for younger children. Younger children tend to take off for camp or enjoy some of the more simple ways to have fun. For teens, there is a different focus during the summer months. Some of the things that their younger selves enjoyed won't do the trick. Here are a few teen summer activities to consider this summer!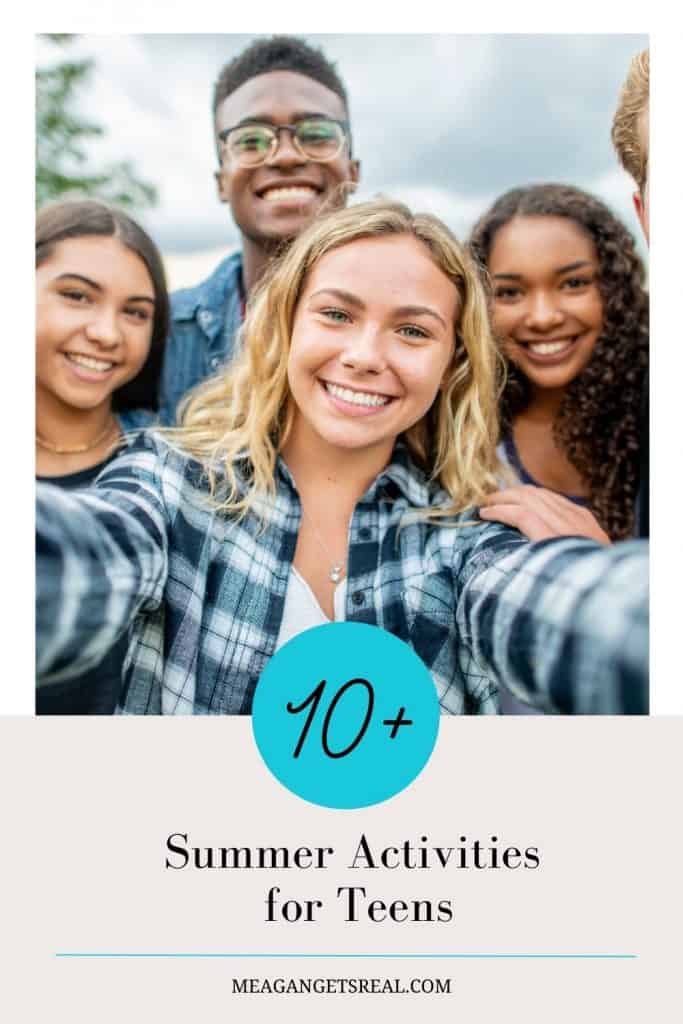 Teen Summer Activities
When planning your teen's summer activities it can be a bit overwhelming. Picking things your teen is sure to enjoy isn't as easy as some might assume. The good news is, that there are still plenty of options for your teen to stay busy and have fun this summer. I have put together a few options based on a variety of different approaches to summer your teen might want to pick. You can pick from one category or pick a bit from each for a well-rounded summer.
Volunteering and Community Service options for teens
Many teens who are attempting to get scholarships have to spend a set number of hours on community service. The summer months are a great time for teens to get involved with local organizations and accumulate these community service hours. Community service hours are some of the best teen summer activities. It is important that you log all hours on a tracking sheet. Some states will provide them. If they don't, you can find a sign-up below to get a free printable tracking log to use.
Animal Shelters – Organizations like the SPCA will allow teenagers to volunteer. Some will charge a fine and require a minimum time commitment in order to justify the time they're investing in training. In some areas, this may mean committing to a set schedule.
Homeless Programs – Many homeless programs that serve the community will have a variety of opportunities open to teens to serve. Some may include serving food, sorting donations, or serving at fundraising events.
Food Banks – Food banks are a great place to let teens serve. Many food banks can allow large crowds of teens to volunteer which will increase your teen's possibility of being able to help.
Habitat for Humanity – Habitat has a youth program that allows teens to get involved in a variety of service projects that help get families into homes.
Libraries – Libraries will often allow teens to volunteer shelving books, cleaning, and helping to oversee summer programs. Reach out to your local library to find out what they offer.
Summer camps for teens
While summer camps are not quite the same for teenagers, there are still some summer camps out there that promise adventure to the teens who go to them. You can find a variety of summer camp options depending on the organizations/clubs your teen is involved in. It can also help to take some time to check Google for local summer camps. Here are a few types of camps to consider.
Check with your local YMCA or Community Center – The YMCA and local community centers will sometimes run camps specifically focused on helping teens find something to do over the summer. I highly recommend checking in early as some camps fill up fast.
Look into sports camps – Do you have a sports lover in your house? Sports camps can be a great way to get them active and work on growing their skills and confidence. Availability will vary depending on where you live.
Reach out to local colleges – Local colleges will often offer summer camps and summer learning programs that teens can get involved with. Community colleges will typically have educational camps but they will have a price assigned to them.
Ask other parents – Don't underestimate the value of a good friend's advice! Ask your fellow parents about camps in your area your teen might enjoy.
Challenge their imaginations
Teens are always looking for ways to hang out with and connect with their friends. While sleepovers and mall trips can be a favorite, they aren't always possible. Finding low-cost options to keep them connected to friends without forcing you to oversee summer activities for teens can be a big help. Here are a few summer activities for teens to challenge their imagines and get them out having fun!
Make a tarp slip n slide – Laya tarp on the ground, add some dish soap, and run the hose. Hang out with friends in the backyard and have a slip n slide day!
Have a painting party – Split canvases into four sections. Let each friend paint only one portion of the painting. The collaboration can make for some fun art they are sure to enjoy.
Host a video game competition – Video games are popular among teens. Let them have some fun by creating a full video game competition using their favorite game. They can play together in one place or virtually via a shared server.
Plan a themed movie day – Watching movies together can be a great way to spend time together. We have done a Stranger Things watch party and a Harry Potter watch party and had a blast! Let your kids plan the watch party and you're sure to have fun with your teens.
Check Groupon – Groupon is a great place to look for quick ideas for things to do with teens. There are countless options including escape rooms, horseback riding, coffee places, and tons more! Find your next fun thing to do with your teen on Groupon.