When I saw that Disney will be releasing the new Coco movie I decided it was time to learn a little bit more about Dia Del Muerto with the kids. I will be including some of the resources we looked at in this post. We also decided to have some fun. I put together this sugar skull craft for them and they had a blast. Even better, it only cost me a dollar to do this one. Check it out.
Sugar Skull Craft
We picked up the skull for ours from the dollar store. You may be able to buy one at your dollar store or make your own from poster board or whatever you want.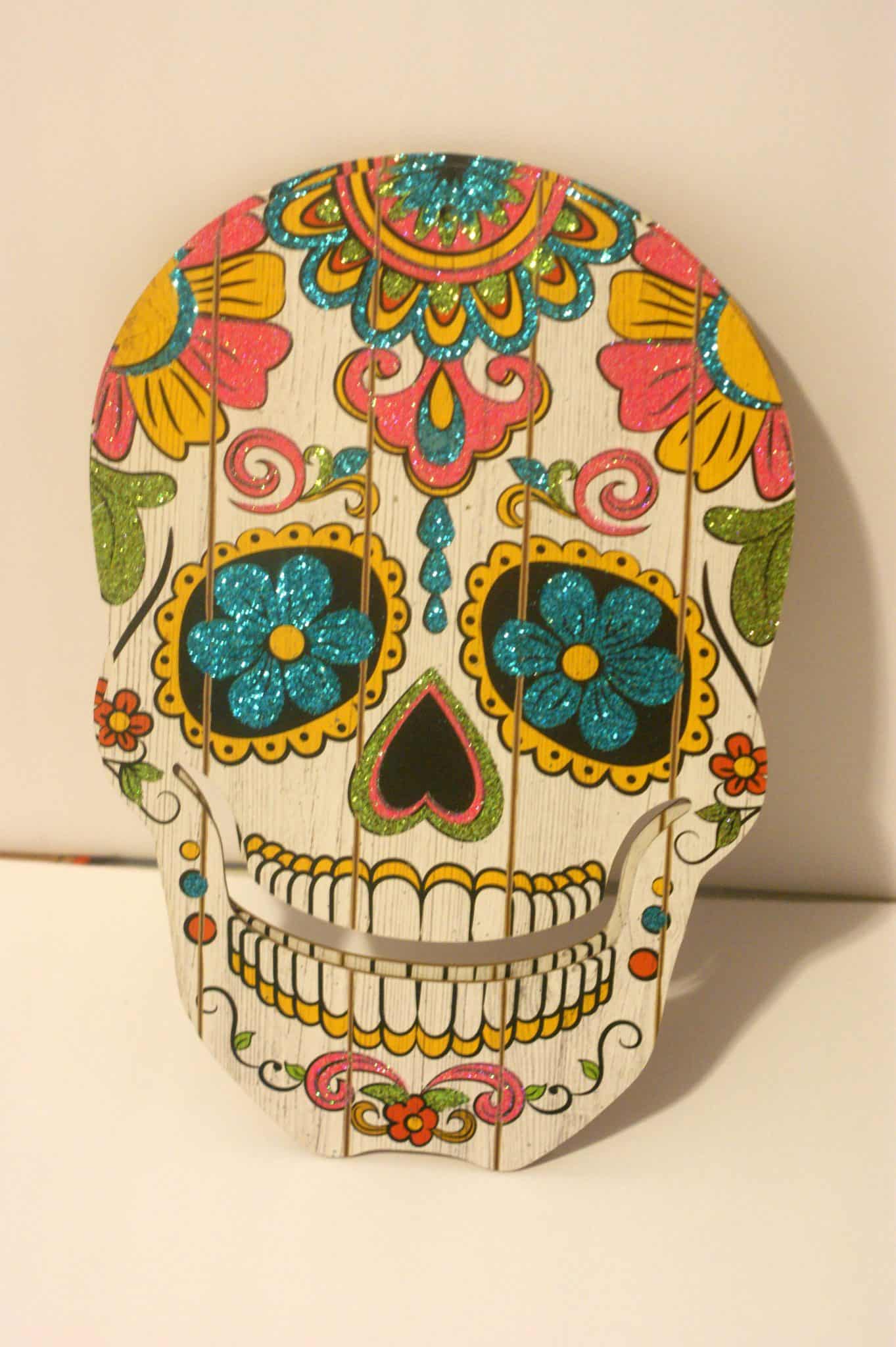 Supplies
Sugar Skull Template – We bought the one pictured above at the dollar store.
Paint – Colors will depend on what your kids want to create
Paint Brushes – Pick a few different sizes.
Pencil
Make your own.
Start by painting your sugar skull template white.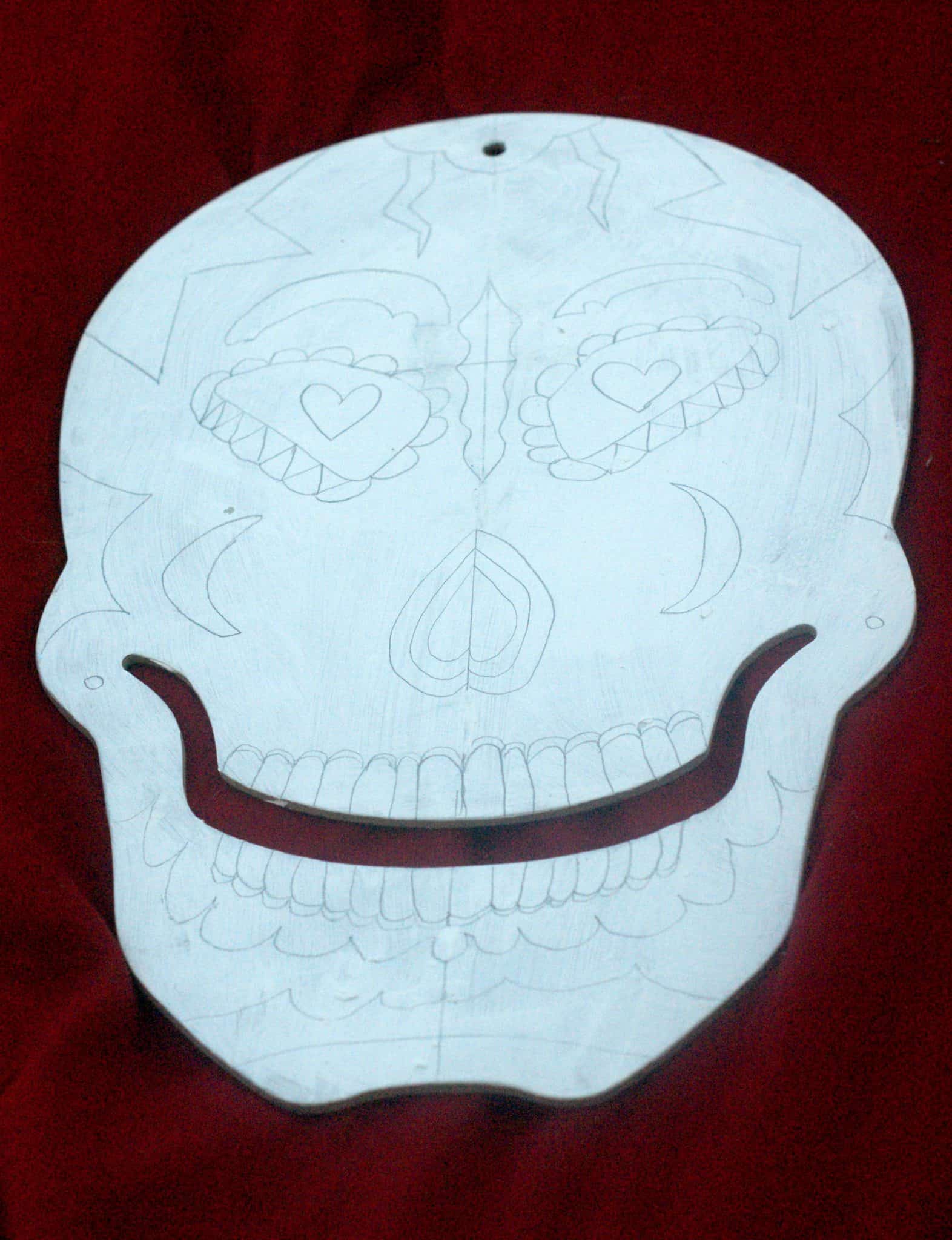 Using pencil, draw out what you want your sugar skull to look like. (This is a great time to teach about symmetry!)
Once you have your outline drawn you are able to have some fun with the project. My son said, "I don't care if I am coloring this until I'm elderly as long as it's right." Have fun with it. This is your chance to be as creative as you want.
These are the two my two made:

Dia Del Muerto Resources
Dia Del Muerto Books
Daniela's Day of the Dead – This book does a great job of mixing a story with facts about Day of the Dead. I highly recommend buying this one or checking it out at your local library. We learned quite a bit in this book.
Cultural Traditions of Mexico – This one only has a few pages on the Day of the Dead but it would be a great one to grab at the library as there is some good information there.
Dia Del Muerto Crafts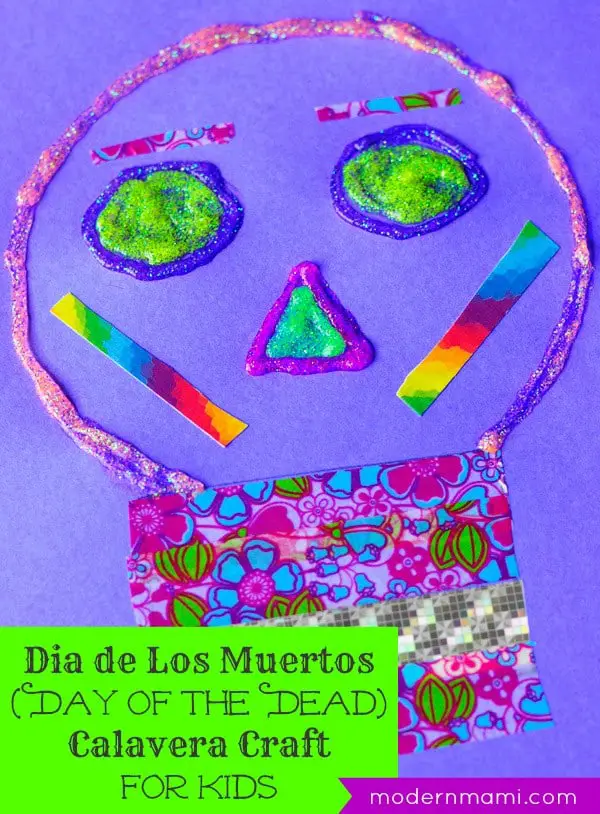 Calavera Craft for Kids from Modern Mami
DIY Catrina for Kids from Mommy Maestra
Day of the Dead Treat Bags from Mommy Maestra
Dia Del Muerto Videos
These are videos we watched while learning a bit more about Dia Del Muerto
This was a great simple video and the kids learned some great information about the culture and life of Day of the Dead.
This animated short gives a great picture of the significance of Day of the Dead from the perspective of a child. If you have a child dealing with grief, this will either bring comfort or could make things harder. I recommend watching it first.
This video would be a good one for most kids. Keep in mind that some things will be over the heads of younger children. However, it's a good breakdown of the holiday and its meaning.

This video did a beautiful job of showing some of Day of the Dead from the perspective of a child. It is a really beautiful video and we thoroughly enjoyed it.
Because COCO is coming out on November 22nd I decided to have them rewatch the trailer after we spent some time studying Day of the Dead. I wanted them to watch the trailer and see what elements of Day of the Dead the movie makers might be including. Some things you can point out are the sugar skulls, marigold pathway, and the altar featured at the beginning.
Disney also sent me something fun.
Download your COCO Printable Pack