Stranger Things Watch Party
My daughter has been asking to spend an entire day with her best friend watching Stranger Things. With her birthday passing, we decided to have a Stranger Things watch party for them. Many of these ideas are simple but so fun! It's time to make a supply run and set up your own Stranger Things watch party.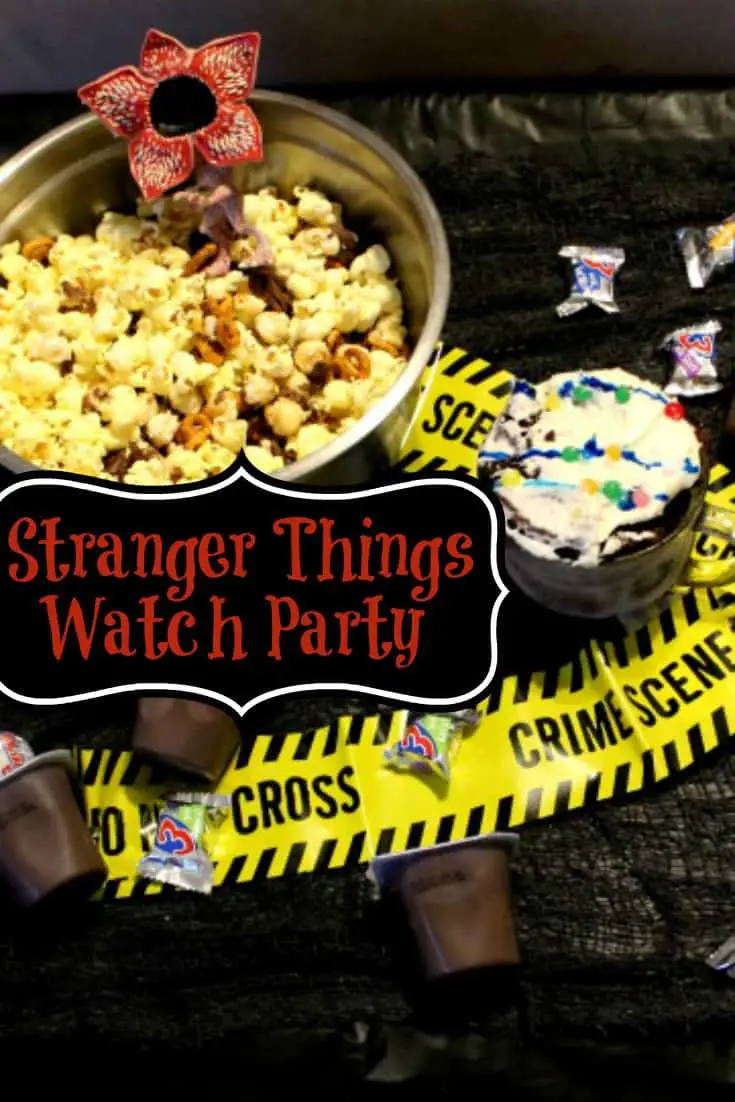 Stranger Things Party Ideas
You can change sizes and portions to accommodate your party size. We had a smaller crowd but we had a lot of fun. 
Stranger Things Upside Down Dessert
Ingredients
Chocolate Cake
Chocolate Ice Cream
Magic Shell Chocolate Fudge

Glass cups
Strawberry syrup

Decorating candy or m&m's 
Cake writing pens
Dessert Directions
Start with a layer of chocolate ice cream. 
Add a layer of strawberry syrup. 
Add a layer of chocolate magic shell. 
Add a layer of chocolate cake. 
Top with vanilla icing. 
Use your pen to draw crooked lines. 
Add your candy Christmas lights. 
Making the snack mix
You will need Hershey's snack mix and popcorn. 
Simply mix these two together in a bowl. 
Decorating your snack table
You will need Eggos, pudding cups, 3 musketeers, snack mix, a demogorgon pop, coke floats, crime scene tape, black table covers, black terricloth, and your desserts from above. 
See the video of all of the setup for this watch party. 
Looking for more?