Yesterday we spent the entire day on a Stranger Things season 3 Netflix binge as a family. I wanted to make it special so I created some Stranger Things snacks for the day. These are new ideas but you can also find my Stranger Things watch party from last season for more ideas. I hope you can find something you can enjoy before sitting to enjoy another awesome season of Stranger Things.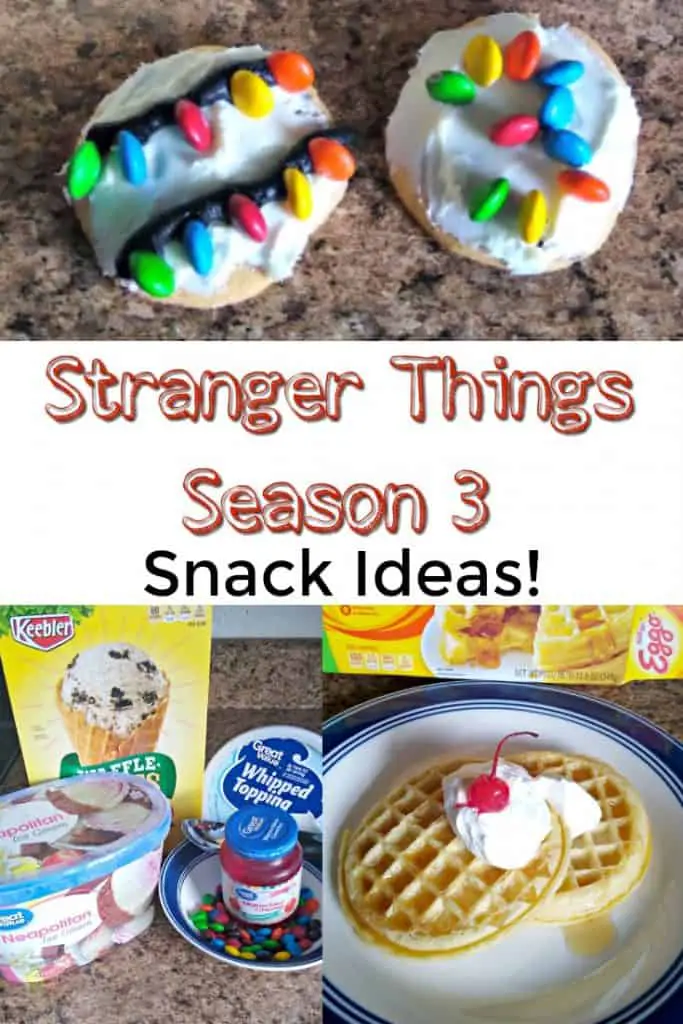 Stranger Things Snacks
If you are planning a Stranger Things watch party you will want to refer to my Stranger Things watch party post for some fun ideas. You can also find some allergy-friendly party food options that can be included if you deal with food allergies in my Harry Potter allergy food post. We tried to keep things simple. You could easily expand upon this list with some great foods from the newest season.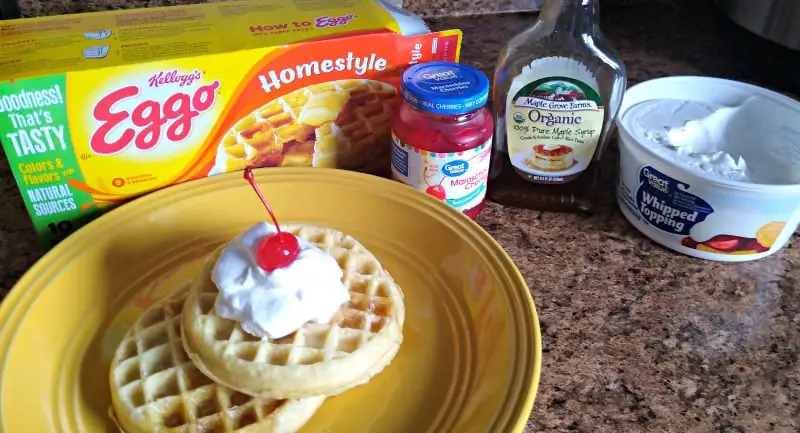 Can you even do a Stranger Things binge without Eggos? I didn't think so. We decided to dress up our Eggo waffles a bit for a really fun breakfast at the beginning of our Stranger Things season 3 binge watching party.
You will need: 
Eggo Waffles
Whipped Cream
Syrup
Cherries
(Sprinkles or other toppings you might like)
Creating a simple waffle bar
If you want a fun way to make this work for a party, make a waffle bar. Cook up your waffles and put them on a plate.
Put out all of your toppings and let your guests design the waffle of their dreams in the way that 11 would!
You can either do a container of spray whipped cream or a container of whipped cream with an ice cream scoop.
Stranger Things Cookies
There was a scene highlighting chocolate chips cookies in the newest season. As a call out to that we decided to do some Stranger Things cookies highlighting a favorite scene from season one when Joyce decided to have fun with Christmas lights. These simple cookies could be baked from scratch but I decided I didn't want to spend the day baking. I wanted to spend the day binging the show with the family.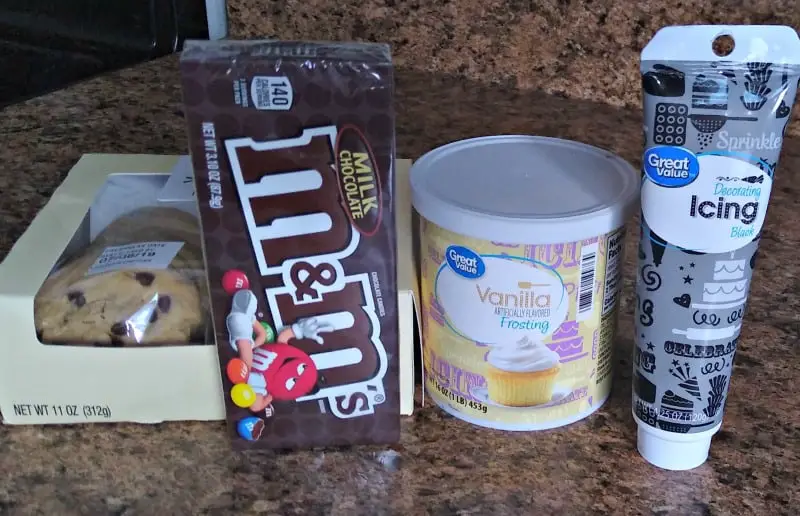 You will need: 
Chocolate chip cookies
Vanilla Icing
M&M's
Black tubed icing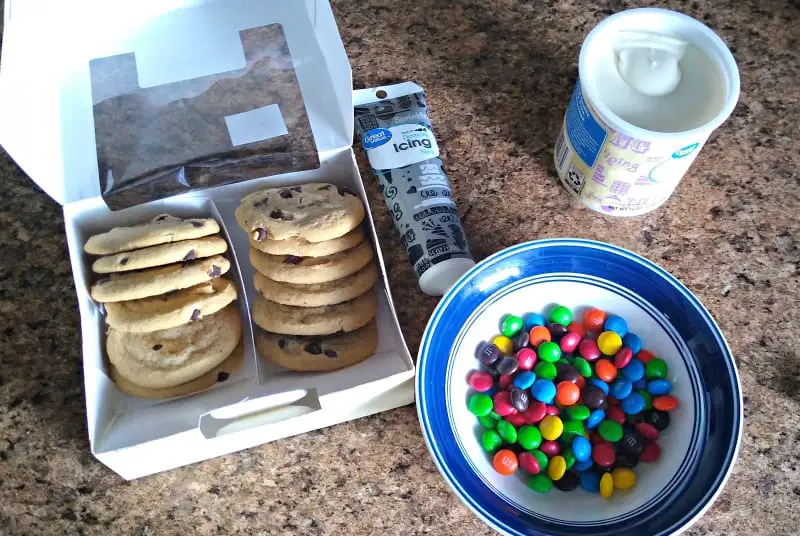 Lay out all of your supplies so each person can customize their cookie.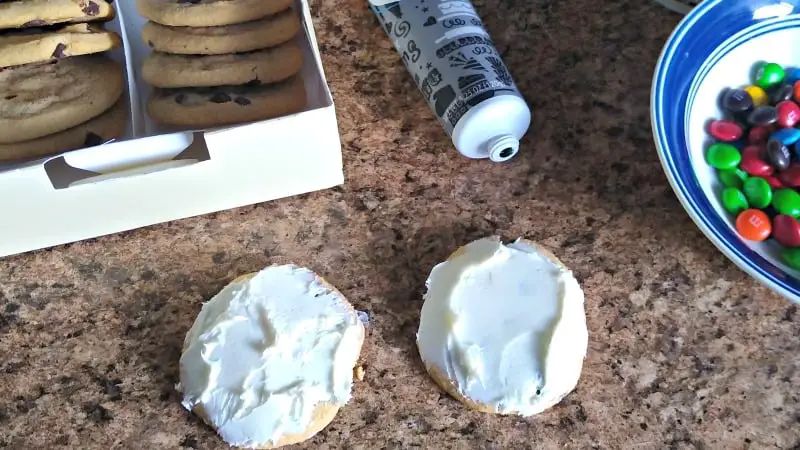 Start by adding a layer of white icing.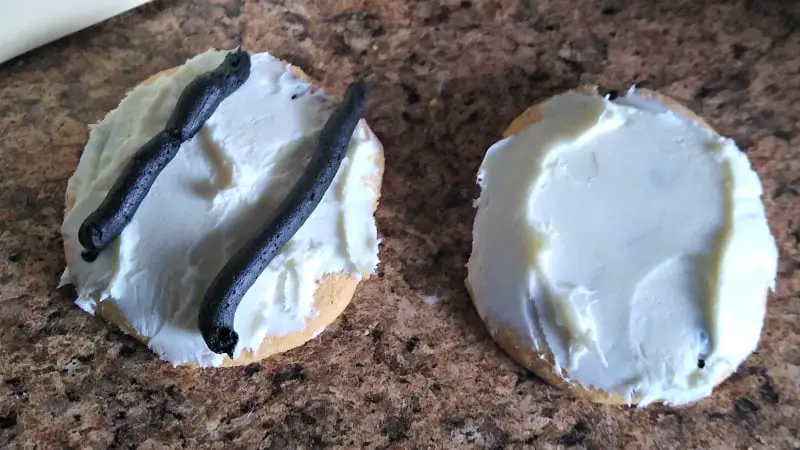 Add your black lines using black icing. (Be ready for kids to have a blast with this if they do it on their own. I know my son created a labyrinth of Christmas light lines for her cookies.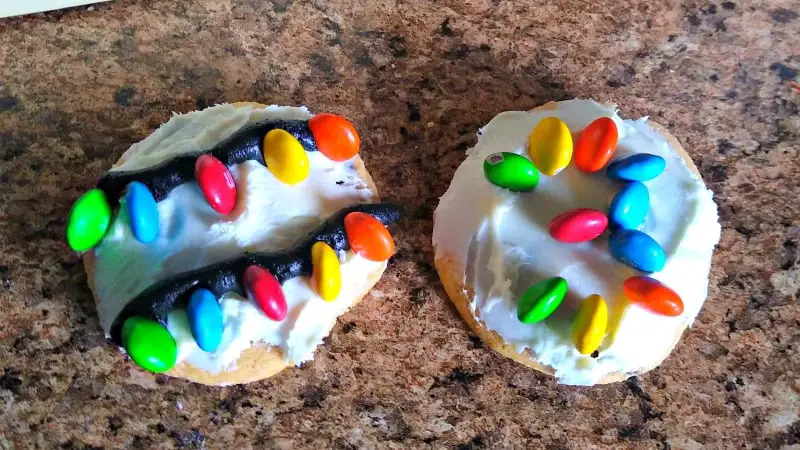 Turn your M&M's on their side to make your Christmas lights.
You can also use your M&M's to make a number 3 to represent season 3.
Lunch Ideas
We did a simple lunch and went with pizza. However, you could also throw some meatballs in the instant pot! Check out my Instant Pot Meatball Recipe.
In the mall food court, there were the following restaurants if it helps you plan your lunch for your Stranger Things binge.
Chinese Food
Wendy's
Hotdog on a Stick
Pizza
Dessert – Stranger Things Ice Cream Cones
When it was time for dessert I decided it was fun to do something a little sneaky with our treats. I know that the last episodes of each season either have a major plot twist or something that will grip your emotions and make you need a big bowl of ice cream and some chocolate. That's why I did these hidden treat ice cream cones for them as the finale to our big Stranger Things watch party day.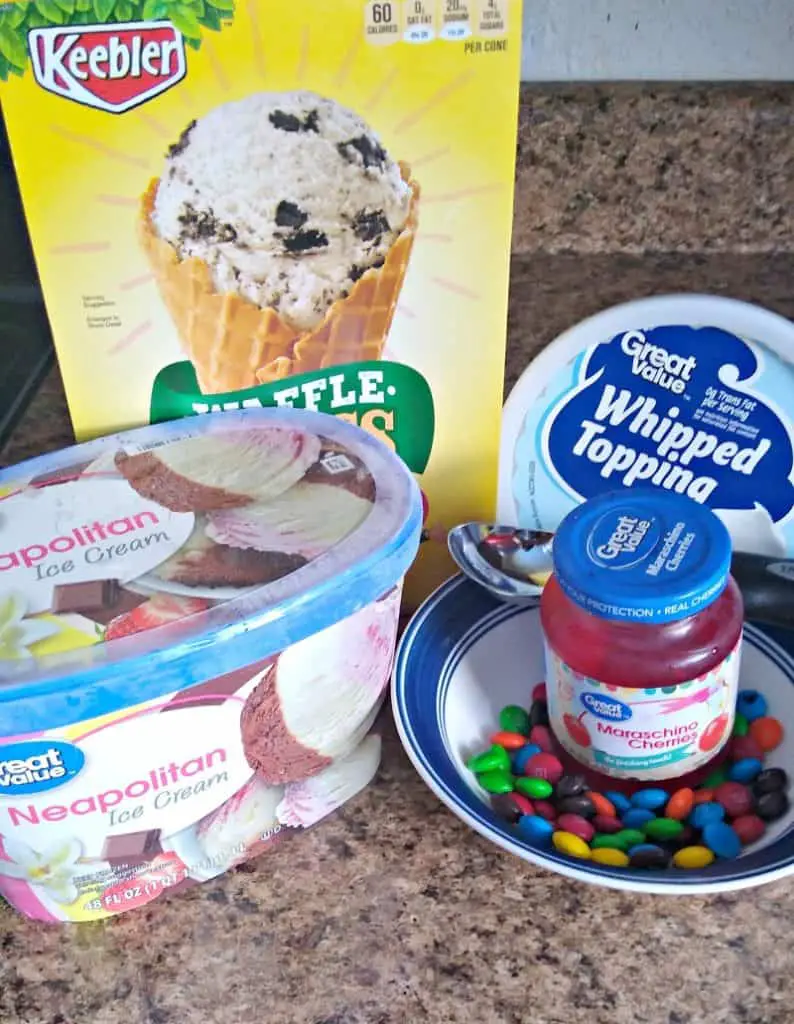 You will need: 
Neapolitan Ice Cream
Maraschino Cherries
M&M's
Waffle Cones
Whipped Cream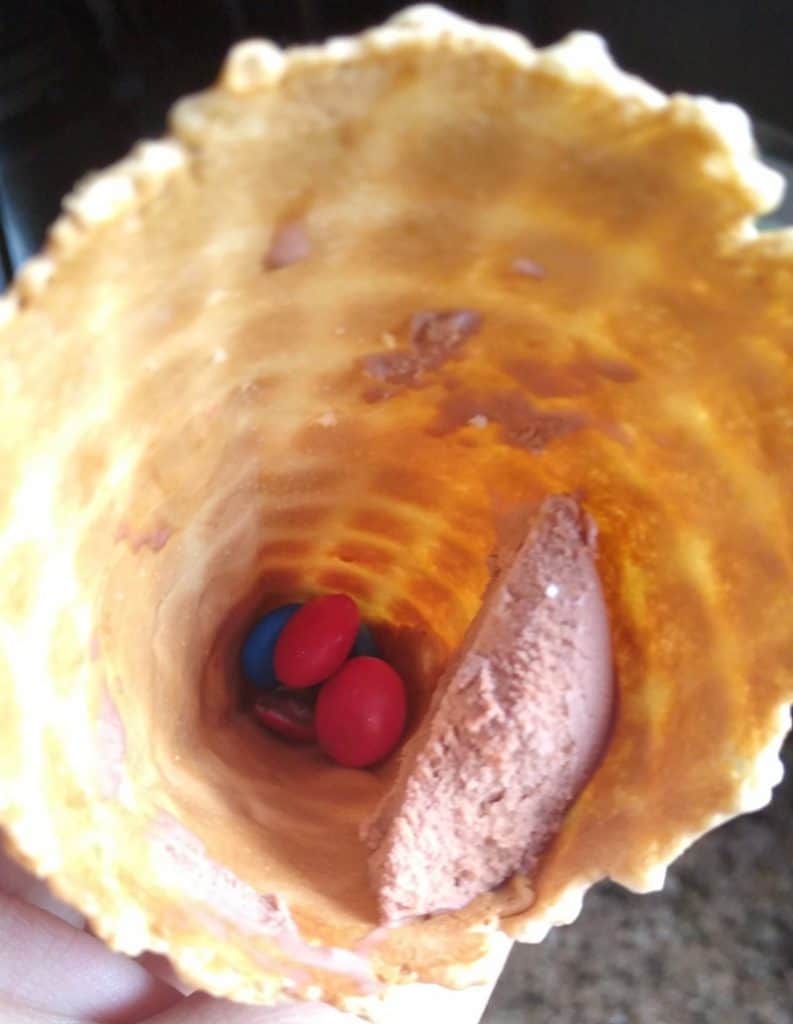 Start by filling the bottom of your cone with a scoop of M&M's.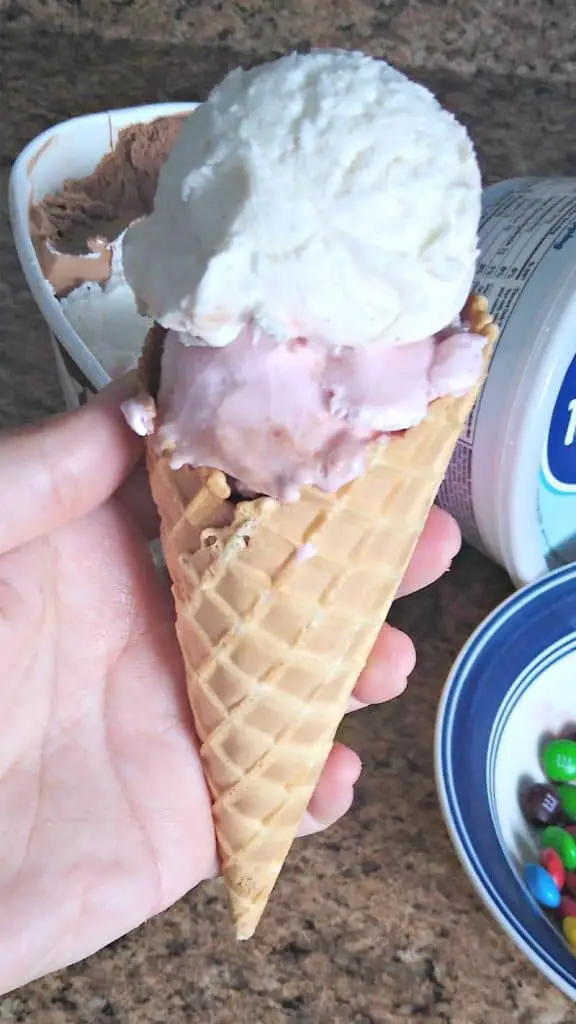 Add your ice cream scoops. For mine, I added chocolate, then strawberry, then vanilla.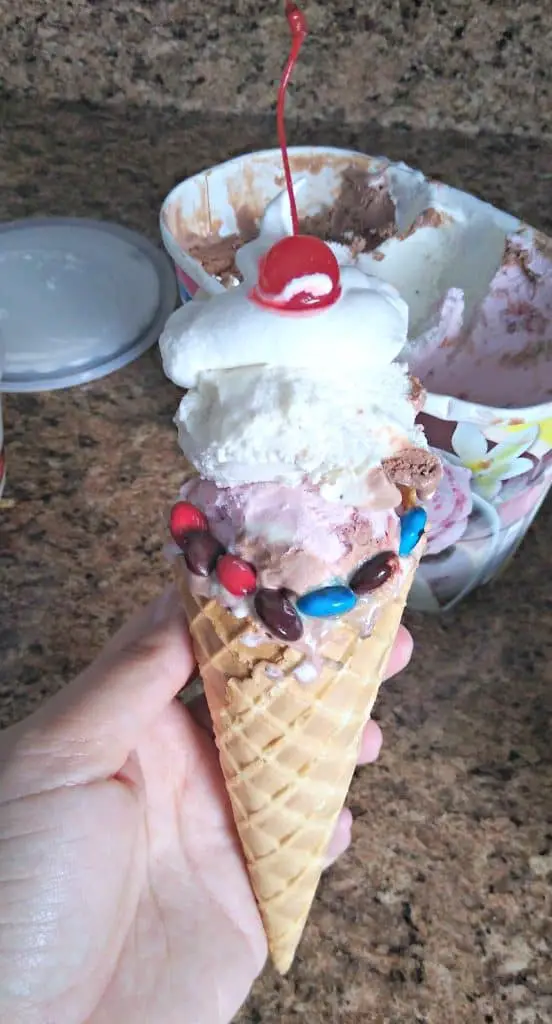 Add M&M's to the area around the cone.
Top with whipped cream and put a cherry on top.
More Stranger Things Snack Ideas
Here are a few of the foods represented in Season 3 of the show. If you are looking to add some fun to your party you could easily use any of these as appetizers, extra snacks, or as a dinner option for everyone enjoying the show with you. I know a lasagna would make a great option for a dinner at the end of your Stranger Things binge or as a main dish as part of your watch party.
Eggo Waffles
Tostitos Chips and Salsa
New Coca Cola
Cocoa Puffs
Snowballs
Lasagna
Chocolate Chip Cookies
Stranger Season 3 Spoiler Free Review
We went into this season unsure if this was going to be a good season. There was so much hype going into it and I saw a few interviews where they suggested there would be more gore this season. It made me nervous as I watch it with my kids.
Yesterday we binged the entire season and I was definitely blown away by this season. The kids have definitely grown up a great deal since we first met them in the basement playing D&D.
You will see themes that fit the teenage season of life a lot more in this season but I wasn't mad at it. In fact, we had fun laughing about some of it. This season does seem to have a lot more cursing than past seasons if you are sensitive that.
I am trying not to spoil anything so I'll keep it short. I'll say this. The first half of the season is building a foundation but once that foundation is built the show takes off it's a crazy roller coaster ride. Make sure to bring a box of tissues to the final episode. You'll need them!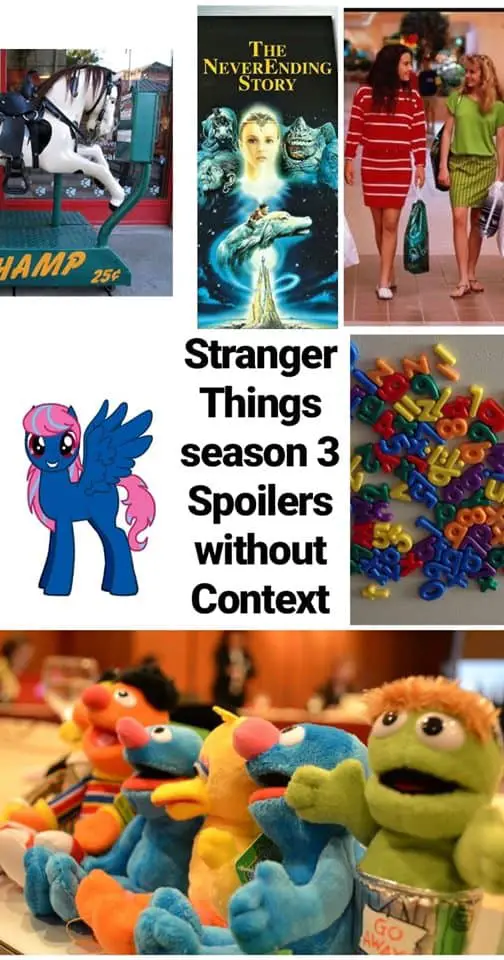 Want to talk more about Stranger Things Season 3?
I would love to talk more about this season with you! It's been so much fun and I am sure I will watch it a few more times. You can find me on Facebook, Twitter, or Instagram. Drop me a message and we'll talk more about this season.
Looking for more?