Stay at Home Activities for Kids
It can be hard to be stuck at home for extended periods when you are a kid. Whether it is because of a longer school break, summer, or because they aren't feeling 100% kids can get bored easily. The problem with kids getting bored is that they quickly look to parents to entertain them. Sometimes just telling them to go play doesn't do the trick. So what do you do when you are stuck at home with kids? Here are 101+ stay at home activities for kids.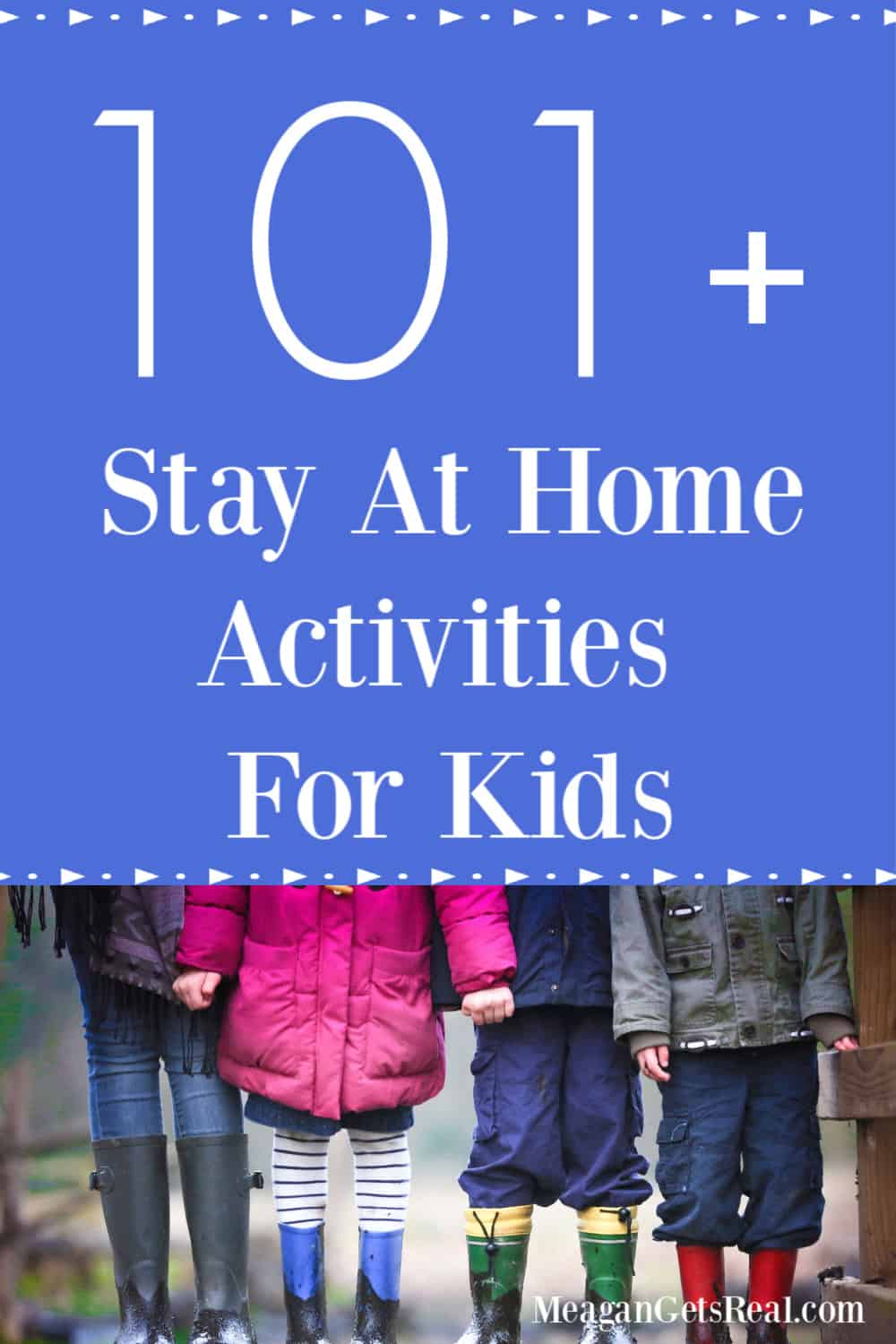 101+ Stay at Home Activities for Kids
Index
Virtual Field Trips
Indoor Play Ideas
Free Printables
Imaginary Play Ideas
Crafting Ideas
Family Time 
Family Game Ideas
Quiet Time Ideas
Educational Ideas at Home
Outdoor Play Ideas
Virtual Field Trips
While you can't travel at this time, you can definitely explore the world via virtual field trips. Even better, many of these virtual field trips are interactive and free to the public. These are a great way to let kids see so many of the things the world has to offer without leaving the house. Here are a few options to consider trying out. 
Indoor Play Ideas
Whether it's a rainy day or you are in an area where outdoor play isn't possible, indoor play options can be so important. We have a few ideas to help you encourage the kids to have fun with indoor play. Even better, many of these involve little work from you. Here are a few ideas to help kids have fun with indoor play. 
Balloon Tennis
Free Printables
If you are looking for a way to keep kids entertained at home, free printables can be a huge help. Whether you are giving them coloring pages, educational supplements, or fun games, printables can be a great way to keep kids entertained inside the house. Even better, the internet is filled with free printables! I know I have Doctor Who themed printables and so much more! Here are some options to try out. 
Imaginary Play
Getting kids to use their imaginations can be a huge way to help them pass the time. Using imaginary play is a great way to engage their minds and keep them happy. We like to do an imagination challenge. I will tell the kids the starters for a story and they have to decide how the rest of the story will play out either through legos or other forms of play in the house. 
Vet Clinic
Crafting Ideas
Getting kids crafting can help them to have fun with creating and exploring new things. While some crafts will involve more time commitments from you, others won't. There are some great ways to get kids creating without you having to be involved though. Sometimes the best thing to do is to put down a plastic tablecloth or newspapers and let your child play with different art mediums without guidance. 
Free time painting
Family Time 
While you can get tired of each other if you are together too much, having special family time can be so important. Setting up special family time traditions can be a game-changer. These don't have to be incredibly involved. Small things can have big impacts when it comes to kids. The goal is to find family time ideas that can keep kids happy without overwhelming parents. 
Family Game Night
Bedtime storytime
Family Movie Night
Family Dinner
Stargazing
Living Room Campout
Video Game Night
Indoor Scavenger Hunt
Hide & Seek in the Dark
Family Memory Game with Stories from the Past
Family Game Ideas
Playing games as a family can be such a great way to spend time together. It can be a really fun way to laugh together, keep kids entertained, and make some great memories. We love to make time for playing quality games together. They are one of our favorite ways to spend time together and laugh. (Well as long as we don't play Monopoly we laugh.) 
Quiet Time Ideas
Taking a time of quiet time in the house can make a world of difference. We set a daily quiet time in our house. It helps for each person to be able to go to their own space and recharge. It also helps to resolve a lot of the tension between people in the family who might be getting overwhelmed. There are some simple ways to make the most of quiet time without any of the stress. 
Have a book basket
Set a timer
Give each person their own space. 
Let kids play with toys
Give safe art supplies (items that won't end up on walls) 
Music with headphones can keep a teen happy
Don't make it a punishment. 
Make it fun. (Toys/favorite items) 
This can be a great time for nap time! 
Start with smaller times and work your way up to an hour if that's the ultimate goal. 
Educational Ideas at Home
While you may not be able to cover all of your child's education, you can definitely supplement their education with some fun activities and projects. We are big fans of items like interest-led learning and educational game sites as a way to keep kids entertained. Even better, many of these activities involve minimal work from you.  
Read, Read, and oh Read Some More! – Here are some book ideas.
Play math games
Let them pick a subject and learn as much as they can about it. 
Watch TedTalks and documentaries. 
Outdoor Play Ideas
Sometimes getting kids outside is the best possible option if you are able to. Many kids don't do well with "go outside and play" like they used to though. So how do you get kids to get outside and have a good time? There are some simple ways to enjoy the outdoors. Here are a few ideas to get you started. 
Water Play/Snow Play 
Build a fort
Chalk the sidewalk
Play a favorite sport
Play with pets
Take a good book out and read. 
Play games like tag, capture the flag, and hide and seek. 
Start a small kid's garden. 
Challenge them to imaginary games and play
Backyard Minute to Win It Games