Have you been looking for a Solar System Project to study the planets in our solar system? Don't miss this great d.i.y. solar system model I did with my daughter. This simple solar system project is a great way to get hands-on with your child while teaching about the solar system. Please note that some things are not perfect as far as color or scale but we tried to keep it fairly close.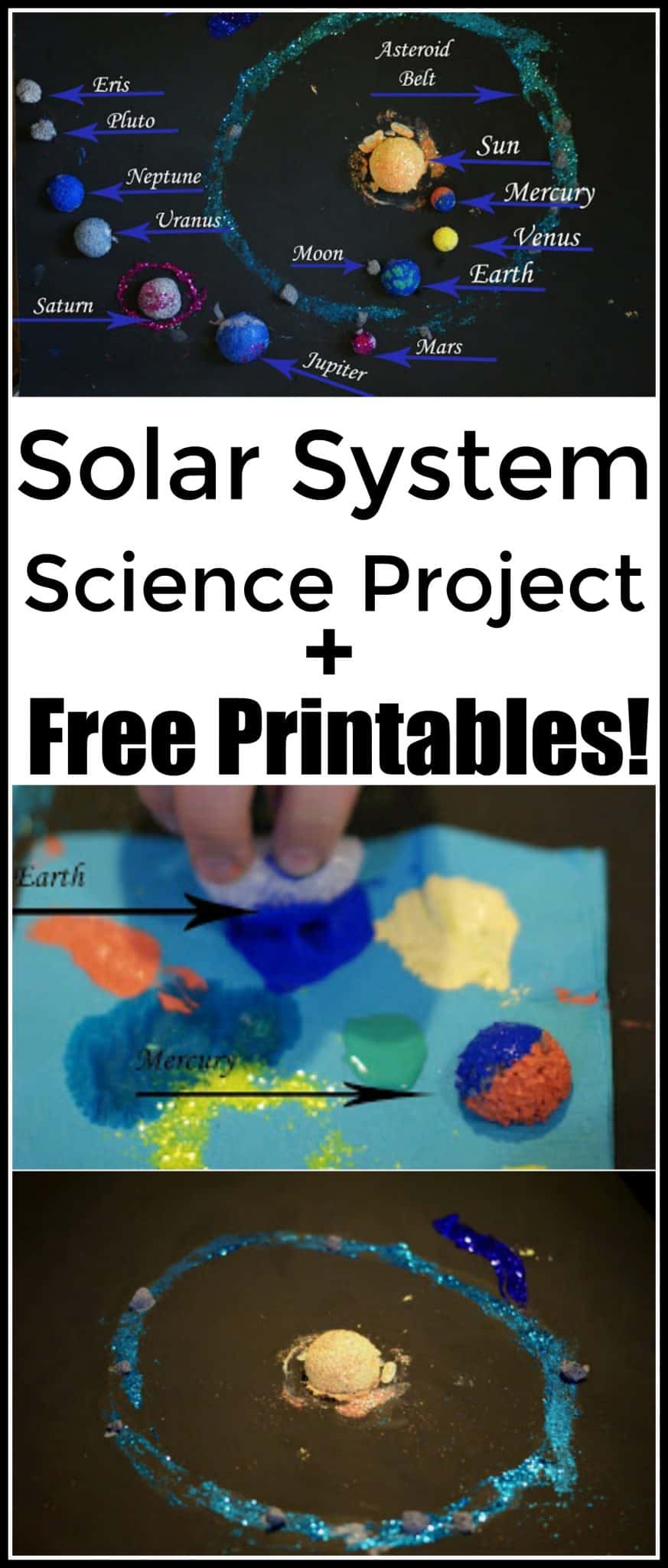 How to Build a Solar System Project
A lot of people have been looking for project ideas as we head into the Science fair season. This is a great project for kids and they will be able to have a lot of fun being creative with science.
What you will need: 
Styrofoam balls – The ones in the picture are what we bought but get what you think you will use.
Glitter! – Pick the colors you will use based on the planets.
Paint – We used a variety of colors. You could always buy the primary colors and mix them.
Black Posterboard or Foam Board
Hot Glue Gun
What to do: 
Cut Foam balls in half. – For each planet, I looked at the size of the planet with R and we decided which sized foam ball would work best.
Decorate – I will list in a minute how we picked the colors/decorations we did but you will want to either paint or glitter your planets accordingly. I highly recommend making sure to spend some time researching the atmosphere of the planets and the colors you might represent each planet with.
Make sure you have comets and an asteroid belt. – For our comet R made it with blue glitter because it is cold. You can use glue and glitter for the tail. For the asteroid belt, we did a ring of blue. We broke small pieces of a foam ball and painted them gray to go in our asteroid belt.
Why we decorate our planets the way we did: 
Sun – R says, "The sun is a big ball of gas. It needs to look like it's on fire. Make it yellow. Then add some orange glitter to make the point." –
Mercury – We did half of the planet orangeand half of the planet blue because "it's hotter on the side by the sun and colder on the other side mom!" Good point little one.
Venus – Venus is often referred to as the morning star so R really wanted it to sparkle.
Earth – Earth had to have a moon because we learned about the moon and its cycles.
Mars – Because it is a hot red planet R wanted to use red glitter to show Mars.
Jupiter – Check out that big red spot! That's right, Jupiter is known for its red spot and how large it is.
Saturn – We used hot glue to put rings around Saturn.
Uranus, Neptune, Pluto, and Eris – R didn't really have any preference about these. She said they don't have as much of a noticeable difference to them.
This was a successful project. As you can see, R had a blast!
One of the best things about this project is that it offers a lot of creative freedom. I found that researching the different planets from the artistic perspective helped because as you learn about how the different gases and how the planet is composed you will decide how to build your project.
Solar System Resources for teaching!
Free Astronomy Mega Pack from Year Round Homeschooling
Space Stones from Playground Park Bench