In our house slime is a favorite sensory play option. The kids love to mix up a quick batch of slime on days off of school or when they get a bit bored. This year I wanted to have a bit of fun with our advent calendar as we countdown to Christmas. I put together a slime advent calendar with twenty-four different slime surprises. Slime can be fun this year with this simple slime advent calendar. 
Christmas Slime Gift Idea
Base Slime Recipe  
While you can rotate out some of the ingredients or colorings for different smells or looks, this is a good simple base slime recipe you can modify. For the advent calendar, I made candy cane slime, Christmas tree slime, snow slime, butterbeer slime, and a few different colored slimes using the below recipe and switching out the colors from batch to batch. 
Ingredients 
1 – 4 oz container of glue (we prefer Elmer's) 
1/2 cup shaving cream
3 pumps hand lotion
1 tbs cornstarch 
Food Coloring (Optional depending on color desired) 
1 cup of warm water
1 tsp borax 
Container for slime 
Making the Slime 
Start by adding one four-ounce container of glue.
Add 1/2 cup of shaving cream and mix well.
Add 3 pumps of hand lotion.
Add 1 Tablespoon Cornstarch and mix well.
In a separate bowl, mix together 1 TSP borax and 1 cup warm water.  Add 1 tsp of this mixture to your glue mixture at a time until your slime is the consistency you want.
Place slime in a sealable container to keep it usable.
Making a Slime Advent Calendar
You will need
24 Small sealable containers
4-6 varieties of slime
googly eyes
pom poms
glitter (Get a variety of colors) 
sequins
character erasers 
1 Gift Box 
1 roll of double-sided tape
1 string of garland
Puff Paint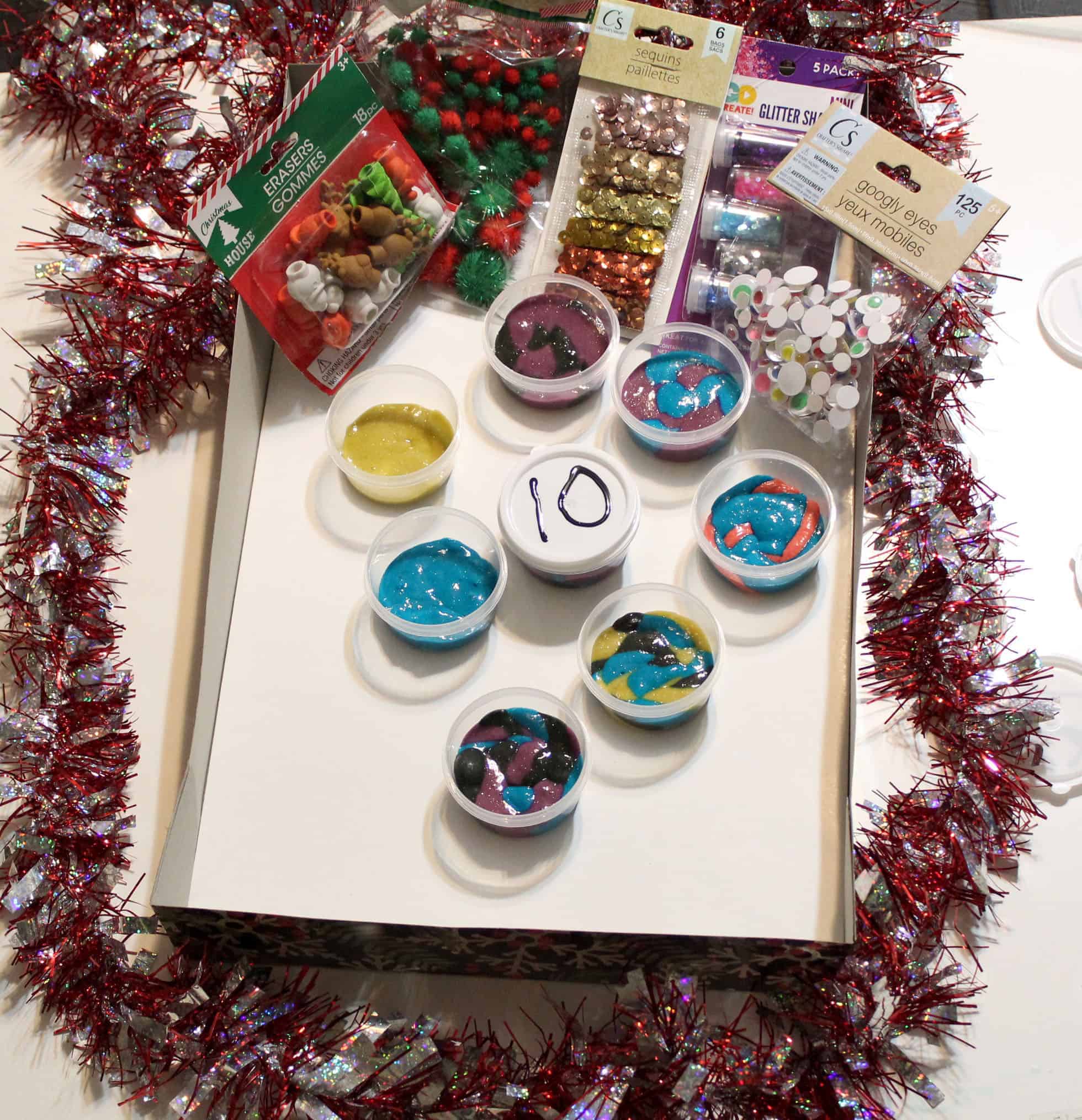 Directions
1. Use puff paint to write numbers 1-24 on the lids of your plastic containers. 
2. Start by adding slime to all of your containers. Mix together colors to add some variety to the options available. For mine, I started with a few base designs and mixed them together in varying colors so that each container is different.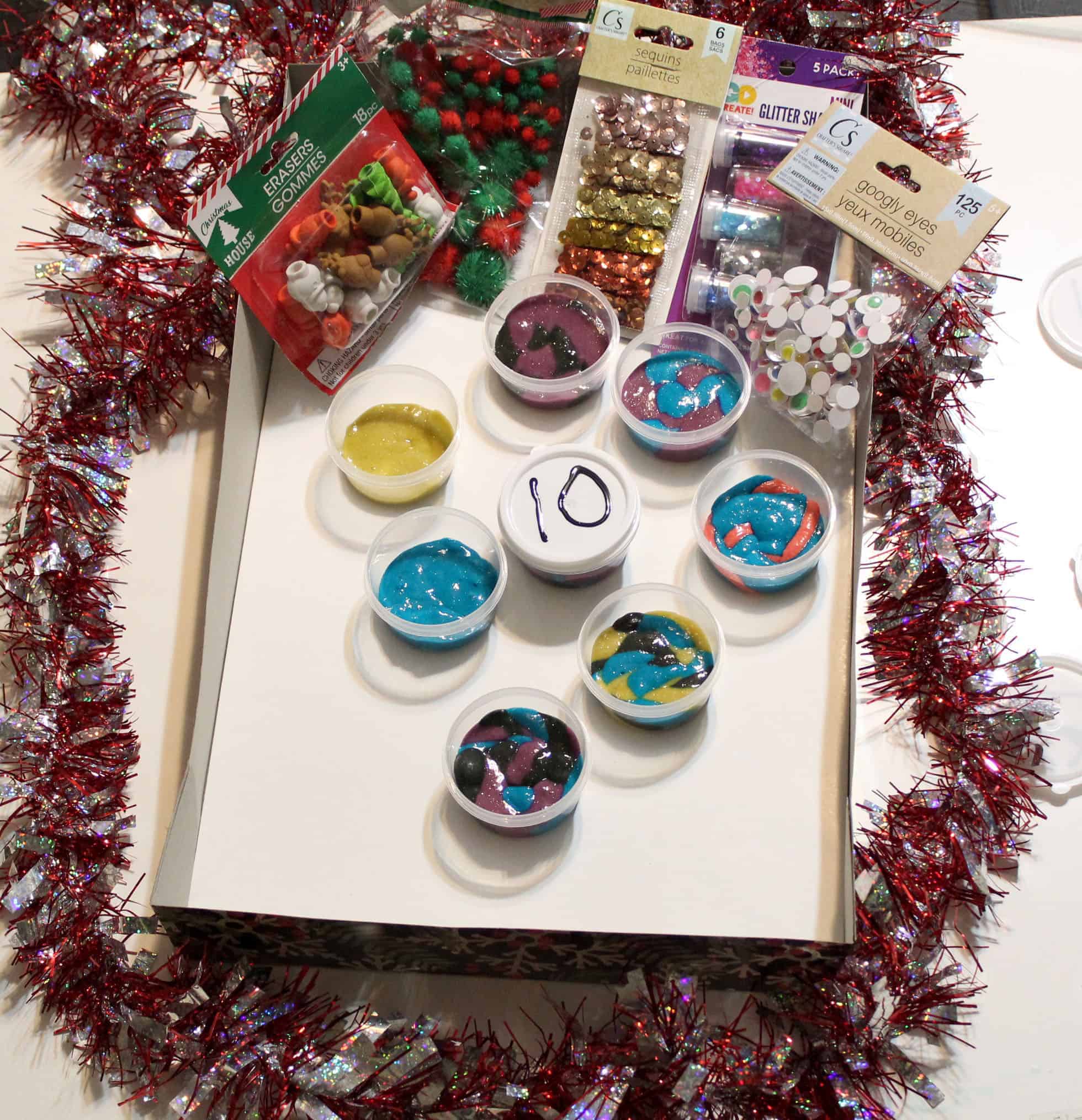 3. Once you have put slime into each of your containers, you will get out all of your fill in items. These items are meant to be a mix in for playing with the slime. 
4. Try to make sure you have a variation for each container so that no slime is repeated throughout the month. 
5. Use double-sided tape to add slime containers to the gift box. 
6. Add double-sided tape in between numbers to stick garland to. 
7. Weave garland throughout the box and make sure to attach it to the double-sided tape. 
8. Open a new sensory slime each day for a fun sensory experience. 
See the slime advent calendar on YouTube! 
This video will show you how it's made and share a few of the openings of the slime.