Being a mom is one of the most beautiful chaotic overwhelming miracles ever. It's a marriage of absolute joy and complete exhaustion that I have never seen in any other area of my life. Nowhere else in my life have I deeply and totally loved someone while equally wondering if they will be the end of me some days. It's exhausting and the ever-ringing mantra of treasure it chimes in my ear like an unrelenting gong. Well, let's talk about it. Let's talk about 6 real mom struggles that everyone tries to cover up.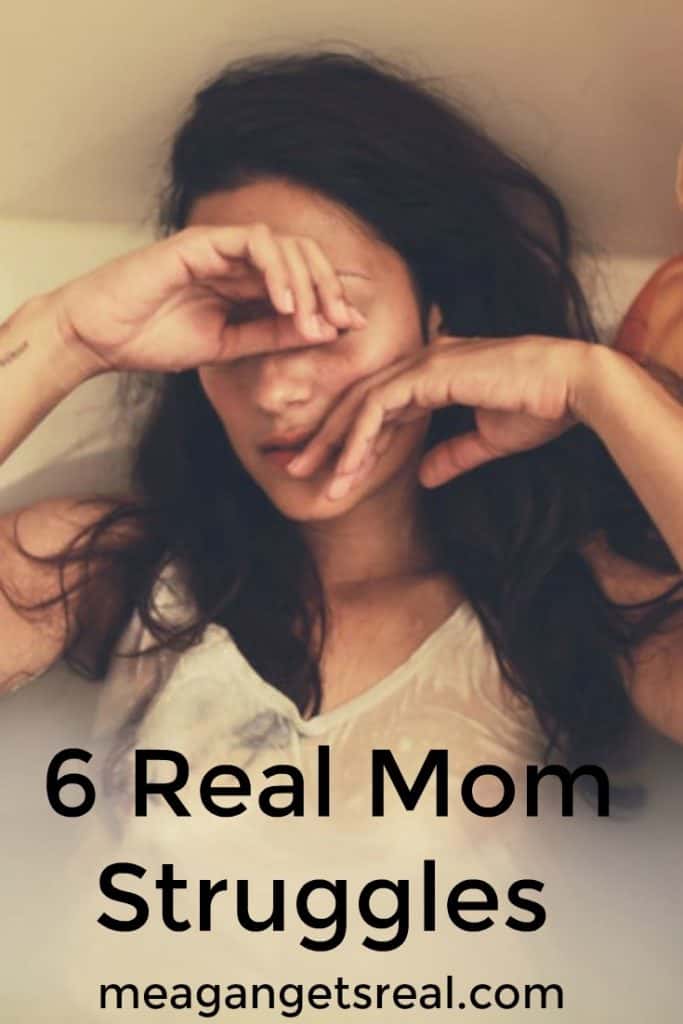 6 Real Mom Struggles
Let me be clear. Not all moms will struggle with everything here. However, this is an honest post for the mom who just really loves her child with all she is while still struggling with some core truths of this whole mothering gig.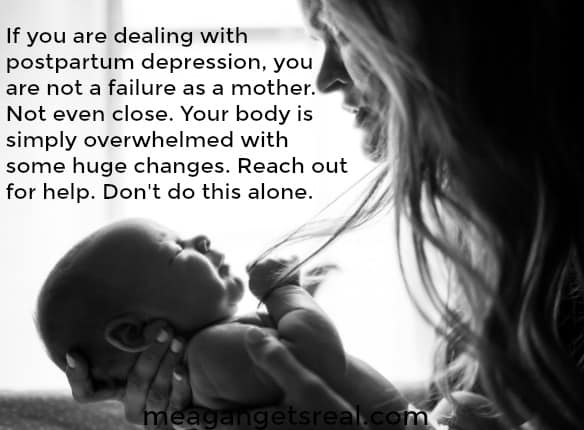 Post-Partum Depression
When my daughter was born I expected all of the motherly instincts to come flushing in like a tide. I expected to know how to do everything to care for her and to be the queen of baby land. I did not expect a very painful episiotomy, a screaming colicky baby, a mother in law who was losing it, and a husband who was too overwhelmed to process this new beginning.
I felt so broken and so alone at the beginning of my daughter's life. This wasn't how it was supposed to be. Everyone was supposed to be happy. I was supposed to be happy. But I wasn't. I cried and cried and cried. I can vividly remember days when I sat on my couch with my screaming baby in my arms crying. I didn't know how to help her and I thought it was all my fault.
It took a long time for me to get the help I needed but I am so so thankful for friends who spoke into my darkness. Friends who said, no. You don't have to feel this way. Mothering is hard but not this hard. Let me lighten your load. Let's talk to your doctor and let's find you some relief.
I made it thru, but it sucked. SO bad. If you are dealing with postpartum depression, you are not a failure as a mother. Not even close. Your body is simply overwhelmed with some huge changes. Reach out for help. Don't do this alone.
Mom Guilt
If someone would have told me when I got pregnant that there would be a constant alarm going off in my brain telling me that I wasn't doing enough for my child I wouldn't have believed them. But that's mom guilt. Mom guilt is this ever-present alarm ready to blare as loudly as possible that you are messing up your kid. That you are not enough. That you are failing this parent thing.
It screams loud sometimes. Other times it is a simple whisper. "You forgot the diaper bag. What were you thinking? You packed that for lunch? Really?!" It's that small insecure voice inside that constantly tells moms they just aren't enough.
Guess what, you are. You are enough for the child you have and the child you were chosen to raise. You may not be enough to raise Susan's perfect little angels but you are perfectly qualified for your messy blessings. You are enough for the little one in your care and mom guilt can stuff it.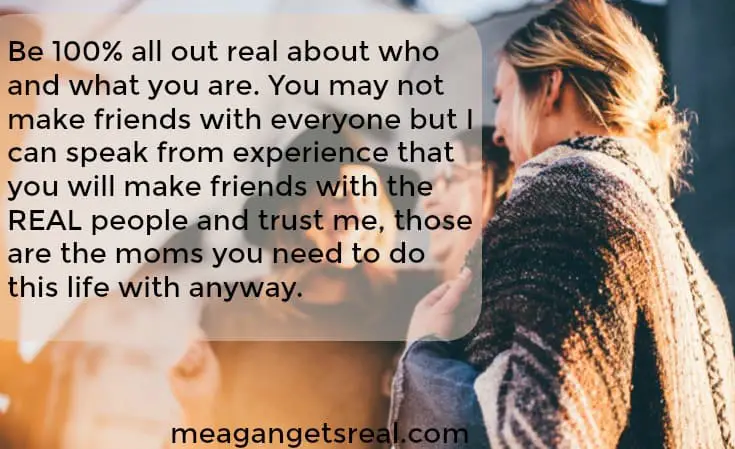 I need to fit…
Momming brings with it a whole new world. It's like every playdate, park day, and get together is an audition to see what kind of mom you are and if you will measure up. Between the crunchy mom who never feeds her kids the junk you do, the super faith-filled mom who would never say what you do, and the super sweet mom who never yells, you sit there wondering where you fit.
Guess what, you fit. The problem is most moms put on a mask. They put whatever they see as their best attribute forward and they hyper-focus on that. So they can breastfeed. They are going to make sure you know their latch is awesome but maybe they don't talk about the fact that they can't seem to keep the house clean. So they are awesome at keeping the kids behaving. They aren't going to talk about the fact that they are so tired at the end of the day, there's nothing left.
Don't be fooled by it and don't fall into that trap. Instead, be real with someone. Be 100% all out real about who and what you are. You may not make friends with everyone but I can speak from experience that you will make friends with the REAL people and trust me, those are the moms you need to do this life with anyway.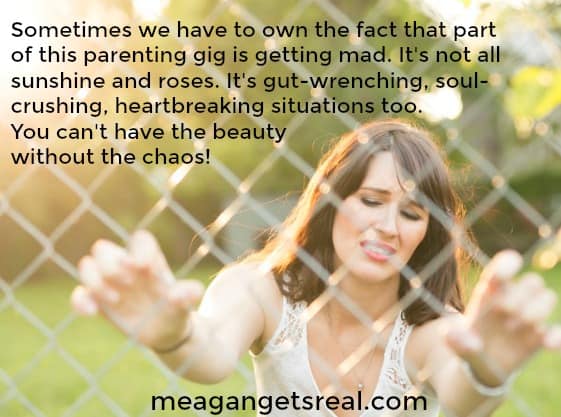 Mom Anger
Being mad at your kids these days is treated as one of the 7 deadly sins. They are tiny people and you are to always adore them and never get mad at them. Well, guess what, those tiny people make you mad. They do things that are incomprehensible to an adult. My daughter once exploded 2 whole bags of flour in her room. It looked like a white Christmas in there. I walked in, saw the room, said, "oh hell no." and walked right back out. I informed my husband that was his party.
Sometimes we have to own the fact that part of this parenting gig is getting mad. It's not all sunshine and roses. It's gut-wrenching, soul-crushing, heartbreaking situations too. You can't have the beauty without the chaos!
Discipline
Everywhere we turn someone is telling us the right and wrong way to discipline our children. No one agrees. Every choice you make to discipline is too lenient and too harsh all at the same time. No matter how much time and heart you put into deciding what the right way to raise your child is, someone will disagree.
I can't tell you the right way for your child. I am still learning how to handle mine. In the years I have been their mom, I have spanked, grounded, yelled, whispered, bargained, stood my ground, and countless other things at each season of life. We've done corners, quiet room time, banning favorite toys, and even a few garbage bags of their favorite things being thrown out because they wouldn't clean.
There is no perfect answer to discipline. Every child is corrected and learns in a different way.  You will not have the same success disciplining one child the way you do the other. It won't ever be perfect but you won't do it alone.
Depression
From a young age, I've always battled depression. Yet something in me swore that becoming a mother would change that. I was so sure that I would be so covered with joy over my new baby that depression wouldn't be mine anymore. So I quit medicating my depression and I went forward in ignorance.
I won't lie. My pride kept me from dealing with depression. The very child that was supposed to bring me joy, brought me to tears. I was overwhelmed and exhausted at all times. A few years ago I owned my mom depression. I owned the fact that I am never going to be 100% on my own and that's ok. I learned that my depression is a chemical imbalance that I need to make peace with.
Since I have moved over to medication for my depression I have been able to find my joy again. It's not perfect. There are still hard days, hormonal days, and just bleh days. However, I have found the balance I needed and it has helped me mother my children in a safer way.
Do you struggle with depression? You are not less of a mom if you ask for help. 
Looking for more?