Pumpkin Spice Playdough Recipe
This Pumpkin Spice Playdough Recipe is a Fall must-have for your next fall party or just because for fun! Halloween is just around the corner! I have been wanting to do something fun to help prepare for the fall. I put together this simple Mickey Halloween playdough DIY. Even better, this version has a sensory experience included. Check out this pumpkin spice playdough recipe for a bit of fun with the family.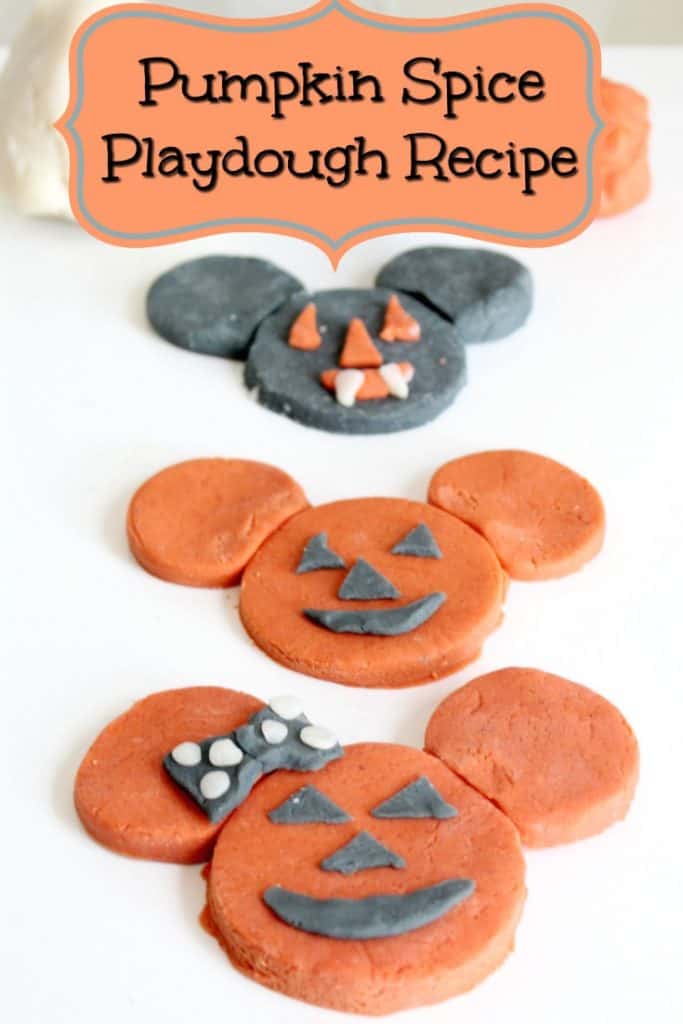 Pumpkin Spice Dough
Recipe adapted from a recipe by Domestic Superhero
The ingredients below are for one batch of playdough. You will need 3 batches for the Mickey dough craft. This is a great party favor option or as a fun item for kids to play with just because. We love the sensory experience offered by the delicious smell. Even better, it's non-toxic so if they do decide to try and eat it, it's ok.
Ingredients
1 Cup Flour
1 Cup Water
2 Tsp Cream of Tartar
2 Tsp Canola Oil
1/3 Cup Salt
2 Tsp Pumpkin Spice seasoning
Food Dye
Small sealable containers from the dollar store. (Anything could work. I just like these.)
Mix together all ingredients in a pot.
You will not want to add your food dye until your ingredients are well mixed.
Once your ingredients are well mixed, add your food coloring and stir well.
If you are using food coloring drops, the above color was achieved by 20 yellow drops and 20 red drops.
After you add your food coloring put the pot on the oven at medium heat.
Stir consistently until your dough stiffens up. This shouldn't take more than 2-5 minutes. The longer you leave it on the heat the dryer your playdough will get. If you are not happy with the consistency add a teaspoon of oil and mix well.
Your completed playdough would look like the picture above. Set it aside.
For the black dough you will do 20 drops each of red, blue, and green.
For the white dough, you will not add any food coloring.
Playdough needs to be in a sealed container when not being used. This dough is non-toxic and safe if kids decide to eat it though it probably wouldn't taste great.
Mickey Playdough Craft
I wanted to take it a step further and reproduce some of the spooky fun we often have at Not So Scary. One of my favorite parts of not so scary is the pumpkin Mickey decorations they have. I decided these fun dough creations would make a fun way to pay homage to these decorations as I head into the Halloween season.
This is a craft you could do for a party or just for fun with the kids. You could make the Mickeys and then challenge kids to decorate their own Mickey face using playdough.
Start by rolling out your orange playdough. You can decide how thick your playdough needs to be at this point. About 1/4 inch thick works but you don't have to be perfect.
Use a large cup to get the face portion of your Mickey. You simply place it down like a cookie cutter to cut out your face portion.
Use your smaller container to make the smaller circle for your ears.
Use the edge of your small container to make it so the ears can connect a little easier. Simply press the small container against it to give an edge for it to connect with the face.
Connect the ears. They won't be stuck together for lifting up so leave your Mickey on a flat surface.
Roll out your black playdough. You will want it extremely thin for the face portions.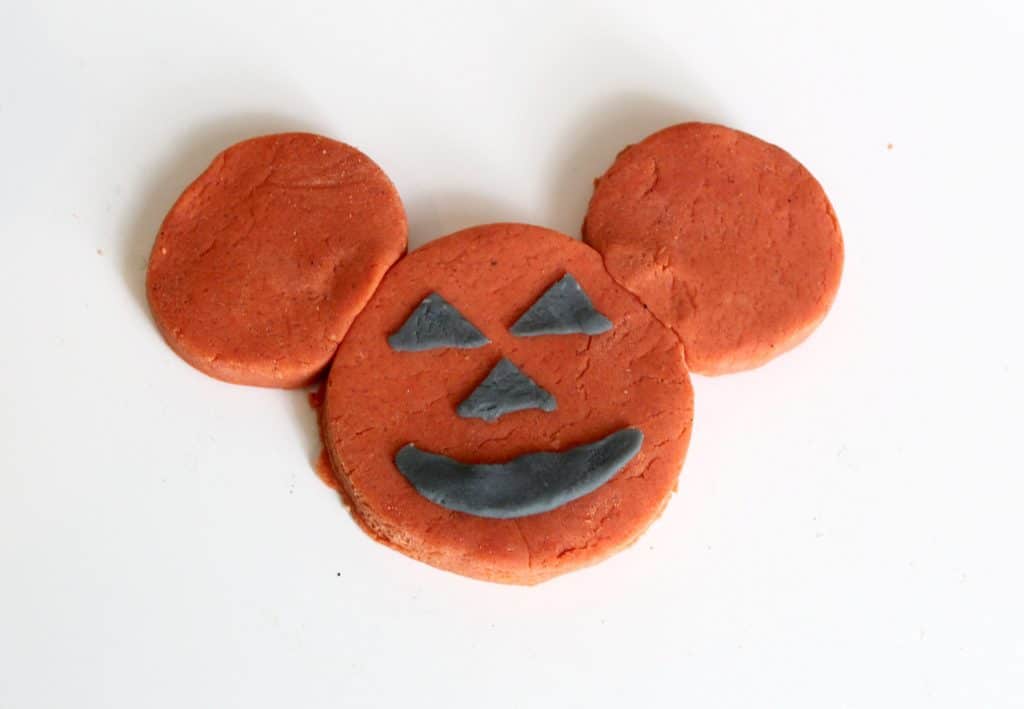 Using a butter knife, cut out the pieces for the face. You will need three triangles and a crescent.
Making Minnie's Bow
Make a rectangle of black playdough.
Pinch the center to make a bow feel. Then use a small piece of black playdough to make the center of your bow.
With your white playdough, make your spots for the bow.
Add your bow to one ear of the Minnie.
Making a Vampire Mickey
You will follow the same steps as above to make the Mickey.
Roll out your orange and then you can cut out the pieces of your Mickey face.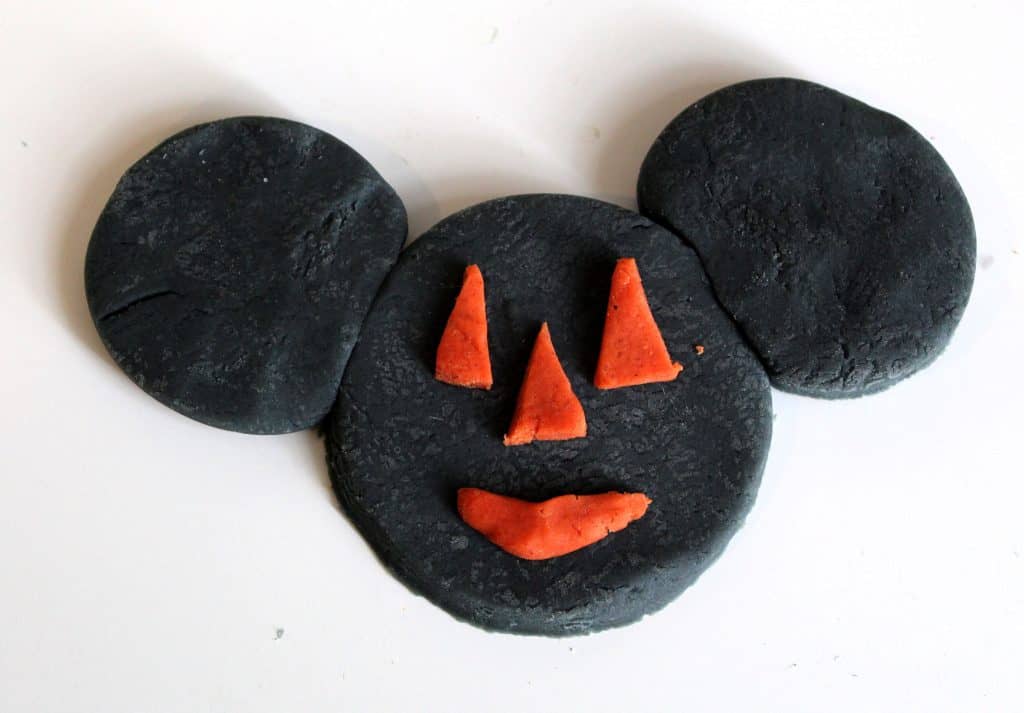 Add your face portions to your black Mickey.
Use your white playdough to make two pointed teeth for your Mickey.
Once you have finished with your playdough, make sure to put it in a sealable container. I know that I loved using these small containers as a way to give away playdough to my son's friends.
Looking for more recipes and ideas?