Planning a Messy Science Day
Planning a messy science day is a good way to help kids answer the "why" questions they have. From a young age, children live to ask why. "Why is the sky blue? Why do farts stink? Why? Why? Why?" One of the best things to do with the question of why is to teach children to find answers through the Scientific Method. A few of my friends and I have put together a fun homeschool co-op. We plan all kinds of fun for them. This time around we decided it would be fun to have a Messy Science Day. I thought it would be fun to take a few minutes and share with you how we set everything up and made it work for everyone.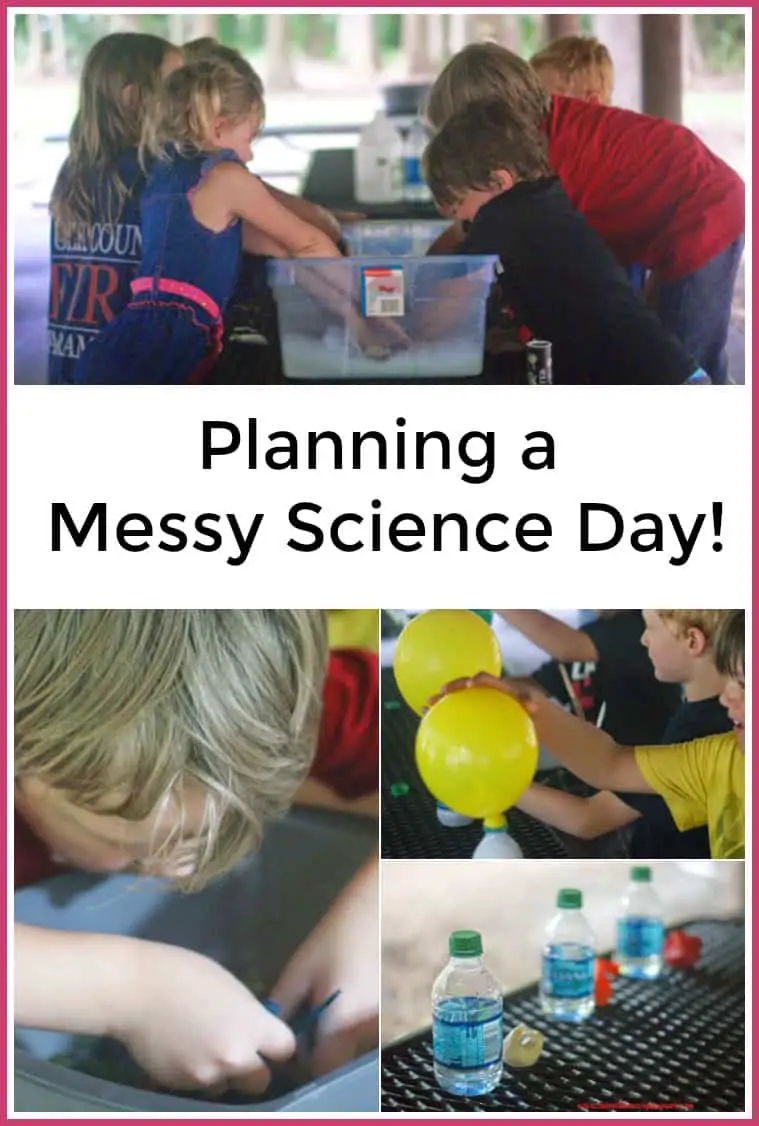 Messy Science Day Ideas
What to do
Pick a neutral location – We met in a park. There were multiple tables and a playground for when we were done with Science.
Set up a Facebook Event – Facebook events are a great way to plan a group outing. You can set the date, location, and keep tabs on who is bringing what.
Pick your Projects – In our group, each mom brought two projects. Having everyone chip in helps to decrease costs.
Pick a few messy Science Snacks – We wish we would have done a few of the snack type items as an add on to the event. We will be adding that to the next one.
The day of the Messy Science Day
Have each experiment at a separate table. – It's so much easier to hop from center to center. This also helps to work with larger groups of children at one time. 
Let kids run off some energy first. – It can be tempting to jump right into the messy science. Sometimes letting kids run off some energy first can help to keep their focus. 
Have each experiment set up before it begins – This can move quickly. Have each table ready so that the children can come and do each experiment without a lot of prep time.
What experiments did we do?
Baking Soda and Vinegar balloon experiment. – Fill each balloon with baking soda. Fill each bottle 1/3 full of vinegar. Attach the balloon to the top of the bottle. Let your child flip the baking soda into the bottle and watch the balloon inflate.
Pepper Experiment – This one is like the one in the video above. This is a really fun experiment. Make sure to bring plastic bowls and lots of pepper. They will want to do it MANY times. 
Orbeez Texture Experiment – Pour Orbeez and glass beads into a bowl. Have the children close their eyes and try to tell you which is which. Then give them popsicle sticks and have them try to pick up one of each. Which is easier? Why?
Painting with Orbeez – We then let the children use the Orbeez to paint. They rolled them around and it was a different feel from traditional painting.
Corn Starch and Water – Mix 2 parts water to every 1 part cornstarch. Let the kids have a blast. There will be two different consistencies within the tub. Let them play in it a while. Then add in some soap and see what happens. This is a really fun experiment.
A Few more ideas: