Planning a Not So Scary Family Costume
Every year one of the highlights of our fall is the Not So Scary Halloween Party! It is our natural transition to fall since Florida doesn't have the cool breezes and leaves falling from the trees. One of my favorite parts of the party is planning a not so scary family costume. I wanted to share some tips with you to help you plan your costume the right way.
Planning a Not So Scary Family Costume
Please keep in mind that these are our tips for costume planning. You may find that your situation is not perfectly reflected here but you will be able to learn some tips or tricks.
Less is more.
It can be tempting to go all out. In fact, there are some gorgeous Disney Bounding options and pre-made costumes at the stores. Here's the thing, with many of these options the layers can become a hindrance to enjoying your park going experience. Try to find ways to enjoy the costume you can love without having to over complicate.
3 ways to do a simple Not So Scary Family Costume
Get custom shirts made. – Who said you had to dress in a full costume? With so many cute shirt companies out there it isn't hard to create a shirt that fits the character you want to be without overdoing it on costuming.
Try a Disneybound inspired by a favorite character. – Don't want to go in full costume? You can easily do a Disneybound inspired by your favorite character instead. I know we love a fun Disneybound.
Do some fun Mickey Ears and an outfit to match. – You can have an awesome time at your party without too much work with some adorable Mickey Ears.
Remember it is HOT at the Disney Halloween Party!!
There are some incredible Disney characters that love to rock something warm. Long jackets, long-sleeved costumes, and heavy layers can ruin your fun. Instead, opt for costume elements that look like they are the character in mind, without being too hot.
3 Tips for Not So Scary Family Costumes in the heat
Avoid a lot of face paint. – If you are planning a costume with a lot of paint make sure to get really high-quality paint and a setting spray.
Don't wear thick layers. – Florida heat can be worse if you don't plan ahead with light layers. Thick layers can make a hot day even hotter.
Plan to pull your hair up. – If you are going to the party on a hot night, plan your hairstyle to by up and off of your neck. It really can help you to cool down and enjoy the party more.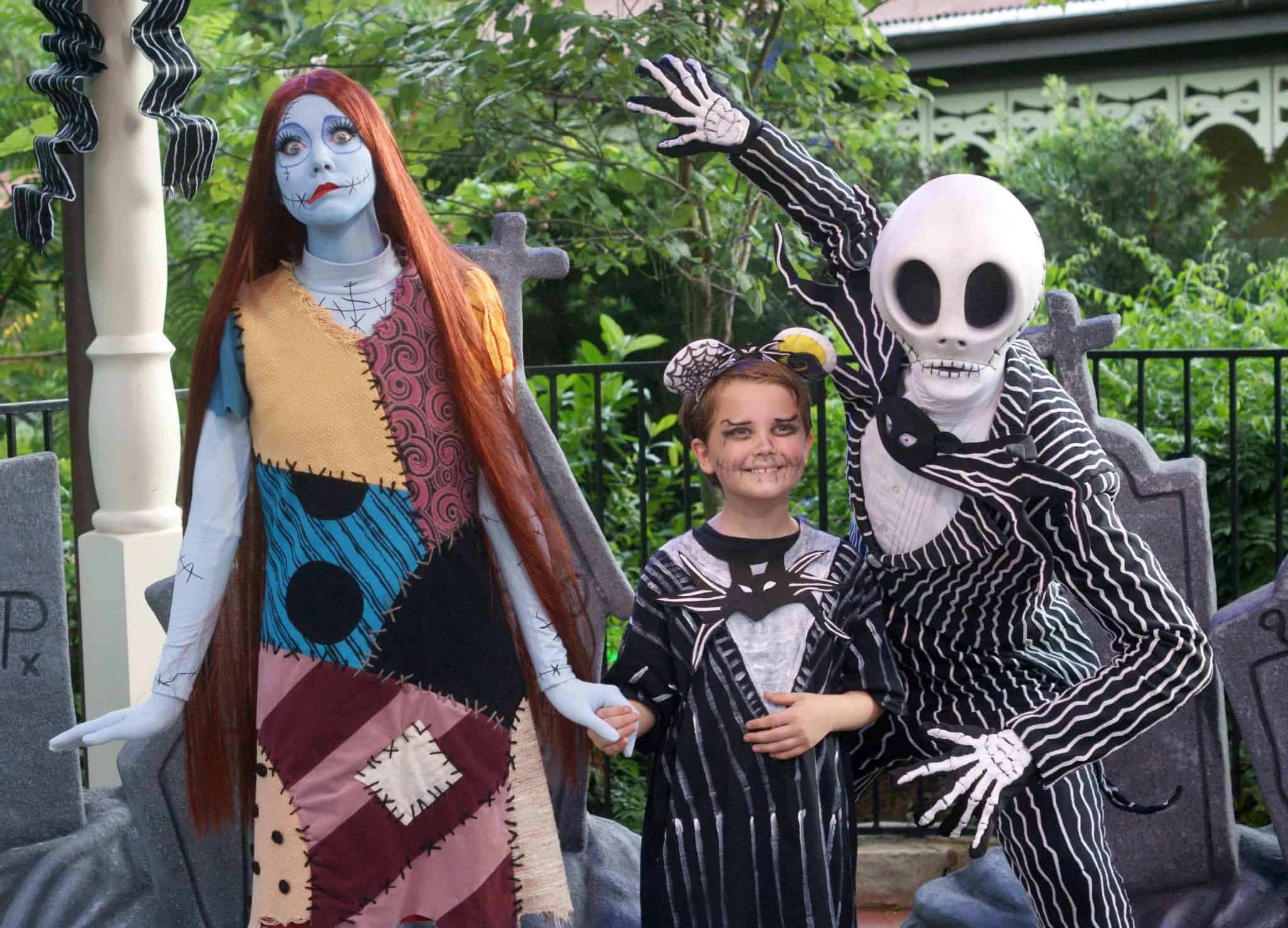 T-Shirts can be a fun alternative to heavy Disney costumes.
While it can be awesome to put together layers with jackets and such, the heat can be overwhelming. Instead, try having some fun customizing a t-shirt to fit the style you prefer. There are many simple ways to had some fun to a t-shirt without losing the fun of the costume.
3 Tips for T-Shirt Designs for the party.
Get custom shirts made. – There are some fantastic stores that do a brilliant job of designing shirts that will represent your favorite character well.
T-shirt paint can be your best friend. – I love to use the t-shirt paint for simple ways to outline letters. However, you don't want to use it for the whole shirt as you will break your budget for sure.
Acrylic paint is another good one. – If you want a shirt like the one pictured below, you can use acrylic paint. Just know that your shirt will lose a lot of the softness with the more paint you use.
Tutus are a great way to pull a costume together but they have some issues…
Tutus can be a fun way to pull a costume together. However, there are a few things that make them less magical. If it rains, they become a droopy nightmare. If you have a tutu, plan for weather issues and make sure it isn't too long for climbing on and off of rides.
3 Things to keep in mind if you wear a tutu to the party.
Keep it shorter. – Longer tutus can make it hard to get on rides, can get stepped on in line, and can blow all over the place on windy days. Do a shorter tutu so you don't spend the night fighting with it.
Make sure it's easy to take off. – With the weather in Florida being so inconsistent, you may find that you are needing to take your tutu off at some point. Make sure it is easy to remove and store in one of your bags.
Know tutus don't handle rain well. – Tutus are a fantastic accessory but in the rain they lose all of their pep and become wet pains you have to deal with. If you are planning a tutu in your costume, make sure to check for rain.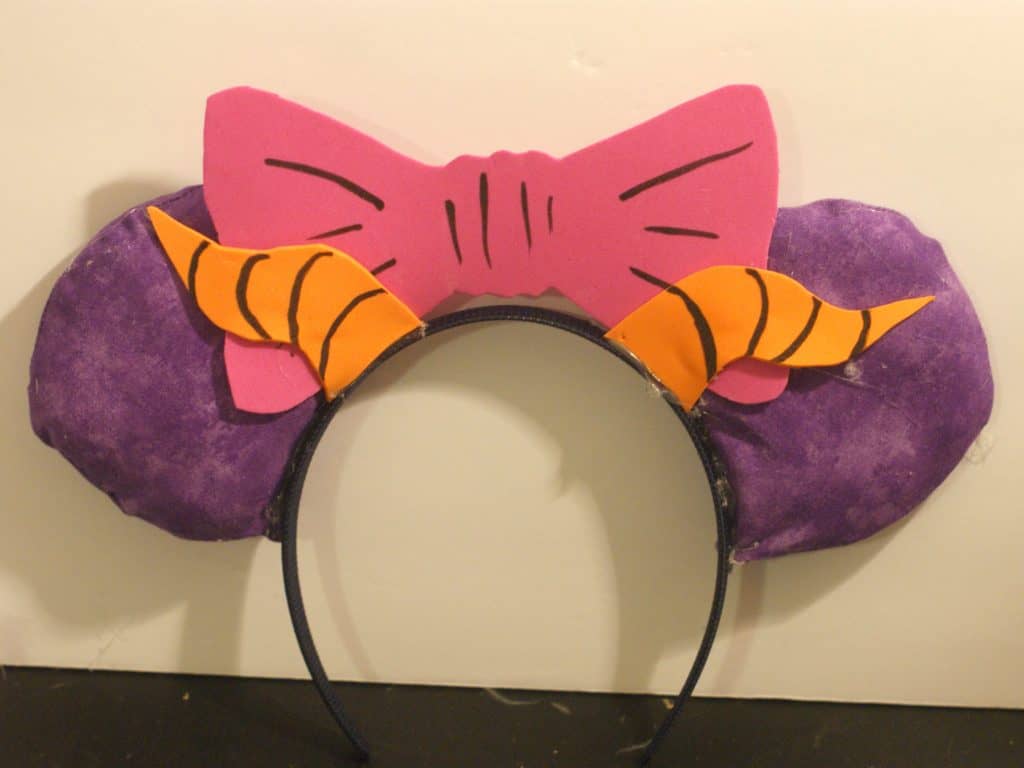 The right ears pull a look together.
Masks and hats can cause a problem. Try buying a perfect pair of Mickey ears or make your own. They really can pull a great costume together and make things work even better.
Tips for picking the right Mickey Ears for Not So Scary
Get a headband with grip. So many of the people who make ears don't put something on them to keep the friction while they are on your head and they're more likely to fall off.
Don't get overly heavy ears. You will be wearing these ears all night long. Make sure that they are not too heavy or you will be taking them off early into the party.
Stick to the theme. You can find amazing ears in every theme. Look for a pair that can pull together your outfit.
**Pro Tip – The Disney Outlet often has ears at a discount! This is a great way to save on your ears.
Take advantage of strollers, wheelchairs, baby wearing, or pregnancy to play with the theme.
We had so much fun at our party and saw some incredible costumes. One of my favorites was a wheelchair that looked like an ocean scene with the person in it as Nemo. We also saw a pregnant Winnie the Pooh costume and a Kanga baby wearing a tiny Roo. Make sure to have some fun with it.
Make sure costumes work on their own.
Sometimes you won't be together as a family. Whether you separate for different rides or shows, it can be easy to end up separated. If you want your costume to be identifiable it might help to make sure that your individual peace clearly communicates what you are.
Your group could split up. If the costume doesn't work apart, you may find yourself answering questions about who you are quite frequently!
Be realistic about your kids.
In your head, you may have a vision of a costume. However, some kids don't get with the program. Some kids have sensory issues and some kids just hate certain costume pieces. For my son, I created the hat pictured above knowing full well my son would wear it for pictures and then he would take it off and throw it in a backpack. It's important to be realistic about the kids you have.
Tips for Not So Scary Costumes that are kid-friendly
Know your child's sensory issues. If you have a child who hates hats and you are set on them wearing one, make sure you get your pictures early on and then bag it up.
Bring a bag to carry items they take off. Many of the items will come off as the night progresses. Pack a bag so this isn't an annoyance to you when it happens.
Skip HOT costumes. Florida doesn't have nice cold winter weather like many Northern areas. Make sure to skip costumes that are designed for cold weather.
The dollar store can be your best friend!
Building a costume can get pricey quickly. Instead of breaking the bank, make a trip to the dollar store first. You can also take advantage of coupons from Michael's or your local thrift store to pull your costume together.
Wanting to read more about making a Not So Scary Costume?
Figment Costume DIY <— Learn how to make it now! Jack Skellington Costume DIY <— Learn how to make it now! Pegasus from Hercules Costume DIY <— Learn how to make it now! Roger Rabbit Costume DIY <— Learn how to make it now!
Want to learn more about Not So Scary?
Mickey's Not So Scary Halloween Party Tips <— Learn more now. Mickey's Not So Scary Halloween Party with Sensory Issues <— Learn more now.
Get your Not So Scary Tickets Now