Pattern Block Lessons – Ideas for using pattern blocks in your preschool.
Patten block lessons can be a big help when educating a preschooler whether you homeschool or want to get them ready for kindergarten. Working with a preschooler is so fun. They love to get their hands on things and learn thru play! One of the great tools you can use when teaching a preschooler is Plastic Pattern Blocks. There are many things you can use to teach. I have put together 11 preschool pattern block lessons you can teach with pattern blocks.
How to Use Pattern Blocks to Teach
You can even buy my favorite pattern blocks. 
Counting/Number Recognition
When working on numbers, you can easily pick a single shape to work on the number with. The great thing about teaching numbers/counting with these blocks is that you can use what you already have in the house. Create simple number cards or use a printable version to work with your child. Here are a few games you can play to learn numbers with these blocks. 
Play a game of memory. – Using number cards play a game of memory, when your child gets a match, they win that many of the blocks of their choice. This will help them to count out the blocks and associate the counting with the number they are seeing. 
Number stacking. – Let your child pick a number randomly from a deck of number cards. Challenge them to build a tower or another fun structure using only that number of blocks. 
Patterns
Pattern blocks are naturally great for teaching patterns. Lay out a pattern and ask your child to add on to it. This can grow with your child as you can make the patterns more complicated as they grasp the concept more. You can also do patterns by color, shape, or combine those concepts for more of a challenge. Looking for a way to have fun together? Let your child build a pattern and get you to build their pattern without showing it to you. Have them use descriptive words such as blue, 4 sides, or other things to help you make your pattern. 
Colors
Pattern blocks are a great hands-on tool for teaching colors. You can have your child sort them by color, grab a certain color or distinguish which color is which when putting two together like the one above. 
Letters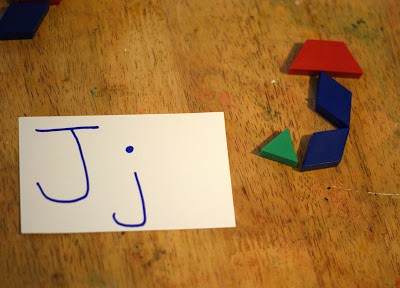 C and I have been working on the letter J for a bit now. Building the letter J with his pattern blocks is just another great way to reinforce learning. He will be more likely to remember it if he touches it and builds it. Pattern blocks might be a great way for your child to practice their letters and the way they are formed.
Art
When drawing we often use the shapes of things to build an image. This is a great hands-on way to do the same thing. You can ask your child questions like, "What shape is most like my head? What shape is most like my neck?" Questions like this teach your child to look at the shapes of things and build artwork based on that. It is a great beginning concept for young children.
Shapes
You can have your child identify the shapes by playing with them. Another great way is what I did with C here. I had him form me a circle. He was allowed to use whatever shapes he wanted. For the next shape, you could have your child make a triangle out of only blue hexagons or red trapezoids. They may not recognize the shape's name immediately but with enough practice, the connection will be made in their brain.
Sorting
Sorting items by different attributes is a great skill to work on with preschoolers. You can have the child sort by size, color, shape, or amount. For C it helps if he can build a tower out of it.
Fractions
I know fractions tend to be an older concept but preschoolers can understand half. It's a fun way to introduce them to a concept they will be using a lot. "Share half with your sister."
Emotions
Having your child build a face and then change its moods is a great way for them to understand emotions. "Show me what a happy face looks like. Show me what a mad face would look like. What does it look like when someone is sad?" Understanding these emotions can help a child to know what they feel and understand what others feel. It can help in preschool settings or at home.
Fine Motor Skills
Believe it or not, something as simple as building designs is a great way for your child to develop their fine motor skills. Getting blocks in the right place and fitting them with the precision C has in the picture involves a great deal of detail. This also gives your child the chance to grow their imagination and understand why some things work and some don't. You can even talk about frustration when the thing they are building collapses.
Same/Different
Pattern blocks are a great way to teach the same/different. Have your preschooler tell you what is the same. Then have them tell you what is different. Take it a step further by adding a third item or by having them make the items the same by changing one block.
Free Block Patterns for Preschoolers and Early Learning
Robot Patterning Cards from Fairy Poppins
"Pattern blocks are wonderful teaching resources. I love them for teaching kids about 2D shapes, colors, symmetry, and patterns. The following patterning cards help kids to learn about AB patterns such as blue, red, blue, red, blue-red. It also helps kids recognize ABC patterns such as blue, red, yellow, blue-red, yellow. They also feature a cute robot theme!"
Pattern Block Mats from PreKinders
"I made these pattern block mats using Photoshop. Each mat comes in color and blackline, depending on your preference. The blackline mats offer more of a challenge as children figure out which shape goes in the space. Pattern blocks teach children about shapes and geometry, as well as develop their visual discrimination skills. Click on the thumbnails to download and print the mats."
Transportation Pattern Block Mats from PreKinders
"These new pattern block mats include an airplane, train, car, boat, and space shuttle to go with your Transportation theme."
Snowflake Pattern Block Mats from PreKinders
"These Snowflake Pattern Block Mats will be a fun addition to your math center."
Valentine Pattern Block Printable from Stay at Home Educator
"When it comes to the holidays, any holiday, I love to stock my centers with fun thematic activities! This year, I'm adding these FREE heart pattern blocks printables to our math center, making it a sweet addition to our other Valentine's Day math activities!"