Paper Mache Pumpkin Candy Bowls
Halloween is just around the corner. Instead of running out the store to grab yet another Pumpkin Candy Bowl why not have a little fun crafting with your kids? (Who am I kidding? This one is fun for crafting alone too.) This would also be a fun project for kids if they have a pumpkin allergy. (It's a thing. I promise. The goo inside a pumpkin hates me.)
What you will need: 
Balloon – You will need one for each globe. Pick a bright color. It will help you later.
2 cups water
1 cup Flour
Shredded paper. – While newspaper works well, if you have old white paper I recommend using it. It makes it easier to paint with less coats.
Twine or String – You will need about a foot and a half.
Paint – You will need Orange and Black. You can use other colors if you want to do more to your Pumpkin.
Mod Podge 
What to do: 
Start by mixing Flour and Water to make a paste – I recommend using a wire wisk to get out any lumps in the mixture.
Blow up your balloon – Pick the size you want your globe to be and blow up your balloon.
Tie your twine to the top of your balloon. – You will need to hang it to dry later.
Dip Strips in glue flour mixture and wipe off excess – The paper strips only need to be moistened.
Start with a single strip around the spot you want to be the top of your bowl. – This will give you a reference point and keep things mostly smooth.
Stick to balloon and smooth out. – Make sure to have your child rub the strip down so that it doesn't have any lumps. Lumps now will set that way as it dries.
Check for holes and patch them – Holes in the paper will dry as actual holes in your globe. Have your child make sure to check for spots that aren't covered. This is where having a bright colored balloon comes in handy. You don't know how hard it was to find holes on the white one.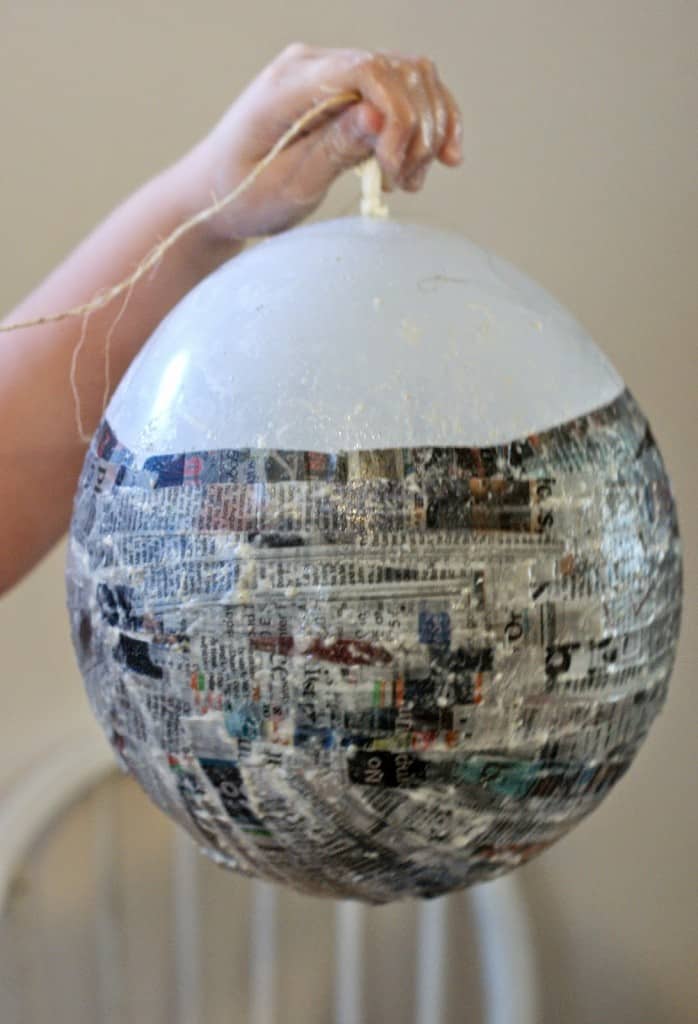 Let dry overnight. 
Pop Balloon – Use a needle and pop your balloon.
Set on a hard surface and look at where it naturally tilts. 
Mark the front so that you know where to put the face. 
Paint your orange first. – It may take up to 3 coats to get a nice dark orange without the newspaper showing.
Add all of your details and let dry. – You can go as simple or as complicated as you want with this project.
Add a coat of Mod Podge – This will seal your bowl and keep the bugs out of it. Let sit for 24 hours.
Fill with candy and enjoy. 
Looking for more?