We received 3 tickets and 3 VIP huddle tickets from Truly Nolen to facilitate this post. However, all opinions are 100% my own that are shared here. 
This year we made our first visit to the Orlando Mascot Games and I am sure it won't be our last. I am not a huge sports fan so I wasn't sure if I would enjoy it. I am so happy to say I was pleasantly surprised. Not only do you get a great chance to get face to face with some of your favorite mascots but you get to watch them play and have a great time. I wanted to share some Orlando Mascot Games tips and tricks with you for your visit next year!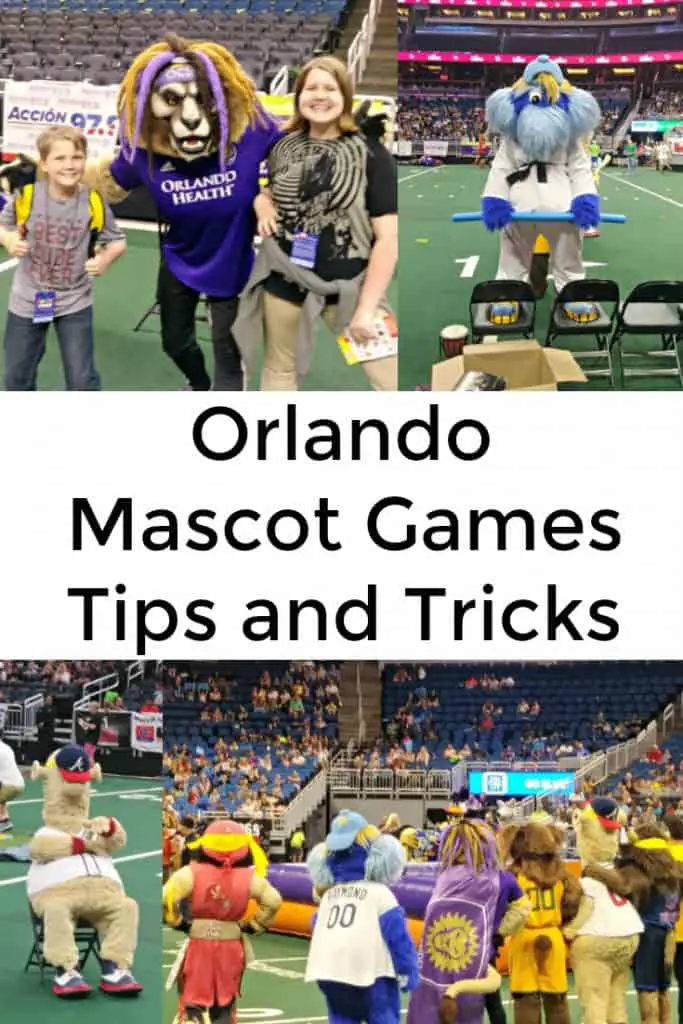 Orlando Mascot Games Tips and Tricks
We were provided out tickets by Truly Nolen and I will be sharing some bug safety tips for your home at the end of this post. For now, let's talk mascots.
Mascot Team Huddle Tips
Are you planning on purchasing passes to the team huddle in order to meet with your favorite mascot? There are special vip passes you can buy but there are also some tips to help you make the most of your experience.
Get in line early
If you get in line early outside of the Amway Center you will have a better chance of meeting with the mascot you want to meet most. We brought a few legos for my little guy to play with while we waited. Different mascots will come out at different times and some will have longer lines than others.
Check your mascot map
The mascot map will tell you where each mascot is and what time they will meet with people. The layout will be simple enough to read and find the mascot you want most.
Stuff has a long line! 
If you are set on meeting Stuff the Orlando Magic mascot you will want to head to his line as soon as possible. His line gets incredibly long and while the lines move quickly you will want to get there early if you hope for autographs or more personable interactions. As you get to the end of the huddle, you will find that a picture may be all you leave with.
Bring something flat for the mascot to sign
If you are wanting to gather signatures from the mascot either use your program or bring something flat for them to sign. While they can sign most things, they won't be able to sign certain things as easily. I know my son had to have his bag signed by KC Wolf by KC Wolf putting it on his head.
Manage expectations before you go in
If you have multiple children they can have their hearts set on more than one mascot when going in. The lines can be somewhat long so you will want to manage expectations going in. Start by picking one mascot that every person must meet. It can help to pick the one they must meet and make sure to prioritize that. Then everything else you do is a fun bonus instead of a disappointment.
Tips for The Mascot Games
The actual games are an experience you won't want to miss. I heard some say they were coming for the huddle to meet mascots and then leaving. Don't! You will miss out on so much.
Try and get seats in the lower level
I believe these are the premium or vip tickets but you definitely want to try and get those seats if possible. The mascots do a great job of engaging the entire audience but sitting in the lower areas will give you more face time with the mascots as they try to get their teams excited.
Cheer on your team
This is an audience interaction event where kids can laugh, scream, and have a blast while watching their favorite mascots compete. Don't be afraid to let the kids have a blast cheering on their favorites.
Let them know they may be on a different team. 
When booking your tickets you don't pick your team. This means you may end up in a section different from your favorite mascot. Prepare your kids for the possibility that they won't cheer on their mascot but they can still have an incredible time.
Why should you buy tickets to The Mascot Games?
The  Mascot Games are a great event as is but they are even better because they are raising funds for New Hope For Kids which is a really neat program. You can read more about the organization here: https://newhopeforkids.org/
5 Simple ways to protect your home from bugs
We were lucky enough to be sitting in the Truly Nolen Team Yellow section. Truly Nolen reached out to me and asked if I would be willing to come out and learn more from them about what they do and who they are as a company. I spent some time with them before the games and learned a few things I want to share with you.
Wash out cans and containers before putting them in the can
Whether you have recycling or garbage cans in the house, bugs can easily come to any bait you leave out for them. This could be anything from ants to roaches. Take a few minutes and rinse out cans and anything that isn't sealed before throwing it out. It will remove one form of bait for bugs wanting to enter your home.
There are no little spills
It can be tempting to spill something and say you will come back to it later. I know my kids are incredible at that. One of the first things to work on if you are trying to pest proof your house is to work on cleaning up those small spills when they happen. Any food or water left on the counters or on the ground is food for a hungry pest.
Seal food containers in your cabinets
A great way to keep pests in control is by making sure containers are sealed. I am a big fan of mason jars for certain things as well as things like tupperware. Storing items in containers can prevent bugs from being attracted to them.
Cut back bushes and trees 
Many bugs and animals can climb bushes and trees to get to your home. Something as simple as trimming back bushes from the edge of your home and trees with limbs that hang over the house can protect you from pests.
Clean secondhand items before they come in the house 
Items like boxes can be an easy hiding place for bugs. Take the time to remove items from the box before bringing them into the house. I also recommend cleaning out used furniture before bringing it in the house as bed bugs and other pests can come into the house via that furniture.
Looking for more?