"I am a Feld Entertainment Blogger Ambassador, and in exchange for my time and efforts in attending shows and reporting my opinion within this blog, as well as keeping you advised of the latest discount offers, Feld Entertainment has provided me with complimentary tickets to Feld shows and other exclusive opportunities."
We recently made our first ever trip to Monster Jam. I have wanted to take my son since he was small. I just knew he would enjoy the stunts and all of the big trucks. We had a lot of fun. We also learned some interesting things. I want to share my Monster Jam tips for first timers in hopes you will have an incredible time!
Monster Jam Tips for First Timers
I will put out the disclaimer that we didn't know much about Monster Jam before going. If you are like me and are completely unaware of all things Monster Truck, this is for you.
There is a pit party before the show.
This is a separately ticketed event. You will want to go to this if your child is set on meeting one of the drivers or getting up close with the trucks. Here are a few tips to make the most of the Pit Party.
 Get there at the beginning.
Lines fill up fast to meet drivers and do the different experiences.
There will be sponsored booths. 
Plan to visit some of the sponsored booths. They will either have small items you can win or tickets to other events you can win. These brands help put on the show so it is a good idea to stop by their booths.
Well-known drivers have longer lines.
If you are planning to see one of the more well-known drivers you will want to get in their lines early. Their lines can get considerably long. Gravedigger and El Torro Loco will have huge lines! Make sure to plan accordingly. Meanwhile, newer or lesser known drivers will have much shorter lines.
There will be downtime.
Between the party and the show, there will be downtime. This is a great time to head back to the car and tailgate. We filled a cooler with food and drinks and had a fantastic time before the show. You could easily throw some pulled pork in the cooler for sandwiches! This is a great break before the fun kicks off.
Learn about your drivers.
Before you head to the event, spend some time learning about the different trucks and drivers. It will make the event more fun for you if you spend a few minutes and learn who they are so that you know who you want to cheer on. I was a big fan of Wild Flower and El Toro Loco. You'll have to decide which truck you are cheering on.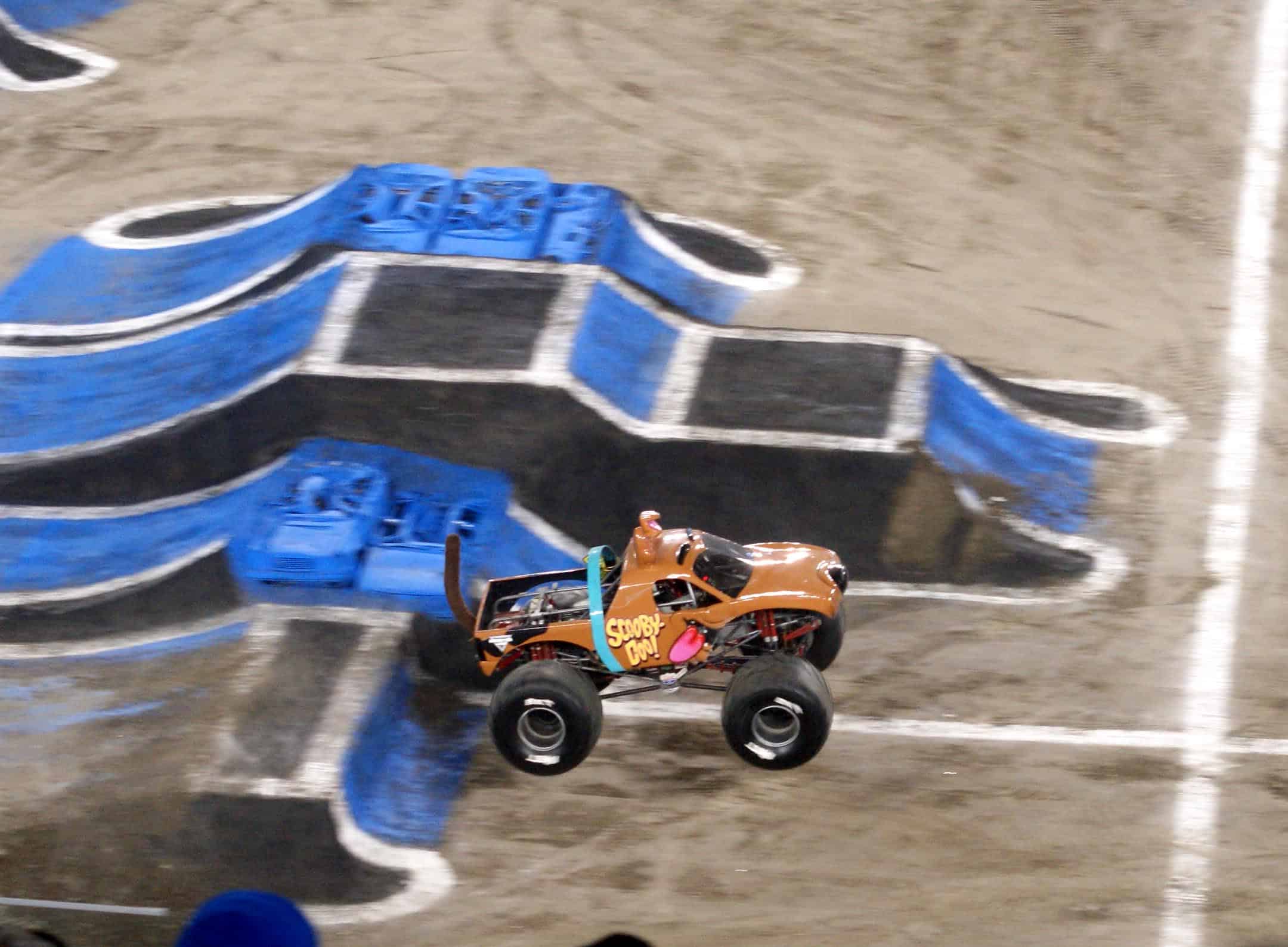 There are a few different competitions within the show.
I didn't realize that this was more of a competition before I went. I thought it was more of a stunt show. If you are going for the first time you will find that there are different competitions within the show.

Race
"An obstacle course competition where the fastest to complete the course is the winner. It showcases the driver's ability and the truck's agility." – You will see some small jumps in this race but it isn't like a traditional Nascar race.
Two Wheel Skills Challenge
"Monster Jam drivers will have multiple opportunities to perform the best stunt, bringing at least two wheels into the air. This is a judged competition." You will see more of the jumps and neat tricks during this competition.
Freestyle
"Competitors perform tricks and stunts throughout the floor area in a designated time. This is a judged competition." This is where you will see the high jumps, crazy stunts, and fun tricks. This is also where you will see the most trucks towed out of the arena because they can't drive out.
It is loud!
I know this one seems like an obvious one but there are many who didn't realize it was loud at our showing. Bring earplugs if you have sensitive ears or noise canceling headphones for younger children.
Weather can impact your experience.
We went in Central Florida during winter months and it was WAY colder than we are used to. We were not prepared in the slightest. In fact, we left early because we got so cold we couldn't finish the show because of the wind as high as we were sitting.
Pick your seats based on the view you want.
If you want to see the jumps and such really well you will want to sit in lower level seating. The higher up you sit, the more it will look like small toy cars and jumps may not be as impressive. The advantage of sitting higher is that you can see the full course. Pick your tickets based on the view you want.
Trucks will wreck
Some of the trucks will be able to recover. Others may be out of the rest of the show. In general, they will do all they can to repair the trucks but there is the possibility of losing a favorite early in the show.
Have you taken your kids to Monster Jam? What tips would you give someone considering going for the first time?
Monster Jam is coming to Tampa
Show Times for Saturday, August 25, 2018:
1:00 PM show (Pit Party from 10:30 AM)
Note:
Pit Party to take place inside the venue on the arena floor.
7:00 PM show
Monster Jam® Triple Threat Series will be back again this year and feature the eight most intense athletes. Tampa fans will witness a fierce battle for the championship with each competitor using customized high-powered vehicles: Monster Jam Speedsters, Monster Jam ATVs and the famous Monster Jam trucks closer to the action than ever before. This upcoming tour will feature eight of the most talented athletes all competing in individual racing & skill competitions and overall event championship:
1. Grave Digger – Tyler Menninga
2. Max D – Colton Eichelberger
3. El Toro Loco – Kayla Blood
4. Scooby Doo – Myranda Cozad
5. Zombie – Bari Musawwir
6. Soldier Fortune Black Ops – Tony Ochs
7. Megalodon – TBA
8. Monster Mutt Rottweiler – TBA
Note: Trucks and drivers are subject to change.
For more information on Monster Jam, please log onto MonsterJam.com.
Buy tickets to Monster Jam
Tickets for all events are on sale now at the McDonald's® Ticket Office at AMALIE Arena,
Ticketmaster outlets and at Ticketmaster.com. Order tickets by phone by calling 800.745.3000. Tickets start at $15.00. Advanced parking passes are available at Ticketmaster.com or the ticket office. Visit amaliearena.com or call 813.301.2500 for more information. Group discounts available by calling 813.301.6900.
Do you want to win tickets to Monster Jam?
Looking for more?