Monster Jam Tips for Families
We were given 3 tickets and pit passes for the event. However, all opinions are 100% our own. Monster truck season has begun and with it comes the plea of every monster truck loving child to attend Monster Jam. We have been to both indoor and outdoor shows. We have been able to see some of our favorite show stoppers at two locations in Tampa. I was able to take the family and I have some Monster Jam tips for families to help you make the most of your trip to Monster Jam.
Monster Jam Tips for Families
You may have a different experience. These are simply tips based on our experiences going to Florida shows.
Parking and Arrival
When you go to Monster Jam, keep in mind that there will be A LOT of people at the show. You will want to get there a few hours early to get quality parking. Plan to pay $15-25 parking depending on your arena and how close you decide to park. I highly recommend parking closer to the stadium if at all possible. Walking back and forth to the stadium and pit party adds up quickly. You will want the ability to stop back at your car if you get there early for a break for the kids or to grab something to eat.
Pit Party
If you are a big fan of Monster Jam and the truck drivers, you definitely want to purchase a ticket to the pit party. This is a separately ticketed event so you will have to pay extra to go to this event.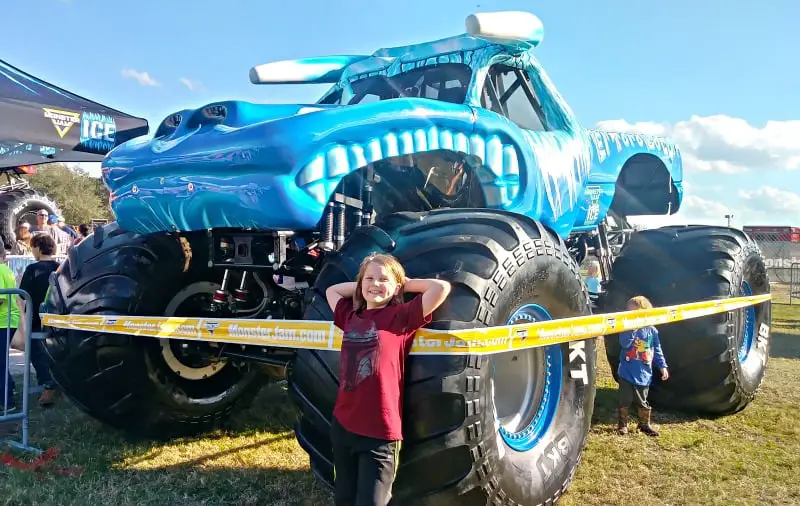 Get up close with the trucks
Does your child have a favorite truck? They will have a chance to get up close and take a pic with their favorite trucks at the pit party. There is even a Grave Digger truck they can ride in! (Be prepared. That line is always LONG.)
Meet your favorite driver face to face! 
One of the highlights for my kids was the opportunity to meet their favorite drivers in person and get an autograph. Either buy a Monster Jam shirt to have signed, wear a shirt you don't mind being signed, or bring your favorite autograph book or toy to get those signatures. Lines will vary based on the popularity of the driver. I know that Gravedigger always has a longer line. If you want to get that autograph, make sure that is the first line you get in.
See previews of what is coming.
At the pit party, they will let you preview some of the shows coming up. We love to see the bikers take to the air at our event every year. This may vary depending on how your arena handles it and what shows are coming.
Tailgate before the show
I mentioned parking earlier. One of the best parts of this is the chance to tailgate. Show up with your grill, a packed meal, and something fun to do. It's a great way to relax before the show starts. For our show, we went to the pit party and then headed back to the car for a delicious dinner. We packed pot roast, yuca fries, produce, and some root chips in the cooler. The options are really endless. The car next to our brought cornhole and they played quite a few rounds while they waited for the show.
Pick Your Seats Wisely
When you purchase your tickets there a couple things to keep in mind. Make sure to look at how close you will want to be to the action, whether you are on an aisle (people come and go a lot and can block your view), and how close it is to the entrance you plan to park at. We've seen the show from the nosebleeds and from closer. If you know you are going to be sitting in the nosebleeds, bring binoculars. If you are sitting closer, be ready to see a lot of the beer salesmen walking up and down the aisles. **I will be honest. The beer man got on my nerves! He was constantly trying to sell beers and made it so I could not see the show on countless occasions. I strongly believe these need to wait until there is a wreck or a break in the show. People don't pay that kind of money to see the beer man.
Be aware of stadium rules
Every stadium will have different rules about what can and cannot be brought inside. Raymond James Stadium will limit bag size and prefers clear bags so they can see the contents easily. If you don't plan ahead for this, you may be like the mom I saw. She had to carry her son's potty seat around with her everywhere she went because she couldn't store it in a bag of any sort that she may have had with her.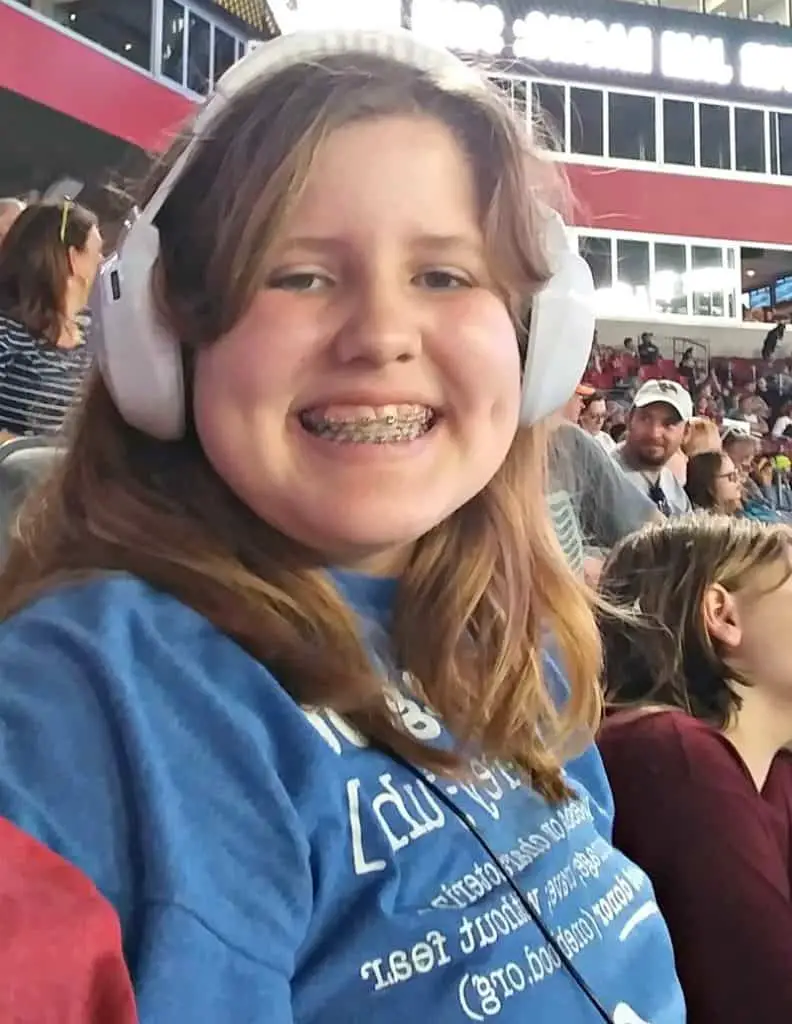 Noise-Canceling headphones are a huge help!
My daughter has some sensory issues with louder noises. Normally Monster Jam is just too much for her. However, we found that noise canceling headphones she can listen to music with have made all of the difference. If you are taking a small child or even a baby to Monster Jam, make sure to bring noise-canceling headphones or buy them there. They will protect their little ears so they can focus on enjoying the show.
Prepare children for wrecks
Most kids will think it is awesome to see a wreck or two. However, for some kids, it can be scary to see a big wreck or see a truck catching fire. Prepare them for wrecks and help them to see the helpers who are there to make sure everyone is safe. They will get to have fun cheering as the driver leaves the truck and shows everyone he/she is safe!
Know where your bathrooms are
If you are going with a younger child, make sure to take note of where your bathrooms are. It will help when you are in the middle of the show and they decide they need to potty NOW. I know this can happen with younger children so it is better to plan ahead.
Bring cash for merchandise or buy something in advance to give them. 
Children will want the merch at these events. There are some awesome masks, cups, toys, and tons more! Either bring cash for merch or buy a toy in advance for less online to give them when they ask for something.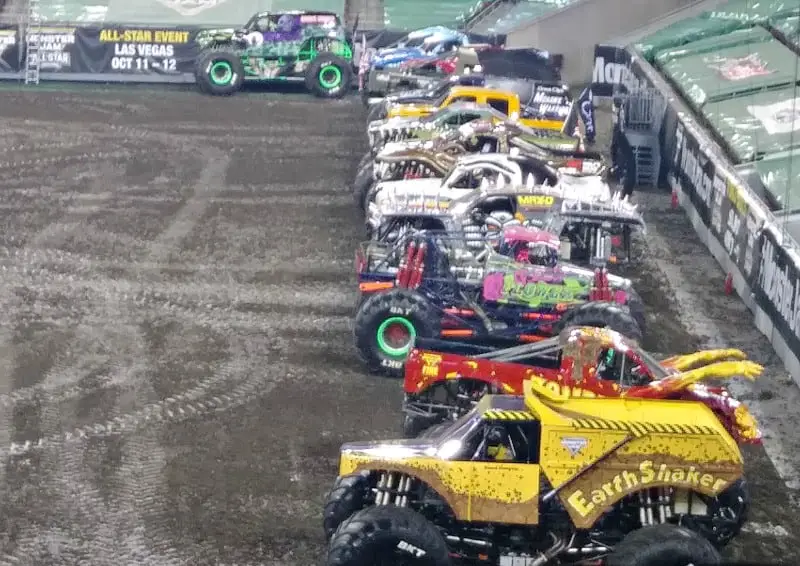 Leave early to avoid BAD traffic
The stadium will be full and everyone will want to watch to the final moment. If you are ok with not finishing the show completely, leave a bit early to avoid the traffic jam exiting the stadium. We left before the last 3 trucks and were able to get on the road with no traffic or crowds. If you choose not to leave early, be prepared for large crowds and plenty of traffic. This can be overwhelming with tired children.
Watch your favorite bloggers and vloggers for discounts
It can get pricey quick but there is a great way to save. Bloggers and vloggers like myself will have discount codes for you at certain points in the year. For instance, right now I have this one for you: Receive 20% off select seats with code 20 off. Not valid on VIP seating. Hurry for the best available seats! Code expires January 18, 2019. See our experience at Monster Jam Have you been to Monster Jam? What was your favorite part or what Monster Jam tips for families would you share?
Looking for more?