Land Of Stories Quote Bookmark Printable Pack
This year my daughter challenged herself to move beyond her beloved Harry Potter series and fall in love with a new book series.  As we stood in the bookstore she randomly picked up Land of Stories and said it looked pretty good. Since then she has become a HUGE fan of the Land of Stories series! She loves the books and is anxiously awaiting the new book and the new movie. She asked if she could make a printable for my readers and this is why you will be getting this great Land Of Stories Quote bookmark printable pack! 
The Land of Stories Quotes
Book Quotes
"Intelligence is not a competition," she said. "There is plenty to go around, and there are many ways it can be demonstrated."
"Next time, I'm going to need a full itinerary before I travel into your short story."
"As long as someone remains standing with a noble heart there will always be a way for good to triumph over evil."
"It takes courage to face a giant, but it takes a true hero to stand up to the world."
As long as someone remains standing with a noble heart there will always be a way for good to triumph over evil.
If I have the choice of being doubtful or being hopeful, I'm going to choose homeful. It takes less work to be positive
"If there's one thing life is good at, it's surprising you," Jack said. "And sometimes it surprises you in the best ways."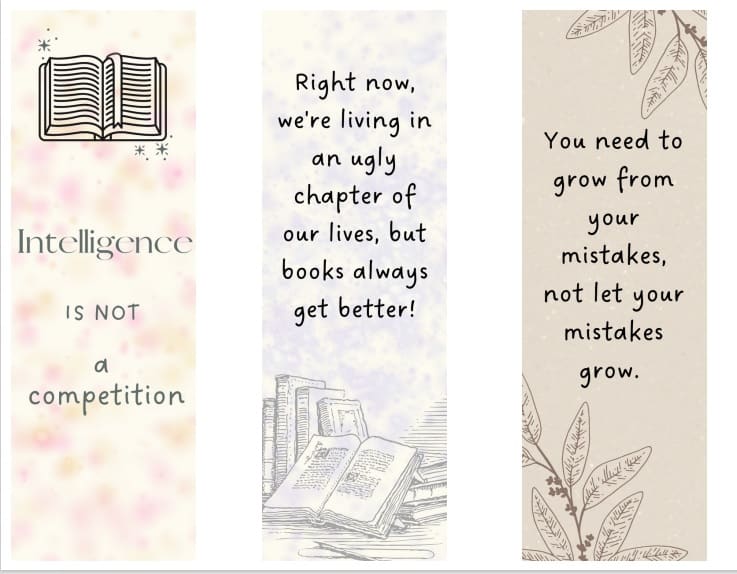 Intelligence is not a competition.
Right now we're living in an ugly chapter of our lives, but books always get better!
You need to grow from your mistakes, not let your mistakes grow.
If there's one thing life is good at, it's surprising you.
It's better to be the hero of your own story than to become the villain of someone else's.
You never know when someone might drop in and change your world forever.
A good man follows his heart. But a wise man follows his heart without ignoring his brain.
You're beginning to learn that some people can't be helped, not because they're helpless, but because they don't want to be helped.
After years and years of being inspired by other dreamers, that person made their own dream come true and probably inspired countless others to do the same. We wouldn't want to live in a world where no one believed in themselves enough to make their own dreams come true.
If you want to have a little bit of fun, add some ribbon to the top. I also highly recommend laminating them as they will probably get a lot of use. These would also be good to print to go with a gift of the newest book.
Did you know there is a new Land of Stories book?
The Land of Stories has announced an illustrated version of the first book that will be released in October of 2022. You can preorder this now on Amazon!
Land of Stories is also becoming a Movie!!
My daughter heard that Chris Colfer would be making a big Twitter announcement so she had me stalk his Twitter for days. Little did we know, he would announce that there will be a Land of Stories movie and Chris Colfer will be making his directorial debut! She screamed so loud my ears almost broke.
You can read more about the movie at Hollywood Reporter. We're hoping that since Chris Colfer will be directing and writing the movie it will stay extremely close to the original story. I will keep you posted as I hear more about it
About The Land of Stories
The New York Times bestseller is a must-read after you finish Harry Potter!
"The Land of Stories tells the tale of twins Alex and Conner. Through the mysterious powers of a cherished book of stories, they leave their world behind and find themselves in a foreign land full of wonder and magic where they come face-to-face with fairy tale characters they grew up reading about."
A magic book sets the scene for twins Alex and Conner Bailey to be transported into a magic world. They fight dark forces and see classical fairy tales come to life! With six books filled with incredible story-telling, you're sure to head out on an adventure!