Is Toy Story 4 Appropriate for Kids?
Last night we went to a prescreening of Toy Story 4. I was a bit skeptical when this sequel was announced. I thought we closed the book in Toy Story 3. I decided to give it a chance. I wanted to love it because Toy Story has been a special part of my parenting journey. It was my daughter's favorite and Andy was her imaginary friend. Here's the question though, Is Toy Story 4 appropriate for kids?
Is Toy Story 4 Appropriate for Kids?
I received 4 tickets to the movie to facilitate this review. All opinions are 100% my own.
**Disclaimer** These are my opinions. I know that all parents have different standards for their children. Please understand that I am only sharing this from the perspective of my own parenting experience.
Was there cursing in Toy Story 4?
I am so pleased to report that there wasn't a single curse word in the movie. From start to finish the language was clean and it was such a welcome surprise. The only word some parents might complain about is the word idiot which was used once in the movie.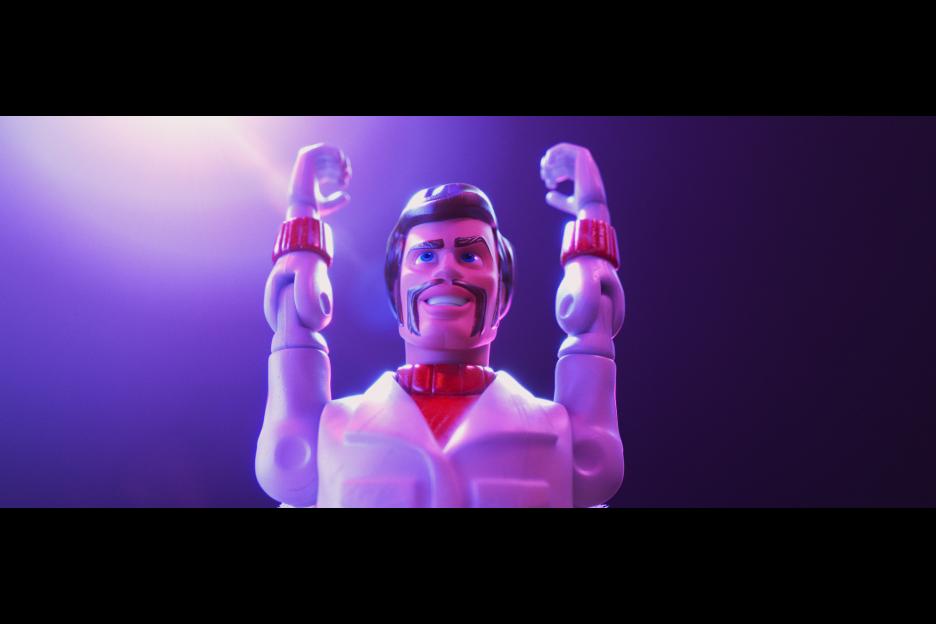 Was there sexual innuendo in Toy Story 4?
Many movies for kids hide innuendo for the parents in veiled jokes that generally aren't obvious for kids. That said, there is one scene that left parents a little confused. I won't spoil it but there was one line that the entire theater went "oof" at the same time. Other than that, it was a clean book and even that line wasn't necessarily inappropriate, it just could have a second implication. If you watch it and don't catch it, drop me an email or catch me on social media and I'll let you know which one it was.
Was there violence in Toy Story 4?
From the trailer you can see a scene that goes with the image above. There is a line that is said in one of the portions of the movie that was, "In a galaxy far far away you got kicked in the head." This scene is meant to be funny. However, if you are not comfortable with laughs about hitting, that scene may bother you some. That said, it doesn't get much worst than the trailer. If the level of violence in the trailer doesn't bother you, you should be great with this movie. There were some other areas in the film when control was exerted to put people in their place and further the agendas of different characters. There was no blood or gore nor were there any elaborate fight scenes.
What about the new Bo Peep?
I have to be 100% real with you. I was not a fan of Bo Peep in the trailers. She seemed hard and rough and completely different from the Bo Peep my daughter grew up with. I will say that as the movie progressed she grew on me. It definitely made for a great character in this story.
Will Toy Story 4 scare my kids?
I think the creepiest part of the entire movie for me were the little dummies pictured above. They are definitely a scary element of the movie. They definitely have a looming fear factor to them and contribute to the overall storyline. Other than those characters, I really don't believe there are any other areas that would really scare children. That said, there is a cut scene as part of the end credits that might scare some children. You may want to leave before the end credits if you are worried about scaring smaller children.
Was there alcohol in Toy Story 4?
There was one reference to a character who had a glass of wine but it's fleeting and not much to notice. Other than that very brief scene there is no alcohol at all referenced in the movie.
Were there any themes children might not understand in Toy Story 4?
I don't believe any of the themes in this movie would really confuse children. There are a few story arcs that might not be understood by children but as a whole, I believe that the story was very kid friendly.
But, was it a good movie?
I walked into this movie ready to cry. I was prepared to feel the same emotions brought on by Toy Story 3. I was prepared for a movie that was an emotional roller coaster. Thank goodness, it wasn't. There were a few areas where I got a bit misty eyed but I didn't have a moment when I outright cried. Instead, I loved the character development and the overall story arc. It was a refreshing storyline that was clean and kept people laughing. I loved that I was able to continue the story with my kids without worrying about any inappropriate content. We all walked out of the movie sharing our favorite moments and glad we went.
Did I dislike anything?
There were elements of the story that annoyed me a bit in the beginning. However, as the movie progressed I think they did a good job of developing the character. Forky was odd to me. He was a very unique character and I had a hard time adjusting to him as a toy and as a main focal point of the movie. It took me a good bit into the movie before I was able to come around completely and join team Forky.
Do I think there will be a Toy Story 5?
I think that they left it open but also built a resolution that was strong enough that they could stop with Toy Story 4. I definitely think there will be some Pixar shorts that come out of this and I can't wait to see small pieces of the story continue. As far as a complete sequel, I'm not as sure.