Is Mary Poppins Returns appropriate for kids?
My daughter and I went to an advanced screening of Mary Poppins Returns this week. Mary Poppins has always been a favorite movie for me! There was just something so magical about dancing penguins, chimney sweeps, and ceiling tea parties. When I heard the that Mary Poppins Returns would be coming out I was nervous. I asked, Is Mary Poppins Returns appropriate for kids? Will it keep the same magic?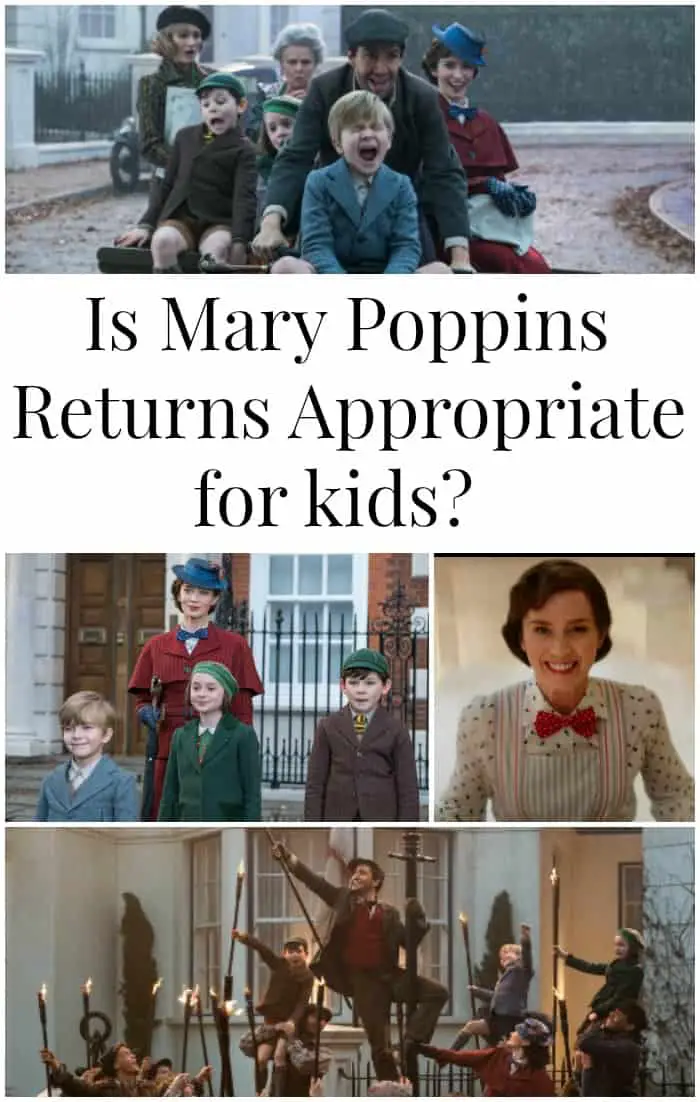 Should My Kids Watch Mary Poppins Returns?
I did receive 2 pre-screening tickets to facilitate this review. However, that does not influence my opinions. All opinions shared here are 100% my own. 
**Disclaimer** These are my opinions. I know that all parents have different standards for their children. Please understand that I am only sharing this from the perspective of my own parenting experience.
Was there cursing in Mary Poppins Returns?
With a lot of the newer films coming out having more of a lenient view on cursing and what defines a curse word, I was nervous. However, I did not notice a single curse word in the entire film. I found it to keep the same wholesome feel you hope for in a Mary Poppins film. 
Was there sexual innuendo in Mary Poppins Returns?
There was some flirting but it was more wholesome crushing than inappropriate at all. There was a reference to a naked person in one of the songs. I will need to read through the lyrics further for that song as some of the quick rap styled cadence Lin Manuel Miranda used moved a bit too quick for me. 
Was there violence in Mary Poppins Returns?
Unlike the original, there is a clear-cut villain in this movie. With that villain come some of the personifications of it within the child's imaginary play with Mary Poppins. This will include an intense fight scene which could be hard for some children. Uses of fire and threats to "get rid" of the children are part of this scene. This scene also includes a kidnapping and a clear understanding that people who can seem good, might actually be extremely dangerous. 
While this can prompt some great conversations about how we handle the people in our lives and avoid becoming a victim to predators, it could also be triggering for some.  
Will Mary Poppins Returns scare my kids?
As I mentioned above, there is a rather intense scene that could potentially scare children. Because of the nature of the scene be prepared that younger children might be easily scared by the nature of it. That said, this will depend a great deal on the age, maturity, and other elements children have been exposed to. 
This scene is quickly dismissed as a nightmare and followed up with a positive song that is meant to take away the fear from the nightmare. 
Were there adult jokes kids could pick up on in Mary Poppins Returns?
I don't believe so. That said, I did not get all the lyrics of a few songs so there may have been one I missed. 
Were there any themes children might not understand in Mary Poppins Returns ?
This movie definitely focuses on some more heavy adult issues. With issues such as foreclosure, the death of a parent, and kidnapping highlighted in this movie, there may be some conversations you have after the movie. If you go into the movie with the understanding that these are there, I think you are going to be able to enjoy the movie. 
Just keep your child's triggers in mind. 
But, was it a good movie?
This is an emphatic yes for me!!! I have been a fan of Mary Poppins for years! As I said above, I have been nervous about this one. It is so hard to take on a classic like Mary Poppins. This movie is iconic as are Julie Andrews and Dick Van Dyke. Though I like Emily Blunt and am a MASSIVE fan of Lin Manuel Miranda, I was more than a little nervous about them stepping into such an iconic role. 
However, I was not disappointed in the slightest. Emily Blunt brings her own personality and flavor to Mary Poppins. She is still the same cheeky nanny we have come to love but she brings some new elements of her character you won't want to miss out on. As far as Lin Manuel, I thought that his character was brilliant! It was a fantastic view of another type of laborer many might not notice unless they looked for it.
The children in this movie are a lot of fun as is child has a personality of their own. I really liked the idea of having 3 children who were all very different and handled the circumstances in very different ways. There was also a great focus on how these children are impacted by the life they lived and the past they had. 


Were the songs in Mary Poppins Returns any good? 
The songs in the original Mary Poppins are iconic! I was very nervous about how the new movie would handle it. I know that musicals aren't all created equal by any means. That said, I was not disappointed. With not one but two singers from Into the Woods and Lin Manuel himself, you are not going to be left wanting. 
Many of the musical numbers reminded me of a well put together stage show and I can see how it will be translated to the stage without much difficulty. There are quite a few songs that will be playing on repeat in my home when the movie officially comes out.