How to Enjoy Busch Gardens in the Summer Heat
Spending time at Busch Gardens this summer? Busch Gardens is a great place to get your children close to amazing animals while having fun. However, it can be very hot in the summer in Florida. Many try to avoid the park because of the heat. I want you to know now only is it possible to go to Busch Gardens in the summer, it's possible to stay cool and have fun.
I was a Busch Gardens blog ambassador. I did receive 4 tickets for my family to go to the park. However, all opinions are 100% my own and I was not paid for this post.
Tips for Busch Gardens in the Summer
I am going to share a few ways I kept my family cool the entire day at Busch Gardens
A Few things you may want to bring with you: 
Frogg Togg Chilly Pads – Wrap these around your neck as you walk around. These are sure to cool you down considerably.
Swim Clothes of a change of clothes – You will get wet. Having swim clothes or a change of clothes can make this easier.
Towels – Unless you plan on air drying I recommend a towel.
Frozen water bottles – As these thaw you will have an ice cold drink when you need it.
Shows 
Busch Gardens has quite a few great indoor shows. These can be fun like the Madagascar: Operation Vacation show which has stadium seating and A.C. We visited the Madagascar show in the middle of the afternoon when it started to get really hot and it was the perfect reprieve.
C was quite impressed with the two gentlemen above who managed to flip in unison. This show is a must she if you like to "move it, move it."
The Iceploration show is another great show to take your children to. Not only will you be able to enjoy the A.C. and a comfortable seat, but this is also a very fun show with many surprise elements. This show is right next to the cheetahs. This is a fun tie in because you can see the cheetah hunt in the show and then take the kids to see the actual cheetahs.
Children and adults can enjoy this show. There are acrobatics, bubbles, snow, and many other great surprises.
Shows are also a great place to nap your younger ones. They can take a short nap and you can enjoy a well done show.
Rides with Splash Zones
There are a few rides such as SheiKra that have a splash off as the ride goes by. C really enjoyed the anticipation and downpour from this one. This is a great way to cool off while walking from section to section. You can also get a huge splash on the bridge over Tanganyika Tidal Wave.
There are also splash zone rides you can ride such as the Stanley Falls Log Flume and the Congo River Rapids ride.
Splash Zones 
After letting your child ride Air Grover or climb Elmo's Treehouse Trek take them to Oscar's Swamp Stomp for some water fun. They can also check out Bert & Ernie's watering hole in the same area to cool off a bit. There is even a bathroom nearby to change clothes if needed.
You can also climb the  Treetop Trails in Jungala. After heating up crawling through tunnels and climbing nets head down to their water area to cool off. There is an area for older children and one for toddlers. There is also a great shaded area complete with water fountains and bathrooms.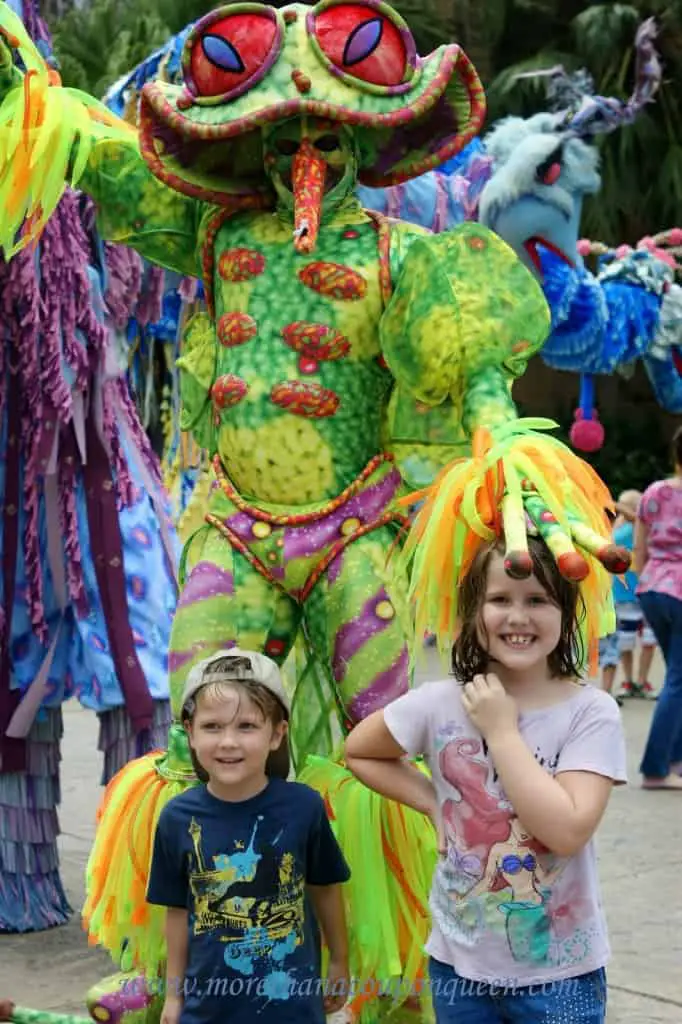 Watch out as you leave Jungala. You might just meet some very colorful street performers who bounce all over the place.
Drinks 
Not only are there many water fountains throughout the park there is also a great deal on drinks. You can buy a refillable cup for a low price and refill it throughout the day for a minimal price. This is a great way to save on drinks!