This is a sponsored post written by me on behalf of Duck Brand® for IZEA. All opinions are 100% mine.
This year with one child in school and one homeschooled I have had to adjust a few things around here. I wanted to make a fun homework station for her so that she could have her own space when she gets home. Most of her homework is on the computer so I had to set this all up around our computer desk. Check out how I used Duck Tape to customize her homework station.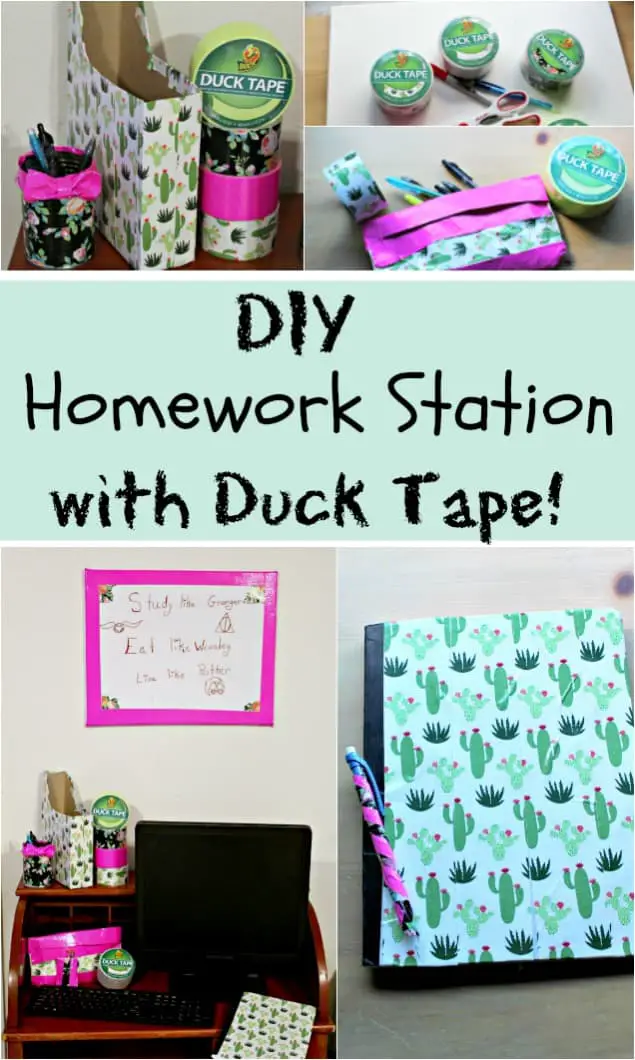 DIY Homework Station
I'm going to share a few different projects that you can do with Duck Tape. You don't need to use these colors. These are the colors that worked for our project but you may have a different preference. With all the varieties of Duck Tape out there, the options are endless.
DIY Harry Potter Inspired Duck Tape Art
You will need
Canvas
Scissors
Pencil
Sharpie
Start by writing your quote in pencil and then trace in sharpie. 
Wrap your borders in Duck Tape.
Cut out flowers and draw on Harry Potter inspired accents to finish the project.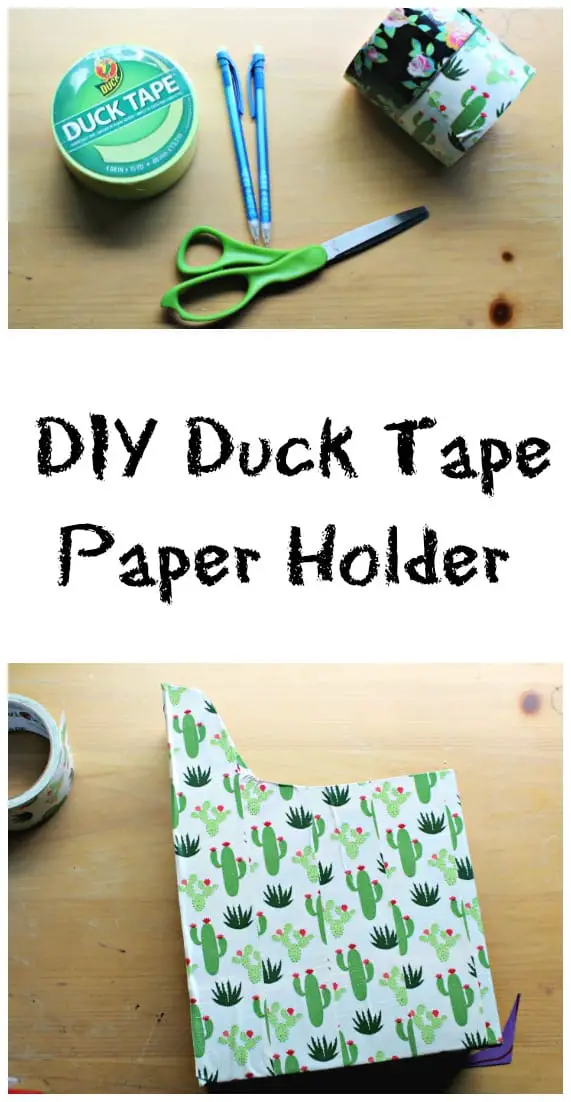 DIY Duck Tape Paper Holder
Looking for a way to keep school papers organized? This fun Duck Tape craft is just what you need. Bonus points for being an easy project!
You will need
Empty Cereal Box
Scissors
Pencil
Draw your outline in pencil or sharpie. 
Cut out the top of your box. (Make sure to save box tops for your school or a homeschool co-op in your area.) 
Using your Duck Tape, go from bottom to top putting a layer of tape on your box. 
If you are using a pattern, try to line it up as much as you can.
DIY Duck Tape Pencil Can
You will need
-Start by wrapping your can with your base color.
-Fold your top piece of tape 2/3 of the way so that tape is still exposed. 
-Cut small slits on the double taped portion making sure not to be where the sticky part is. 
– Attach your trim to the top of your can. 
– Fold a piece of tape over and make a rectangle. 
– Pinch the center to make your bow and wrap the center with a small piece of tape. 
– Use a small piece of tape to attach your bow to the can. 
DIY Duck Tape Homework Notebook
You will need
If you make my mistake you will need a second coat of duck tape as a base layer. Do yourself a favor and get a white or solid colored notebook. 

– Cut long strips of Duck Tape and work one at a time to cover your notebook. Have some fun with color and strip size to get a different look.
DIY Duck Tape Pencil Pouch
My daughter's school doesn't let her bring in a pencil box so we decided to have fun while adding some personality with this pencil pouch. It's great for her desk at home and fits perfectly back into her backpack. 
You will need: 
Scissors
Ruler (optional but helps if you want straighter lines.) 
Start by folding over your tape on itself.
You will want 6 strips of your base color and 4 strips of your accent color. 
Cut them so that they are all the same length. 
Lay them flat and tape them together in the design you like. (You will do 2 separate sheets. You will have base color, pattern, base color, pattern, base color.)
Tape the two sides together.
Flip it inside out. 
Fold the top over and take top corner so they are stuck together.  
See the video
Looking for more?