This is a guest post from Amber of One Hundred and One Pursuits about Homeschooling in Egypt. You can read more about her at the bottom of this post.
Educating our children at home here in Egypt has both pros and cons. The children and I have been living between the UK and Egypt for 5 years now and finally settled full time in Egypt this year. Since the big move we have really stepped up our game. I have begun kindergarten with M and an easy
a relaxed approach to preschool activities with A. Homeschooling whilst living abroad comes with its own unique set of challenges but mostly, I have found it to be a huge benefit to our family.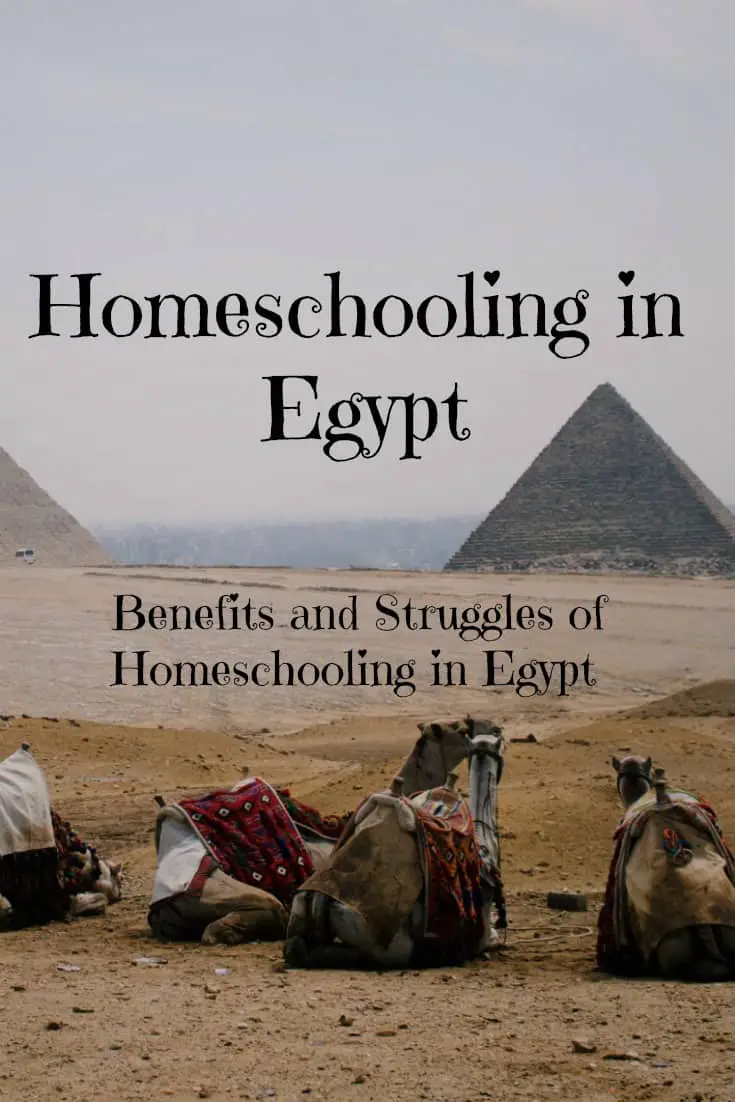 Benefits of Homeschooling in Egypt
The International Community
One of the very first things that spring to mind when I think about all the reasons I love homeschooling here, is the international community we have surrounding us. We, of course, have friends and family who are Egyptian, but we have also met other expats from the UK, Germany, Russia, Czech Republic, Austria, Turkey, Dubai, China, and France. My kids are not only learning Arabic and English through my husband and me; they are also getting exposed to languages from all over the world.
But it's not just about the language learning opportunities. Mixing with people from other countries are also teaching our children, through first-hand experience, about other cultures, customs, and cuisines. They are becoming curious about the countries our friends have come from or return too.
They ask questions, look up countries on maps and M's interest in geography is really taking off. Children who get to spend a lot of time in such a diverse community, gain a much broader vision of the world; one that I only really got to experience as I began to travel more frequently in my teens.
Experiencing the World of Work Up Close
Part of our job as parents and teachers is to prepare our children for adulthood and the world of work. Yet, here in Egypt there is something quite unique about the way in which this can happen. 
Things here are a little different and although it doesn't happen every day, there are regular opportunities for my children to observe and get involved in the work of other adults.
The children can go to work with their father for a few hours and look at the boat engines, meet the captains and get an explanation and demonstration of how the GPS or compass works. There are times when they get to join me at the Kiteboarding school and have lessons from our friends about wind direction and wind power. Even when we take a trip to the local café for lunch, the waiters will often invite the children to look at the kitchen, chat with the Chef and usually sample some sweet treat.

Our friends here Egypt all have their own unique set of skills and careers. We are lucky that the people around us enjoy sharing their knowledge and skills with our children. This early view of the working world is already inspiring them to delve into subjects such as music, cooking, writing and discovering how things work.
2 of the 7 Wonders of the World
If there is one thing I know homeschoolers love it is field trips!

Egypt is full of historical wonders that so many people around the globe dream of visiting! We are lucky to be so close to 2 of the 7 wonders of the world: The Pyramids of Giza and the Light House of Alexandria! We are yet to visit them as I am waiting for the boys to get a little bit older, but they are on the bucket list and only a few hour's drive away. We have visited some other wonderful places here including Cairo, The River Nile, Al Hussein Mosque and of course we have seen the beautiful coral wonders that lie beneath the Red Sea. In November we have a trip to Luxor planned
and I can't wait to see what Luxor has in store for us!
Sourcing Resources
So, one of the challenges of homeschooling abroad is being able to source the materials and resources you would normally use back home. Sometimes we have friends and family bring things out to us but unfortunately that requires me to be forward thinking and organised which is something I am working on. A lot of our learning is spontaneous, and this means we must get a little bit creative.
For pre-K and KG sourcing simple work books for letter and number learning activities is easy. There are little stationary shops in every area that seem to stock them. Thankfully we have the internet and plenty of print shops around. Online resources are honestly a blessing to us out here!
However even some of the online programmes, crafts and curriculums require us to find things such as chart paper or brown paper bags and random items that in the UK I would be able to put my hands on easily but here we simply must improvise.
Books
We do have a library in our city which is well stocked however the children's section is split into several languages and there is a limit to the amount good quality English children's literature to be found there. That hasn't stopped us yet though. Frequent visits to seasonal second-hand markets as well as second-hand stores are a great place to find literary gems from other expat families. We have uncovered some interesting books that I have never heard of before at these places too!
Although I am a lover of real books our e-reader is a life saver for when I am looking for something specific.
A Bonus Point for Mum
Whatever your views on gender roles, being a stay at home mum in Egypt is in some respects easier than the UK. The traditional role of housewife in the UK is competing against the need and desires to work and have a career. Although you will find many women working in all sorts of jobs here in
Egypt, the role of the housewife is still very much upheld and respected. When I reply to an inquiring individual that I am a stay at home mum and work online, I am met with smiles and understanding that raising our children and serving our families is the most amazing role we choose to fill.
Since homeschooling isn't recognized here in Egypt we are still met with the usual questions and curiosities about homeschoolers, but for every challenge, we face there are several gifts and blessings we enjoy.