We are in the process of planning our first family trip to Universal Orlando and we decided to do a Harry Potter watch party. With our move to healthier eating, I wanted to do something with a healthier side. Normally our movie days include all the junk food the store sells. This time though, we're working on making it healthy while still having fun. Check out some of the healthy Harry Potter snacks we made for our family movie night.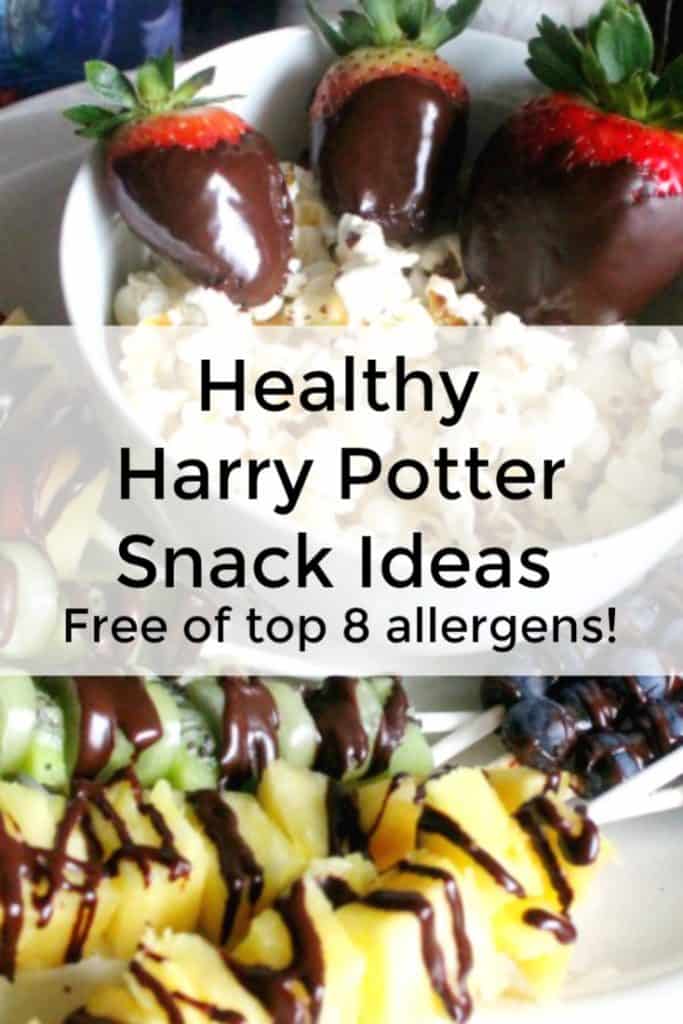 Snacks for a Harry Potter Party

Now, these are dairy-free and gluten-free options. The desserts are AIP. However, the popcorn is not unless you have reintroduced corn. I hope that these will make a great treat for your kids that you can feel good about. All produce was purchased at Aldi as I prefer their prices.
Hogwarts House Color Fruit Kabobs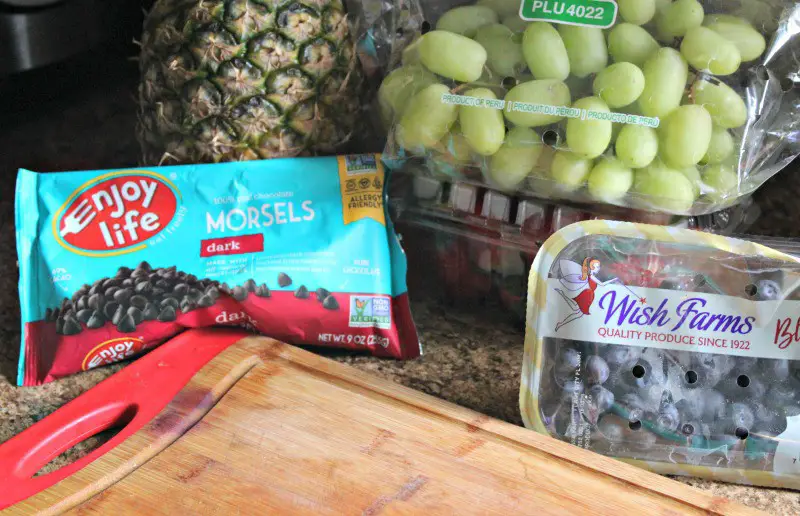 Ingredients
Blueberries
Pineapple – You can slice a full one or you can use canned pineapple. It just depends on the time on your hands.
Strawberries
Green Grapes
Kiwi – This has a bit of a bite but my kids love kiwi
Enjoy Life Dark Chocolate Chips – These are the only brand of allergy-friendly chocolate chips I have found that I actually enjoy. The price is a little higher but sometimes there are coupons on the bag.
Coconut Oil – I prefer the version I pick up at Aldis. It's of great quality at a reasonable price!
Small kabob sticks (We used Lollipop sticks.)
Making your fruit kabobs
Wash all fruit before you begin. – This will save you time in the long run. You won't have to clean it at each step. This also ensures that all fruit is safe to consume and won't accidentally make children sick. With all the current produce-related sicknesses, this is a smart measure.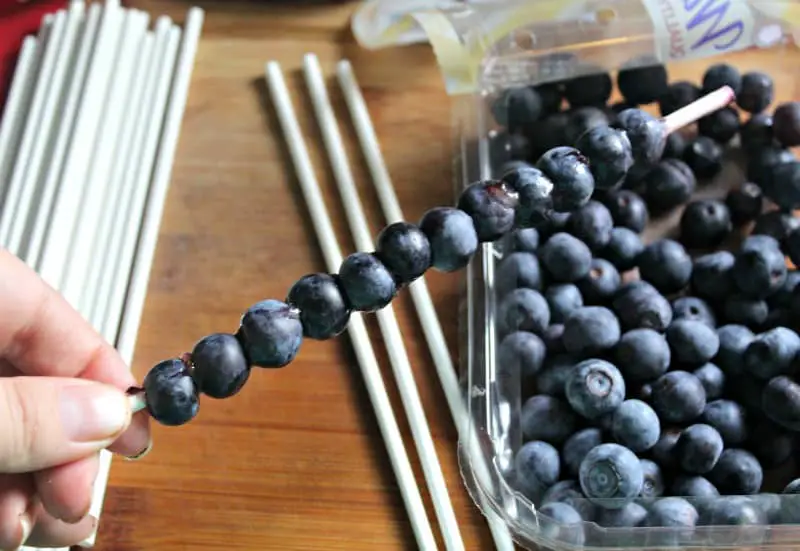 Start by doing the blueberries. I recommend looking for the little circle on the top and putting your stick thru there.
Set these aside on wax paper or foil.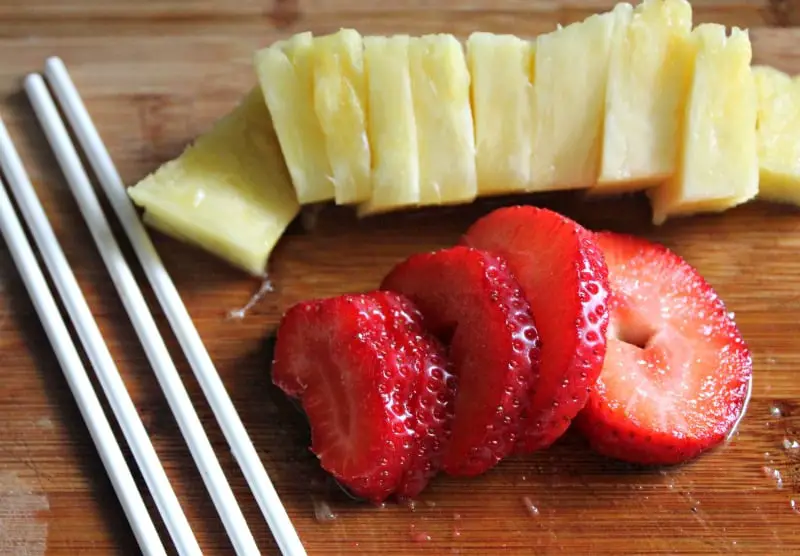 Slice your pineapple and strawberries. – You can go as thick or as thin as you want with these. I preferred to go a bit thinner as I knew I would be drizzling chocolate on them at a later time.
Make sure to slice extra pineapple for your Hufflepuff kabobs. – The kabobs will be only pineapple so you want to make sure that you slice plenty. You could also do pineapple rings for these as that would be really neat!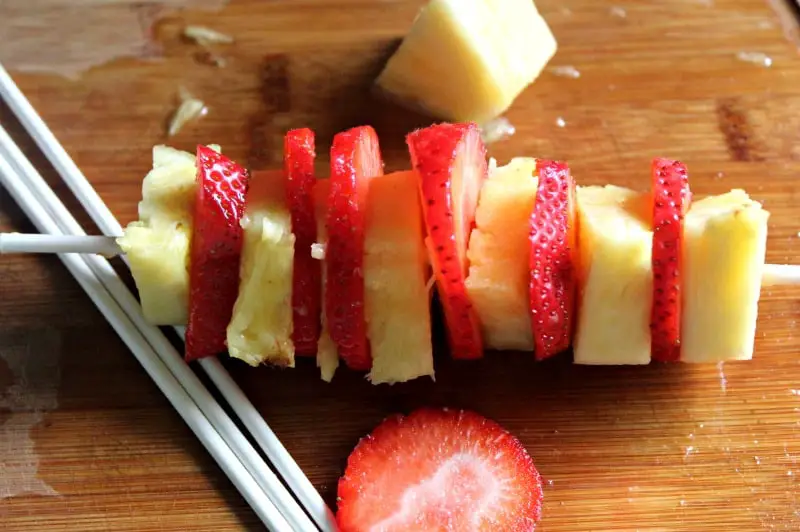 This is your Gryffindor kabob. – Because of this you will put them on in order of red, yellow, red, yellow, and so on. It shouldn't be hard to get the fruit to go on the stick.
Add only the pineapple to a kabob for Hufflepuff.  – You can make the pineapple pieces whatever size you prefer.
Set these aside on wax paper or foil. – This is a great way to avoid it sticking to anything.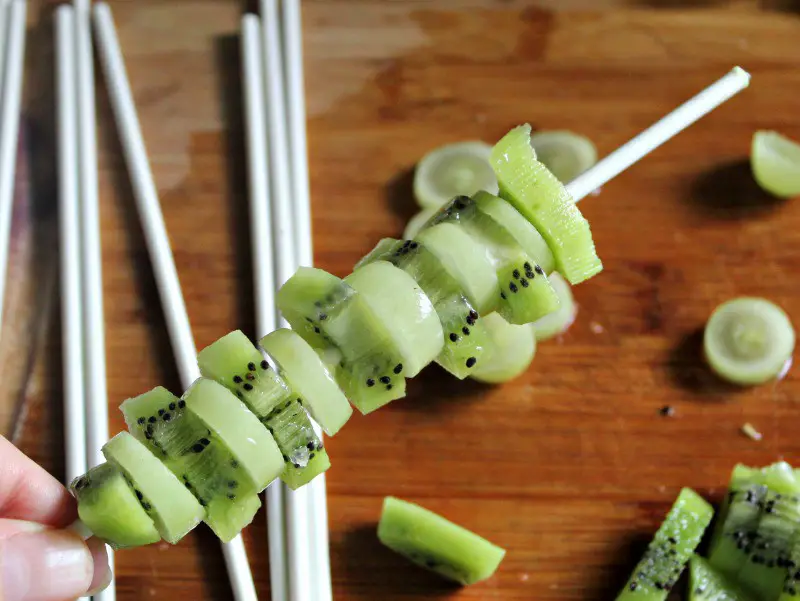 Peel and slice kiwi. – You can slice these any way you want. I went with triangles.
Slice your grapes. – You can put them on whole. If you have smaller children attending, slicing them up can be safer.
Add them to your kabobs. – For mine, I did a pattern of grapes and kiwi. You could do these any way you like.
Set these aside on wax paper or foil.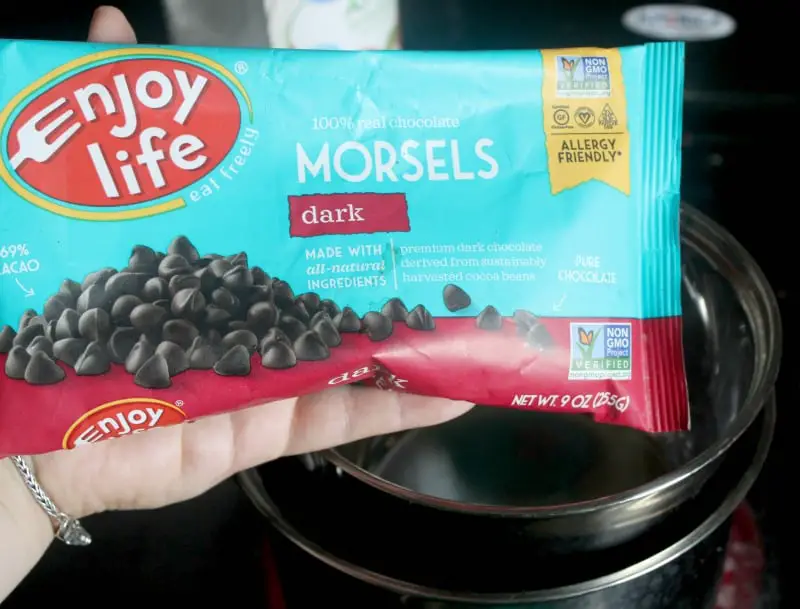 Set up your double boiler. – You can use two pots as well. Fill the bottom pot with water about 3/4 full. Set your second pot in the first.
Add a teaspoon of coconut to your top pot and let it melt. 
Add 1/2 of your chocolate chips to the container. – You can use more if you have a larger group to cook for. We didn't have as many people so this was sufficient and I had enough leftover to make chocolate covered strawberries.
Stir continuously over medium heat until melted. – I find that a wooden spoon gets the best coverage for stirring. However, you can use what you have on hand. Don't go buy a wooden spoon just for this recipe.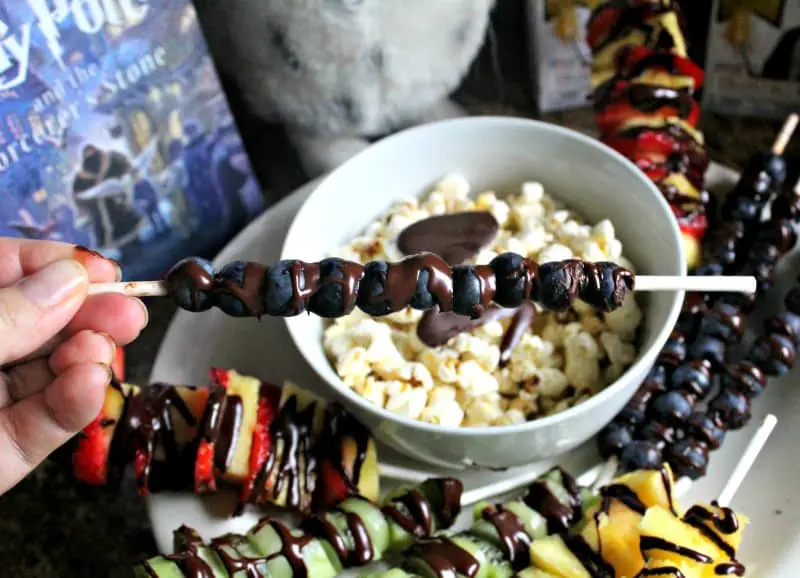 Drizzle your fruit kabobs with melted chocolate. – For Hufflepuff and Ravenclaw, this offers darker colors to complete the house colors. I find that using a spoon to drizzle it is the perfect option.

Butterbeer Popcorn
Popping Corn
Coconut Butter – We like the Nutiva Coconut Butter pictured above. (Don't have allergies to dairy? You can use traditional butter.)
Rum Extract  *The one pictured does have corn oil in it but my kids have introduced corn safely.
Making your butterbeer popcorn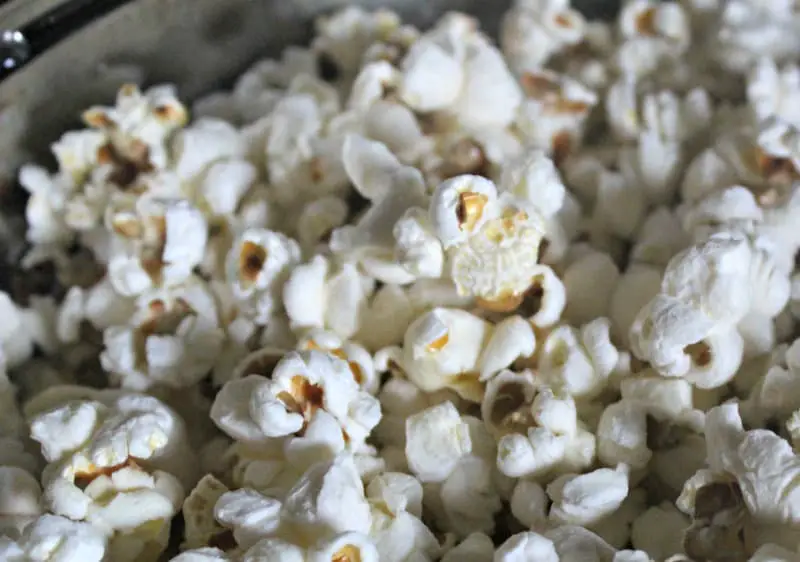 Start by adding 2 tablespoons of coconut oil to the pan and turn to medium heat.  
Once the oil is melted, add your popping corn to the pot and put on a lid. 
Let pop until you hear more than 3 seconds between each pop. – This will tell you the popcorn is finished.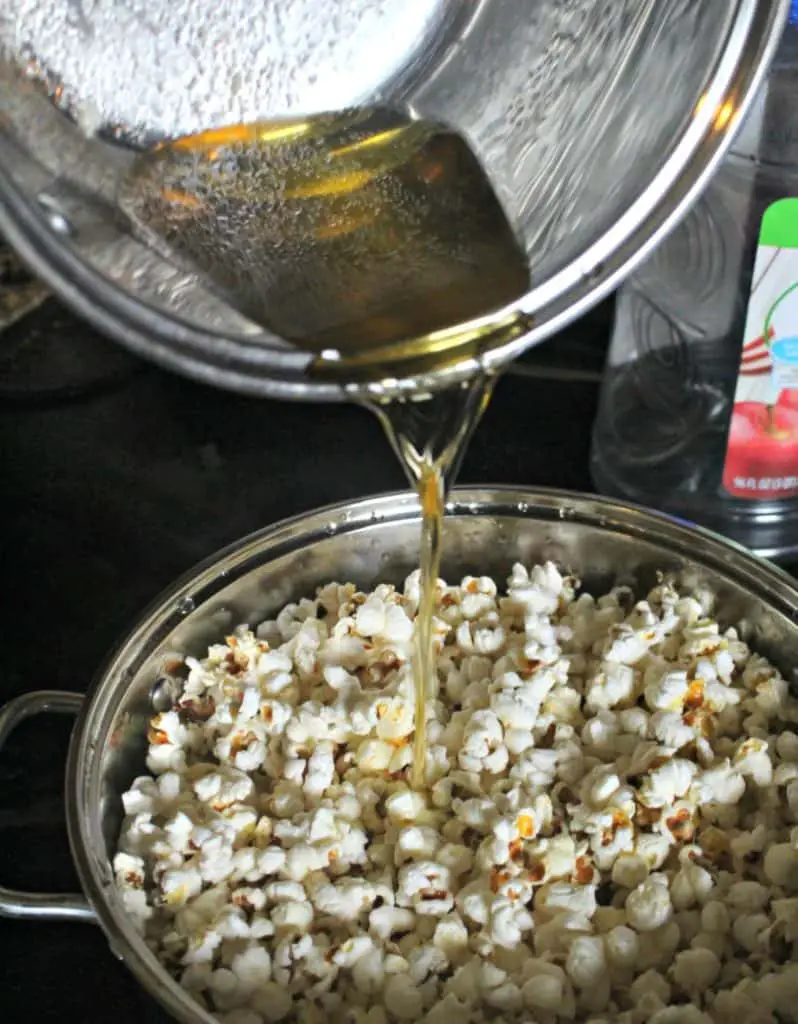 In a separate pot, melt down 3 tablespoons of coconut butter.

Add 1 tablespoon of rum extract. 
Stir until melted. 
Pour over your popcorn for a delicious butterbeer popcorn!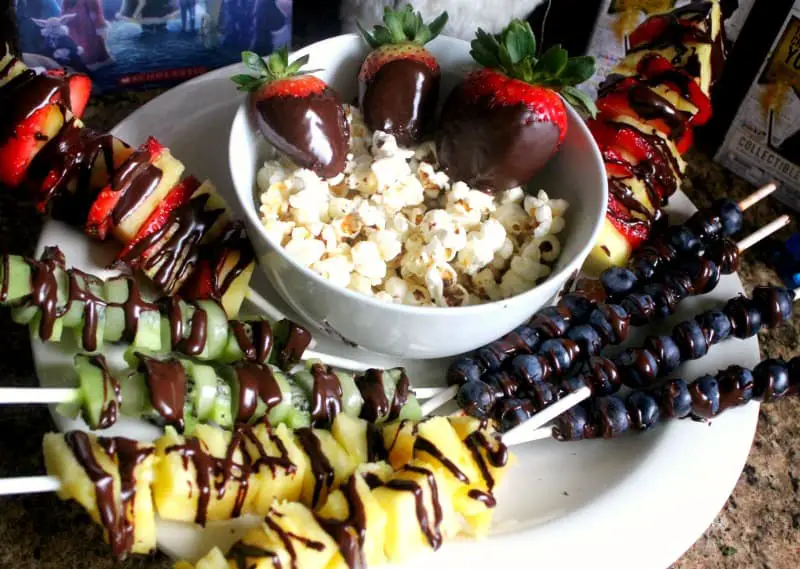 Serve and enjoy!
This treat is dairy-free, gluten-free, and free of most allergens. It's sure to be a hit at your family movie night or for a Harry Potter birthday party.
Worried about ingredients?
I know it can be really stressful to eat when you are dealing with food allergies. I am going to share the ingredient list for the different items here so you can have a quick reference point. I hope this will help you to enjoy an allergy-friendly treat without stress.
Rum Extract
 Water, propylene glycol, alcohol, and natural flavors. This product is gluten-free and does not contain any added sugar.
Coconut Butter
Butter Flavor – Organic refined expeller-pressed coconut oil, organic vegan buttery flavor, organic unrefined red palm fruit oil, organic annatto extract

Enjoy Life Dark Chocolate Chips
Unsweetened chocolate, cane sugar. Made in a dedicated nut and gluten-free facility. The facility also processes dairy and soy; however, this product is produced on a dedicated dairy and soy-free line. Ingredients have been additionally tested to ensure strict allergen control standards are met.
20+ Harry Potter Snacks
These snacks will not all be allergy-friendly. Please look at ingredients to be sure you are picking safe snacks for your children.
Mrs. Weasley's Reuben Sandwich – Channel your inner momma Weasley and add this Harry Potter sandwich to your party menu!
Butterbeer Fudge  – Marry the flavors of butterbeer with a sweet treat. This butterbeer fudge is a fun way to enjoy your favorite flavor.
Harry Potter Owl Cupcakes – Every wizard needs an owl and these owl cupcakes are almost too cute to eat!
Butterbeer – Grab your favorite mug and pour yourself a glass of this delicious butterbeer.
Monster Book Snacks – Bring the famous monster book to life with these monster book treats you are sure to love.
Sorting Hat Cupcakes – Sort your party into houses with these sorting hat cupcakes!
Exploding Bon Bons – Set things off with a bang with these exploding bonbons that are sure to be fun for all.
Salazar Slytherin Pork Pies – Bring a savory option to the table with these flavorful pork pies.
Harry Potter Marshmallows – These adorable marshmallows would be too cute and perfect as a sweet treat.
Hogwarts House Chocolate Bark – Mix this up and serve it to everyone based on their house of choice.
Dragon Eggs – Take a twist on deviled eggs with these dragon eggs that are so much fun.
Butterbeer Crispy Treats – Forget the rice crispy treats. It's time to try something new with these butterbeer treats.
Chocolate Frogs – Have some fun with Harry Potter favorite. Make your own chocolate frogs. *Use Enjoy life chocolate chips for an allergy-friendly alternative.
Butterbeer Hot Chocolate – Warm up with this butterbeer hot chocolate treat.
Butterbeer Muddy Buddies – Who said you have to make traditional muddy buddies? Switch it out for butterbeer muddy buddies.
Pumpkin Juice – Enjoy a delicious treat with flavor and that will be the perfect complement to any Harry Potter party or event.
Edible Harry Potter Wands – Treat the kids to a fun treat. These wands have a hidden treat you are sure to love.
Golden Snitch Truffles – It's time for a fun twist on a sweet treat. These snitch truffles look amazing!
Vegan Pumpkin Pasties – Go dairy-free and keep some sweetness. These pumpkin pasties look so good!
Vegan Gluten Free Treacle Fudge – Who said you can't enjoy an allergy-friendly Harry Potter treat? Try these ones out.
Vegan Butterbeer – Skip the dairy while still enjoying a favorite treat of yours.
Looking for more?
[mv_create key="37″ type="recipe" title="Hogwarts House Color Fruit Kabobs – Harry Potter Snack" thumbnail="https://meagangetsreal.com/wp-content/uploads/IMG_5941.jpg"]