This has been the year of Harry Potter for our family. We started the year with the first book and have read the entire series as a family together. It was no surprise to me when Christmas list time that all things wizarding dominated R's list. I decided to put together this list of Harry Potter Gift Ideas based on what I have found while looking for R.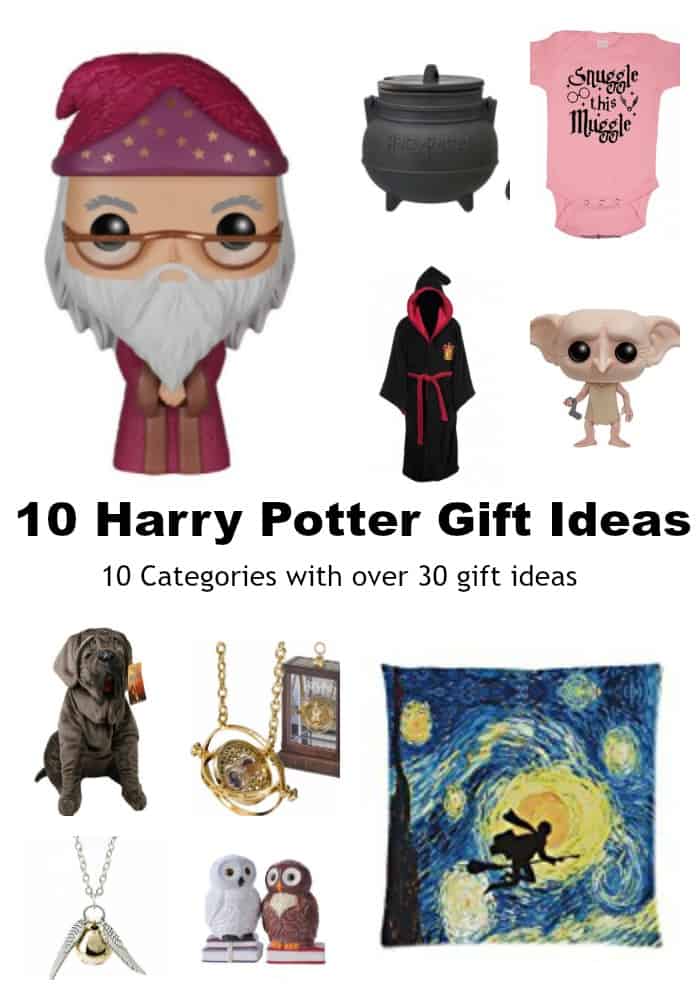 Gifts for Harry Potter Fans
Pillow Cases and Covers 
Amazon has a huge selection of pillow cases and covers starting under $5 and going up from there depending on the design you are looking for. These are a great way to add a simple touch of the wizarding world to any room. Tell me you don't just love that Always pillow!
Make the Harry Potter fan in your life by getting them the fun set in this hardcover boxed set. Even better, it comes travel ready in case their Hogwarts letter comes. 
Pop Vinyl Figures!
My daughter is a huge fan of these Pop Vinyl figures. Whether you choose to buy them as collector gifts or as toys they will not disappoint. There are many different options.  I personally love the Hogwarts Express and Dobby.
Harry Potter Room Decor
The opportunities for a Harry Potter inspired room are pretty much endless. I know that we have the decals pictured above and love them. The door decal is high quality and R loves that she has to go through platform 9 3/4 to get into her room. Any of these items would make a great gift for the Harry Potter fan in your life.
Harry Potter Complete Film Collection
Give the Harry Potter fan in your life access to all the films and all of the bonus material. I will warn you. This gift may mean that you are signing yourself up for a Harry Potter movie marathon.
Harry Potter Clothes

There are countless options for the Harry Potter fan in your life! Whether you go with a Harry Potter sweater, robe, or that adorable onesie, you are sure to make someone smile.
Harry Potter Jewelry
There are some really beautiful Harry Potter Jewelry options available without breaking the bank. Many of the ones pictured are under $10. Some of these do not ship from the United States so be prepared for longer ship times. However, it would be really fun to put together a Harry Potter Jewelry Box for the special person in your life.
Harry Potter Kitchen
We can't all have Mrs. Weasley's amazing kitchen but we can bring a touch of the magic in with some of these great gifts. I am partial to the soup cauldron personally. How awesome is that?
Harry Potter Candy
Are you looking to make your own candy or buy a special treat for Harry Potter fan in your life? There are some fantastic candy options you won't want to miss. Be ready though, those jelly beans can pack a punch if you aren't prepared.
Harry Potter Stuffed Animals 
I am having a hard time deciding if I want Fang, Buckbeak, or Fawkes. They are all so beautiful. Pick a beautiful Harry Potter plush for the fan in your life and you are sure to make them smile.
Looking for more?