Halloween Play Dough Pumpkins
With Halloween around the corner it's fun to give gifts to kids in school, for Halloween Parties, or in different groups. With all of the new food allergies surfacing it's very hard to find something that is safe for all children. Why not skip the candy and make these great Play Dough Pumpkins instead?
I used the Play Dough recipe from A Mom Impression for this project.
What you will need: 
1 cup flour
1 cup water
2 tbsp Cream of Tartar
1/2 cup salt
1 tbsp vegetable oil
1 package orange kool-aid
Ziplock bags
Green Yarn
Sharpie
What to do: 
Make your playdough by putting flour, water, tartar, salt, vegetable oil, and koolaid mix in a pot.  Set the stove to medium and stir constantly until it becomes a big ball. 
Writing names on the bags before hand can help avoid bickering when handed out. 
Divide your playdough into balls and put in the bottom corner of a bag.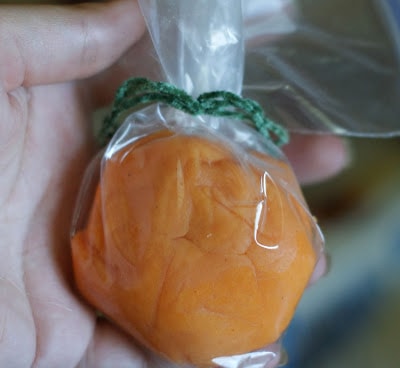 Twist your bag until the ball is secured in the bottom. Then tie with the yarn. You will want your bag sealed when you are done to preserve the playdough. 
Give your pumpkins a face. 
You can also split the playdough between a few bags and let your kids do the following. 
Give them a sharpie. (I am still not sure if that is brave or crazy…) 
Tell them to give their pumpkin a face. 
C's pumpkin is very cute and it's name is Bob. 
Most importantly though, have fun!