Halloween Movies for Kids
I do receive a membership to Netflix in exchange for posting about them but that does not influence any opinions stated in this post.
Halloween is just around the corner and I can't wait. We've already made a trip to Mickey's Not So Scary Halloween Party, designed our costumes, and watched a few spooky movies. This year I wanted to do something special. I filled my Netflix Dvd queue up with Halloween movies for kids, headed to the dollar store for some snacks, and we are going to be having a Halloween movie binge day! Check out some of the Halloween movies we chose as well as a fun idea I found at our local Dollar store.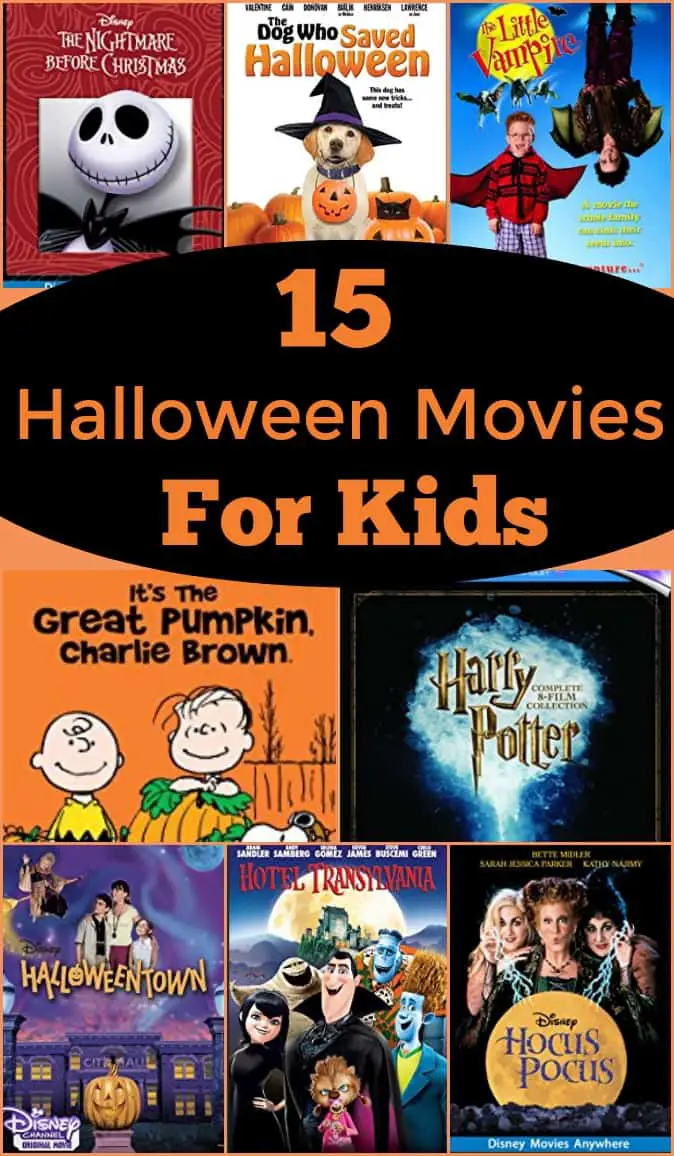 Halloween Movies for Kids
The Nightmare Before Christmas – If I didn't put this on our queue for the year I am pretty sure there would be a mutiny in my house. My son's favorite character is Jack Skellington so we will be watching this one again for sure! There are some debates over whether this is a Christmas or Halloween movie and in our house, we vote both!
Hocus Pocus – This will always be a favorite of ours. There are just so many amazing lines in this movie. Who doesn't love a giggly, "amuck amuck amuck," or playing "I put a spell on you" as loud as possible?
Halloweentown – This was one of my favorites when I was younger and I love that the kids are going to get to enjoy it too. It isn't the fanciest movie ever and the plot line is predictable but it's so much fun. We watched this one last week and the kids loved it.
Hotel Transylvania – We absolutely LOVE this movie. There's just something about taking the "scary" characters and making them something fun and goofy. I definitely recommend this on your Halloween movie binge list!
Goosebumps – I was skeptical of this one but it is a really fun movie. It doesn't go over the top scary and my kids loved it.
Spooky Buddies – We love all the Buddies movies and this one is no exception. The kids really enjoy the pups in their costumes ready to save the day again.
Harry Potter – While I know this isn't technically a Halloween movie it definitely makes the list. How can you start the Fall without a Harry Potter movie binge?
Alvin and the Chipmuks Frankenstein and Wolfman – This is another throwback and I love it. We will definitely be adding this one to our list. It's also a fun way to introduce Frankenstein without going over the top scary.
It's the Great Pumpkin Charlie Brown –   This is a classic Halloween movie and I refuse to believe that mine are too old to enjoy it. We will definitely be putting this one on our queue.
Spookley the Square Pumpkin – This is geared towards a younger crowd but we just love this movie around Halloween. It has a great moral to the story and always makes us smile.
The Dog Who Saved Halloween – We haven't seen this one yet but I am excited to add it to our list. My son loves movies that feature a dog so I am sure this is going to be a family favorite.
Monster House – This one has become very popular and we are excited to try it out for the first time this year. I can't wait to see if the kids like it or not. Do your kids enjoy this one? Let me know in the comments.
The Haunted Mansion – Because we are huge Disney fans I was surprised that this was on our to be watched list. I was sure that we had already watched this one. Don't you worry. It's going on the queue and coming in soon.
The Little Vampire  – This movie is such a fun one. My kids love it and it always makes them laugh. You can't beat a fun and less than scary Halloween movie.
Addam's Family – This movie is a Halloween classic but not every family will want to show this one. While we had a lot of fun with it, I understand that some would find it inappropriate. Make sure to screen it first if you are unsure. (Probably better for older kids)
Get these great movies from Netflix DVD
Did you know Netflix has a DVD division? They do and it's pretty amazing! You can set up DVD's to come to your home and they have a HUGE selection!
Halloween Movie Party Snack Idea
Are you thinking about binge-watching Halloween movies with the kids? Maybe you are hosting a Halloween party? Perhaps you just want an awesome movie day with the kids and some of their friends. I put together this fun Halloween movie party snack idea using items I found at our local dollar store. Check it out.
Supplies
Popcorn
Candy Corn
Fall Candy Corn Mix
Skulls and Bones Candy Mix
Halloween bucket or trick or treat container
Glass bottle with a cork
Orange Soda
Vanilla Ice Cream
Mix together your popcorn and any of your candy. 
**If you know you have a child with food allergies or a child that can't handle a certain candy, throw the packages in the bucket for them to add to their own snacks and avoid allergy issues.
Add your mixture to your trick or treat containers. These are great for serving out of and make cute center pieces. Bonus points for a trick or treat bag you can use on Halloween.
For the drink you will add 1/4 cup ice cream to your jar then add your orange soda.
You can pour it like this or you can add ice cream to each child's cup and let pour it over it for a creamsicle float.
What about a fun Halloween Printable?
If you want to take the fun to the next level you can use this fun movie rating printable I put together so that you kids can rank the movies that you watch. You can also fill in your Halloween Movie Bucket List and check them off as you finish them.
Looking for more?