Harry Potter Inspired Gryffindor DIY Mickey Ears
Gryffindor Mickey Ears are a must for any Harry Potter fan! This year my daughter has been in love with the Harry Potter book series. When we started planning her trip to Disney with her Dad she wanted to represent her favorite Hogwarts House. I reminded her that Harry Potter is at Universal but she wouldn't be swayed so I put together these Harry Potter Inspired Gryffindor DIY Mickey Ears for her. These are fairly simple to make if you are looking for a fun way to save money on Disney souvenirs on your trip.
Gryffindor Mickey Ears
What you will need:
Scarlet ribbon – I know it may be hard to find the right color. Get as close as you can.
Yellow Ribbon – I suggest bringing a picture of Gryffindor colors with you to the store to get them as close as possible.
Headband – I bought a pack of 6 at the dollar store.
Garden flower wire – I picked up a pack at the dollar store.
Wire cutters – Again, Dollar store.
Glue Gun 
What to do:

Start by cutting your circles for your ears.
Wrap tightly in crimson. I suggest hot gluing every inch or so. (This is just to cover the wire. This doesn't need to look a certain way.

Wrap your ring with your yellow ribbon. I folded mine in half because it was too thick.

Do the same with your scarlet ribbon. Glue it at the end.
Glue your ears to your headband and let dry well.
Start at the base of your head band and glue your yellow ribbon.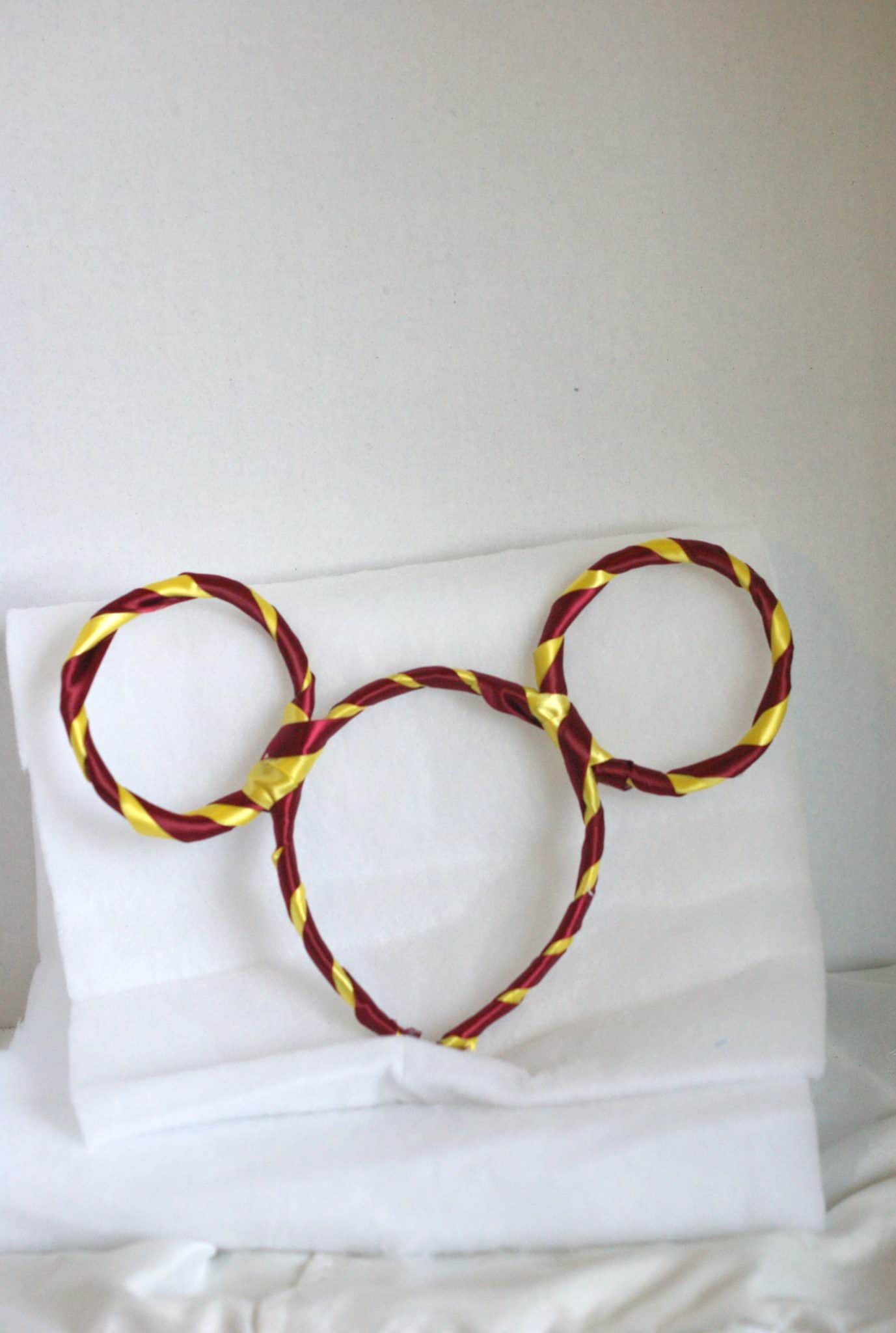 As you wrap and glue them make sure to go around the ear piece on the bottom and glue before you continue. This will secure your ears.
After finishing with your yellow, do the same with your scarlet.

You can add a bow to it if you want or leave it off. I used these bows I ordered on Amazon for cheap but you can use whatever you have or make one. I did add a coat of mod podge to these afterwards to seal the ribbon. This is optional though.
This really is a simple gift you could make for any Harry Potter fan. Change the colors to represent your Hogwarts house.
Looking for More?