Every year I have people ask me the best ideas for gifting an experience. Instead of toys, clothes, and more, families are moving towards the gift of an experience. Whether it is a family experience or something special for each kid, this is becoming more popular. The question is, how do you making gifting an experience fun? Let me share some great ideas.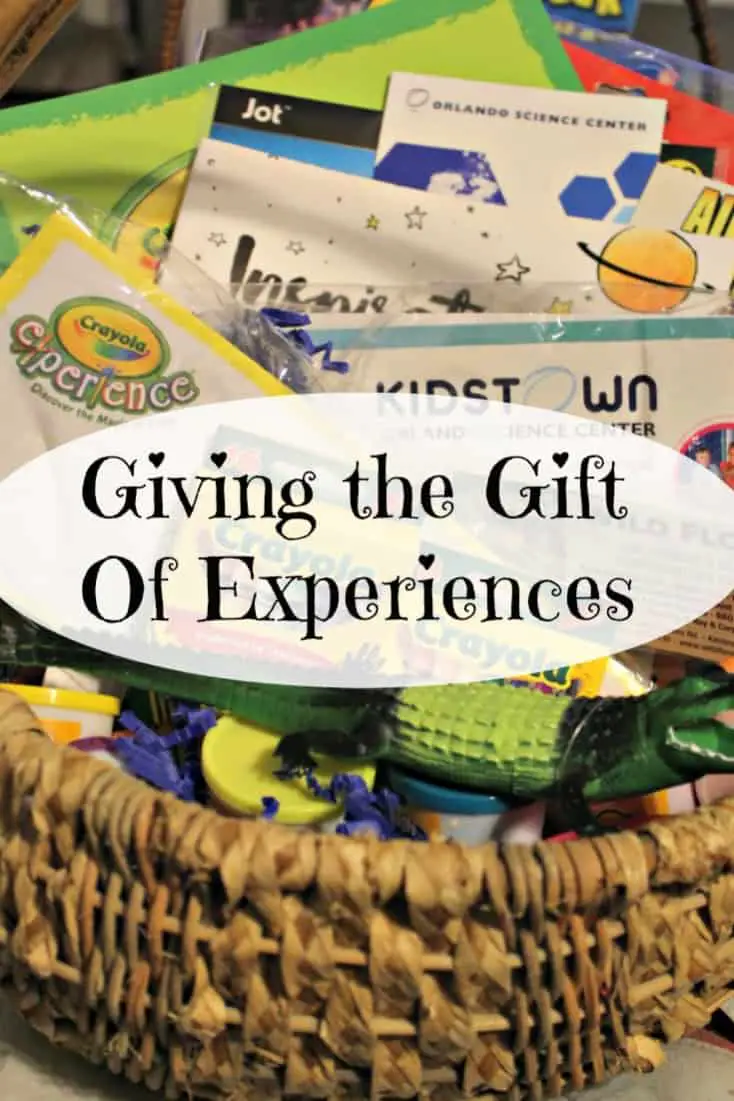 Give an Experience as a Gift
Many of these will focus on Florida-related experiences but will work well for any area or experience you might plan to gift.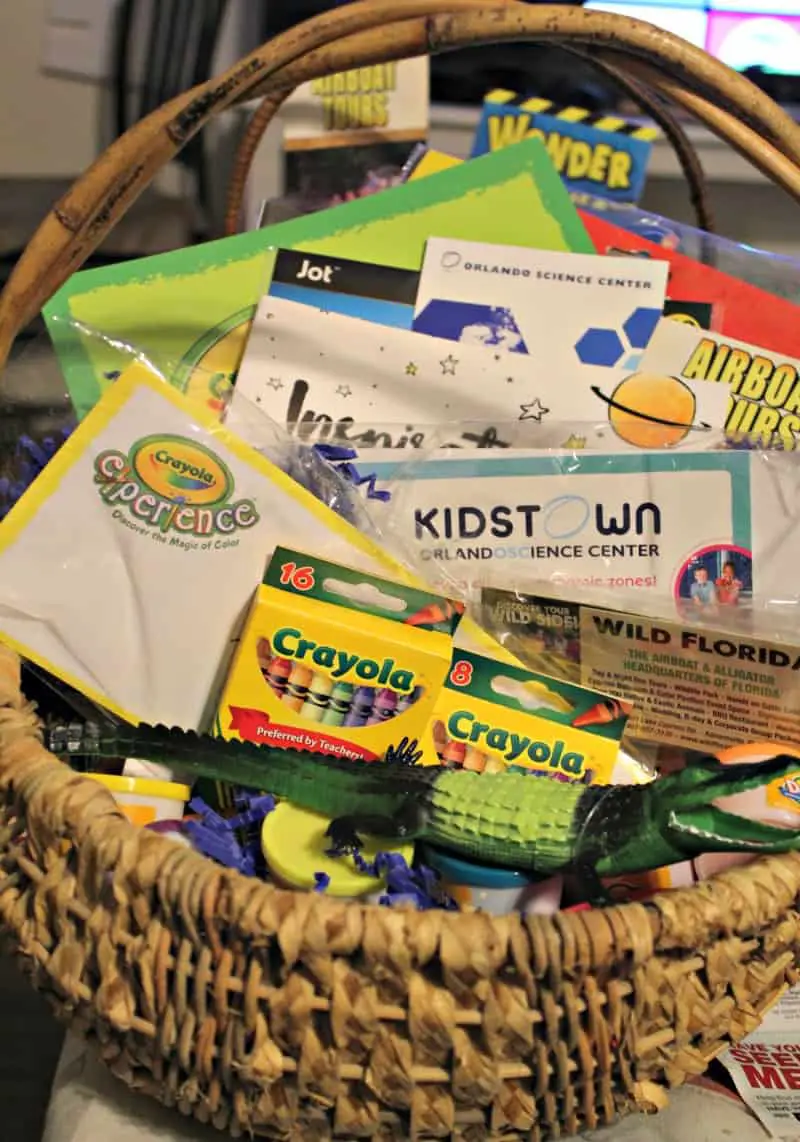 Give the gift of learning. 
Take advantage of local science museums, artistic attractions, and educational parks to provide family experiences that will promote learning. A gift basket is a fun way to give this gift. 
The basket above featured Crayola Experience Orlando, The Florida Aquarium, Orlando Science Center, and Wild Florida. 

For this basket, I headed to the dollar store and picked up items that fit the theme. The tickets are in the basket as well as a few small items that would make for a fun gift until the kids enjoy the experience that goes with them. 

Items like crayons, toy alligators, and Science learning packets all support the theme. 

If you are giving a gift that includes a learning experience, find items that represent that experience well. 
Give the gift of Adventure
Sometimes the best thing you can give someone is an adventure they normally wouldn't pursue but would really enjoy! Gift baskets like the one above can be a great way to do this. You could also do a promotional flyer from the location with the tickets or a puzzle they have to solve to figure out their gift. 
In the basket above, you will find an escape room, Wild Florida, Orlando Watersports, and Wonderworks. Items like the puzzle and the boats support them while adding a fun touch to things. 
Groupon can be a great way to purchase experiences like this. 
Give the gift of magic
Are you thinking about giving your kids a trip to Disney or Disney passes? What about tickets to a favorite location? Doing something like the Disney Countdown calendar I made to countdown to the big surprise. Options like this bring fun to the big reveal instead of focusing on the lack of something physical. You could also do a diy project based on the attraction or invent and gift that to the kids. 
Give the gift of family time
Whether it is a good movie or a family game night, family time can be a gift many forget. For this gift, I recommend heading to the store and picking out a few popcorn buckets and some popcorn or fun stopwatches or clocks to represent time you will spend together with no tech and focused on each other.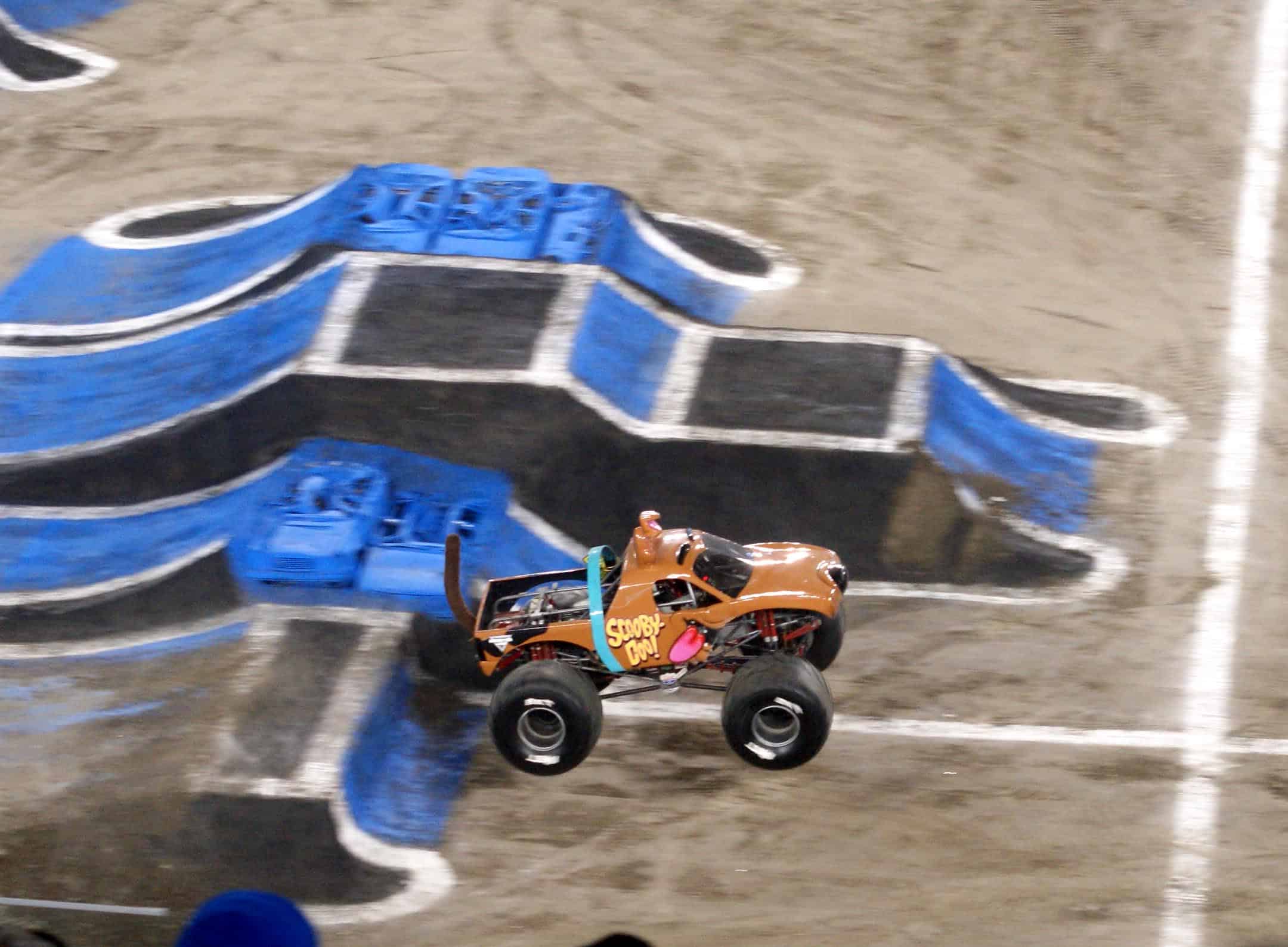 Give the gift of a show! 
Shows like Monster Jam are coming to areas all over the country. These shows make awesome gifts and giving tickets to these shows can really put a smile on someone's face. Something as small as a monster truck toy or a monster truck balloon from the dollar store could represent this gift well. The goal is to communicate the experience without spending too much more on it. 
Not sure which experience to pick out for the person in your life? Feel free to ask me on social media or drop me an email. There are some incredible things to do and you don't want to miss it! 
20 Experience Gift Ideas
National Parks Membership – If you have a nature enthusiast on your gifting list, give the gift of a national park membership. This will allow them to visit as many parks as they want throughout the year. 
Tickets to a Show – Do you have a theater fan to buy for? Gifting tickets to a show that is coming to your area can mean the world to them! Be aware that some of these shows sell out months in advance. You will want to plan ahead. 
Tickets to a Concert – Shop for the music fan in your life by gifting tickets to a concert. This could be a special tour or even a concert they never thought they would get to see. 
Dinner Shows – Dinner show tickets are a fun alternative to a traditional night out. Even better, there are countless themes out there that can make a dinner show ideal for anyone. 
Museum Membership – Whether it is a history museum or a science museum, getting someone a gift of a museum membership opens up a world of possibilities. Even better, many of these are reciprocal. 
Theme Park Annual Passes – Getting someone a pass to a local theme park can help them to have adventures all year long. Make sure to include passes that have parking covered. 
Spa Day – Treat the person on your gifting list to a day out at the spa. This break can be just what they need and is sure to put a smile on someone's face. 
Groupon Gift Card – Let your person pick their own experience with a groupon gift card. However, keep in mind that some of those experiences will involve more out of pocket from the gift recipient. 
A Night Out – Take your friend or family member out for the night and cover food, drinks, or entertainment costs. This can be a fantastic way to spend time together and make someone smile. 
Bowling – Head to the lanes and enjoy a bowling night with a friend. Most of the time you can find bowling on groupon for a deep discount and it may even include food. 
Skating – Kick it old school and head to the skating rink together. Cover the entry fee, skate rental, and food for a fun time out together. 
Mini-Golf – With so many fun mini golf courses out there, going mini-golfing together can be a really fun gift idea. You could also purchase passes for them to go with a friend. 
Escape Room – Escape rooms are rising in popularity. Take some time to make memories together at an escape room. Can your team win? Put together a group and enjoy an escape room together. 
Sports Tickets or Season Passes – If you have a sports fan on your gifting list, tickets to a game or even season passes can be just the gift. 
Sponsor a Run – If you have a runner on the list, you may want to offer to sponsor run fees for a run they were hoping to attend. Many runners forego some races due to the price of entry. 
A Class or Lessons – Has the person you are shopping for been wanting to learn something new? Maybe they want to learn to play the piano, arrange flowers, or speak another language.  Gifting a class or lessons can be just the thing. 
A Photo Shoot – Many won't set up pictures for themselves but they want them done. Work with a local photographer to set up a special photoshoot. 
Meal Kit Subscription – If you have someone on your list who loves to cook, a meal kit subscription may be a fun way for them to try new recipes and techniques. 
Tours – Booking a tour or a vip tour of somewhere special can be a great experience to gift. There are a variety of options and price points out there. 
Animal Experience – Work with a quality rescue that has safe procedures for an animal experience. These animal experiences fund the facility while you make some great memories.