When my daughter was smaller I loved to make playdough with her. I realized the other day that while I did this with my daughter, I didn't do it as much with my son. I decided to put together this fall playdough diy just for him. We pulled out all of our supplies and had a lot of fun together. Check out these tips to enjoy a playdough making day with your kids.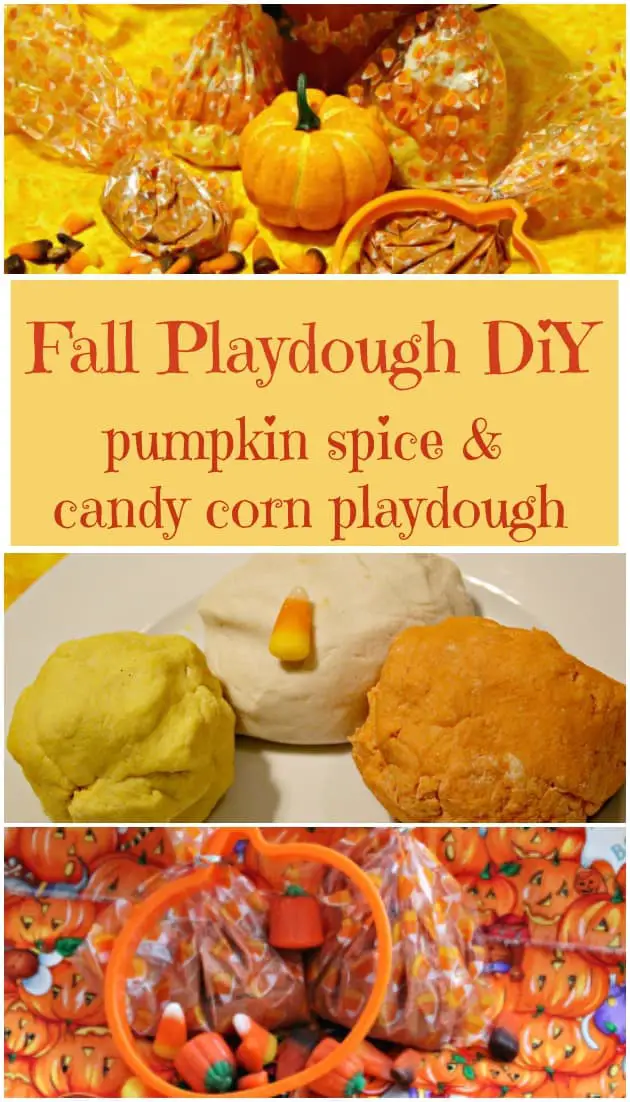 Fall Playdough DIY
Both of these recipes are safe to eat though I wouldn't recommend it due to the salt content. I hope you enjoy them as much as we do. 
Pumpkin Spice Playdough
Ingredients
1 cup flour
1/2 cup water
1/4 cup salt 
2 tsp nutmeg
1 tsp cinnamon
1/2 tsp ginger
red food dye
yellow food dye
pumpkin cookie cutters
cellophane bags (we got ours at the dollar store.) 
Start by mixing together dry ingredients. 
In a separate bowl, mix together water and 6 drops of red and 6 drops of yellow. 
Add your water mixture to your dry ingredient mixture. 
Knead until you make a dough. 
Add your playdough to your cellophane bags. 
Tie your bag shut. 
Tie on your cookie cutter. (I recommend getting smaller cookie cutters if you are using these for a party favor.) 
Candy Corn Playdough 
Ingredients
1 cup flour per batch
1/2 cup water per batch
1/4 cup salt per batch
Red Food Dye

Yellow Food Dye
Cellophane Bags
You will be making 3 separate batches of playdough for this. 
Mix together dry ingredients. 
For white, simply add water and make your dough. 
For yellow, add 12 drops of food dye to your water and mix it into your dough. 
For orange add 12 drops of red and yellow food dye to your water and mix it into your dough. 
Layer your playdough from bottom to top in the order of yellow, orange, and then white. 
Close the bag with the ties included. 
Shape your playdough into a candy corn.