Easy Home Made Chicken Pot Pie
One of my favorite options for comfort food is chicken pot pie. There is just something so delicious about eating all the veggies, then the meat, potatoes, and crust together afterward. Ok, so maybe I am a bit OCD. The point is, chicken pot pie is delicious. I have had a problem with the cost and ingredients that come with many of the store varieties of chicken pot pie. I decided it was time to make my own homemade chicken pot pie. Check out this easy homemade Chicken Pot Pie recipe! How do you eat your chicken pot pie? Do you have an order or do you just dig in?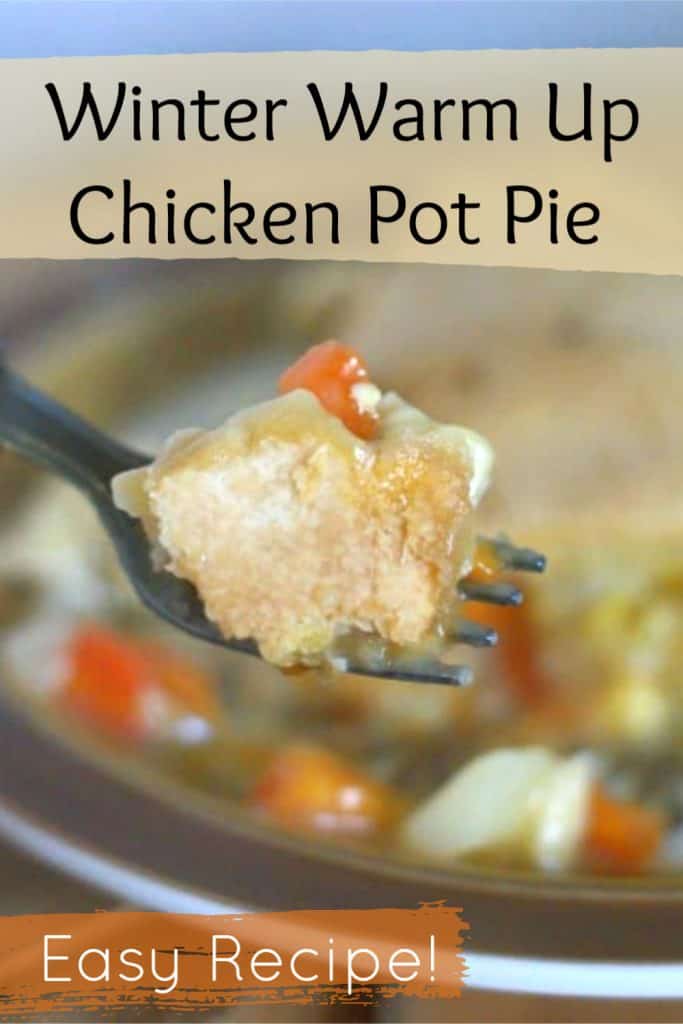 Chicken Pot Pie Recipe
The ingredients list below makes enough filling for two pies. If you try to fill this in one pie, it will not work.
Easy Home Made Chicken Pot Pie Ingredients
(This recipe may produce more than you can use for one pie. I generally take the extras and freeze them for a future pie or make an entire pie without cooking it and put it in the freezer.) You do not have to buy the brands pictured. Those just happened to be on sale this week. Grab what you find on sale and what works best for your family.
Boneless Skinless Chicken Breasts – 2 cups cubed
Mixed Vegetables – 2 cups.
Salt – 1/2 teaspoon
Pepper – 1 teaspoon
Pie Crust – I bought mine. If you make your own, please send me a great recipe. I haven't mastered pie crusts yet.
Russet Potatoes – 1 cup cubed
Chicken Broth – 3 cups
Cream of Chicken Soup – 2 cans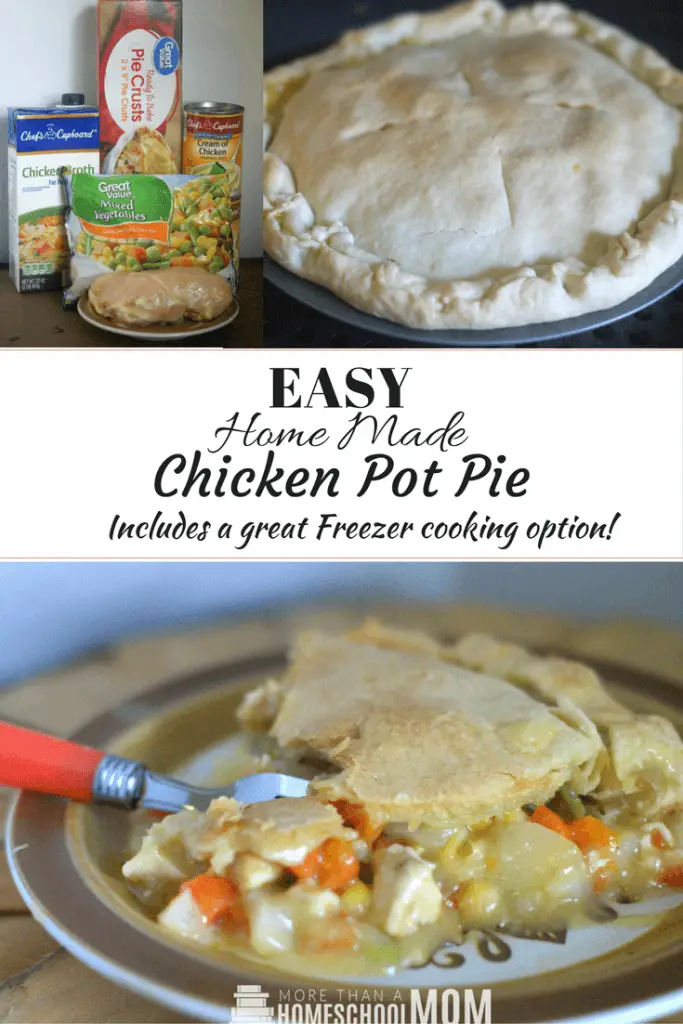 How to make the Easy Home Made Chicken Pot Pie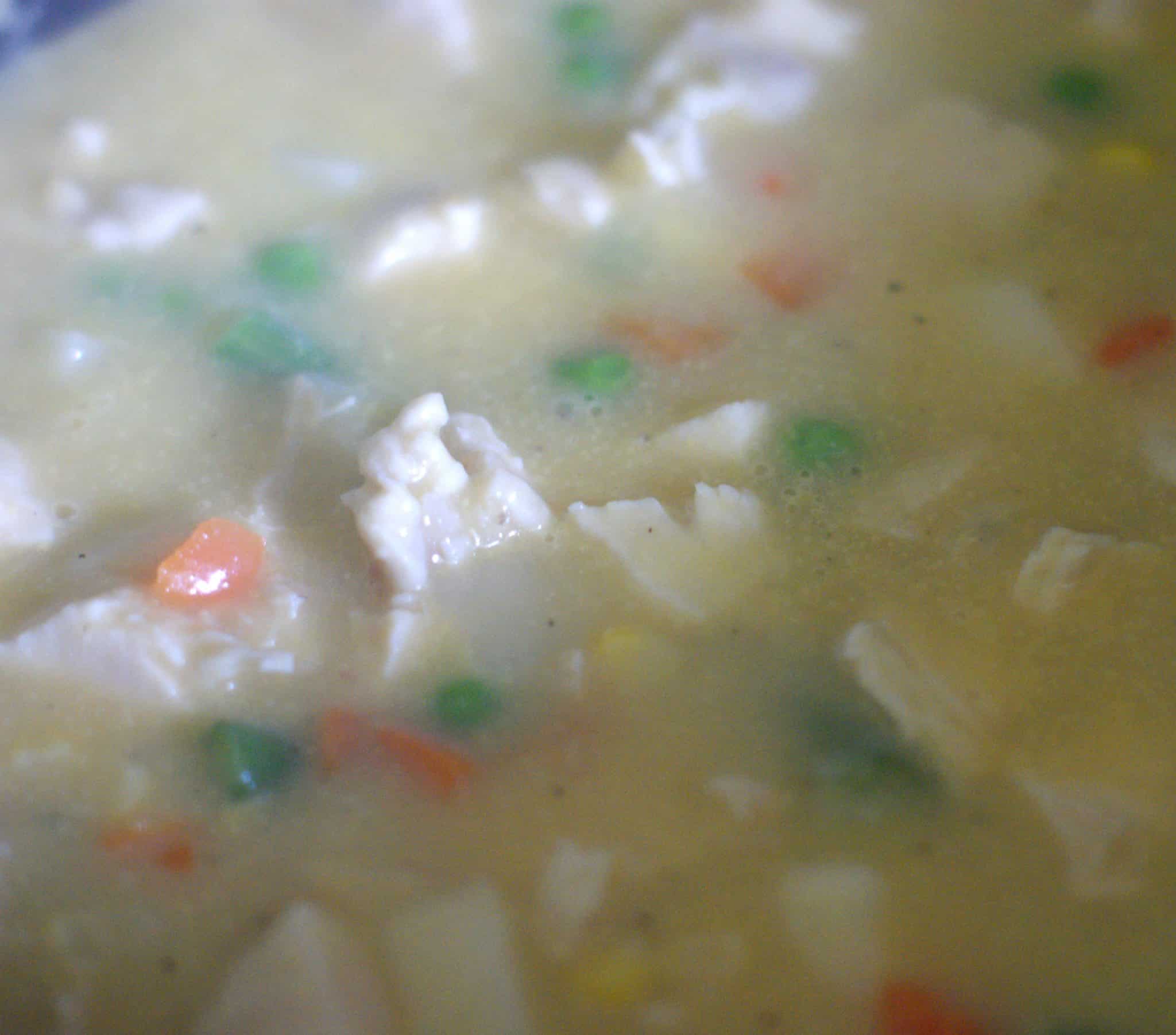 Combine chicken, vegetables, salt, pepper, chicken broth, cream of chicken, and potatoes in a pot. – You will not need to use cooked chicken for this. Instead, the chicken will cook as the broth mixture does and in the oven.
Simmer while lining your pie pan with a pie crust. Your goal with simmering this is to cook it some but not to cook completely. If you want a thicker broth inside of your pie, you will want to simmer for a bit to let some of the fluid cook down.
Remove from heat. 
Separate out half of the mixture. – Half of this mixture can either go into a pie crust to freeze for the future or into a ziplock bag to freeze for making a pie in the future. For your future pie, I recommend thawing completely before cooking instead of trying to make it with a frozen or partially frozen mixture.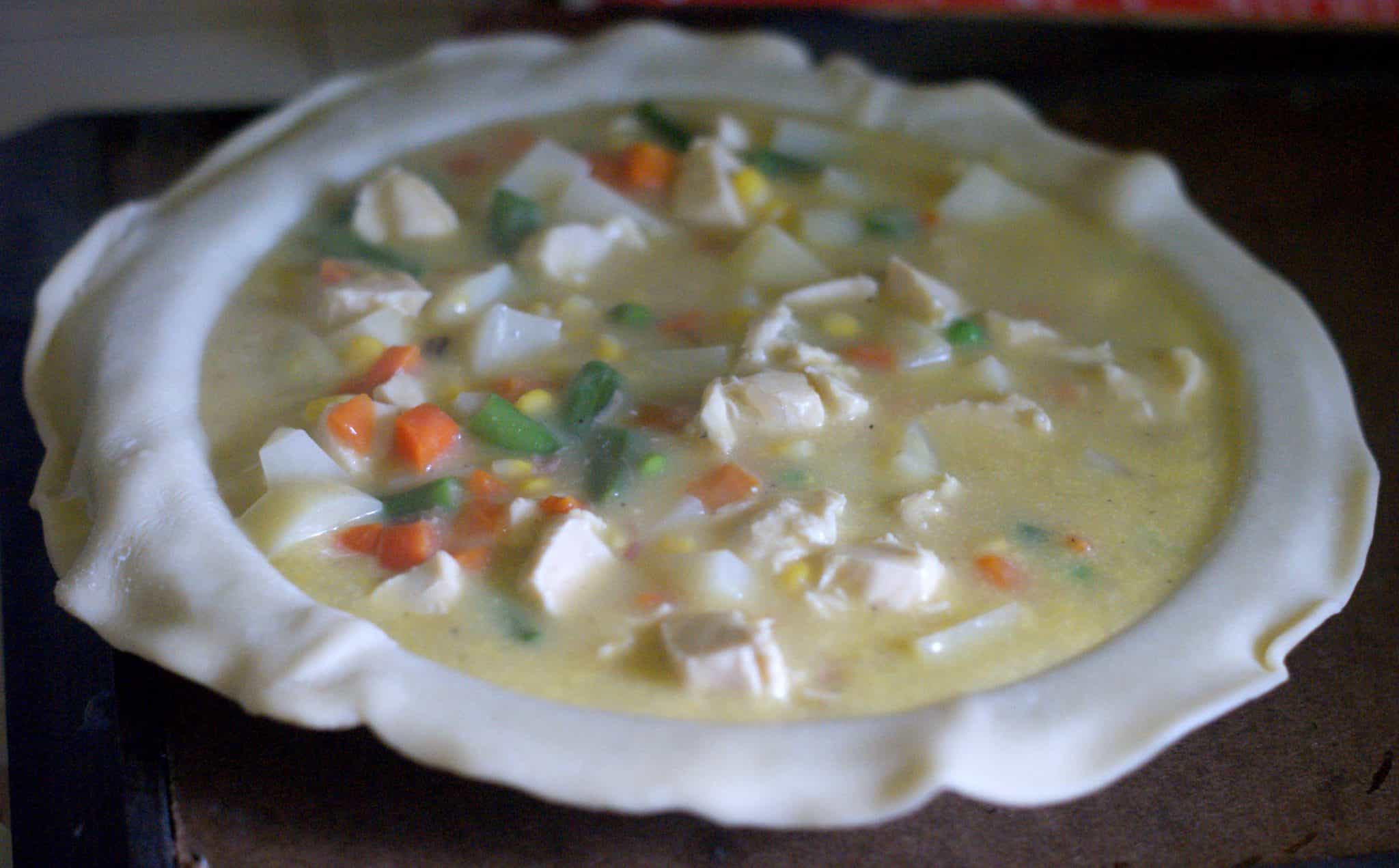 Fill your pie crust with the remaining mixture. – Make sure not to overfill it. I know it sounds crazy but you can, in fact, overfill a chicken pot pie. Depending on how long you chose to simmer this broth, you may see it fill in a different way. I have had a few readers suggest you stir in flour to thicken it if needed. (Don't overdo it or it could mess with your flavors.)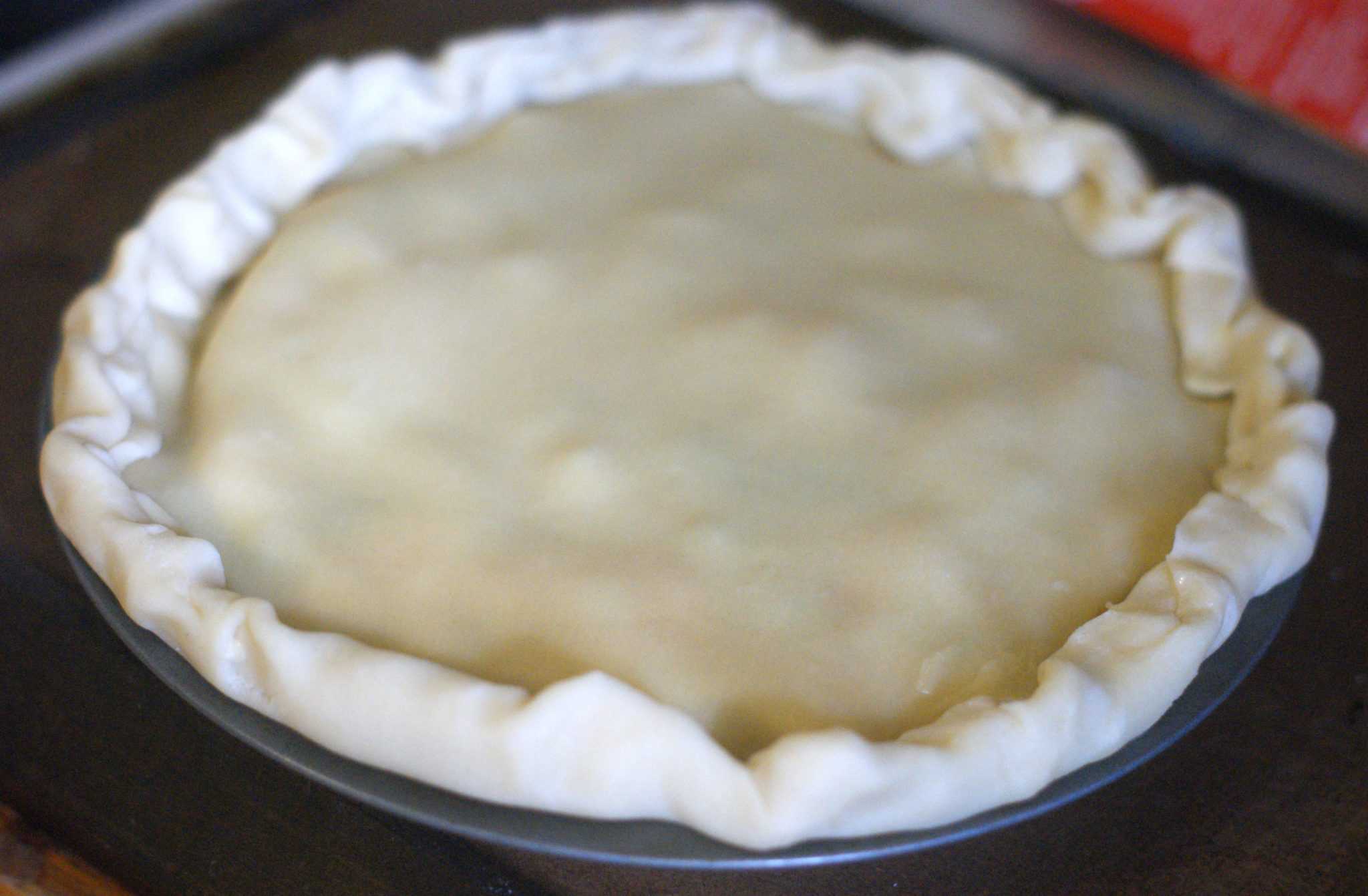 Top with top crust. – Using your second pie crust, top the pie. Fold your crust over and pinch to seal. You can go as Pinterest Perfect or real mom normal as you want with this process. Just make sure it's sealed well.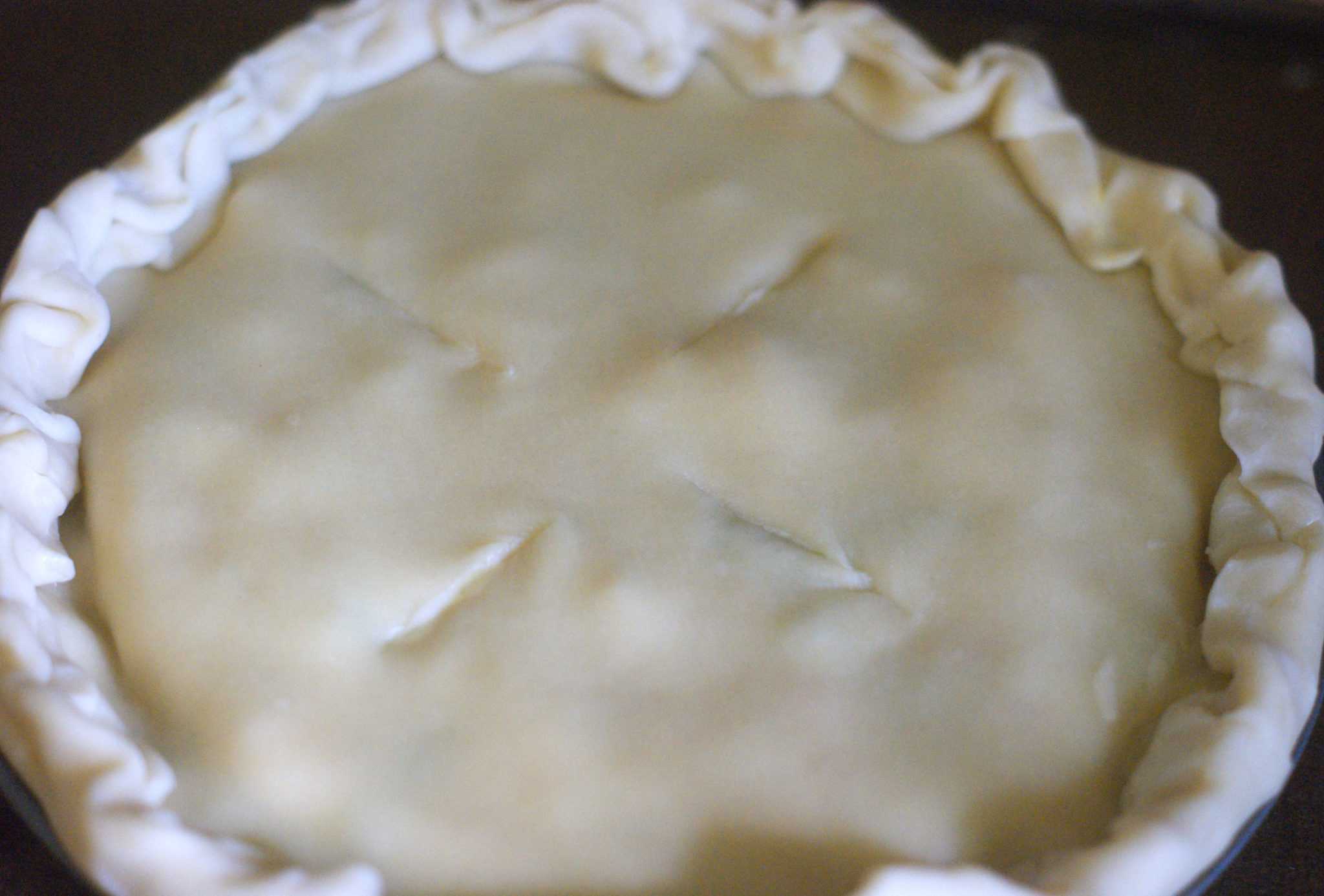 Slice 4 slits into the top of your pie. – This gives your steam the ability to vent from the pie. Without this, you will see some problems. You can use a small knife to do dots or add a custom look if you want it. The goal is simply to cause the pie to vent the extra steam.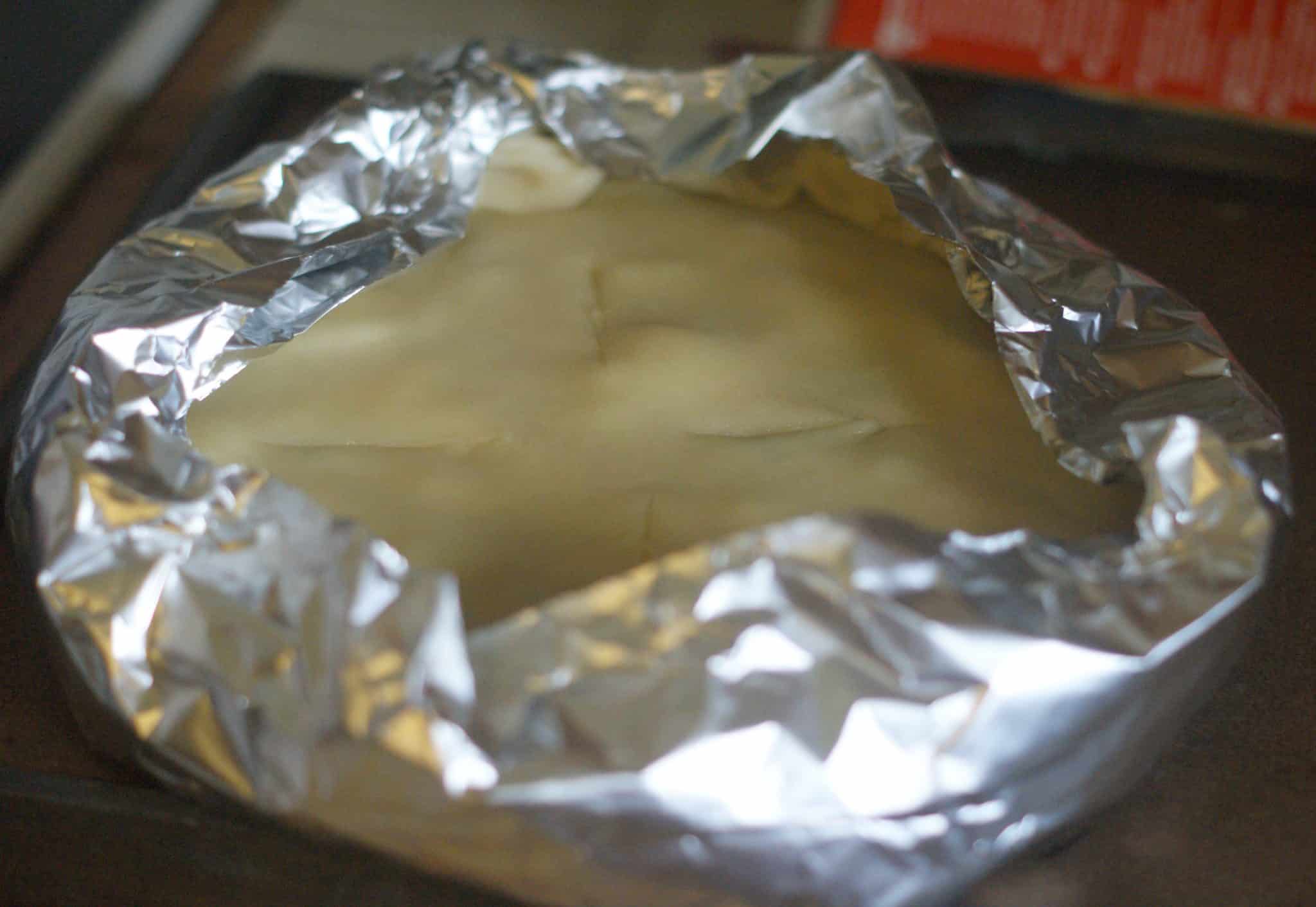 Wrap pie edges with foil – I read about this online and tried it out. The claim was that it would prevent it from burning and I have to say it worked really well. You are only using the foil to wrap the edges though. Don't top your entire pie. This is just to help avoid burning the edges of your pie.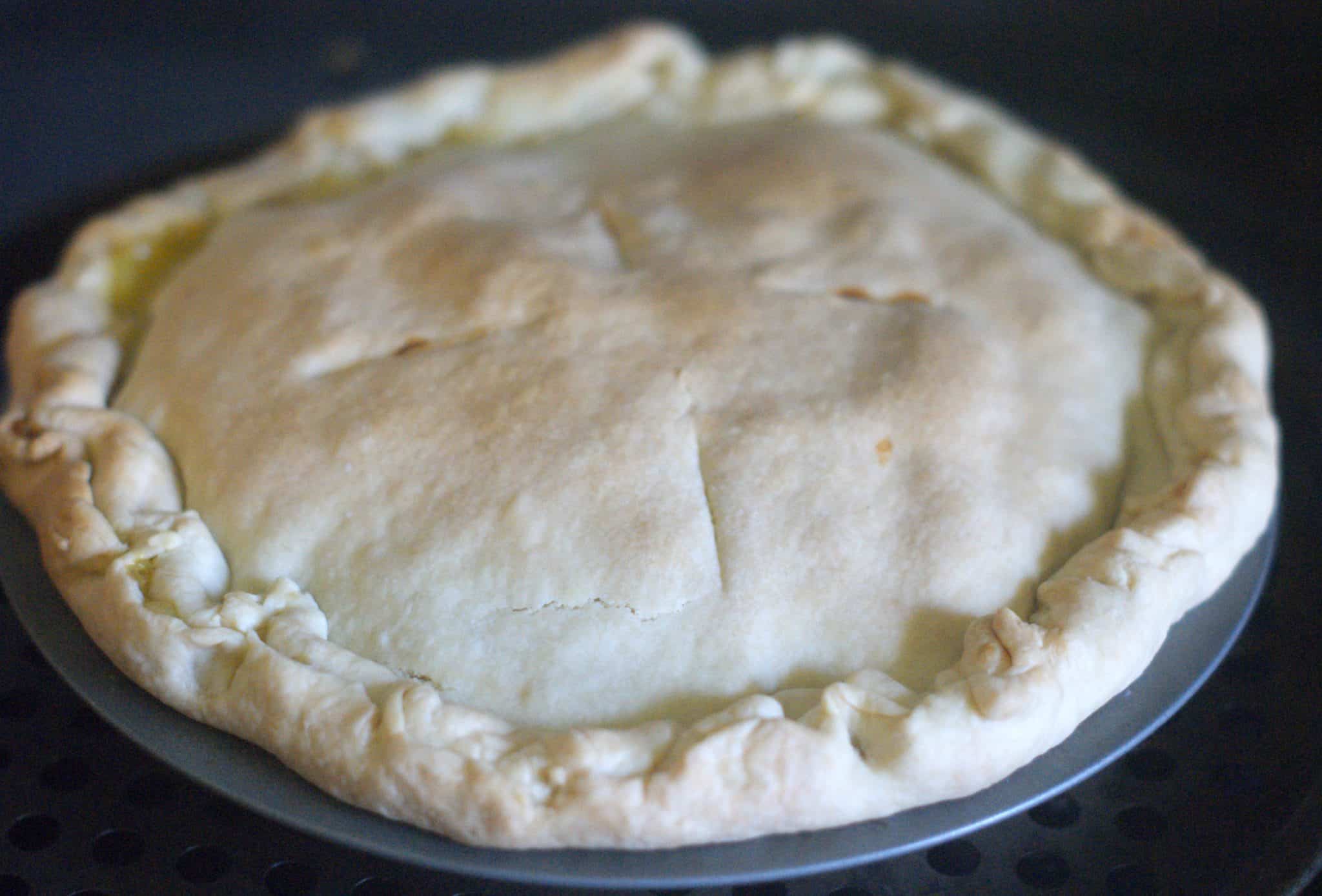 Bake at 425 for 37 minutes. Don't ask me why it's 37 and not 35 or 40. I can't explain it. It just works. This could be different based on where you live. I know I have some readers who say that depending on where they live the temperature in the oven might impact the finished food in a different way. You may have to play with the time if you aren't in Florida.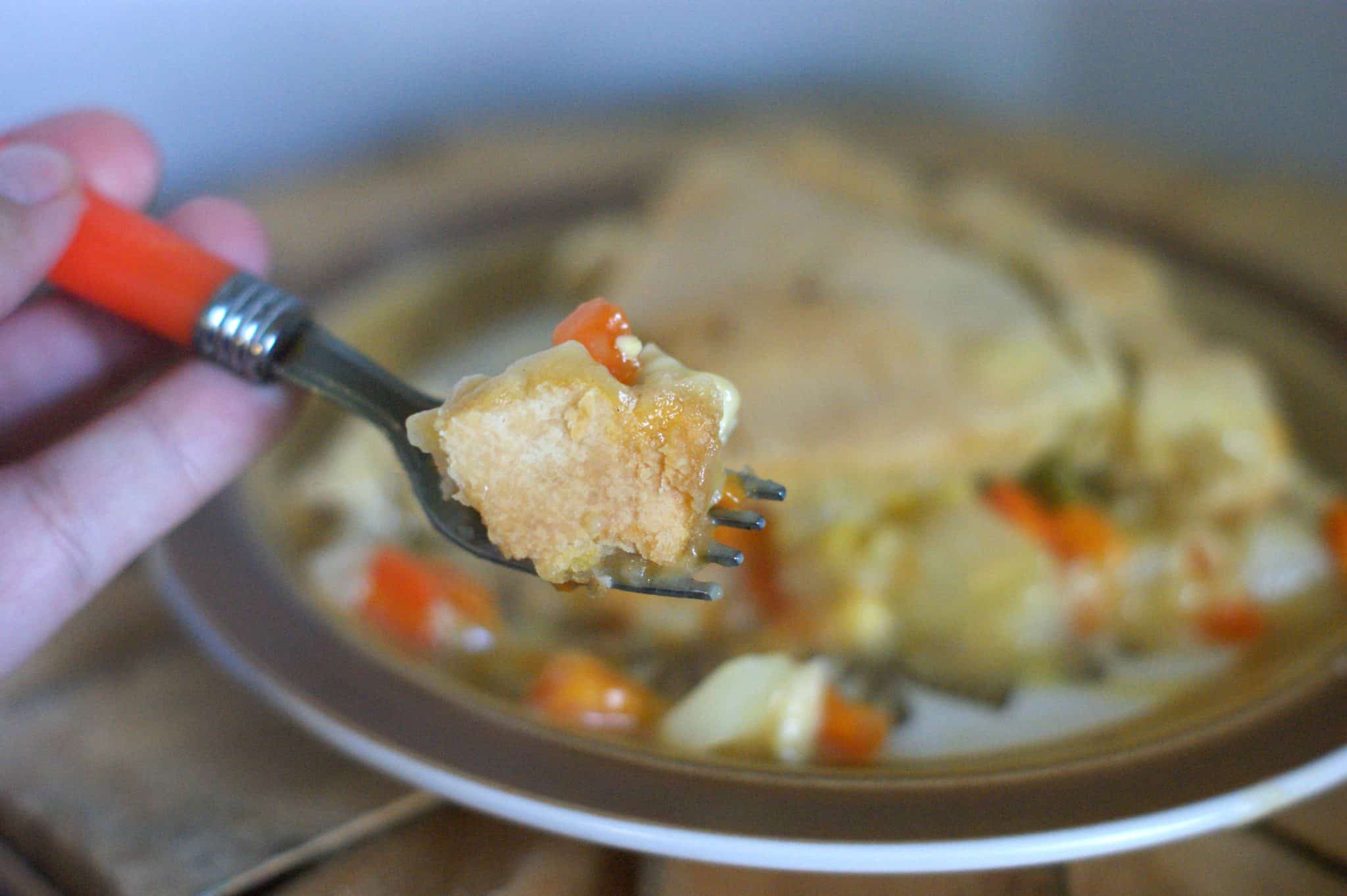 Serve and enjoy. – You can go as simple or as nice as you would like in order to enjoy this. We love to have this chicken pot pie on a cold day or as a comfort food option when we have a cold.
Looking for a different version?
We tried out a different version of this pie. You can find it here. We were short a few ingredients and wanted to see how the flavors would change based on switching out a few of the ingredients in the process.
Looking for more?
Brown Sugar Shake and Bake Chicken – Are you looking for a super simple chicken recipe? This brown sugar shake and bake is a fun and simple recipe your family is sure to love.
Pizza Lasagna – Who said lasagna has to stick to the same as it always has been? This pizza lasagna is a great twist on the traditional. Even better, it's easy to make!
Pumpkin Spice Cake – Are you in the mood for something pumpkin? Enjoy this super easy pumpkin spice cake recipe that is easy to make and sure to be a hit at any event!