Am I the only one who wishes for a little (or a lot) Doctor Who goodness under the Christmas tree? These Doctor Who Christmas gifts are a must! Share this post with the gift-givers in your life. It's a gentle nudge that says, "This would be Fantastic for Christmas!" Get to work. Share it with them and I will wish a Christmas tree packed with Doctor Who gifts for you! Don't miss these Doctor Who gift ideas!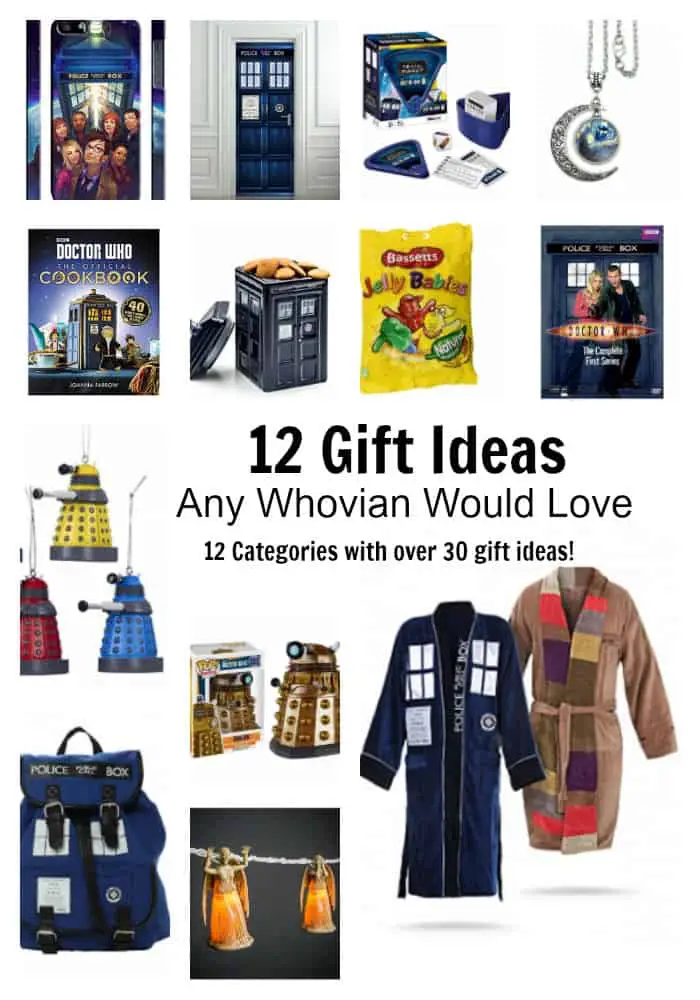 Gift Ideas for Doctor Who fans
Make sure to click on any of the images to buy or read more about these great products!
Update:
Doctor Who has been removed free from Amazon Prime. It is currently not streaming free anywhere.

Amazon Prime is now offering a monthly subscription option! You can pay $8.99 a month for just the video streaming option which includes Doctor Who or you can pay $10.99 and include the free 2 day shipping!
While Netflix and Hulu have lost U.S. streaming of Doctor Who, Amazon Prime will have all new Who episodes starting in March. If you want to give a great gift, give the gift of Amazon Prime. (Amazon Prime will also get you free 2 day shipping on most of the gifts in this post.)
Doctor Who Kitchen Gifts
Who said Whovians can't have fun with some great Kitchen accent pieces? I am in love with the Dalek Salt and Pepper Shakers and the TARDIS Tea Pot. These would make really nice gifts for the Doctor Who fan in your life. I know I have always dreamed of a Doctor Who Kitchen.
A Few Whovian Kitchen Gifts
Doctor Who Apparel
Nothing says Happy Gifting like a Doctor Who outfit. Whether you pick a cute pair of socks, a Doctor Who hoodie,  or Doctor Who Pajama pants you are sure to win someone over. I am pretty sure if I could get away with it I would have an entire Doctor Who wardrobe.
Doctor Who Snacks
Whether you are offering someone a Jelly baby or giving them a banana, a Doctor who inspired snack could be a great gift. Just make sure you know the whovian you are making them for. You wouldn't want to make a souffle for someone who can't stand Clara.
Doctor Who Games

The only thing better than buying your friend a Doctor Who game is offering to play it with them after you get it for them. I will warn you. If you miss too many, your friend may sit you down for a marathon.
Doctor Who Dvd's and Blu Rays
Because a lot of the streaming services have been inconsistent with which Doctor Who seasons they will carry it can be good to gift a Doctor Who fan their favorite season or start as early as you can and work your way forward. I will give you a hint,  the one pictured above that says the first series is not the first series.
Whovian DVD'S and Blu-Rays
Doctor Who Jewelry
Jewelry is always a great gift but it can be even better when it has a little bit of a Whovian flare. Pick out something simple or something extravagant and you are sure to make the Doctor Who fan in your life smile.
Doctor Who Christmas Decorations
If you really want to make Christmas special for a Whovian, why not create a Doctor Who Christmas? With all of the different ornaments, lights, and decorations, you could easily have a very Whovian Christmas for the Christmas special this year.
Doctor Who Toys
Doctor Who isn't only for adults. There are some fantastic Doctor Who toys available. Make sure to check out some of the great toys from your favorite little Time Lord.
Doctor Who Cosplay Items
It can be hard to put together a great costume if you are on a tight budget. For some fans, getting the perfect piece for their costume may be just a gift to brighten their day. Find out who they cosplay as and get them components of their costume.
Doctor Who Phone Cases
Not all Doctor Who gifts have to be huge. Amazon has a great selection of Doctor Who phone cases. Pick something out and make the Whovian in your life smile.
Doctor Who Bags
Are you looking for a fun gift that will help your Whovian friend share their love of all things Doctor Who? Pick out an awesome Doctor Who bag.
Doctor Who Books
There are many great Doctor Who books out there.  Make sure to give your favorite Whovian the gift of a good read or an adult coloring book to snuggle up with while watching the show.
Cheap Doctor Who Gifts
Looking to spend less on giving a Doctor Who gift to a fan? These Doctor Who gifts on Amazon are all under $25 as of the time I typed this post. Pricing can change. However, these are some great Doctor Who gifts for shopping on a budget.
The most important thing to keep in mind when buying a gift for a Whovian is to make sure you know their favorite Doctor or character. It can really help you to buy a gift that is sure to bring a smile to their face. I know for me, anything Riversong, Tenth Doctor, or Adipose is going to be a win. Still not sure what to get for your Doctor Who fan? Drop me an email and I will help you to find something special for the Whovian you can for. Whovians have to look out for each other after all.