This week my son and I picked up a really fun book at the library knowing that Thanksgiving is coming. The name of the book is Balloons over Broadway. It is the story of the man behind the Macy's Thanksgiving Day Parade balloons. Before he created the balloons, he was very interested in making marionettes. That's why we started this DIY marionette craft.  
DIY Marionette Craft
Supplies:
Newspaper 
Masking Tape
Thin Floral Wire (Dollar Store sells it.) 

Scissors
String
2 pieces of wood 

Start by cutting your wires for the arms, legs, and body pieces. 


For the head, I made a general frame and filled it with newspaper to make it easier to work with. I did the same with the body as the wire doesn't hold its form well. 
At the top and bottom of each piece make sure you form your wire into a hook on one end and a loop on the other. 
Wrap each portion with newspaper. 
Next you will wrap again with masking tape. 
For your feet, you will do a loop like the one above with a hook. 


Wrap with newspaper and tape leaving the hook exposed. 
Connect your marionette pieces using your hooks and loops.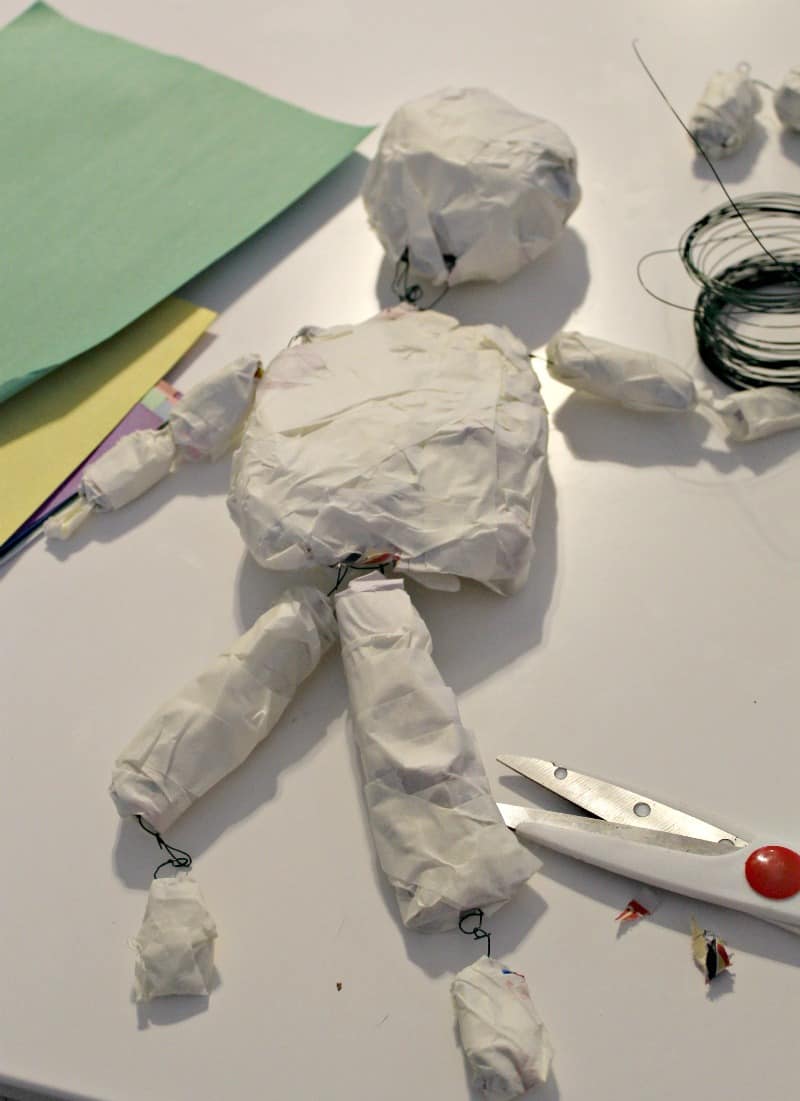 Your assembled marionette will look something like the one above. 
Your next job will be the fun part. Build your marionette some clothes. This is where I would let the kids have a bit of a stem challenge and really have fun with customizing their marionette in the way they want it to look. 

We used construction paper to make ours. You could use felt or any other medium you liked best for yours. 
Use your tape to create your handle for your marionette. Think of a lower cased T when you make this. 
Tie your string or tulle to the wood and to the hooks on the arms and head of your marionette. 
Have fun with your marionette and enjoy the book. 
Do you want to have more fun with the book? 
Have your kids write a story for the marionette and act it out. My son had a lot of fun acting out the story of the man behind the parade using his marionette. 
Do you watch the Macy's Thanksgiving day parade? What lessons have you done focused on the parade?