Disney Villains After Hours Tips
I did go as a guest of a friend who was at this event as media. I was given a face painting and a ticket for the party as her guest. However, all opinions are 100% my own and were not influenced by this.
I've seen a lot of friends talk about the different after hours parties that are being offered and tehy all seemed so fun to me. However, I was immediately excited when I heard about the villains party. You see, I love the villains. I love the story behind them and I love the way that new movies are giving us more of their back stories. When my friend asked me to join her, it was a no brainer. I want to share some Disney Villains After Hours tips for you in case you decide to head out to the party with your friends.
Disney Villains After Hours Tips
Kids can go to this party. This is not adult exclusive. That said, it does run late and from what we saw it was primarily adults in attendance. You could bring your children but know that this party has a very villain centered feel so all shows don't have a happy ending. Instead, the feeling is that the villains own the park now.
Disney Villains Ater Hours Party Food Options
There are some incredible food options available to you at the party both free and at an additional rate. Let's go through some of these so you know how to plan your night.
Free snacks 
As part of the party you will have access to popcorn, popsicles, mickey bars, mickey ice cream sandwiches, water bottles, and 20 oz coke products. These will be available at no extra charge at carts throughout the park.
Purchasable Party Snacks
De Vil's Treat – Casey's Corner
Brownie topped with black and white icing.
Hades Temptation – Tortuga Tavern
Frozen non-alcoholic purple cosmo topped with a gummy worm.
Dr. Facilier's Tarot Card Tart – Sleepy Hollow
Chocolate tart shell, peanut butter filling, and dark chocolate ganache with tarot card chocolate piece.
Headless Horseman Browkie – Liberty Square Popcorn Cart
Half cookie, half brownie topped with Headless Horseman chocolate piece.
Dragon's Breath Float – Storybook Treats
Lemon soft-serve, cherry syrup, and sprite topped with dragon's eyes. (Green cherries)
Yzma's Llama Potion – Cool Ship
"Transformative strawberry chilled concoction covered by an evil cloud.
If you want to enjoy one of the special treats make sure to add these to your schedule for the night. If not, you may find yourself backtracking for a special treat.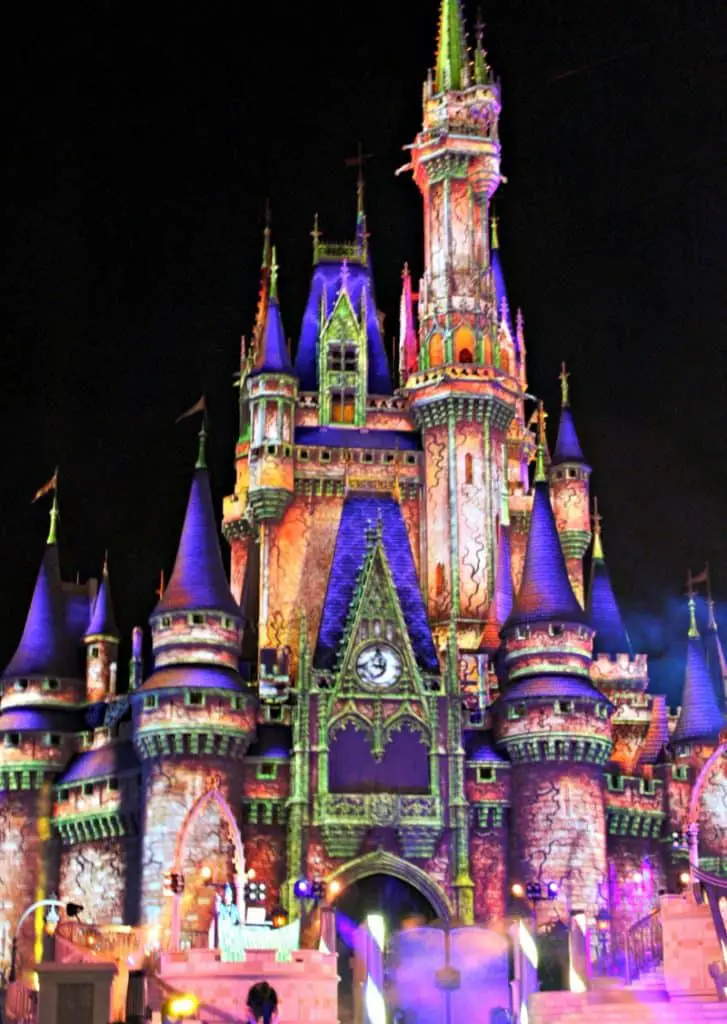 Disney Villains Entertainment
The shining star o the villains party is the Villains Unite the Night stage show. This one time show is the first time you see the villains win the day without all those pesky heroes getting in the way.
Start the party early in front of the castle! 
You will have the ability to dance your heart out as the dj on the stage starts the party before the stage show. We found this was a great way to get a spot for the stage show. Simply pick your spot for the show. We were in our place 20 minutes before the midnight show and were able to be right up front. By doing this, you will have to look over the crowd to get a view of Maleficent. If you want a view of Maleficent, you will want to sit closer to the road but you will have to look over crowds or the stage show.

Prepare for a spooky good show! 
Hades is preparing for the planets to align for his wishes to come true. This show isn't your typical singing Disney stage show. Instead, you will find villains in all of their glory ready to have their deepest wishes granted!
Villains such as Jafar, The Evil Queen, Facilier, and Malificent herself join Hades for this stage show but they don't come alone.
Don't worry. These villains don't come alone. They bring some fiendish friends with them to throw swords, axes, and so much more! This could be scarier for younger children because there won't be any pesky heroes coming in to save the day. Instead, this is the chance or the villains to finally win the night!
Maleficent will appear in her dragon form
Maleficent will come out at night twice, once at 10:40 and again at 11:45. She will breathe fire into the night and it's something you won't want to miss! If you are wanting the best view of Maleficent I highly recommend getting a seat on the street as it will give you the view you need.

Disney Villains Rides and Custom Overlays
One of the main reasons to pay the extra fee for one of the specially ticketed after hours events is to enjoy some of your favorite rides with a lower wait time. For example, this picture of Space Mountain above is only 30 minutes after the party started. There is no line for the ride at all.
Rides with Custom Overlays  
Space Mountain has a villain overlay. The entire ride will go black and you will hear the sounds of many villains.
Pirates of the Carribean also has an overlay. You will see a live pirate interacting with guests in a portion of the ride.
Rides open during the Villains After Hours Party
Swiss Family Treehouse
The Magic Carpets of Aladdin
Jungle Cruise
Walt Disney's Enchanted Tiki Room
Pirates of the Carribean
Splash Mountain
Big Thunder Mountain Railroad
Country Bear Jamboree
Haunted Mansion
Prince Charming Regal Carousel
Mickey's PhilarMagic
Peter Pan's Flight
It's a small world
Under the sea-journey of the little mermaid
The Barnstormer
Dumbo the Flying Elephant
Mad Tea Party
The Many Adventures of Winnie the Pooh
Seven Dwarfs Mine Train
Tomorrowland Speedway
Space Mountain
Astro Orbiter
Tomorrowland Transit Authority PeopleMover
Buzz Lightyear's Space Ranger Spin
The villains even say goodbye
At the end of your night you will get to see the villains say goodnight in a way that is sure to make you laugh. The villains will vary depending on what time you leave. They do most of their interacting in an improv format instead of a scripted format. However, you will not be able to go up to them or do meet and greets.
Tickets and Event Dates
You can get your tickets at https://disneyworld.disney.go.com/events-tours/magic-kingdom/disney-villains-after-hours/
Event dates
Thursday, June 13, 2019
Thursday, June 20, 2019
Thursday, June 27, 2019
Monday, July 1, 2019
Thursday, July 11, 2019
Thursday, July 18, 2019
Thursday, July 25, 2019
Thursday, August 1, 2019
Thursday, August 8, 2019
So what did I think of the Villains After Hours Event?
I will be honest. I would not plan this event with kids. It has more of an adult night out feeling to it than a family time feel. With no meet and greets and late hours this definitely felt like it was geared towards an older demographic. If you want spooky for kids, I would recommend doing the Not So Scary Halloween Party instead. It would have more of the feel you are going for.
Now, if you were going to this event for a girl's night out or a date night than I think it is a much better option. Ride rides, see a top-notch show, have a castle front dance party, enjoy free snacks, and so much more! I definitely recommend this as a fun way to spend time with people you want to have a great time with during the summer months without the hotter parts of the day or the crowds.
Is it worth the price tag?
When I saw the price for Disney Villains Ater Hours I have to admit I cringed. It seemed like a hefty price tag. Now, a 1-day park ticket is $109 and gives you access to the park for the day. With a one day ticket you will not get any of your food free.
With the Villains After Hours event ticket you are paying $139 for a party from 10:00 PM until 1:00 AM.
Mickey Bars cost $5.75. Mickey Ice Cream sandwiches cost around $5 and so does the popcorn. Water bottles are an average of $3 each in the theme parks.
So let's say for argument's sake that you get a ticket to the party, have popcorn, a drink, and a frozen treat twice in the night you would be getting value of about $137.
The question you have to ask yourself is, is it worth the decreased ride wait times and the unlimited snacks/drinks to get this exclusive experience?
I highly recommend skipping a day in the parks for an evening out i you are going to visit this event.
Looking for more?