Disney Educational Programs for Kids
I did receive 2 park tickets in order to facilitate my review. All opinions shared here are 100% my own. 
We love to spend some time together in the Disney parks. There are so many incredible learning opportunities. While it isn't hard to find educational moments in the parks, sometimes it is great to have a little help. We spent some time last week with the Disney Youth Education Series representatives to learn more about the Disney educational programs for kids. After spending a day with them, I have learned a great deal and I can't wait to share more!
Disney Educational Programs for Kids
I will try to share some of the highlights of our trip as well as a roundup of some of the program offerings Disney has.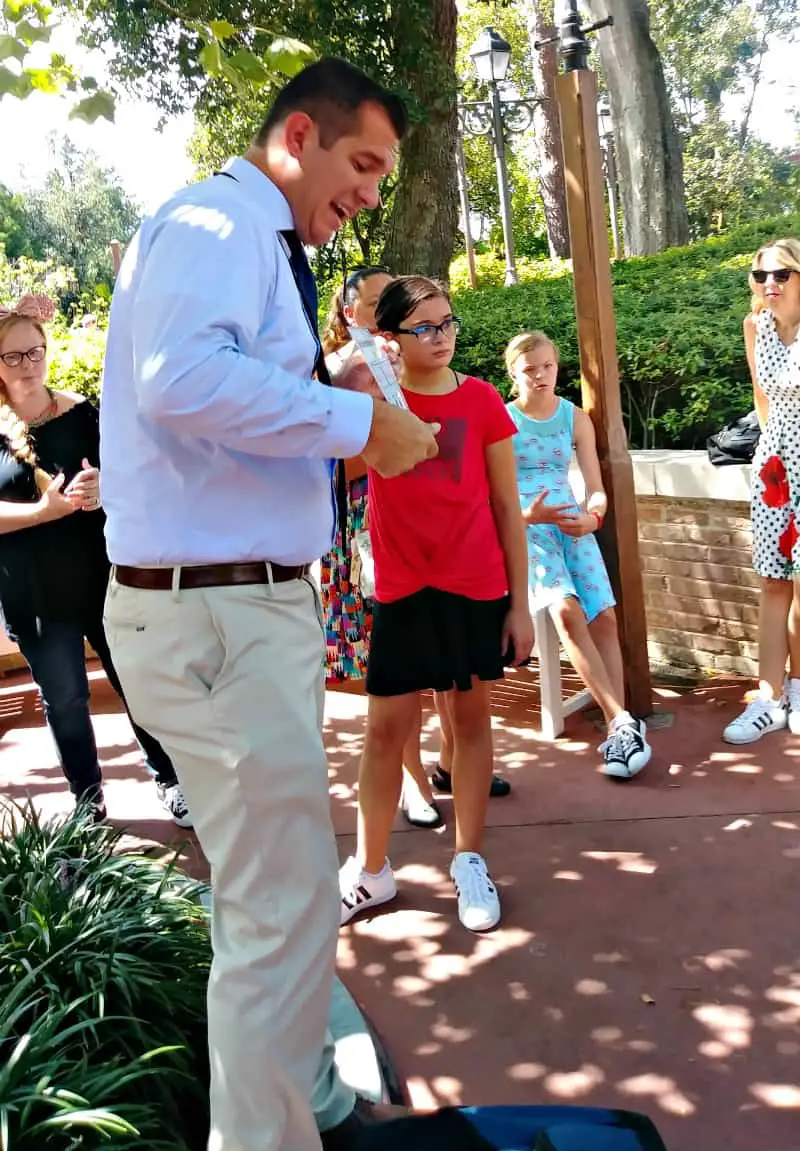 When we visited the park we had the opportunity to preview some of the Energy and Waves educational program. We did not check out the whole program but we had a blast checking out a portion of it and it was so amazing.
There were some amazing questions asked to challenge the kids to get thinking. Here are a few of the questions they asked.
How far away is the sun?
How does light travel?
What are 3 things light can do?
Where do we get ultraviolet rays?
What kind of things glow?
It was so impressive to watch kids of different ages as they were completely engaged in the discussion about light.
Questions like the ones above are a natural part of the conversation as you walk around the park for the course. Even more amazing is the conversation between the cast member and the children as they worked from their knowledge base and found quality answers to questions that made them think.
One of the things that I loved about this course was the fact that the kids genuinely enjoying talking to each other about the rides they will ride and the concepts they are learning.
What is the point of education in the parks if you don't take some of the time to ride the rides and see some of the Science behind them?  One of the beautiful things about this educational trip is that you will actually ride a few of the rides and learn about the Science behind them. We had the opportunity to ride the ride and then we were able to go behind the scenes of the ride and see one of the key scenes in action.
I won't spoil anything. I will say that this tour was amazing because I now understand how the Dancing Ballroom Ghosts dance! Some would say it steals the magic, but I think it makes the experience even more magical.
After spending some time on the ride, head out with your guide to discuss what you've seen and see if the kids are able to spot the science they learned about before getting on the ride. It was incredibly impressive to me that each of the children took what they learned and applied it so quickly by looking for the concepts on the ride.
We also had the great honor to see the area where many of the student performers prepare for their performances before becoming a Disney Cast Member for a Day. I have included many of the incredible programs below for you to check out.
Disney Educational Workshops
Each of the links below will take you to the information site for that course. You will also be able to print classroom supplies to go with your trip or for after the trip.
Everyday Chemistry – Learn more about Chemistry in this hands-on workshop in Epcot.
Some of the things your children will learn are:
Define photosynthesis
Illustrate the role of carbon, hydrogen and oxygen in sources of energy
Demonstrate how elements can be manipulated to create substitutes
Demonstrate how elements are the building blocks of everything
Build a model of a water molecule
Build a model of a glucose molecule
and more!
Energy and Waves Physics Lab – Learn more about Energy and waves while examining the electromagnetic spectrum. Some of the things your children will learn are:
Articulate a variety of forms of energy
Define and demonstrate a compression wave
Define a medium
Demonstrate and articulate how solids, liquids and gasses affect sound
Articulate the factors that may affect the speed of sound
Define acoustics
And More!
Discovering Marine Life Conservation – Learn more about marine life and conservation at The Seas with Nemo and Friends in Epcot. Some of the things your children will learn are:
Use a problem-based approach to develop ideas and make effective conservation decisions
Increase their awareness of adverse human impact on marine environments
Be encouraged to take an active role in the preservation of marine life and their habitats
Discuss some of the challenges faced by sea turtles and other marine animals in the wild
and more!
Principles of Animal Behavior – Learn more about animals and their behavior as you see exotic animals in their natural habitats. There are also some hands-on learning options. Some of the things your children will learn are:
Articulate the difference between looking and making observations
Distinguish between instinct and learned behaviors
Model a survival technique utilized by cotton-top tamarins
Analyze Africa's biomes through its various landscape characteristics
Complete a food web and consider how it affects wildlife populations
and more!
Properties of Motion Physics Lab – See force, motion, and gravity at work in popular Magic Kingdom rides. Some of the things your children will learn are:
Identify and define speed, velocity and acceleration
Articulate the concepts of hydraulics and pneumatics
Define and demonstrate Newton's first law of motion
Define gravity
Demonstrate gravitational effects
and more!
The Science of Disney Imagineering: Gravity – How do Disney imagineers use gravity to help make their rides work?  Some of the things your children will learn are:
Be familiar with Newton's first law of motion
Be able to differentiate between balanced and unbalanced forces
Demonstrate how force and mass affect the acceleration of an object
Explain how Walt Disney Imagineers used an understanding of gravity and Newton's laws of motion to create the free-fall effects seen/experienced in The Twilight Zone Tower of Terror™ attraction
and more!
The Evolution of Technology – Find out how human needs and wants drive the development of technology. Some of the things your children will learn are:
Articulate the role of mathematics in the development of technology
Discuss the influence that advancements of available technology have on technological change
Discuss the impact of governments on the development of technology
Discuss ways in which social and economic forces influence which technologies will be developed and used
and more!
Science Behind the Seeds

The Science Behind the Seeds program, which takes students through Living with the Land at Epcot at Walt Disney World Resort, is a hands-on exploration of how science, technology, sustainability and teamwork combine to generate potential solutions to meet the needs of a growing population. Students will gain a comprehensive understanding of how plants are cultivated, about technologies that protect plants from pests and diseases without pesticides, as well as about new techniques to grow plants without soil, using mineral-nutrient solutions in a water solvent.
Students will also learn how to implement some of these processes at home, as well as discover new fruits, vegetables and grains for their own gardens.
Performing Arts
All of these courses are aligned with core standards. You can see more information about this at the link associated with each course.
You're Instrumental: Young Performer Edition – Get kids started on performing an instrumental piece and Disney will set it to an actual Disney trailer and send the students home with a copy.
Candlelights Processional Performance – Your choir can join a celebrity narrator for a retelling of the nativity story in Epcot and be a part of the magic.
Acting 101 – Looking to hone your acting skills? This Disney Performing art workshop might be just what you need.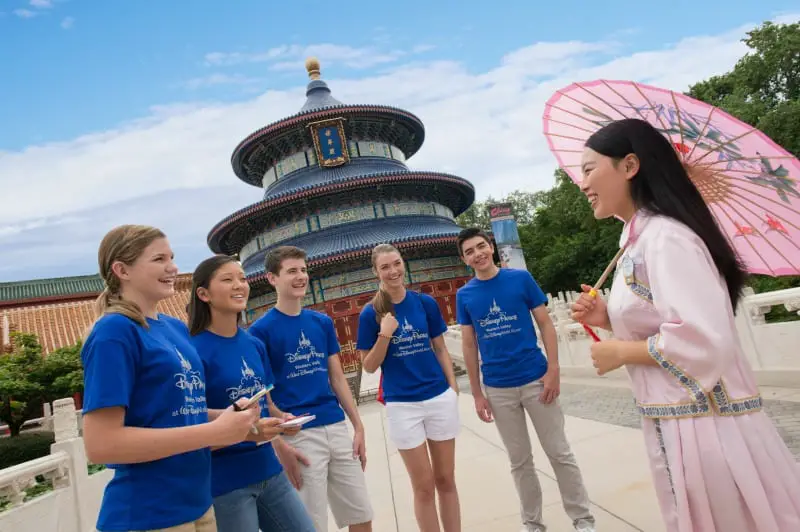 Can homeschoolers go to Disney Youth Educational Programs?
Disney Youth Education Series programs are available to any youth organization — including scouts, camps, daycare centers and religious groups that meet the group size requirement of 10 or more students. This includes homeschool groups as well! As long as there are 10 or more students coming in a group, they can participate in a YES Program. Pricing is the same for all groups, and more info on pricing – as well as more overall information regarding the entire list of Disney Youth Programs offerings, can be found on DisneyYouth.com.