We did receive tickets and our photos at Clearwater Beach Aquarium. However, all opinions are 100% my own. 
We've been trying to set up a trip to Clearwater Beach Aquarium for quite some time. Every time we try to go something happens. This week we finally made the trip over to Clearwater and I am so happy we finally made the trip. Now I am going to share some tips and tricks for visiting Clearwater Beach Aquarium.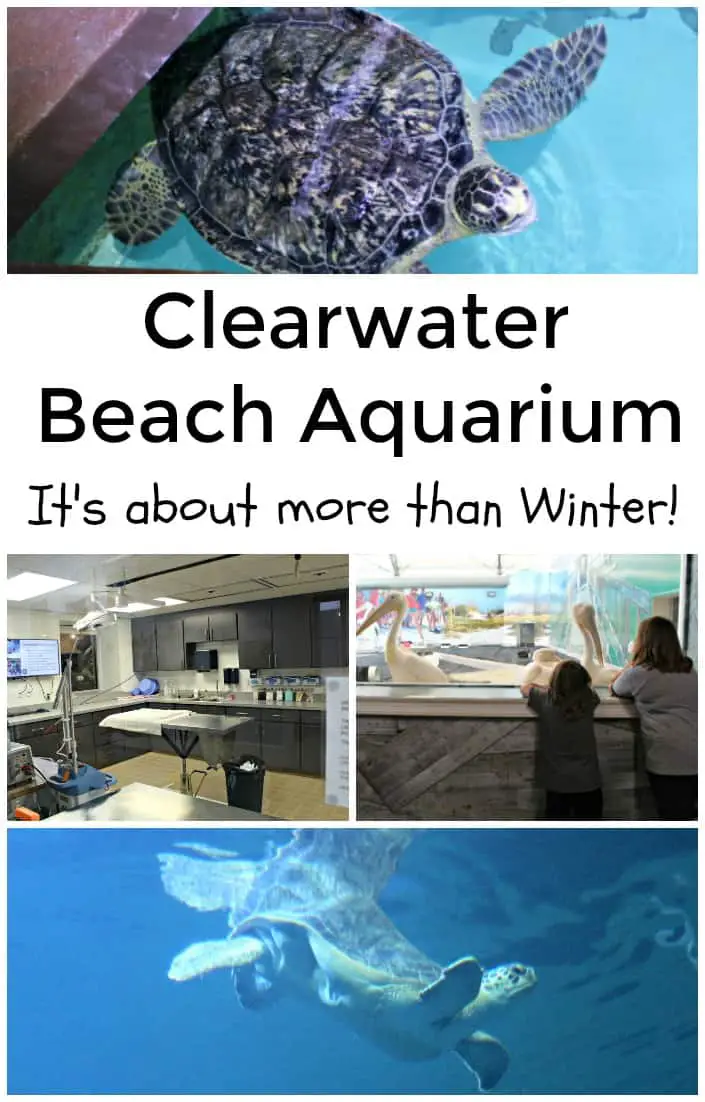 Clearwater Beach Aquarium Tips and Tricks
Take some time to check the schedule. 
It can be easy to take the aquarium at the pace it comes. However, there are some incredible experiences to be had if you are willing to check the schedule and see what times things are happening. There are talks, shows, and amazing experiences like the scuba divers pictured above that you could miss out on. 
Take time to talk to the staff. 
There are some incredible people working at Clearwater Marine Aquarium and they are very passionate about the work they do there. Spend some time and let them teach you all about the facility, the animals, and the care they receive. Your child will leave better for it. 
Spend some time in the surgical suite. 
Not only is the surgical suite an amazing facility for the care of all of the animals Clearwater Marine Aquarium cares for, but it is also a great opportunity for people to learn more about conservation and care. This is a working surgical suite where they will actually be working on animals. The only time the windows are closed is if it is too much for the animals to handle or if the procedure is too involved for children to observe. 
Learn more about the animals in their care. 
Through a one sided glass window, you can see many of the animals that are being cared for by Clearwater Marine Aquarium. Make sure to look up at the mirrors as you can see some of the animals in the tank. Read the dry erase board to learn more about each of the animals. Don't miss some of the fun names they have chosen. 
Don't miss the Standing Deck! 
Whether it rains or not, make a point of visiting the standing deck. Not only can you get an amazing view of the bay, you can also see Nicholas and see some of his training. Nicholas is such a beautiful dolphin and worth the trip up! 
Don't be afraid to linger. 
As parents we can be tempted to rush through attractions. I would challenge you to slow down and just let them experience it at their pace. You may spend 20 minutes with a pelican but the memories your child will have are worth everything! 
Things we learned at Clearwater Marine Aquarium today. 
I'm going to try to list out a few of these as they really did interest me. 



Hope and Winter were found on the East coast of Florida and were driven 4 hours to Clearwater Marine Aquarium. 
Hope and Winter were found 5 years and 1 day apart and celebrate their birthdays in October. 
If you find a beached animal, do not return them to the ocean. Call for help. Animals beach themselves when they are sick in order to die. 

Dolphins can live up to 40 years in human care. 
The aquarium trainers use positive reinforcement with all of the animals. 
Nurse sharks will only eat a pound of food four times a week. (normal for them) 
All funding comes from donors and ticket sales. They do not receive royalties from the movies. 
Vet areas were built for sets for the movie and then donated to the facility. 
Animal releases go live on Facebook. 
Rescue animals will go back to where they were rescued from if they are released. 
Clearwater Marine Aquarium is expanding. 
There are some big changes coming at Clearwater Marine Aquarium. They will be building a larger facility to give them the ability to do more for the animals in their care! 
See more in our YouTube video!