As a Central Florida family, we love to head out on adventures and explore the Central Florida area. So many of the times people visit our area and ask how they can best enjoy their visit. Whether you are coming to Central Florida for a family vacation or to enjoy a little bit of the local fun, you are sure to find everything you need to know here. Don't miss these Central Florida travel tips and share them with a good friend.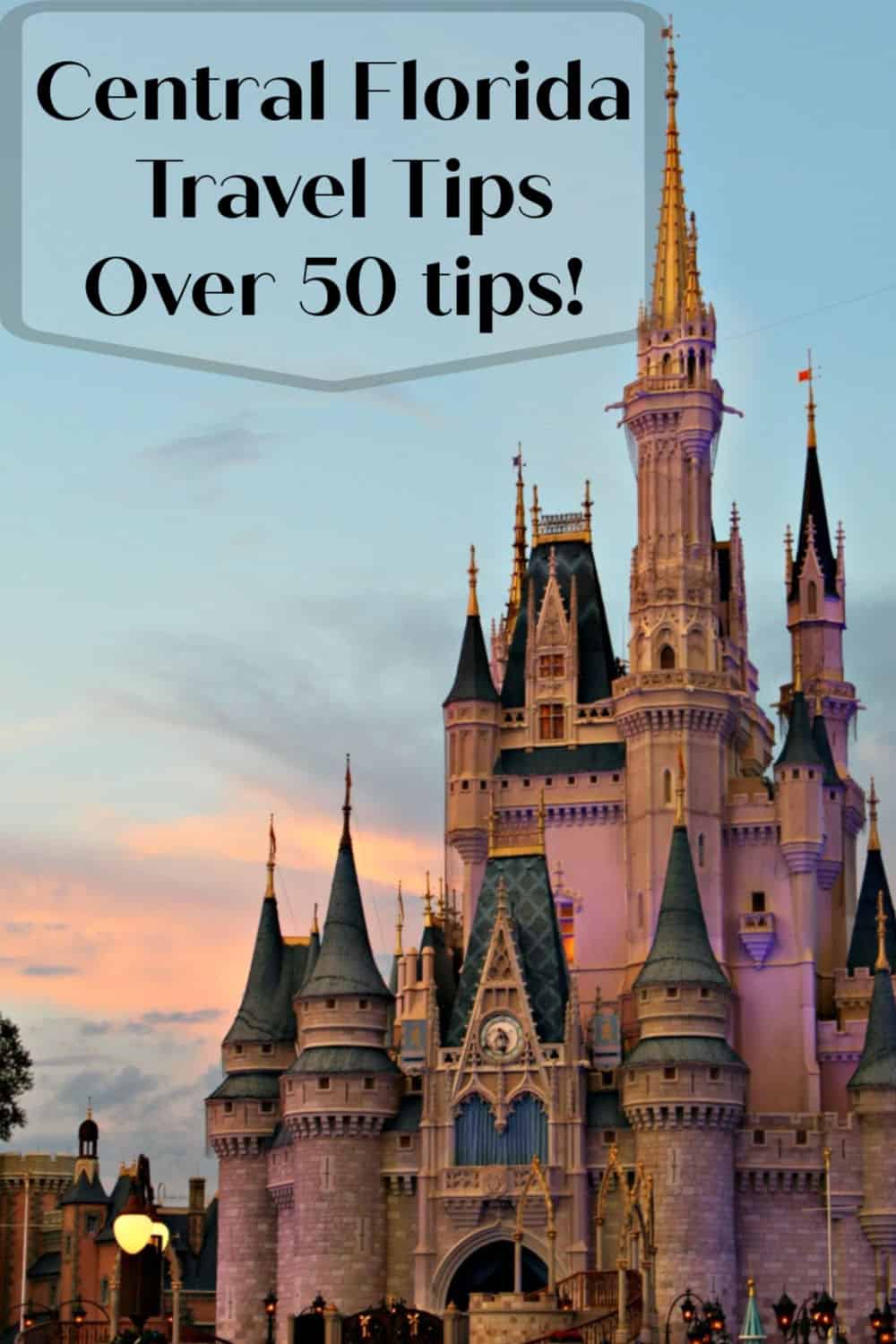 Central Florida Travel Tips
Index:
1. 5 Disney Travel Tips
2. 5 Universal Studios Travel Tips
3. Sea World Travel Tips
4. Busch Gardens Travel Tips
5. 5 Central Florida Halloween Attractions and Activities
6. 5 Central Florida Christmas Attractions and Activities
7. 5 Tips for staying at hotels and resorts in Central Florida
8. 5 Central Florida Attractions to Visit that aren't theme parks
9. 5 Tips for packing for your Orlando vacation
10. 5 Tips for Surviving Central Florida Heat
5 Disney Travel Tips
A visit to Disney lives on many people's bucket lists. I didn't make my first trip to Disney World until I was 20. It just wasn't possible or my mom to make happen for us. When my husband asked if I wanted to go, I jumped on the opportunity. I have learned so much about making the most of a Disney vacation in the last 15 years of Disney vacations.
Take advantage of money-saving tricks
One of the first things many people tell me about planning a Disney trip is that it is so expensive. It feels like it isn't possible for them to enjoy a Disney vacation with their budget. There are some easy ways to make a Disney vacation more of a possibility.
3 Money-Saving Tricks for a Disney Vacation
Buy discount gift cards. – Some of your places like Sams Club and BJ's will sell you Disney gift cards for less than full price. This may be a savings of $10 here and there but that $10 can add up over time. Target also offers discounts for Red Card members. Buy these throughout the year as you save for your trip. You can use them to pay for tickets or food and merchandise in the parks.
Be willing to stay off property. – While Disney has some of the most amazing resorts you will find, some o them can be more pricey. Staying offsite gives you the ability to save a bit on your resort and spend that money on other areas of your vacation.
Bring food in with you. – Disney has some of the most delicious foods you'll ever try. However, if you are on a budget it is completely ok to bring in some of your food items to eat while in the park. Coolers are not allowed. If you want something with a cooler, you will have to go back out to the car for that.
Plan your food for Disney
Disney is home to some incredible restaurants for every flavor profile. You can pick from a variety of meals that are magical and delicious! Some of the menu options will be a part of your dining plan while others will not. Picking a quality Disney restaurant can be difficult but it is not impossible! Here are a few tips for planning your food for Disney.
3 Tips for Planning food for Disney
Take advantage of the Disney Dining Plan. If you are booking a vacation package you can either purchase a dining plan or get it included in your package for free. With the dining plan, it gives you the ability to eat at different locations without paying out of pocket.
Make reservations in advance. Many of the sit-down restaurants will have minimal reservations on the day of your trip. Make sure to book these in advance if you have your heart set on a specific restaurant. You will also want to keep in mind that these will require a good portion of your day as sit down meals can take over an hour.
Bring food with you if you are on a budget. You don't have to eat in the parks if it is not in your budget. We have been known to pack a few of our meals and do one quick service meal for the day instead of eating the entire in the park.
Enjoy Disney with kids and teens
There is something so magical about taking kids and teens to Disney. Many people will tell you that it can be stressful and it can if you do it the wrong way. However, we've learned a lot about babies, kids, and teens to Disney over the years. Here are a few of the things that have helped us out the most.
3 Tips for taking kids to Disney
You won't do it all! It can be easy to try and pack it all in. You will not meet every character on your list, see every show, or ride every ride. Set realistic expectations and pick a few things you want to do instead of focusing on the things you missed out on.
Don't skip naps. It can be tempting to run full speed all day. However, if you have a child that naps the last thing you want to do is push through the day without those naps. Find a good place in the park or head back to the hotel to make sure those naps are still prioritized. You will have a better time if you do.
Pack snacks and things to do. You will spend a lot of your Disney vacation waiting in lines and waiting for things. Having snacks and small toys or activities in your bag will help you to keep kids entertained on long waits.
Plan your Disney day
You've been saving up for this Disney trip for a while. How do you plan your Disney day to get the most out of the experience without feeling like you missed out on something? With all that the parks have to offer, it can be easy to deal with the fear of missing out on something. In all honesty, you will miss out on some things. You just can't experience all Disney has to offer on one trip.
3 Tips for planning your Disney day
Have realistic expectations. You can't do it all in a day. Make sure that you have realistic expectations for your day. What are the things you absolutely must see? Give those the priority and be willing to sacrifice certain things.
Be flexible with your schedule. Don't make the mistake I see so many people make. Don't have a schedule that is so regimented that there is no wiggle room. You will miss out on some serious pixie dust if you have your schedule too strict.
Book fast passes in advance. Do you have your heart set on a specific ride? Book your fast passes early and before you ever leave for your trip. This will give you a better chance to get on a ride you want without waiting in long lines.
Plan a Free Disney day
Not only does Disney have some incredible things to offer in the parks, but they also have some fantastic offerings in their resorts and at Disney Springs. If you are looking to avoid burnout on your Disney vacation, plan a free Disney day. There are many free things to do outside of the parks with the family that will let you have a slower-paced day.
3 Tips for Free Disney Fun
Spend a day at Disney Springs. Disney Springs has a huge variety of free activities as well as stores to do some window shopping. We love to check out all the fun merchandise and end the night letting the kids dance with the DJ that is usually set up. During the holidays you can also stroll through the trail of trees.
Go Pin Trading. Buy a lot of Disney pins before heading to Disney. You can trade pins with cast members at hotels and Disney Springs. You can even trade pins at the outlet.
Go hotel hopping. You can take buses or other forms of Disney transportation to visit the different Disney resorts. Each one is themed differently and has its own unique treasures to find. We love to finish our hotel hopping day at the Polynesian with a Dole Whip and some fireworks.
Looking for more Disney posts?
10 Things to see and try at the Epcot Flower and Garden Festival
Blaze Pizza at Disney Springs Review 
Blizzard Beach Tips and Tricks
Disney Springs Scavenger Hunt  (Includes Free Printable!)
Epcot Food and Wine Festival Guide  (Includes Free Printable!)
Educational Options at the Flower and Garden Festival
Hollywood Studios Summer Tips
How to take a baby or toddler to Disney
Pin Trading at Disney Springs
Things to do at the Animal Kingdom this Summer
Villains After Hours Tips
What Moms Need to know about Toy Story Land
5 Universal Travel Tips
Universal Studios in Orlando is the magic of a completely different variety. Movies, books, and your favorite characters come to life in this larger than life theme park. Many people say this is the park for older kids, teens, and adults but there are ways to enjoy this park no matter how old or young you are. I wanted to share 5 Universal travel tips with you to help you enjoy the magic.
Best ages for Universal Orlando
A lot of people will ask me what age their children should be when visiting Universal for the first time. I think a lot of this will depend on the type of experience you want for your child. There are some attractions for younger children but many of the attractions are targeted towards older children.
3 Things to consider when deciding if your child is old enough for Universal
Are they tall enough for the rides? It can be so disappointing when you are younger to miss out on a ride because of your height. While there are many rides in Islands of Adventure with shorter riders in mind, Universal doesn't have as much for shorter riders. Make sure to look at ride height requirements before bringing a younger child.
Are they easily scared? Some of the themes of the rides are more intense. If you have a child that is easily scared by loud noises, violence, or intense scenes you may want to wait until they are a bit older to visit the park.
Do they have sensory sensitivities? Many of the rides at Universal and Islands of Adventure work on a 3D moving car system. If your child has sensory sensitivities it may be better to wait until they are a bit older. My daughter asked that we wait until she was older as she was afraid of moving seats. We waited and now she loves it at Universal!
Bring a ___ fan
Because Universal and Islands of Adventure bring so much to life you want to go with a fan of one or more of the many themes represented. I took my Harry Potter fan and it took her breath away. Each of the lands is so immersive and lets you feel like a part of your favorite thing.
3 Tips for bringing a ____ fan to Universal
Plan to spend more time in their favorite area. With the immersive atmosphere of many of the lands, don't be surprised if the fan in your life wants to spend as much time as possible living their adventure. This may mean sacrificing time in other areas of the park to make them smile.
Have a budget before going in. If you don't the fan in your life will want to buy all the things. Logic disappears and they will want everything. Have a budget before going in and you will avoid some of the impulse buys.
Be ready to go in costume or with a branded shirt. There is something about being a part of the magic. It's not good enough to visit the world of your favorite thing. It's even better to go in costume or wear a shirt representing your favorite thing. Make sure to look at the guidelines before visiting.
Save money on your Universal Orlando vacation
While visiting a theme park can be amazing, it can also get pricey quickly. There are a lot of ways to save money on your Universal Orlando vacation if you are careful about it. Keep in mind that there are other discounts and there will often be different deals that may come up throughout the year.
3 Tips to save money on your Universal Orlando vacation
Book a package. There are package deals with hotels and theme park tickets that can help you to save some money on your Universal Orlando tickets. Your savings will vary depending on the resort you choose to stay in.
Watch the website for deals. There are often discounts and deals running during the year. Watch the Universal Orlando website for deals and discounts that might help you to save on your Universal vacation.
Take advantage of Florida resident discounts. Florida residents get a discount on their tickets. Make sure to take advantage of discounted rates for your Universal vacation.
Hotels and Resorts near Universal Orlando
Universal Orlando is not very far off of International Drive and offers you a multitude of options. There are hotels affiliated with Universal Studios and those that only offer a shuttle service to Universal. Picking a hotel or resort for your Universal Orlando stay doesn't have to be confusing. I have a few tips for you.
3 tips for picking a hotel for your Universal Orlando trip
Check rates and packages at Universal hotels and resorts. Many of the resorts and hotels will have special rates. We stayed at Cabana Bay and loved the closeness to the parks and some of the extra amenities they offered.
Look at off-site hotel options. There are some fantastic off-site locations within walking distance of the parks. Make sure to check reviews before booking.
Check shuttle frequency and amenities. You will want to make sure to look into how frequently shuttles run and what amenities the hotel offers. Things like free breakfast may be a perk but things like shuttles who don't run frequently enough might be a deal-breaker. Look at the whole picture when picking your resort.
Deciding which Universal tickets you need
When booking a magical adventure it can be really hard to decide how many days, which parks to visit, and how many tickets you will need. I know that I often have readers who ask me whether they need to get tickets to both Universal and Islands and how many days it would take to experience it all. A lot depends on the festivals and events happening at the time and the shows you take in at the resorts but I have a few tips for you.
3 Tips for deciding which Universal tickets you need
You will need a park hopper for riding the Hogwarts Express. If you have your heart set on riding the Hogwarts Express you will need to get a ticket that allows you to go to both parks on the same day.
Each park will demand a minimum of a day. There are so many things to see and experience that you will want to dedicate a minimum of a day to each park.
Take events and festivals into account. Events like Mardi Gras will impact how you invest your days in the park and may leave you wanting to spend more time than originally planned in the parks. If you are planning to go during these events, plan an extra day or two to enjoy the entire experience.
Looking for more Universal posts?
10 Things I wish I knew about Universal Studios
10 More Things I didn't know about Universal Studios
Cabana Bay Resort for Families
Mardi Gras at Universal for Families
Taking a Harry Potter Fan to Universal Studios
Universal Studios for Families
Sea World Travel Tips
Are you planning your first trip to Sea World Orlando? A lot has changed in the park from just a few years ago and they have so much to offer families and travelers of all ages. Whether you are a thrill-seeker, love shows, or want to learn more about animals, you are sure to have a blast. Sea World also offers a more budget-friendly theme park ticket for those who can't fit larger parks into their budget.
I took some time to put together some Sea World travel tips to help you make the most of your Sea World trip.
3 Tips for Planning a Sea World Trip
Watch out for sales. Sea World runs some fantastic sales on their tickets throughout the year. Some of the best sales you will find on tickets and annual passes will come around Black Friday. You can see these promotions on their social media channels and their website. There are also Florida resident discounts and other BOGO specials.
Take advantage of food and drink all-day deals.  Sea World Orlando has a dine all-day option and a refillable drink option. Both of these are great ways to enjoy food and drinks while in the park without stressing your budget. There are some fantastic food options included and you can make that money stretch.
Check park maps and schedules. The park maps and schedules will help you to plan your day in a way that will let you see the most of your hope-for-list. Keep in mind that show times change daily and depend on the weather. I also highly recommend keeping an eye out for the splash zones to avoid getting soaked if you don't want to!
Looking for more Sea World posts?
Busch Gardens Travel Tips
Busch Gardens brings a combination of thrills, shows, and animal adventures that aren't to be missed. A ticket to Busch gardens costs a fraction of the price of sober of their larger competitors and you can still have an amazing time exploring all they have to offer. This park does a fantastic job of offering attractions and shows for all ages. From Sesame Street Land to the thrills of Sheikra there are experiences for everyone!
I wanted to take a few minutes and offer some tips to help you make the most of your Busch gardens trip.
3 tips for your Busch Gardens Trip
Watch for deals. Busch Gardens offers since great deals at different times throughout the year. The best time of year to keep an eye out for deals is black Friday. They often offer BOGO tickets or annual passes. There are different discounts that run year-round though. Keep an eye on their website or social channels.
Check park maps for showtimes and animal feedings. It can be so incredible to learn from the keepers about the animals during feeding. Check your park map for times and locations. There are also some fabulous shows. I'm a huge fan of the ice show they have and try not to miss it.
You can spend multiple days here and not see it all. Some will think that this park isn't as large as some of the other parks in Central Florida so it can be a one day park. However, there is so much to see and so much going on all day long that you really can't see it all in one day. Plan to spend more than one day at Busch Gardens but know you can still have an adventure if you only do one day.
Looking for more Busch Gardens posts?
How to enjoy Busch Gardens in the summer heat
5 Central Florida Halloween Attractions and Activities
There is just something amazing about the spooky season! In Central Florida, we don't get pumpkin fields and cold weather. We make our pumpkin treats and fake it with the best of them. However, we do Halloween well! Without the cold of other parts of the country, we can wear fun costumes and head out without worrying about being too cold. I want to share 5 Central Florida Halloween attractions and activities to help you make the most of your Central Florida Halloween.
Mickey's Not So Scary Halloween Party
This will always be one of my favorite Halloween activities in Central Florida. There's just something so magical about Disney at a specially ticketed party. It's even better when it's spooky and all of the amazing Halloween music starts to play. It's also my favorite event because my teen can have all the fun of trick or treating without any of the judgment for being a teen.
3 Tips for Mickey's Not So Scary Halloween Party
Get your tickets in advance. Tickets will sell out the closer you get to Halloween. Make sure to order your tickets for the nights you hope to attend in advance. This will help you avoid missing out on an excellent party.
Have realistic expectations. The party is packed with tons of incredible things to do. Whether you are trick or treating, watching shows, meeting characters, or even riding rides, you have so much you can do. Set realistic expectations about what you will be able to do when you go and you will enjoy yourself more.
Dress in layers to accommodate Florida weather. It could be hot. It could be cold. There is no way of knowing which one you will end up with. Dressing in layers will help you to be prepared for a cold night or take things off for a hotter night. Florida weather can be so erratic.
See more Mickey's Not So Scary Halloween Party Tips
Mickey's Not So Scary Halloween Party – A Teen Halloween Alternative
Mickey's Not So Scary Halloween Party with Sensory Issues
Planning a Not So Scary Family Costume
Legoland Brick or Treat
Legoland also offers a Halloween event called Brick or Treat. This event is not a separately ticketed event. Because of this, you may find that you get fewer treats overall than a separately ticketed event like Not So Scary. However, it also means that you are not paying an added fee to experience it or having to worry about missing the event due to things selling out.
I have a few tips to help you enjoy the event with your kids while having a great day at Legoland.
3 Tips for Legoland Brick or Treat
Check event dates. Most years Brick or Treat will run only on the weekends. You will want to check the Legoland Site for more information on specific dates and offerings.
Bring costumes along. You will have the freedom to dress up but you may not want to spend your entire park day in costume. Bring costumes in the car or a backpack so you have them when the kids want to dress up.
Enjoy some of the themed events and meet and greets. You don't want to miss some of the fun things about Brick or Treat such as the themed shows, Lego builds, and character meet and greets.
See more Legoland Brick or Treat Information
Brick or Treat at Legoland Florida
Sea World Spooktackular
Sea World is another park that offers a Halloween event targeted at families. Children can visit treat trails, dance at a dance party, and so much more. This event is included in your ticket price and runs select nights in October. This is a great way to make your Sea World day of fun even better.
3 Tips for Sea World Spooktackular
Check event dates. Spooktackular runs select nights in October. Make sure to check with the Sea World website for times and dates.
Check out Halloween themed overlays. Shows and attractions with have Halloween theming added to them. They've even added in a Halloween parade!
Bring a bag for candy. While you won't leave with tons of candy, you will have the opportunity to collect some candy on the treat trails during this event.
Busch Gardens Howl o' Scream
Howl o' Scream is Busch Gardens Tampa's Halloween event. This event is not created for families. Instead, this event is created with a different demographic in mind. This is a separately ticketed event and takes place after the day guests have left Busch Gardens.
You can read more about this event on the Busch Gardens website.
Halloween Horror Nights Universal
Halloween Horror Nights is a Halloween event at Universal Studios Orlando. This event is filled with scare zones and scaractors. This is not an event targeted at younger children and has a minimum age for attendance. This is a separately ticketed event. Make sure to get tickets in advance so that you don't miss out because of tickets selling out.
5 Central Florida Christmas Attractions and Activities
Central Florida is a tourist location for many who hope to leave the cold where they are and come warm up with some Christmas magic Florida style. So what do you do if you are visiting Central Florida during the holidays? There are 5 great events among many of the other things offered in the Central Florida area that are worth trying out. Let me share 5 Central Florida Christmas attractions and activities.
Mickey's Very Merry Christmas Party
One of the highlights of my holiday season is Mickey's Very Merry Christmas Party at Disney's Magic Kingdom. All of the magic of Christmas comes to life at the Magic Kingdom combined with cookies, cocoa, parades, stage shows, and so much more! This is a separately ticketed event and I highly recommend getting your tickets in advance. The event will sell out the closer to Christmas you get.
3 Tips for Mickey's Very Merry Christmas Party
Get tickets early! This event has been known to sell out months in advance. Make sure to get your tickets for the day you hope to visit in advance so that you can enjoy your party night without worrying about it selling out before you get your ticket.
Dress in layers. Florida weather can be very unpredictable. It could be cold, hot, or both on the same night. Dress in layers. This will give you the chance to be warm if it is colder or take off layers if it is too hot.
Plan before your visit. There is a lot to see and do at the party and you will not be able to do it all. Plan to make sure that you can see the things that matter most to you during the party.
See more posts about Mickey's Very Merry Christmas Party
Mickey's Very Merry Christmas Party on a Sold Out Night
Mickey's Very Merry Christmas Party Tips and Tricks
Holidays at Universal Orlando
Universal Studios Orlando has some special activities for you during their holidays at Universal Orlando event. While I haven't been to this event, I hear that there will be special decorations for Harry Potter fans and a special light show on the castle. There is also a Macy's Holiday Parade that runs at Universal and Mannheim Steamroller will be performing for park guests on select nights. You can also experience the Grinchmas Holiday spectacular with your favorite Grinch or sit down for a character meal. (Costs extra)
Many of the resorts will also be offering special holiday experiences and decorations you won't want to miss out on. Read more about it on the Universal Holiday page.
Christmas Bricktackular
Legoland has its holiday event that is a lot of fun for families called Christmas Bricktackular. This event is included with your park ticket. At this event you can see a lego Christmas tree lighting, watch some really cute holiday shows, and event meet Lego Santa and a Lego Toy Soldier! There are also special photo opps and Lego builds that add a touch of something special to your holiday.
Legoland Florida is also adding a special hotel event to give you some special experiences while staying on property. Read more on the Legoland Holiday Page.
ICE at Gaylord Palms
ICE is a popular event every year at the Gaylord Palms Resort. Each year the theme will change as there are 2 million pounds of ice formed to represent your favorite theme. There are also other special events in the hotel including Cirque Dreams, Mrs. Clause Christmas traditions, and so much more! You can read more about our experience at ICE last year.
Sea World Christmas Celebration
Sea World Orlando runs a Christmas Celebration every year that is included with your park ticket. This event offers you a few different special experiences that are themed around the holiday season. You can find special shows on ice, character meet and greets, and a beautiful light show on the lake. This is a fun event to add to your Central Florida vacation.
5 Tips for staying at hotels and resorts in Central Florida
Central Florida has some of the best resorts and hotels you'll find and there are some gorgeous properties you won't want to miss out on. However, it's so important to find the best hotel or resort for your stay. Let me share 5 tips for staying at hotels and resorts in Central Florida.
Look at resorts/hotels on property for the attraction you are visiting.
Universal, Disney, and Legoland all have their private resorts and hotels on property. These resorts will have a more premium price point. However, they will also offer perks such as early park entrance, theme park shuttles, and so much more! Look at the resort you are considering when planning your trip and decide whether it's worth paying a bit more to get some of the perks that come with staying there.
Read more about Central Florida Resorts:
Cabana Bay Resort at Universal Orlando
Vero Beach Resort by Disney
Consider options that are off property.
Sometimes staying on property doesn't work with the budget as much as you would like it to. If that is the case, look at locations that are close to the parks but not directly owned by the parks. We have had a lot of luck staying in Hilton properties. You will want to make sure you are looking at how frequently the shuttles run to the attractions you hope to visit. There is nothing more frustrating than being stuck in the parks on a hot day because the shuttles only run twice a day.
Avoid 3rd Party Booking Sites
3rd party booking sites can promise you a great stay at a discount. Here's the problem with sites like that. You can show up to the hotel or resort and find that your reservation didn't exist or that the company has gone bankrupt since you originally booked it. If you decide to book with a third party make sure to look and see what their contract says about cancellations. You will also need to check and see if there are any resort fees or parking fees that aren't included in your booking rate.
Research reviews before booking
There are some fantastic reviews that are unbiased on sites like Yelp but there are also many great bloggers and vloggers who visit these properties and give honest feedback about the experience. Reading reviews like these can help you decide if these properties are safe and comfortable for you and your family. Booking a hotel or resort when you live far the location can be intimidating but these reviews can help you to make the most of your stay.
Consider staying in a rental home in the area.
If you are bringing a large family on vacation it may be more cost-efficient to stay in a rental home in the area. There are many rental homes in the area that offer great value to larger families who are not trying to buy multiple hotel rooms. As with the hotels I mentioned above, please take the time to research these rental homes for reviews. Safety should always be your priority.
5 Central Florida Attractions to visit that aren't theme parks
Are you planning a trip to Central Florida and hoping to avoid the theme parks? There is still plenty to do here without ever visiting the theme parks in the area. Let me share 5 Central Florida attractions to visit that aren't theme parks.
Wild Florida
Are you looking to see the wild side of Florida? Skip the theme parks and head out to Wild Florida for a new adventure. Wild Florida is an animal park in the Orlando area that offers airboat rides, animal shows, and so much more! This is a great attraction to visit if you are hoping to see alligators or get up close and personal with other animals. For an added fee you can even take a selfie with a sloth!
Book your trip to Wild Florida on their Website.
Read more about our trip to Wild Florida.
Crayola Experience
Are you looking for creative fun for the kids? Crayola Experience offers an environment where kids can let their creativity run wild in a safe environment. With multiple Crayola themed stations, kids and adults can make crayons, create custom art, and even learn more about how crayons are made. This is a great attraction to visit on your way back to the airport.
Read more about our experience at Crayola.
Orlando Eye
Do you want to see the whole Central Florida area in one fantastic ride? The Orlando Eye offers you the chance to board a pod on the massive ferris wheel and take a chance to see Orlando from a birds-eye view. You can pay extra for the opportunity to do dinner in the area first and then do champagne and ride the eye or you can just ride the eye. One of the great things about the eye is that you can also check out Madame Tussauds and Sea Life for even more fun!
Titanic Experience
Not every Orlando adventure needs to be fast-paced. If you are looking for a more relaxing attraction, visit the Titanic Experience on I-Drive. The Titanic Experience is a walk through museum experience. You will enter the museum and receive a name. That will be your person as you work through the exhibit. This will give guests the chance to learn about the social class and so much about their person. At the end of the exhibit, you will find out if your person survived and also have a chance to touch a piece of the ship!
Get your tickets on the Titanic Experience site. 
See more of our visit to the Titanic Experience.
Fun Spot
Did you grow up going to the fair? Fun Spot will give you the feeling of the fair with a permanent park. You ride a few coasters, many of your favorite fair rides, and drive go-carts. There are various ticket options but you can get an all-day pass where you can experience all they have to offer. This pass would include access to the gator park, go-carts, and unlimited rides.
Find out more about Fun Spot on the Fun Spot website.
5 Tips for packing for your Central Florida vacation
Planning a trip to Central Florida can be overwhelming but it doesn't have to be. I have 5 tips for packing for your Central Florida vacation to help you get the most from your trip. There are few things worse than forgetting to pack things you will need for your vacation and I hope to help you avoid that.
Pack for multiple temperatures.
Florida weather is fairly unpredictable. Depending on when you visit Central Florida you might see multiple temperatures and types of weather during your trip. Plan for raincoats and layers. Layers will give you the freedom to dress for a cooler start of the day and lose layers for warmer parts of the day. I also recommend throwing some ponchos in your bag as it does tend to rain a lot here.
Don't forget the souvenirs.
If you are trying to save money on your trip, packing souvenirs can help you save. Make sure to put autograph books, custom shirts, or any other souvenir items you will want with you in your bag. I know of many people who pick up items like stuffed animals and themed toys to bring along.
Pack food items.
Are you planning to bring your snacks along? Items like snacks for the kids, drinks for the park, and other items are important to remember to bring along. This is also important if you are dealing with food allergies and worried about cross-contamination at attractions. If you are planning on packing food for your trip, make sure to check into airport regulations if you are flying. You can also use Amazon to have food sent to most hotel rooms.
Pack cash
When traveling sometimes credit cards will freeze when they see more frequent spending. Having cash on hand can save you from a stressful situation on your trip. I always suggest people have enough cash to cover a day's expenses while on vacation. However, if you are traveling over a weekend you probably want to bring a minimum of two days as banks can't resolve issues on the weekends as easily.
Pack all tickets and confirmations
If you are planning to visit multiple locations it can help to have all tickets and confirmations printed and ready for you. Having hotel confirmations on hand can help you if you have any issues at check-in. I recommend putting together a small envelope for each day with the paperwork you will need for that day. It will make it easier to carry everything you need with you. It can help to include printed schedules if you have set times for reservations or anything you are planning.
5 Tips for Surviving Central Florida Heat
Central Florida gets quite warm and it can be really difficult for people who aren't used to the heat. I'll be honest, I live here and the heat gets to me at times. However, the heat doesn't have to ruin your vacation. I have put together 5 tips for surviving Central Florida heat.
Dress in layers
Florida heat can come on more as the day goes on. Dress in layers to give yourself the ability to shed layers to cool down if the heat gets to be too much. This can give you the chance to take your nice photos in a warmer outfit first thing in the day. However, it will also give you the ability to switch down to a tank top later in the day if needed. I highly recommend doing something like a tank top with an overshirt.
Head inside from noon to three
Noon to three is the hottest part of the day. Take advantage of that time to head back to the hotel or take in a favorite show. If you can take this break you will be able to head back out at a cooler time of day refreshed and ready to enjoy it. I know that for us, we love to find an indoor show or restaurant and spend that time in there. It's the necessary recharge before heading back into the Florida heat.
Bring cooling items.
Items like cooling towels, spritzers, and misters are a fantastic way to cool down in the Florida heat. I am a huge fan of frog togs for this purpose. I love to wet a frog tog and put it on my neck on a really hot day. If you don't remember to pack it, head to the restroom, wet a paper towel, and wet your neck. If you are really hot, leave it on your neck while you walk around. It can make a world of difference.
Hydrate.
Florida combines heat and humidity for a hydration sucking combo. Make sure to bring water along with you to the park to stay hydrated. While sugary drinks and sodas are delicious, they will not help you to stay hydrated. Make sure to bring along water or stop for water frequently to avoid dehydration. If you are concerned that you might be dealing with dehydration ask for help early.
Know when enough is enough.
It can be tempting to try to go all-in on a vacation. However, you have to be careful not to push too hard. The heat can suck the life out of you and if you do too much you may feel fine on that day. However, you may end up feeling miserable that night or the next day. It's ok to say enough is enough when you get too hot. Knowing when to let go can mean the difference between surviving and enjoying your vacation.